A Divorce in Wisconsin From Top to Bottom
The technical side of every divorce differs from state to state. If you're divorcing amicably in Wisconsin, you need to make sure the agreement between you and your spouse is made according to the state-specific laws.
Luckily, a divorce in Wisconsin doesn't have to be any more difficult than it already is.
DoNotPay will explain the crucial aspects of creating a divorce settlement agreement in Wisconsin and show you a proper way to execute a friendly divorce!
Wisconsin Divorce Laws—What Should I Know?
Before filing for divorce in Wisconsin, you have to get familiar with the state regulations. To get divorced according to the Wisconsin law, you must:
Reside in Wisconsin for at least six months
Live in the county where you'll file for divorce for at least 30 days
File a petition alone or with your spouse
Serve your spouse and submit proof to the court if you're filing for the divorce alone
Wait up to 120 days for the final hearing to take place
The Wisconsin law also indicates that soon-to-be-former spouses can:
Choose to have a hearing for temporary orders (before the final hearing) regarding:

Child custody
Child support
Alimony
Assets use
Debts

Finalize the divorce immediately if they agree on the above-mentioned issues (in case they disagree on certain aspects, the court will order mediation)
If the couple cannot agree even through mediation, the court will continue with the divorce proceedings and rule on any outstanding issues.
How To File for Divorce in Wisconsin—The Necessary Paperwork
Every step of the divorce proceedings in Wisconsin requires preparing and filing a specific set of papers. Your choice of divorce forms depends on whether you:
Are filing for a divorce jointly or separately
Have children
Want to schedule a temporary hearing
Bear in mind that some counties in Wisconsin may require different documentation from the person filing for a divorce and the person responding.
If you decide to proceed with the do-it-yourself divorce in Wisconsin (i.e., represent yourself), your first step is to fill out and file documents that correspond to your situation.
A Definitive Guide on Filing for Divorce in Wisconsin
The table below contains the necessary paperwork for all potential steps of divorce proceedings in Wisconsin:
Step in the Divorce Proceedings
Description
Necessary Paperwork
Serving the other party
You can serve the divorce papers to your spouse by:

Paying a professional process server
Hiring an officer of the sheriff's department
Asking a friend or a family member over the age of 18

Copies of the summons
Petitions
Confidential petition addendum
Proposed parenting plans

Temporary hearing
These hearings are necessary if the parties are involved in a dispute that cannot wait

Income tax returns
Completed taxes disclosure statement
Wage statements

Pre-trial conference
The purpose of the pre-trial conference is for the judge to get an understanding of the case. Most counties in Wisconsin require you to file a pre-trial request with the judge. If there are no disputes, you can finalize the divorce then and there
Trial and finalization
During the final hearing, the judge issues the orders setting the terms of the divorce

Marital settlement agreement (if you and your spouse agree on everything)
Proposed marital settlement order (if you have disagreements)
Financial disclosure statements
Findings of fact
Conclusions of law
Judgment of divorce
Vital statistics form
If you and your spouse agree on all divorce terms, you can skip the unnecessary drama and get a speedy divorce. Register for DoNotPay and discover how to get a professional divorce settlement agreement at an affordable price!
File for Divorce in Wisconsin Swiftly With the Help of DoNotPay
Why would you overpay lawyers to write your divorce settlement agreement? Our app will:
Save your time and money
Provide a comprehensive, tailor-made agreement that complies with Wisconsin laws
Help you get the documents notarized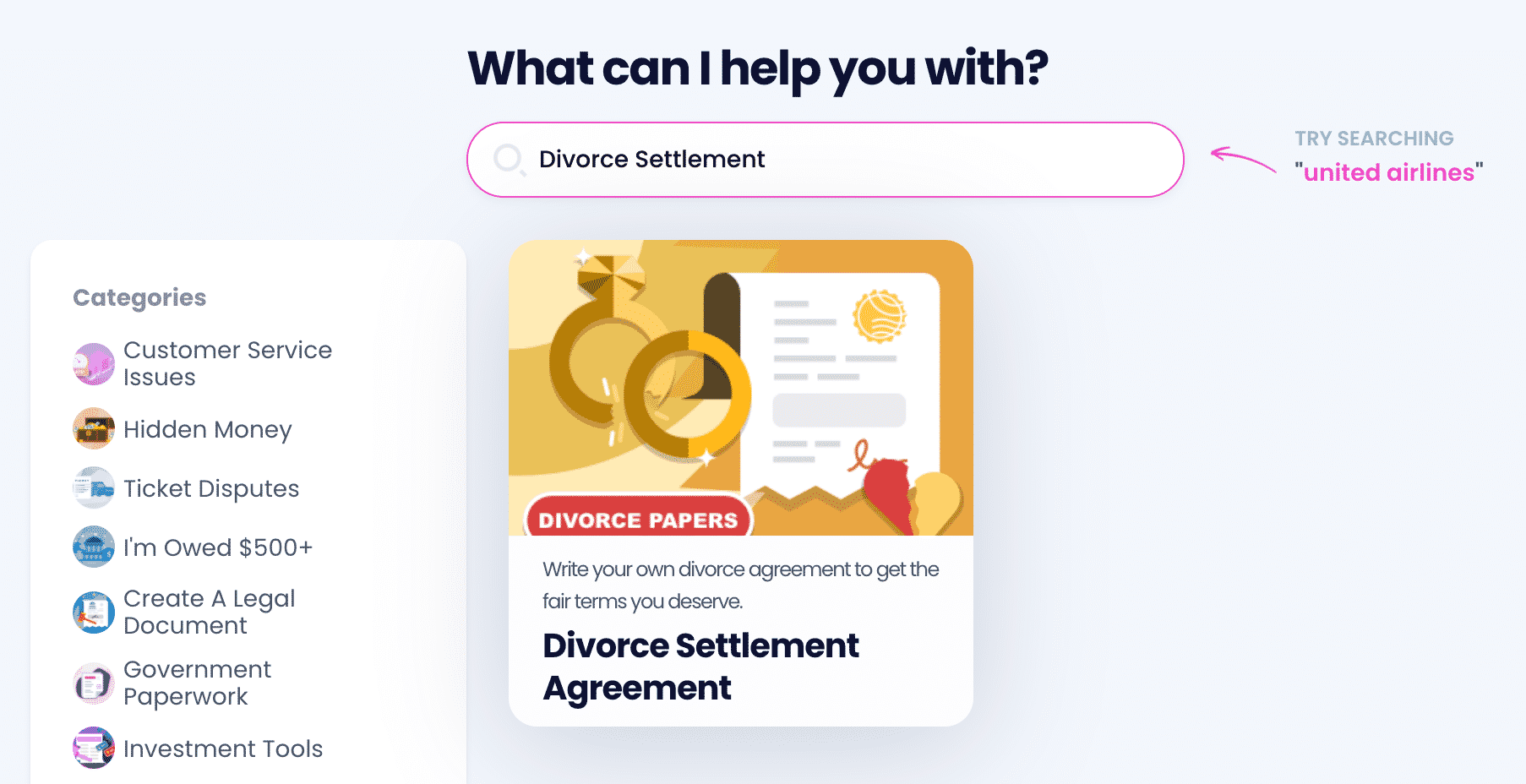 All you have to do is:
Find our Divorce Settlement Agreement product
Answer questions about your spouse, children (if you have them), and your assets
Choose to have the document notarized
Our app will include the provided information in a personalized divorce settlement agreement that your state's court will approve of. Having the document notarized with our help is also simple—we will connect you with an online notary and help you complete the procedure without leaving your house!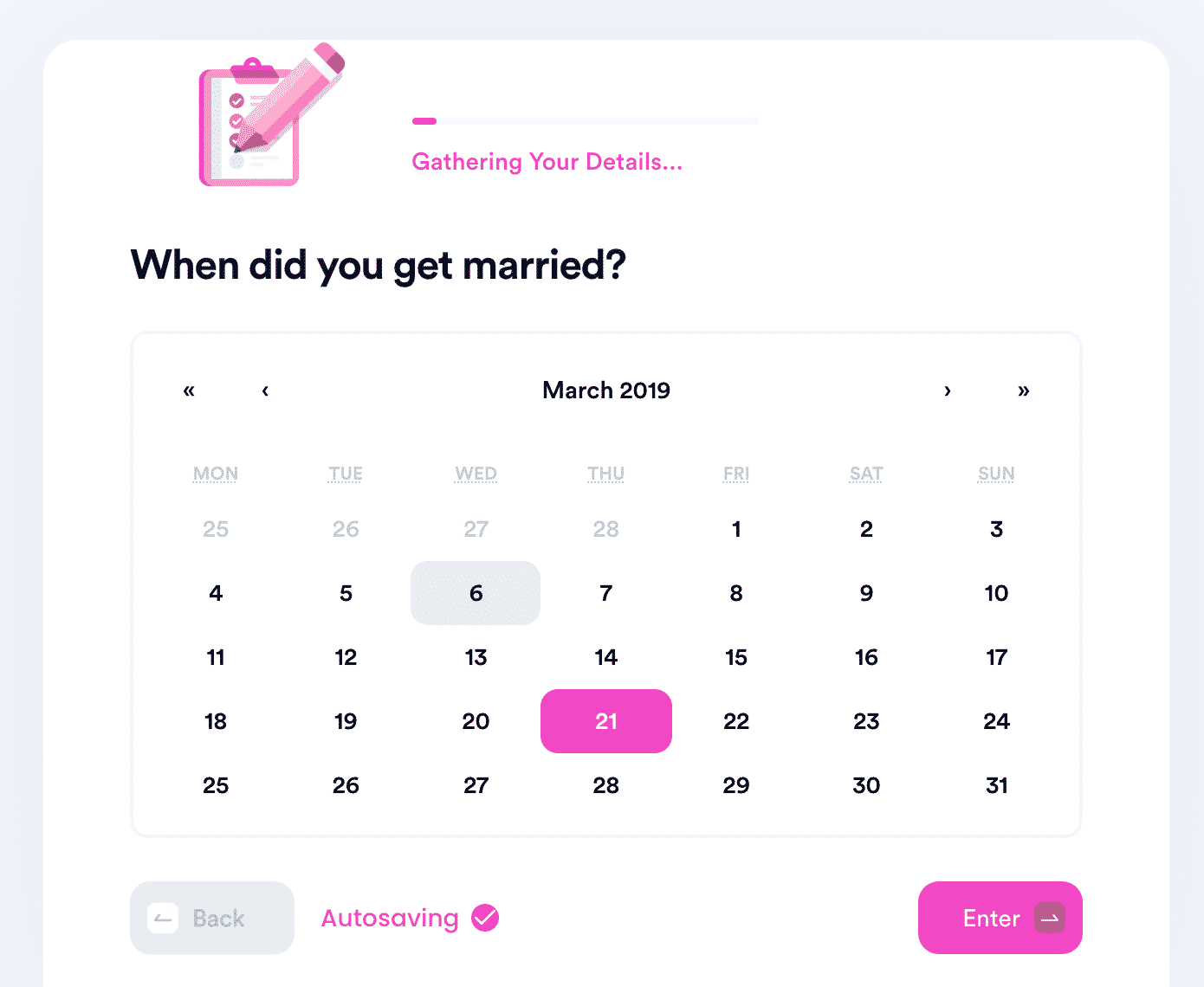 Do you want to know more? Find out if you need a lawyer when you and your spouse agree on everything and whether you can get a divorce without going to court. Access our learning center and get the most reliable info on the topics from the table below:
| | |
| --- | --- |
| General Information | Wisconsin-Specific Details |
| | |
Wisconsin Divorce Process—Final Consideration
When filing for a divorce in Wisconsin, you have to keep a few more specific details in mind. Factors you have to consider are that:
Wisconsin is a no-fault divorce state, which means that:

Neither spouse has to prove that the other one did something wrong
One spouse must testify that the marriage is irretrievably broken

Financial disclosure has to be:

Filled out within 90 days of filing
Updated before hearing
Complete (omitting any part of your assets can result in a court punishment)

Wisconsin is a community-property state, which means that:

All assets are equally divided between the former spouses
The only exception is the property that hasn't been maintained with marital funds

Both parents are responsible for financially supporting their children, more specifically:

Parent with less than 50% placement time is responsible for making child support payments
Parent with more than 50% placement time pays for the child while they're in their care
Outsmart Big Corporations by Using DoNotPay
Our platform is always on the side of regular people, and the number one item on our agenda is fighting for your rights.
If you need help requesting refunds for faulty products, late parcels, or canceled flights, you can turn to DoNotPay for help. Protect your privacy and stay one step ahead with our spam email collector, burner phone numbers, and virtual credit cards.
We will provide you with everything else you need in your fight—online fax, mailing service, and products for drafting legal documents and having them notarized online.
Improve Your Leisure Time Too!
You can win some serious battles with the help of DoNotPay—after all, our app can even get you ready for small claims court—but we offer numerous useful features that will improve the quality of your entertainment.
Signing up for free trials doesn't come with the risk of losing money anymore, and if you get bored with that new streaming service, you can easily cancel it using our app.
If entering raffles is your idea of fun, you'll be glad to know we can help you participate in all kinds of these games of chance. You can also review your knowledge using our government test prep quizzes or retrieve any unclaimed money under your name and spend it on something fun!