Divorce in Washington State—The Gist of It Explained by DoNotPay
On top of being emotionally draining, divorces can be difficult to understand due to the different state laws. Filing for divorce can also be tricky if you don't know the basics—that's why DoNotPay has prepared a guide that will make your life easier!
We'll show you how to get a divorce in Washington State and present all the necessary details about the law you need to know.
DoNotPay can also teach you how to:
The Washington State Divorce Basics
Before filing for divorce in Washington, you should familiarize yourself with the basic state laws.
| | |
| --- | --- |
| Washington Is: | Explanation |
| A no-fault state | If you're getting divorced in Washington State, you don't need to prove whose fault it is. Only one party needs to state that the marriage is irretrievably broken |
| A community property state | All property acquired during the marriage belongs to both parties and is owned by them together. This also applies to debt. Exceptions are made for inheritance or gifts |
| A fair and equitable state | All property and liabilities will be divided between the spouses fairly and equitably instead of 50/50 |
Can You Get an Uncontested Divorce in Washington State?
Getting an uncontested divorce in Washington State is an option, but you need to agree on the following issues:
Child custody and child support
Parenting time
Alimony and spousal support (if any)
Division of real estate and personal property
Division of assets and debts
Washington State Uncontested Divorce Residency Requirements
Couples who want to get an uncontested divorce must meet the state residency requirements before taking the case to court. As proof of residency, one of the following must be met:
The filing party must be currently residing in Washington State
One of the spouses is a member of the armed forces stationed in Washington
One party is married to a state resident
You must know your spouse's address
Both parties must agree on all divorce-related matters
Once all criteria have been met, you can move on to the next step of filing for an uncontested divorce in Washington.
Where To Find Uncontested Washington Divorce Forms
You can find divorce forms in physical form at your local courthouse or download them in PDF from the official state website. Note that you might get charged if you request the form in person.
Once you find your papers, you will need to fill out a Petition for Divorce (Dissolution). This document gives the court information about:
You and your spouse
Your marriage
Your property
In case you have any children, you will need to submit additional forms.
Serving Washington State Divorce Papers to Your Spouse
In case of uncontested divorces, papers don't need to be served—the other party only needs to sign the Acceptance of Service. This document acknowledges that they've received the divorce papers.
Where To File Washington State Divorce Forms
Usually, the divorce papers need to be filed in your county of residence. If you and your spouse live in different counties of the State, the form can be filed in either party's county. In case you file the wrong forms or make a mistake in the paperwork, the judge will dismiss your case, and you will have to start over.
DoNotPay can help you with divorces in various Washington counties, such as:
If you want to get a marital settlement agreement right away, sign up for our app!
How Much Does a Divorce in Washington State Cost?
The average cost of divorce in Washington is around $13.000, but the expenses can reach even $20.000 if there are children involved. Some factors that impact the cost of the divorce are:
Level of conflict
Need for property division
Alimony requests
Divorce mediation expenses
How Long Does an Uncontested Divorce Take in Washington?
Due to Washington State divorce laws, couples need to wait at least three months before getting an uncontested divorce. After this period, the couple can request the court to finalize the divorce.
Get Your Divorce Papers the Easy Way—Use DoNotPay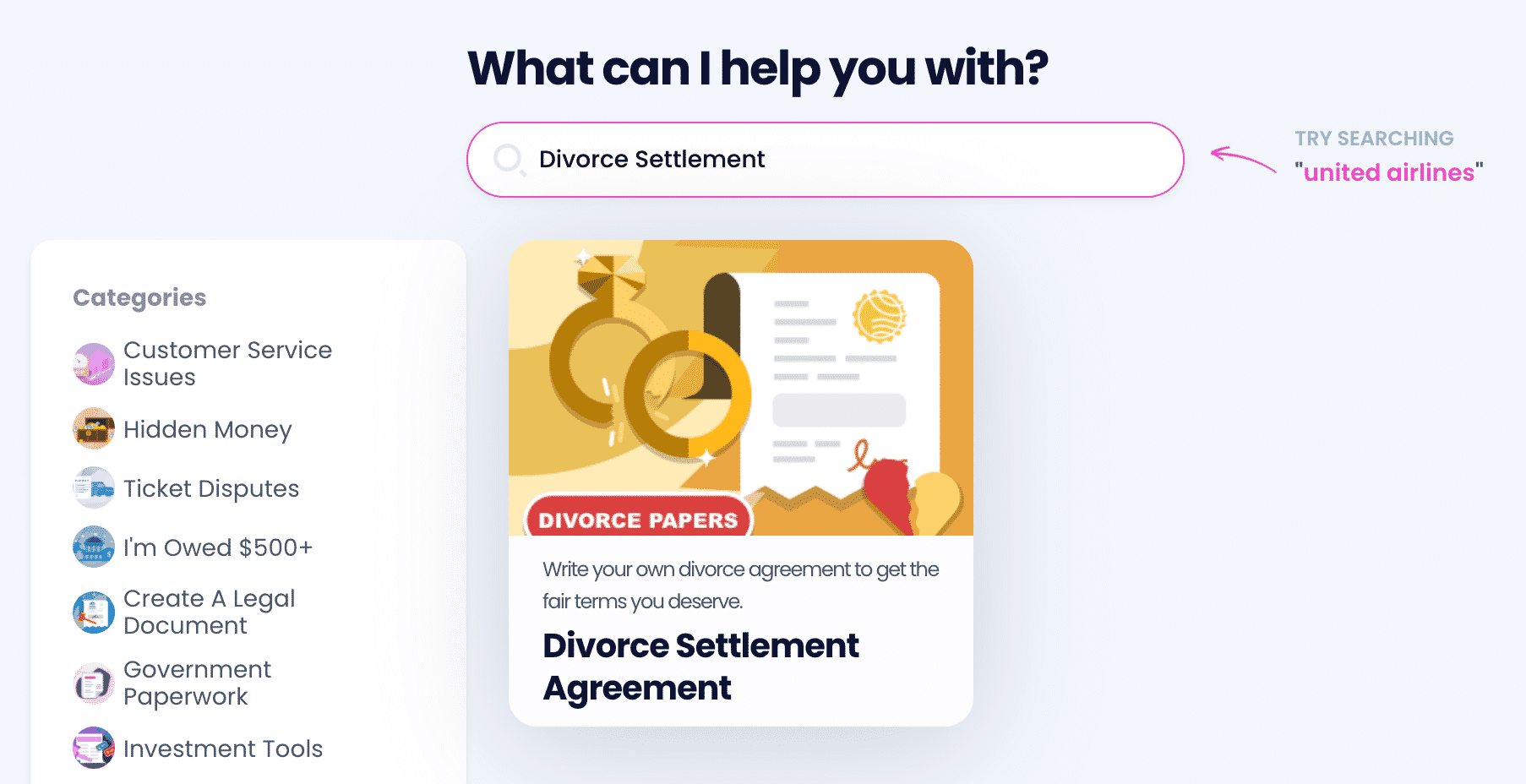 Getting a divorce settlement agreement doesn't have to be a headache-inducing process! DoNotPay's Divorce Settlement Agreement product allows you to create a legally binding settlement in no time! With it, you'll get the fair terms you deserve and it will be generated to fit your needs perfectly. Here's how it works:
Select our Divorce Settlement Agreement product
Enter the details regarding your income, assets, spouse, and children (if any)
Opt for online notarization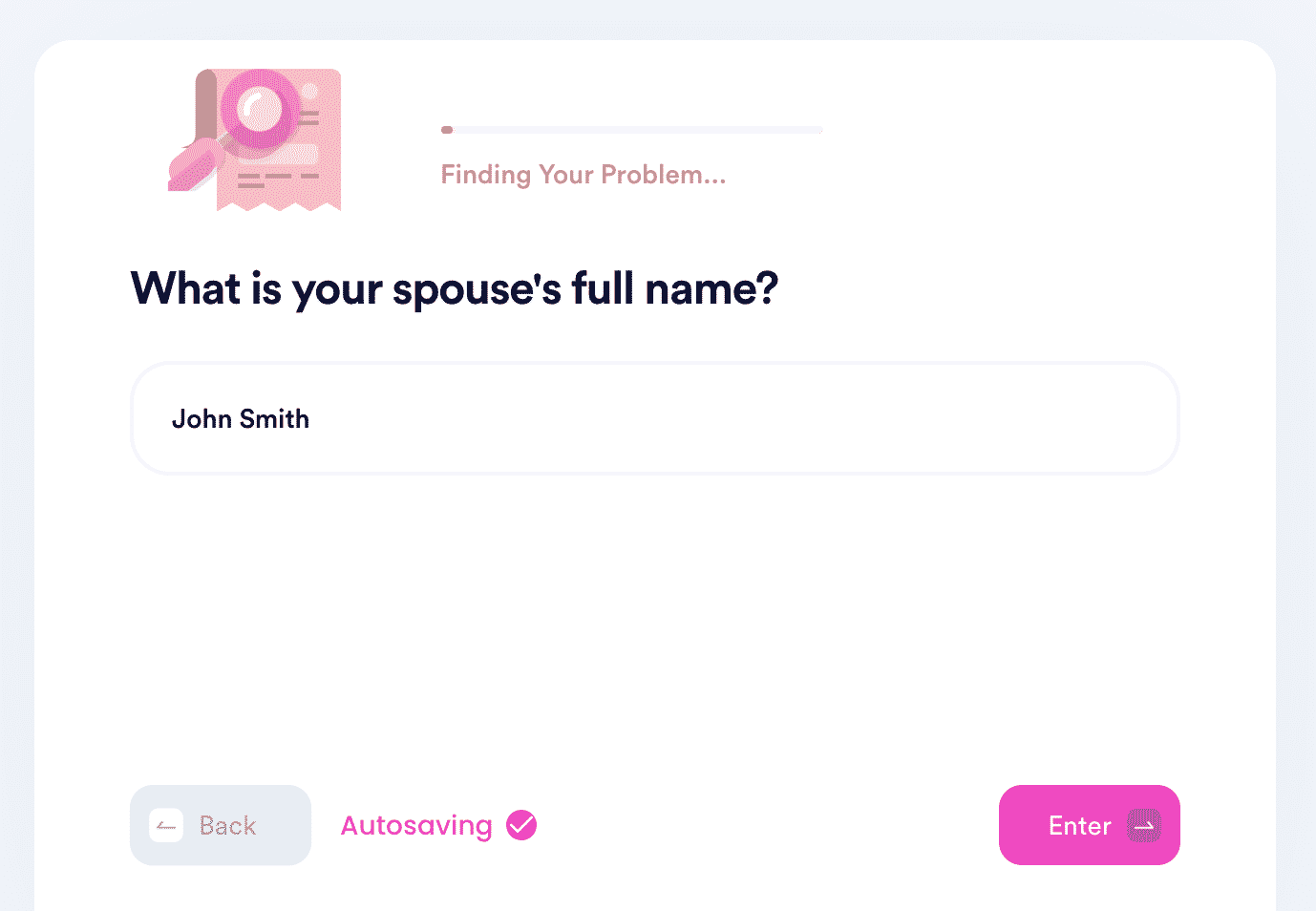 Once we process your request, we'll generate a tailor-made settlement agreement for you in minutes. You can then notarize it via an audio-video call with an online notary if you let us help you with the notarization.
Need further assistance with divorces? DoNotPay can help with various helpful guides on:
DoNotPay Resolves Both Bureaucratic and Legal Issues
One of our app's best qualities is its versatility. You can use your personal AI-powered assistant to overcome both legal and bureaucratic obstacles without breaking a sweat. No more waiting in lines or breaking the bank due to sky-high lawyer fees!
Take a look at what you get access to for a low monthly fee:
Can DoNotPay Do Anything Else?
The world's first robot lawyer is capable of so much more! No matter if you want to find your unclaimed money, apply for clinical trials, get rid of email or text spam, prepare for a government test, fight workplace discrimination, or get gift card cash back, DoNotPay can help!
What are you waiting for? Sign up for DoNotPay now to enjoy our nifty products!