How Much Does a Divorce in Washington State Cost? Get the Answer With DoNotPay
Ending a marriage can be emotionally and financially draining. If you live in Washington and are considering a divorce, you need all the information before filing for one.
If you want to know how much a divorce in Washington State costs, we have got you covered.
DoNotPay provides you with all the info you need about divorce costs and processes to make an informed decision. If you want a more affordable solution, use DoNotPay to get a divorce settlement agreement instantly!
The Cost of Divorce in Washington State—Contested Divorces
A contested divorce is one where the spouses disagree on the divorce terms and might need a lawyer and court intervention to finalize the process.
In Washington State, the average cost of a contested divorce is $15,000 and can increase to $20,000 if the couple has children. This amount can include the following fees:
Lawyer fees
Mediation fees
Court filing fees
Alimony requests
Child custody professional fees
Expert witness compensation
Out of all the items mentioned above, lawyer fees are the highest. A divorce lawyer in Washington charges approximately $250–$300 per hour.
Uncontested Divorce—Cheap Divorce in Washington State
In a friendly or uncontested divorce, the husband and wife mutually agree on the terms of the divorce. This type of divorce is less expensive and less stressful compared to a contested one.
On average, an uncontested divorce might cost between $500 and $700, including the divorce filing fee.
In most uncontested divorces, the divorcing couple doesn't even need to hire a lawyer, especially if both parties agree on key divorce matters. If you need one to help you through the legal process, your expenses might rise to $4,000 or $5,000.
Divorce-Related Fees in Washington State
There are several divorce-related fees in Washington State. A breakdown of the costs is provided in the table below:
| | |
| --- | --- |
| Type of Fee | Average Cost |
| Divorce filing fee | $280—If you can't afford this amount, you can request a fee waiver, provided you have proof of unemployment |
| Attorney fees per hour | $250–$285 per hour |
| Mediator fees | $150–$600 per hour |
| Process server | $50 |
| Attorney fees for a contested divorce | $12,000 |
| Attorney fees for an uncontested divorce | $5,000 |
| Home appraiser in case of property division | $300–$400 |
| Financial advisor | $1,500–$2,500 |
The Basics of the Washington State Uncontested Divorce
Before filing for divorce in Washington, you should get acquainted with state laws, as explained in the list below:
Washington is a no-fault state, so there is no need to accuse or blame any party for ruining the marriage. Only one party needs to state that the marriage is beyond repair
The parties jointly own any property acquired during the marriage. All property, assets, and liabilities should be divided fairly
At least one spouse should be living in Washington State
You and your spouse need to agree on the following:

Child custody
Spousal support
Child support
Joint asset division
Debt division
Any other important issues
Uncontested Divorce—The Required Paperwork
You can get an out-of-court divorce settlement if you and your spouse agree on crucial divorce-related matters. To get an uncontested divorce in Washington, here are some of the documents you need to prepare:
Petition for divorce
Confidential information form
Certificate of dissolution
Order of child support
Proof of mailing
Proof of professional service
Divorce settlement agreement
Once you've filled out the forms, file them with your county court. If you and your spouse live in different counties, you can file for divorce in either one.
Besides providing you with useful info, we can also ease the burden of bureaucracy. Subscribe to DoNotPay, and we will draw up a divorce settlement agreement for you in no time!
DoNotPay Can Create a Divorce Settlement Agreement in a Flash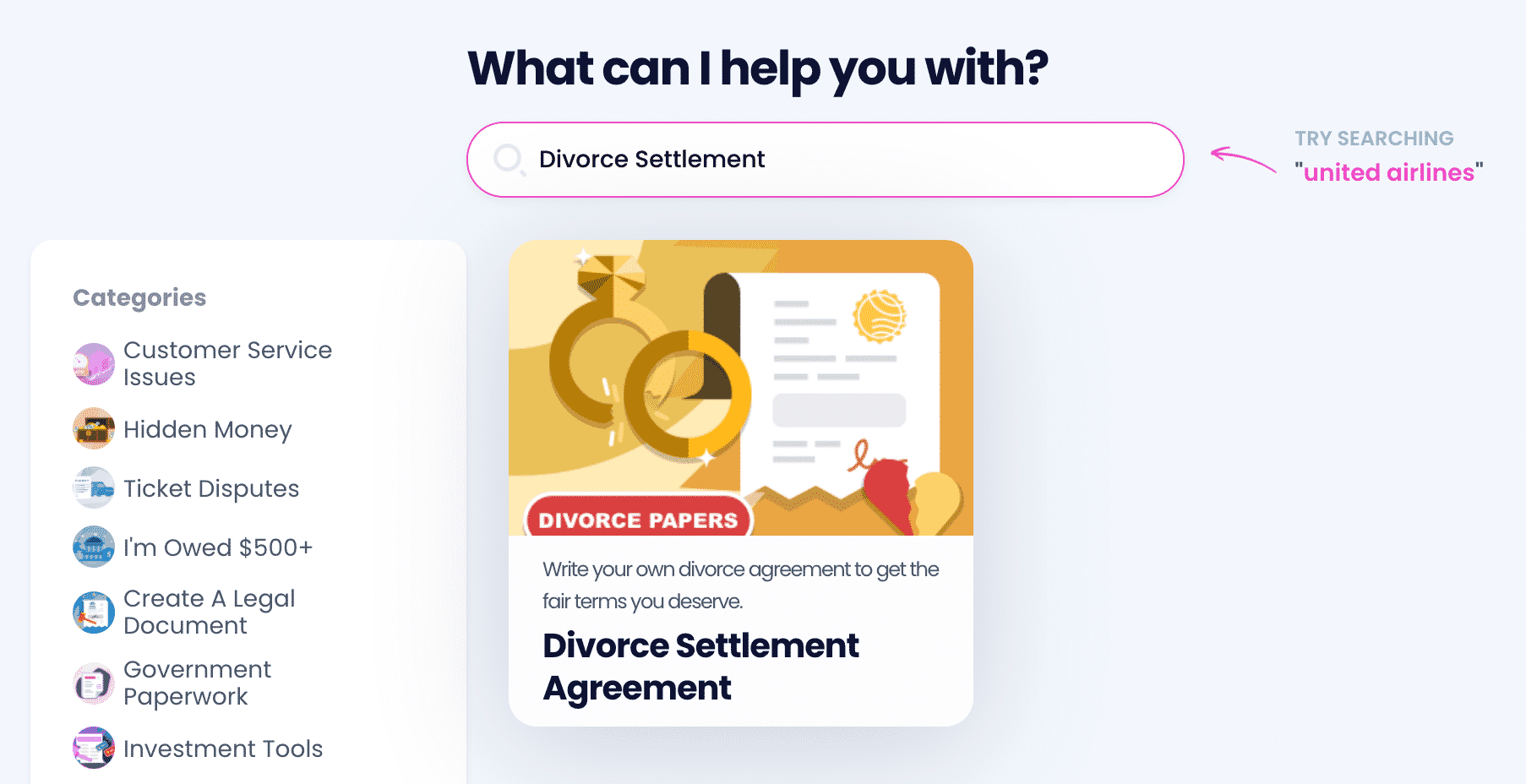 Preparing and filing divorce papers can quickly become a stressful process, especially when the fees are sky-high. With our affordable Divorce Settlement Agreement tool, you can create a legally binding document at a cost that won't break your wallet!
Here's how you can get your document in no time:
Open DoNotPay in your web browser
Choose the Divorce Settlement Agreement product
Enter information about your spouse and children (if any)
Provide details about your income and assets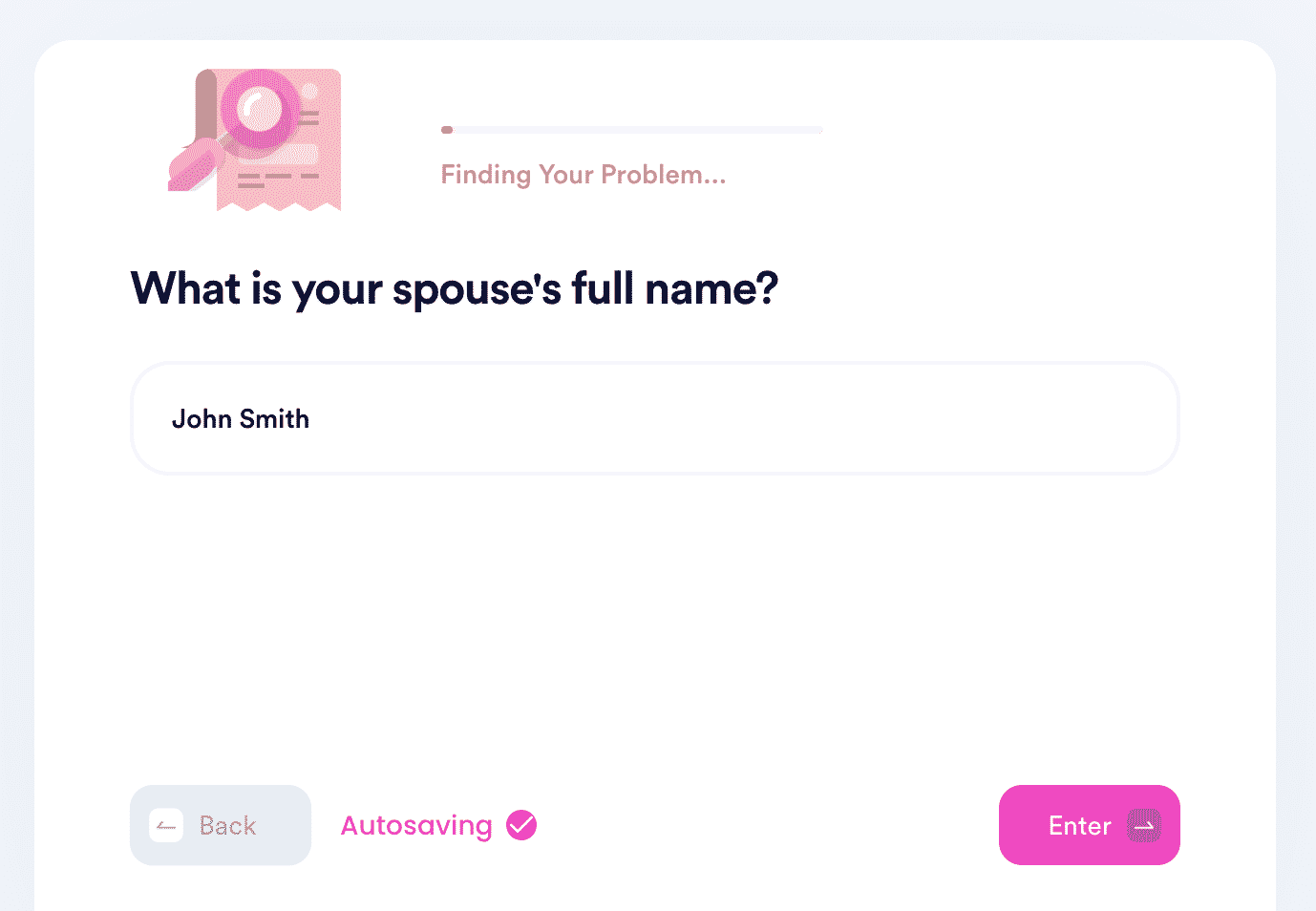 Once we create your personalized agreement, we will send it your way. If you want to get the document notarized, let us know, and we will connect you with an online notary. You can get your agreement notarized via video call.
If you want to learn more, we can provide info about the following topics in Washington State:
Want more information on divorce-related issues? We can provide handy guides on many topics, such as how to:
No More Wasting Money on Lawyers
Spending hundreds of dollars on lawyers seems like a waste, especially when you have a more convenient solution at your fingertips. We developed various neat features that make performing dull legal tasks feel like a breeze! The best part is that you can use them from the comfort of your home or office.
Consult the list below to see the tasks DoNotPay can help you with:
DoNotPay Offers Additional Helpful Tools
Legal tasks aren't the only ones DoNotPay can help you with! We can provide assistance for an abundance of different tasks—from stopping the pesky spam emails to contacting your incarcerated loved ones. Check out the table below and learn how to use our app to:
| | |
| --- | --- |
| Deal With Companies | Deal With Other Tasks |
| | |