DoNotPay's Guide to Divorce in Virginia
Divorce is never easy, but as a resident of Virginia, you have a particularly difficult set of hurdles to overcome.
DoNotPay has the ultimate guide to divorce in Virginia, with facts, advice, and watch-outs explained in simple terms!
Divorce Laws in Virginia Clarified
Virginia does not make divorce easy.
To be able to file for divorce in the state, you or your spouse must fulfill the:
Residency requirements
Conditions of separation
Residency Requirements
You or your spouse must have lived in the state for at least six months before you can file divorce papers in Virginia.
Your file must be lodged in the county where you both live or using the county court where the defendant—your spouse—resides.
Conditions of Separation
To be eligible for a divorce in Virginia, you and your spouse need to live separately for:
Six months if there are no children in the marriage
12 months if you and your spouse have underaged children or dependents
VA divorce laws define "living separately" as:
Having separate sleeping arrangements
Not having any physical relations with each other
Filing for Divorce in Virginia
Once you have fulfilled the residency and separation requirements, you can go ahead and start the divorce process.
Your first step is to file your case with the local county court. The papers you will need depend on the type of divorce you and your spouse are looking for.
If the divorce is acrimonious or you can't agree on the settlement terms with your spouse, the default scenario will be a contested divorce case that will be decided by the court.
If you have been able to reach an agreement on how to divide up your finances and responsibilities, the process is slightly simpler.
Virginia recognizes the concept of a no-fault divorce if you have been separated from your spouse for the required time. You cannot file for a no-fault divorce unless you have agreed on every detail of the settlement in advance.
Your settlement agreement must be filed with all the other paperwork for an uncontested divorce, which includes:
Required Divorce Documentation
Explanation
Complaint of divorce
This document asks the court to grant you and your spouse divorce, and it must contain:

The date and place of the marriage
The current addresses of both spouses
Proof that the residency requirement has been fulfilled
The grounds for the divorce—this will be "incompatibility" in a no-fault case
The ages and residential status of any children or dependents from the marriage

Confirmation of servitude
You must provide written evidence that your spouse has received a copy of the divorce papers. The copy will normally be served by a sheriff or professional process server
Do I Need a Lawyer for a Divorce in Virginia?
If you and your spouse have fulfilled the separation requirements and have reached an agreement on every detail of your settlement, you can proceed without a lawyer in Virginia.
The procedure is known as a "pro se" divorce, and you will be expected to represent yourself. The judge will require you to follow the same rules as an attorney. Even if the divorce is friendly and you and your spouse have no arguments around the settlement, you cannot use the same lawyer to represent you both.
In the case that you and your spouse agree on the major points of your settlement agreement but cannot resolve a few details, you can still avoid a lawyer's fees by engaging a mediator to help you reach a mediated solution.
Can I Avoid Court Appearances in a Divorce in Virginia?
If you are seeking a no-fault, uncontested divorce in Virginia, you may not have to attend court.
Your spouse will need to sign a waiver of service of process form. This, together with your complaint for divorce and your divorce settlement agreement, will be given to the court for the judge to enter into court records.
Once this has been completed, your divorce will be finalized, effectively handing you an out-of-court settlement.
How Much Does a Divorce in Virginia Cost and How Long Does It Take?
The cost of your divorce depends entirely on whether you or your spouse hires an attorney to contest your case.
The basic charge for filing divorce papers at a county court in Virginia varies from district to district but is generally below $100. Extra fees may be payable if you want the divorce papers to be served by a court sheriff. The state of Virginia provides a tool to calculate your filing costs in each of its circuit courts. The cost of divorce in Virginia does not have to be prohibitive.
There is no such thing as a quick divorce in Virginia. Even if all your papers are filed correctly, it will normally take a judge between six and 12 months to finalize your case.
Where Can I Get a Divorce Settlement Agreement in Virginia?
The divorce settlement agreement is the most important document in your divorce case, so you need to make sure you get yours from a reputable source.
You can get settlement agreements from these sources:
District courts—Many of the circuit courts in Virginia have templates you can fill out
Lawyers—You can have a lawyer draw up your divorce settlement agreement
Legal websites—Several websites offer agreement templates for you to complete
None of these solutions is optimal, though. Lawyers can become prohibitively expensive, and templates from a circuit court tend to be so complicated that you end up hiring an attorney anyway. Downloadable templates are frequently too generic and may not be valid in Virginia—these are best avoided.
Fortunately, DoNotPay can solve all these issues. We can generate a tailor-made, watertight divorce settlement agreement online in a few clicks!
DoNotPay Can Create a Divorce Settlement Agreement in a Jiffy!

DoNotPay can help you through the process of no-fault, uncontested divorce in Virginia!
Our Divorce Settlement Agreement product gives you a customized document that covers all the bases—here's how to get your agreement:
Sign up with DoNotPay in your web browser
Go to our Divorce Settlement Agreement product
Give us the details you want to be included in your agreement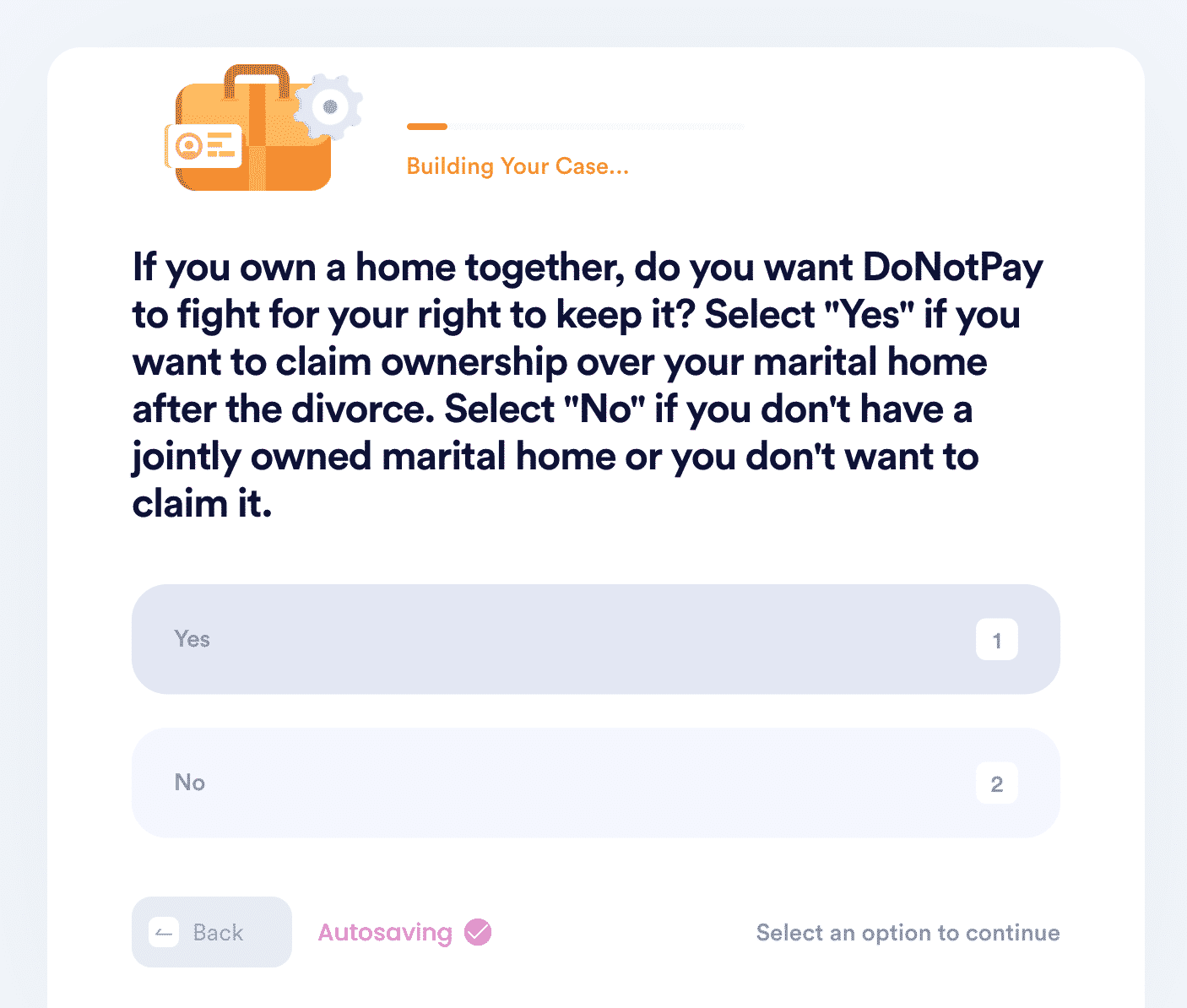 We will handle the process from there. All you need to do is print your agreement out, sign it together with your spouse, and have it notarized. If you struggle to find a notary in your area, we can organize online notarization for you!
What Other Help Can DoNotPay Offer With Virginia Divorces?
We can give you specialized advice on the following topics:
Not Sure if You'll Have Enough Money at the End of the Month? We Can Help
Most Americans go through financial hurdles daily. You don't need to put up with it all—as soon as you sign up for our app and voice your struggles, we will provide our assistance! DoNotPay is capable of:
Dealing With a Greedy Company? No Need To Worry
Are you dealing with a company that doesn't want to cooperate and keeps ignoring your consumer rights? No problem—DoNotPay can help you sue the company in small claims court and win your case.
If you need us to draw up a legal document, get it notarized, and fax it to the court, we can do that as well.
Have you been trying to reach the company's customer support reps with no success? Don't get stressed—our app will gladly wait in the phone queue in your stead and notify you as soon as someone picks up.