Divorce in Virginia Beach Explained by DoNotPay
If your mind is made up that divorce is the route to go, you probably need everything to be over as quickly, cheaply, and painlessly as possible.
As a resident of Virginia Beach, you may have to choose between speed and convenience, though.
DoNotPay takes you through all your options for a divorce in Virginia Beach and explains how to keep the process simple!
How Does Virginia Divorce Law Work?
You can start your divorce in Virginia if one of you has been a resident of this state for at least six months.
Virginia recognizes two basic grounds for divorce, namely:
Divorce Grounds
Explanation
No-fault
Claiming irreconcilable differences between you and your spouse is good enough grounds, but you must live apart for 12 months before you are allowed to file
At-fault
An at-fault divorce is a viable route if you can prove your spouse is guilty of:

Adultery or sexual acts outside the marriage
A felony resulting in a prison term of a year or more
Abandonment
Physical abuse or the threat of such
While a no-fault divorce entails a long wait before you can start proceedings, the burden of proof in an at-fault case is complicated. A no-fault divorce often works out considerably easier in the long run.
If you decide on the no-fault route, the next choice you and your spouse must make is whether you want a contested or uncontested divorce.
An uncontested divorce will be easier, and you may be able to have your marriage dissolved without:
Filing for a Virginia Beach Divorce
To file for divorce in Virginia Beach, you need to follow these three steps:
Filing divorce papers
Preparing a settlement agreement
Filing Divorce Papers
A plaintiff in a divorce case must file the divorce papers with the clerk of the Virginia Beach divorce court. The required forms include:
A petition for divorce
Details of your children or dependents
Proof that you have fulfilled the residency and separation requirements, if necessary
You will need to pay the filing fee of around $100 when you file your papers.
Serving the Papers
Once you have filed your papers, you must have them delivered to your spouse by the local sheriff or a private process server.
Your spouse must sign a form confirming that they have received the divorce forms.
Preparing a Settlement Agreement
In case your soon-to-be-ex responds to your petition for divorce signaling that they intend to contest the case, your divorce will go to trial, and your settlement will be imposed by the judge.
If you and your spouse have agreed on a friendly divorce, you can start negotiating an out-of-court settlement agreement that splits your responsibilities and finances fairly between the two of you.
What Is a Divorce Settlement Agreement?
A divorce settlement agreement is a legal document that regulates how every aspect of your married life should be split after your divorce, including:
Once the terms of your settlement agreement have been worked out, both spouses need to sign it. The judge in your case will check that it:
Deals with every aspect of your marriage as declared in your initial filing
Ensures that your children will get adequate care and support
Represents a fair split of your joint finances
If these criteria are met, the judge will approve your settlement, and it becomes legally binding for you and your spouse.
How To Negotiate a Settlement Agreement
Negotiating your settlement is the most complicated part of the entire Virginia Beach divorce proceedings, but it can be made simpler if you and your spouse cooperate.
You have a choice of resources to negotiate your settlement agreement, as follows:
Settlement Negotiation Resources
Explanation
Lawyers

Lawyers can represent you and negotiate your settlement agreement on your behalf, but this can quickly become expensive.
Virginia attorneys charge $270 per hour on average and will often demand a hefty upfront retainer to handle your case. Uncontested divorces in Virginia cost an average of $3,900 if attorneys handle your settlement negotiations

Mediation

If both parties agree on the major points of your settlement but need help ironing out details, you can opt for mediation, in which a trained mediator facilitates your face-to-face negotiations. This is considerably more cost-effective than using lawyers

DIY

If the two of you agree on your settlement, you don't have to use any third party to set up your agreement—you can go ahead and have the document drafted for signing
Where Can You Get Your Settlement Agreement Drawn Up?
Once the negotiations are completed, you can have your settlement drafted as a legal document.
You can use lawyers to do this for you, but they will typically charge around $1,200 for the drafting and may be unwilling to cooperate if they have not been involved in the negotiation.
Various online providers offer downloadable settlement agreement templates at low cost, but you should be careful—many of these are far too generic to cover your exact requirements, and some may even be inadmissible in a Virginia court.
DoNotPay has the solution—we can create a full-fledged, customized settlement agreement for you in a few clicks!
Get Your Virginia Beach Settlement Agreement From DoNotPay!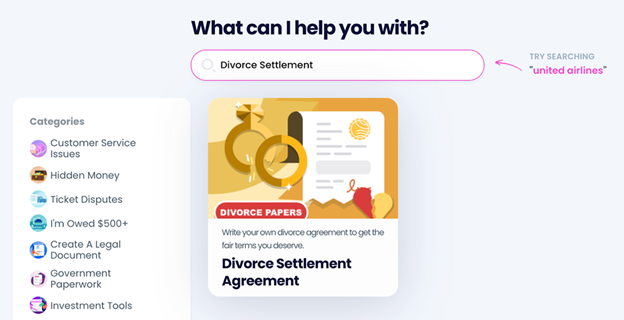 DoNotPay wants your Virginia Beach divorce to be easy and as quick as Virginia law allows!
Our Divorce Settlement Agreement product is designed to give you a comprehensive and watertight document that covers all the points you and your spouse have agreed on.
Ready in a matter of minutes, your tailor-made settlement agreement from DoNotPay is the key to getting your divorce finalized with zero hassle.
Here's how to set your divorce settlement agreement up:
Sign up with DoNotPay in your web browser
Click on our Divorce Settlement Agreement feature
Follow the prompts and give us the details you have agreed on with your spouse
Once everything is filled in, you will have your document in an instant. You can sign it together with your spouse and have it notarized.
Even if you don't know where to find a notary in Virginia Beach, there's no need to panic—our online notarization service can get your documents signed and sealed online!
Need help with a Virginia military divorce or divorce procedures in Fairfax County? DoNotPay has all the info you need!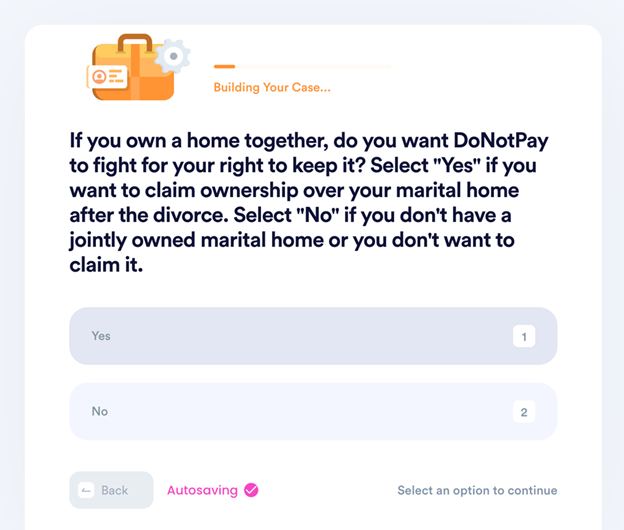 Learn How To Solve Legal Issues in Minutes!
Do you need to draft a legal document? Spending hundreds of dollars on lawyers is not the answer. We came up with a faster and more affordable solution. Not only can our app draft child consent forms, divorce settlement agreements, and powers of attorney for you, it can also provide legal assistance by helping you take anyone to small claims court!
Drafting numerous documents is not all DoNotPay does for you! Aside from drawing up contracts and agreements, we can also assist you in getting them notarized online from the comfort of your home or office!
Explore DoNotPay's Other Nifty Features
There is more assistance on the way! You can use DoNotPay's features to handle various tasks with ease, including:
We can also help you protect your safety. If you don't know how to deal with copyright infringement, stalking and harassment, work discrimination, sex offenses, and disputes with annoying neighbors, DoNotPay has got you covered.