All You Need To Know About Divorce in the USA for an Indian Couple
Getting a divorce is rarely a breezy process—for most people, it's stressful, expensive, demanding, and time-consuming. Complications often arise, especially if you're filing for divorce in a foreign country.
If you are an Indian citizen wanting to get a divorce in the USA, you're at the right place! In this article, DoNotPay provides the ins and outs of divorce in the USA for an Indian couple!
Common Reasons Why Indian Couples Get Divorced in the USA
India has the lowest divorce rate in the world. According to a study, out of 100 Indian marriages, only one ends in divorce. The most common reasons why Indian couples file for divorce in the U.S. include:
Adultery by either spouse
Domestic violence that one spouse inflicts on the other
Issues with the spouse's parents
Financial difficulties (lying about money and hiding it from one another)
Laws on Indian Divorce in the USA
There are no specific U.S. laws that regulate Indian divorces. If you and your spouse are Indian citizens, you can file for divorce in the state where you live. To do that, you have to meet the state's residency requirements. Consult the following table to explore residency requirements in each state:
Mutually Consented Divorce of Indian Citizens in the USA
A mutually consented divorce—uncontested divorce—is a quicker, cheaper, and less complicated option than the regular proceeding. By opting for this marriage dissolution method, you are waiving your rights to present the case in court. To get a mutually consented divorce, you and your spouse have to reach an out-of-court settlement and show the judge that you have:
Agreed on matters, such as:
Signed an agreement resolving issues regarding children:

Custody
Parenting duties
Child support, health insurance, and medical expenses

Not changed your minds about these issues between signing the settlement agreement and attending the hearing
You can file for mutually consented divorce in the U.S. as Indian citizens, but you should keep in mind that the decree might not be accepted in India if you decide to go back.
How To Apply for Divorce in the USA
As an Indian couple, you can get divorced in the U.S. without a lawyer or even going to court, but you should ask for legal assistance if you have any dilemmas.
In the following table, you can see the steps to filing for divorce in the U.S.:
| Steps | Explanation |
| --- | --- |
| Preparing the paperwork | To start the process of filing for divorce in the U.S., you need to collect the necessary divorce papers. You can usually find and download the forms from the government website of your state or county. Fill out, sign, and get the documents notarized. After that, you should make at least two copies of each form—one for your spouse and the other for your records |
| Filing the petition | File the petition and other original documents with the court. You can do that by visiting the local clerk's office or online if the state of your residence allows it |
| Serving divorce papers | Unless you're filing a joint petition, you'll have to inform your spouse about divorce by serving them divorce papers according to your state's regulations |
| Drafting a divorce settlement agreement | You cannot get an uncontested or mutually consented divorce without a settlement agreement. Don't fret— to acquire a top-rate settlement agreement in a jiffy |
| Attending the hearing | The judge will examine your petition and settlement agreement during the hearing. If you meet the requirements and everything is accurate, they will issue a divorce decree to finalize the process |
Uncontested Divorce in the USA Made Simple With DoNotPay
One of the most important uncontested divorce papers is a divorce settlement agreement. The purpose of this legally binding document is to show the court that you and your spouse have resolved issues on your own and that there's no need for a trial.
The quickest and easiest way to obtain such a document is by using the world's first robot lawyer—DoNotPay!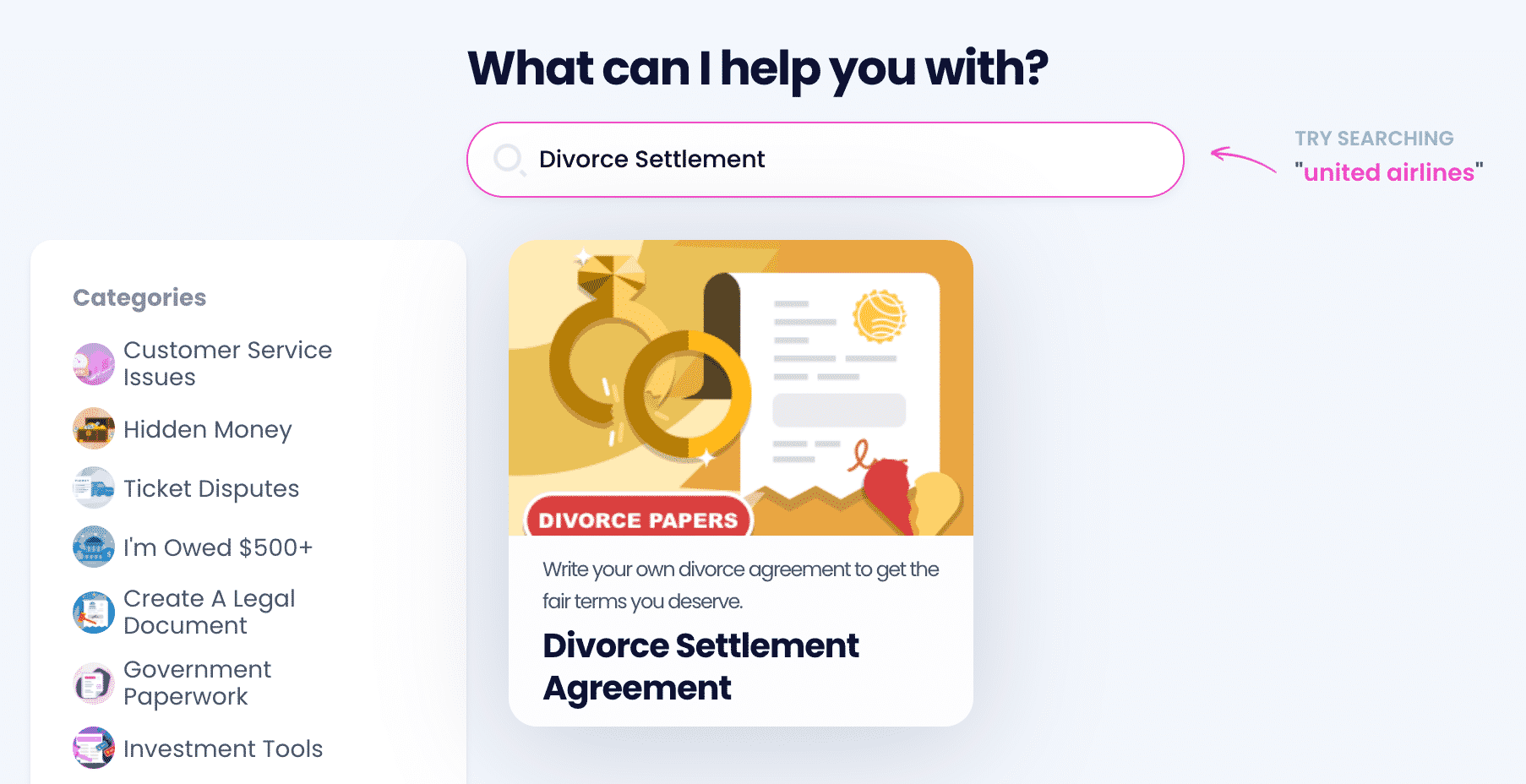 Here's how to get a divorce settlement agreement swimmingly:
Locate the Divorce Settlement Agreement feature
Fill out our short questionnaire
Specify if you need a notary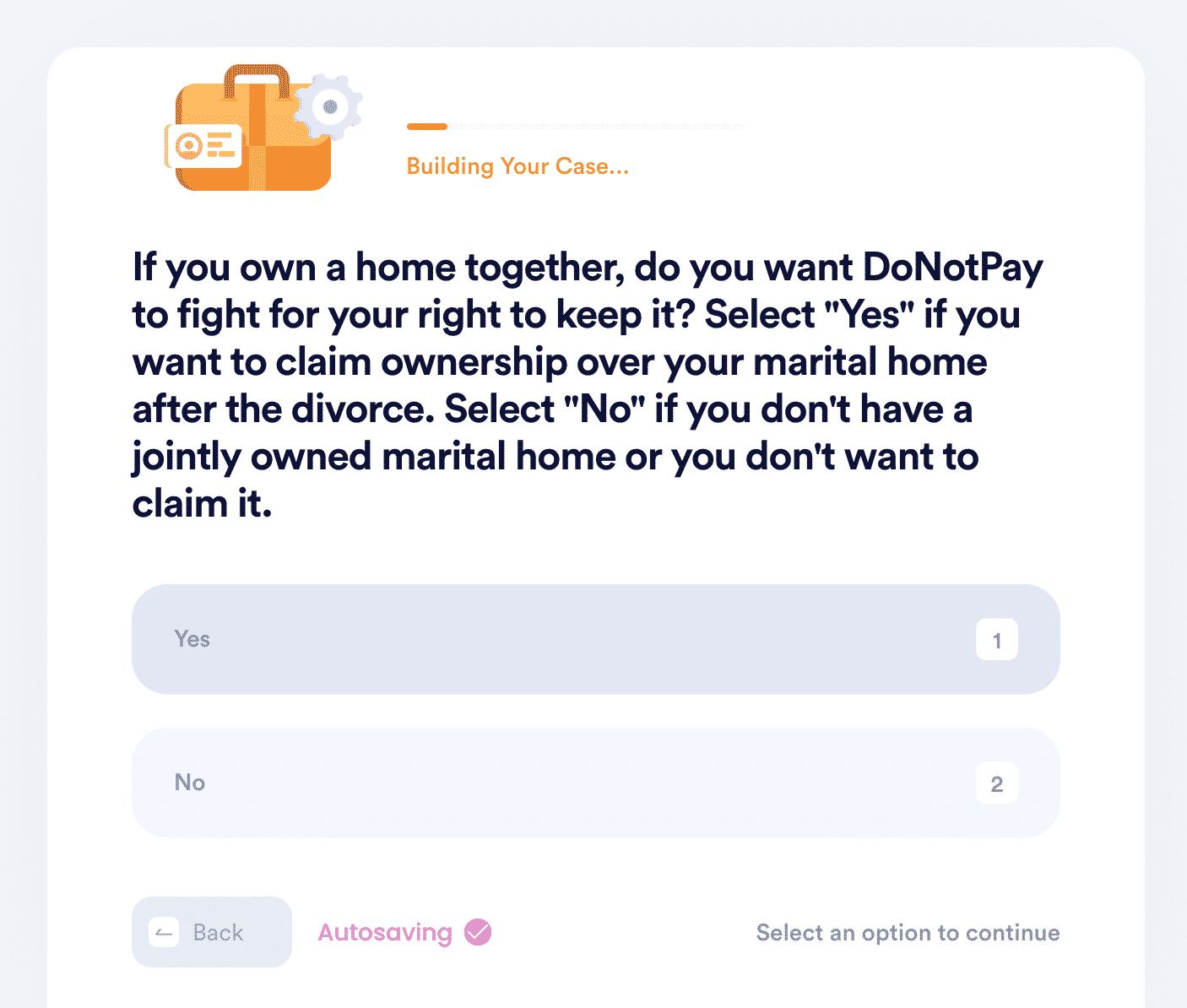 Once you receive a personalized ironclad settlement agreement, you and your spouse should sign and get it notarized. The rest of the process will run smoothly!
DoNotPay provides answers for numerous divorce-related questions, such as:
What Other Issues Can Our App Solve?
DoNotPay can support you through various burdensome procedures and turn them into a breeze! Here's a table showing a tiny part of our extensive offer:
| DoNotPay Can | Services |
| --- | --- |
| Create various documents | |
| Protect your safety and privacy | |
| Get your money back | |
DoNotPay Is Your Ticket to Simpler Life
Don't bother going through complicated tasks alone—we are here to take care of them! Seek our help if you want to get in touch with customer service instantly, fax anyone online, or get your documents notarized. Besides providing these amazing services, DoNotPay can make preparations for your travel adventures by assisting you in getting passport photos at home and obtaining tourist visas.