Getting a Divorce in TN? Learn the Basics!
Divorces don't have to be expensive, and not everyone has to go to court to get separated. If you're planning on getting a divorce in TN, you've come to the right place!
Our article will show you everything you need to know about the process and how to end it in a friendly manner. You'll also learn how to get a professional divorce settlement agreement without effort!
How To Get a Divorce in Tennessee
The State of Tennessee allows you to get divorced either on fault or no-fault grounds. Check out the table below for details:
Fault-Based Divorce
No-Fault Divorce
A fault-based divorce is expensive and time-consuming. You have to prove that your spouse has committed misconduct that ruined the marriage. The grounds for a fault divorce are:

Impotence and sterility
Adultery
Habitual drunkenness or drug abuse
Living apart for two years without having children
Inappropriate marital conduct
Desertion for one year without a reasonable cause
Conviction of a felony
Pregnancy of the wife before the marriage
Living apart for two years
Malicious attempt upon the life of the other spouse
Lack of reconciliation for two years after signing a decree of separate maintenance
Bigamy
Abandonment, refusal, or neglect for the other spouse

No-fault divorces allow couples to get divorced without laying blame on each other. They only need to explain to the court that they want a divorce based on 'irreconcilable differences.' This means that they can't function together anymore, and the marriage is beyond irretrievable. If you've been living separately from your spouse for two years, you can apply for a divorce based on separation (this applies to couples without children)
How Long Does It Take To Get a Divorce in Tennessee?
If you're filing for a grounds-based or contested divorce, the whole process can take up to a year to complete or more.
To get separated faster, you should opt for an uncontested (friendly) divorce. This type of divorce needs to be on no-fault grounds and can be finalized in as fast as 90 days.
Uncontested Divorce in Tennessee—Requirements
An uncontested divorce is also called an agreed divorce in Tennessee. To file for one, you must:
Have no:

Children under the age of 18, still in high school, or disabled
Land, buildings, or businesses with your spouse
Retirement benefits

Agree that you're filing for a no-fault based divorce
Be a resident of the State for at least six months before filing the divorce papers
Live in TN for at least one year before taking action in case you or your spouse are in the military
You also can't file for an agreed divorce if you or your spouse is pregnant. If at least one of these requirements isn't met, you won't be able to get an uncontested divorce.
For couples who can't agree on property division, alimony, or child support, divorce mediation is recommended. The mediator is a professional who can help couples reach a middle ground and resolve their issues.
How To Get an Uncontested Divorce in TN
Once you've met all the requirements, you will need to fill out the divorce papers. These forms can be found on the official government website. Make sure you get:
Request for Divorce
Both Parties' Personal Information—To Be Filed Under Seal
Request To Postpone Filing Fees and Order
Health Insurance Notice
Final Decree of Divorce
You will also need to complete a marital settlement agreement. This document outlines the terms on which you and your spouse are getting divorced. To get the divorce agreement, you will need to either:
Hire a lawyer to draw one up for you—This option is not cost-efficient as lawyers' fees are sky-high
Use DoNotPay—With our Divorce Settlement Agreement, you will get a professional document with which you'll get divorced on fair terms
DoNotPay Helps You Get a Divorce Settlement Agreement in a Few Clicks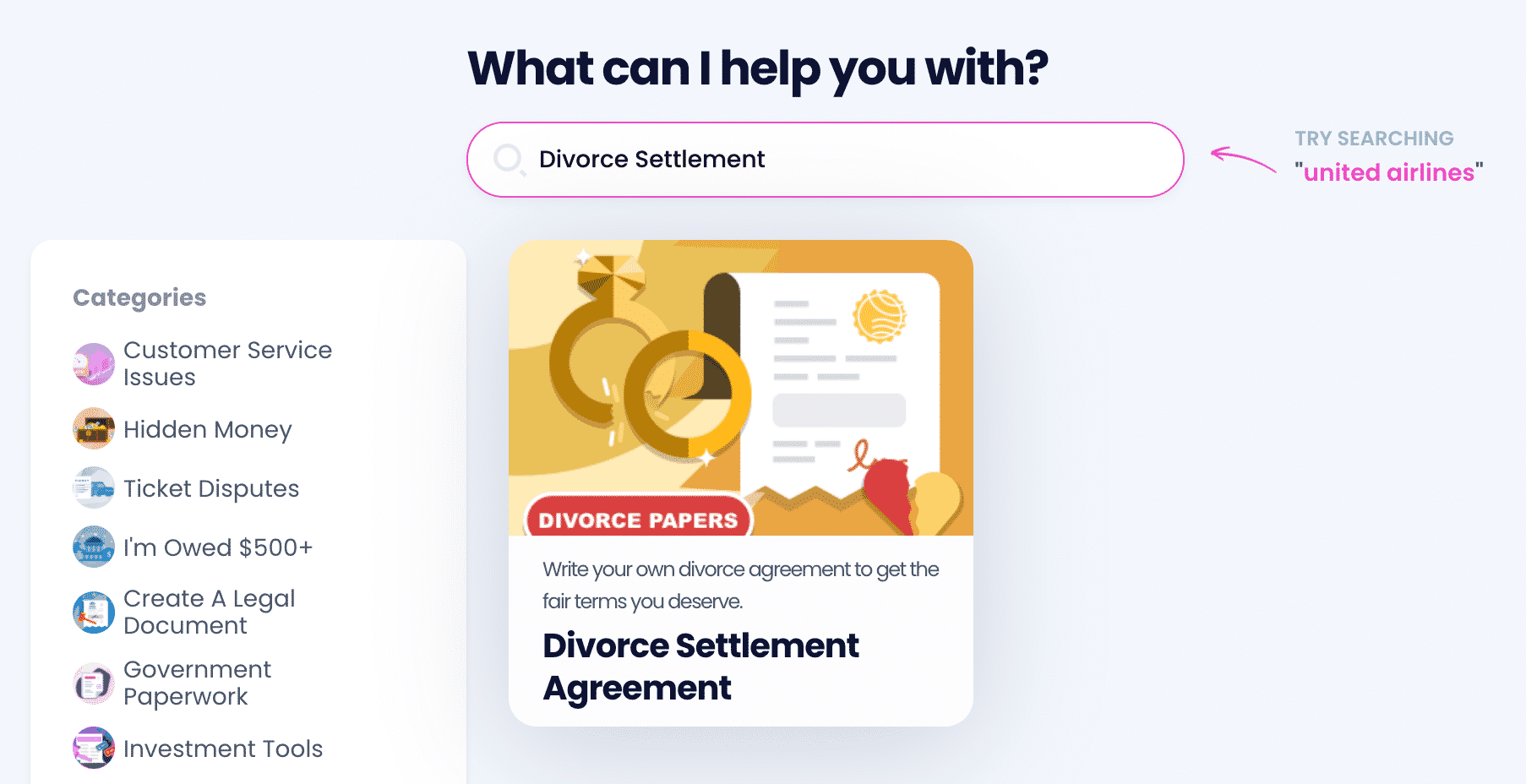 Want a divorce settlement agreement without hiring a lawyer and creating a hole in your pocket? Use DoNotPay! To get the document, you will need to:
Select the Divorce Settlement Agreement product
Enter the necessary details about your spouse, property, and children (if any)
Choose to have your agreement notarized online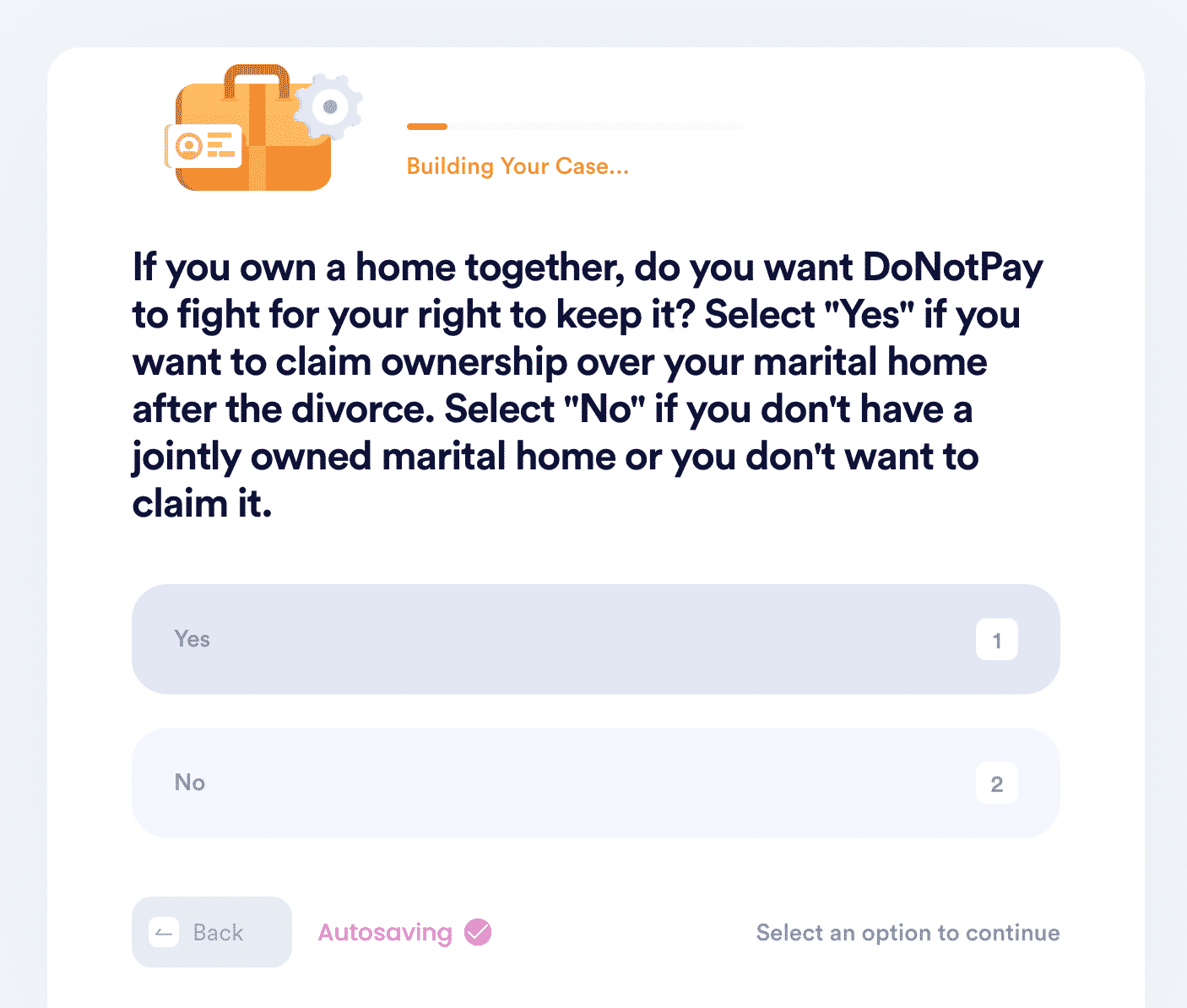 Upon processing your request, we'll send you a personalized divorce settlement agreement right away. You can then have it notarized from the comfort of your home if you opt for that option.
DoNotPay has answers to your divorce-related questions, such as:
We can also help you get divorced in the following Tennessee counties:
Serving the Divorce Papers in TN
When you file the papers, you will need to deliver them to your spouse. This process is called serving the defendant. You must hire a process server or a Sheriff's deputy to deliver the papers in your stead.
How Long Is The TN Divorce Waiting Period
Upon serving the papers, you'll have to ask your county clerk how to get a court date for the final divorce hearing. You'll need to wait for at least 60 days until the hearing, at which only one party will need to be present.
Finalizing the Agreed Divorce in Tennessee
The divorce process in Tennessee is completed after attending the hearing and getting a signed copy of the Final Divorce Order. Keep in mind that some counties charge a fee for these copies. If your spouse couldn't attend the hearing, you need to mail them a copy of the document.
Need Legal Assistance? DoNotPay Got You Covered!
Forget about getting a migraine every time there is an administrative task to handle. DoNotPay makes it easy and stress-free to deal with any bureaucratic issue that comes your way.
Not only can we assist you in drafting a legal document and getting it notarized, but we also help you:
Finishing Your Daily Errands Has Never Been Easier!
Looking for help with running errands? You don't have to spend hours trying to make a DMV appointment or contacting a customer service rep! Completing your day-to-day tasks stops being a burden once DoNotPay gets involved.
There is no shortage of errands we'll help you run for a small subscription fee, including:
Sign up for DoNotPay and avoid spending hours on simple daily tasks that can be done in a jiffy!