Filing for an Uncontested Divorce in Texas Has Never Been Easier!
If the divorce process is confusing you and you don't know where to begin, we got you covered! In our guide, you'll be able to find out how to file for divorce in Texas and what divorce papers you need to prepare to do so with ease.
Sign up for DoNotPay, and learn how to get an uncontested divorce in Texas without spending ages in court!
Divorce Law in Texas—Understanding the Texas Divorce Requirements
Each state has a set of rules for residents who are getting a divorce. To get a divorce in Texas, you or your spouse have to:
Have been a resident of the county where you file for divorce for at least three months
Have lived in Texas for at least six months before filing for divorce
In case you or your spouse have been in a different county or state while performing a public service—such as military service—on behalf of the U.S., the time you spent away will still be valid.
How Divorce Works in Texas—Can I File for No-Fault Divorce?
Texas law allows no-fault divorces. By filing a no-fault divorce, parties don't pass the blame around, and they don't accuse the other spouse of ruining the marriage.
If the court becomes aware of one spouse being at fault, a judge may consider it when dividing the property.
A fault divorce in Texas is granted on the following grounds:
| | |
| --- | --- |
| Reason | Explanation |
| Adultery | One of the spouses engaged in intimate relations with someone else |
| Living apart | Spouses have been living apart for at least three years |
| Cruel treatment | A spouse treats the other person poorly and makes living together insufferable |
| Abandonment | One of the spouses has left the other one alone for a year with the intent of abandonment |
| Long-term incarceration | A husband or wife has been incarcerated for over a year |
| Confinement to a mental hospital | A spouse has been in a mental hospital for at least three years |
How To File for an Uncontested Divorce in Texas
Do you wish to file for a no-fault divorce? If you and your spouse agree on all of the divorce-related aspects—such as property division and child support—you should consider a "friendly" uncontested divorce. This process is quicker, less stressful, and more affordable than a contested divorce.
Filing for an uncontested divorce enables you to get through the divorce process without involving a lawyer and settle the divorce matters out of court.
To file for an uncontested divorce in Texas without a lawyer, you need to meet the state's residency requirements and complete the following steps:
Fill out and file the original petition for divorce with the court
Pay a filing fee
Find out if you need to fill out any other uncontested divorce papers in your county (the required forms vary depending on the county where you're filing for divorce)
Write a divorce settlement agreement
Understanding a Divorce Settlement Agreement
Getting a divorce settlement agreement gives you the perfect opportunity to put everything important that you and your spouse discussed, including parenting time, responsibilities, and property division, in writing.
When you have a written agreement, you don't have to worry about your spouse changing their mind and claiming they never agreed to certain things. Even in such scenarios, you can use your agreement as proof in court.
While you can get a lawyer to file for an uncontested divorce in Texas to help you with your settlement agreement, attorney fees can be pretty expensive. DoNotPay helps you get a low-cost divorce by drafting your divorce settlement agreement in a snap.
Let DoNotPay Draft Your Texas Divorce Settlement Agreement Instantly!
DoNotPay developed a feature that helps you draft the perfect divorce settlement agreement without wasting hundreds of dollars on lawyers! You won't have to think about the laws and legal protocols at all—we'll do it for you!
All that it takes on your part is following the instructions below, and you're golden:
Pick the Divorce Settlement Agreement feature and provide the required info
Say how you want to allocate your financial assets
We'll generate your agreement right away! Both you and your spouse need to provide signatures to make it valid.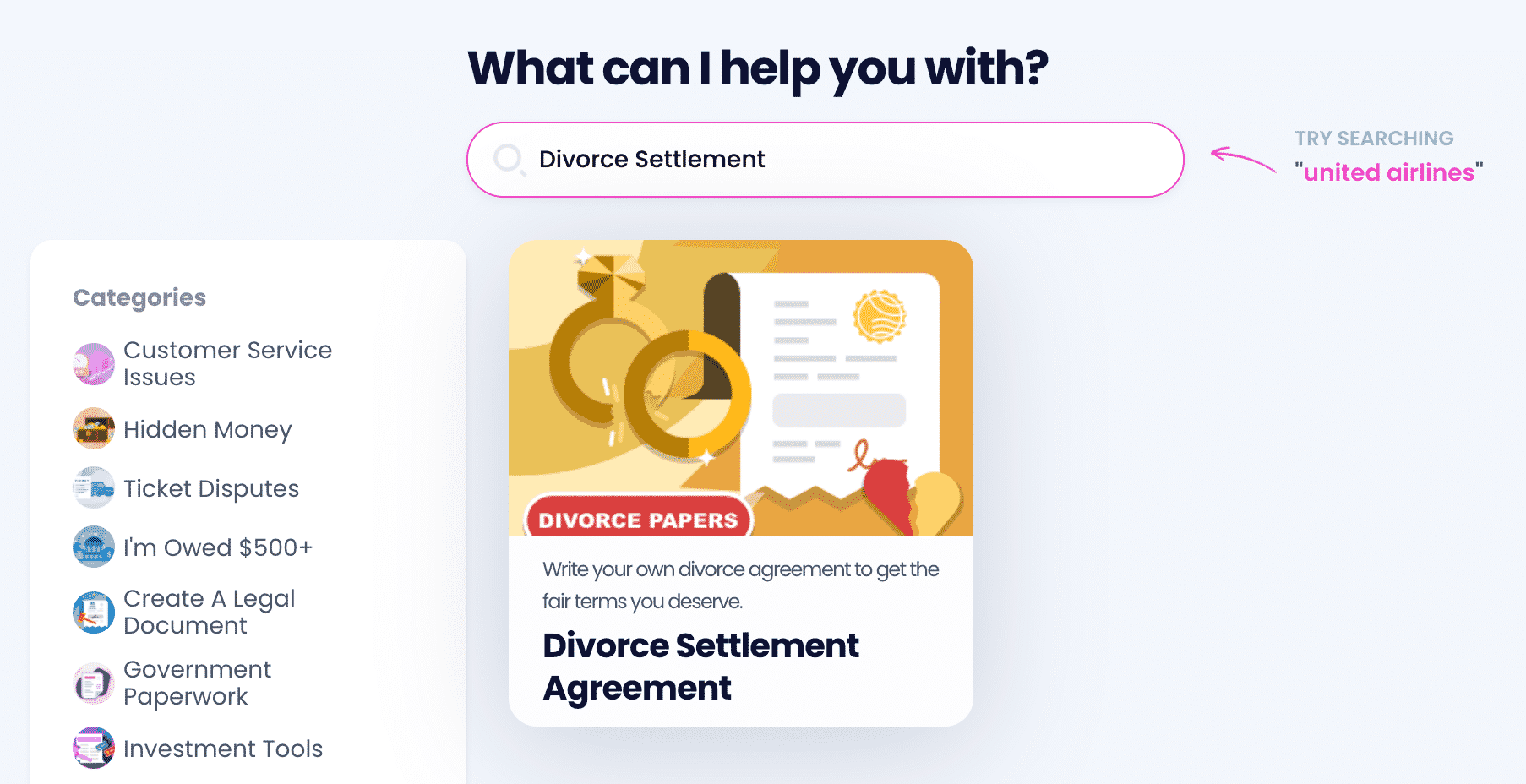 You should also get your agreement notarized for additional protection in case any claims arise. You won't have to pay an in-person visit to a notary public, though! With DoNotPay, you'll get to save time by simply choosing to get your document notarized remotely through our app.
Have Additional Texas Divorce-Related Questions? DoNotPay Has the Answers!
Helping you file for divorce in Texas isn't all DoNotPay can do for you! We can also help you understand various aspects of the divorce process. If you're wondering how much filing for divorce will cost you, what a divorce mediator is, or whether you can file for divorce online, we got you covered!
We can also offer answers to a number of other Texas divorce-related questions, including:
Communication Troubles? Say No More!
Yes, communication is the key, and DoNotPay vows to provide you with the best, most convenient methods to relay or protect your message—whether it's correspondence with your business partner or a loved one who's serving time.
Check out what you get by using our platform:
Use DoNotPay for a Better Shopping Experience
If you have a tendency to shop till you drop, some issues with purchases are bound to happen. Customer rights and satisfaction is what DoNotPay is passionate about.
With your subscription, you will be able to: