Prepare Well for Your Divorce in South Dakota
Getting a divorce can be stressful and intimidating. To handle it well, you should get familiar with the state law and local requirements. Gather the necessary papers, decide whether to hire a lawyer or deal with everything alone, and calculate the cost.
Would you like to have the specifics of divorce in South Dakota? DoNotPay provides valuable information and offers a practical tool to help you prepare your divorce settlement agreement correctly and efficiently.
What Requirements Do You Need To Meet To File for Divorce in South Dakota?
Unlike in many U.S. states, to file for divorce in SD, you don't have to:
Fulfill any residency duration requirements
Be separated from your spouse for a specific period before initiating the procedure
Keep in mind that you may not relocate with an underage child during the marriage-termination process without the permission of either:
Your spouse, i.e., the other parent
The court
You can file for divorce in the county where you or your spouse live.
What Should I Do if My Spouse Resides in Another State?
You can file for divorce in South Dakota even if your spouse doesn't live in this state. While the court may grant a divorce and divide property located in SD, it cannot award custody of a child living in another state.
If your spouse doesn't reside in the Mount Rushmore State and you need help regarding child support, you can turn to the:
State Attorney's office
Department of Social Services
Office of Child Support Enforcement
What Are the Grounds for South Dakota Divorce?
You don't have to prove your spouse's fault to get a divorce in South Dakota. Stating irreconcilable differences between you and your spouse is enough for a judge to grant you a no-fault divorce.
If there are marital issues you would like to mention as a reason to end the wedlock, here's a table with acceptable grounds:
Reason
Explanation
Adultery
Your spouse has had sexual intercourse with someone else during your marriage
Extreme cruelty
Your spouse has caused you serious:

Physical injury
Mental suffering

Willful desertion
Your spouse:

Deserts you, intending to leave the marriage (unless both of you know it's because of the divorce)
Refuses to have sexual intercourse with you (unless there's a reasonable mental or physical reason)
Threatens you physically or is cruel to you
Ignores your efforts to reconcile

Willful neglect
Your spouse refuses to provide for you because of their:

Laziness
Extravagant habits
Wasteful spending

Habitual intemperance
Your spouse's drinking:

Causes you emotional distress
Prevents them from managing regular activities
Other potential reasons for at-fault divorce include:
Chronic mental illness, i.e., insanity
Conviction of felony during your marriage
Keep in mind that if your spouse contests your allegations, you will have to prove their fault in court, and it can lead to a long and expensive process.
Prepare South Dakota Divorce Forms
You can go through the whole divorce process alone, especially if you and your spouse decide to have a friendly divorce. By cooperating well and agreeing on all matters, you can save lots of time and money (mainly because you won't have to hire a lawyer).
To start the process, you need to collect and fill out the appropriate forms available on the South Dakota Legal Self-Help website. While these are official forms, you should check with your local court if they require additional paperwork.
Keep in mind that the mandatory documentation may vary, depending on whether you:
Have minor children with your spouse
Are the:
What Are the Fees for Filing South Dakota Divorce Papers?
While the court fees for filing for divorce in South Dakota amount to $95, the total cost of your divorce may be much higher.
Since you'll need to pay extra for mediation and legal services for a contested divorce, you might end up paying $20,000 or more.
This amount is much lower in the case of an uncontested divorce, i.e., when you and your spouse resolve all aspects alone and reach an agreement. If you opt for an amicable separation, DoNotPay can create a divorce settlement agreement for you.
Use DoNotPay To Prepare Your Divorce Settlement Agreement
We know your state laws and will help you prepare a rock-solid divorce settlement agreement that clarifies important divorce details, including alimony, child custody and support, and property division.
You'll provide the information, and we'll combine it with the local legislation to create an enforceable document tailored to your needs and wishes.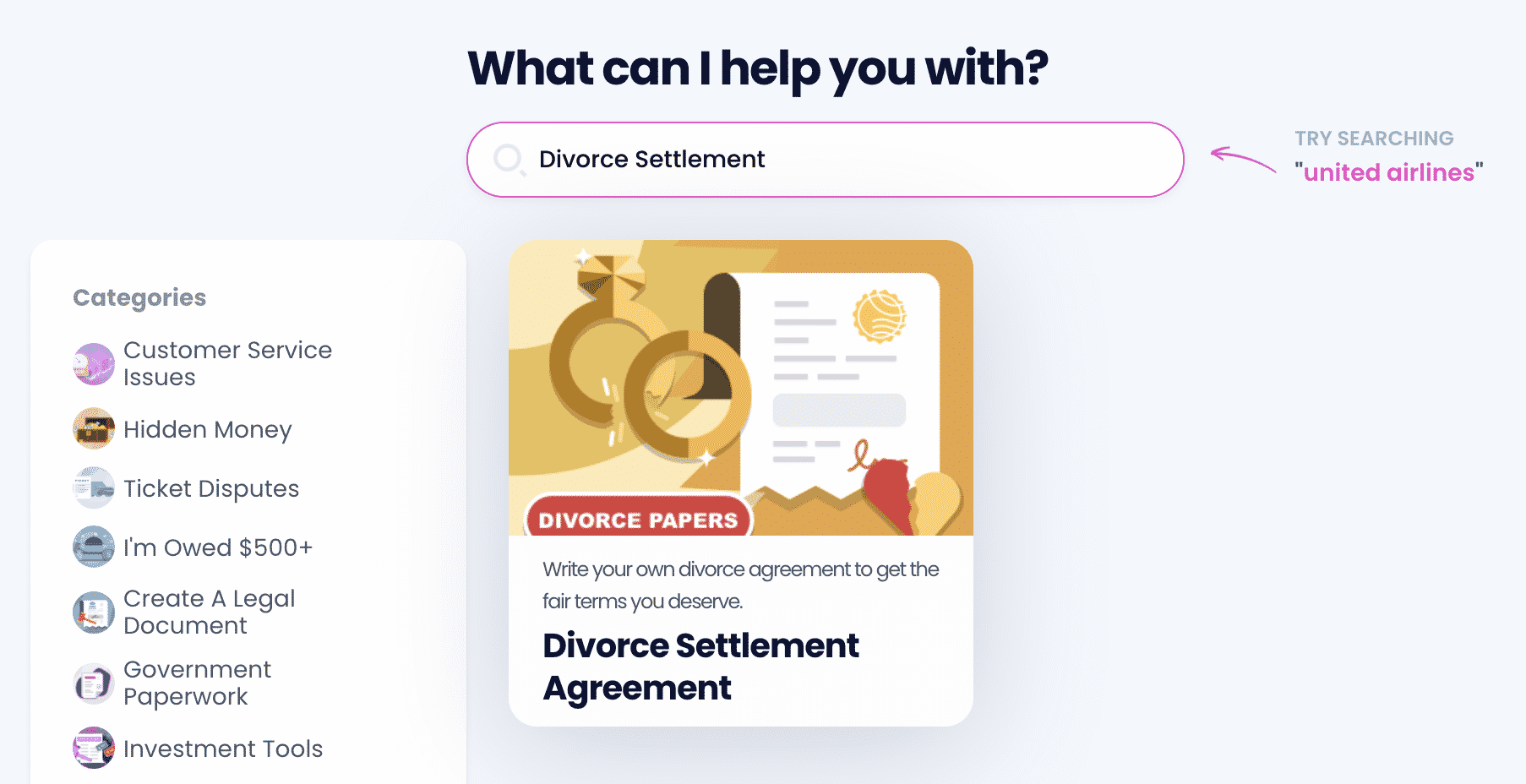 Here's how we operate.
Type in the Divorce Settlement Agreement in the search box
Answer our chatbot's questions
Enter information about your debts, income, and assets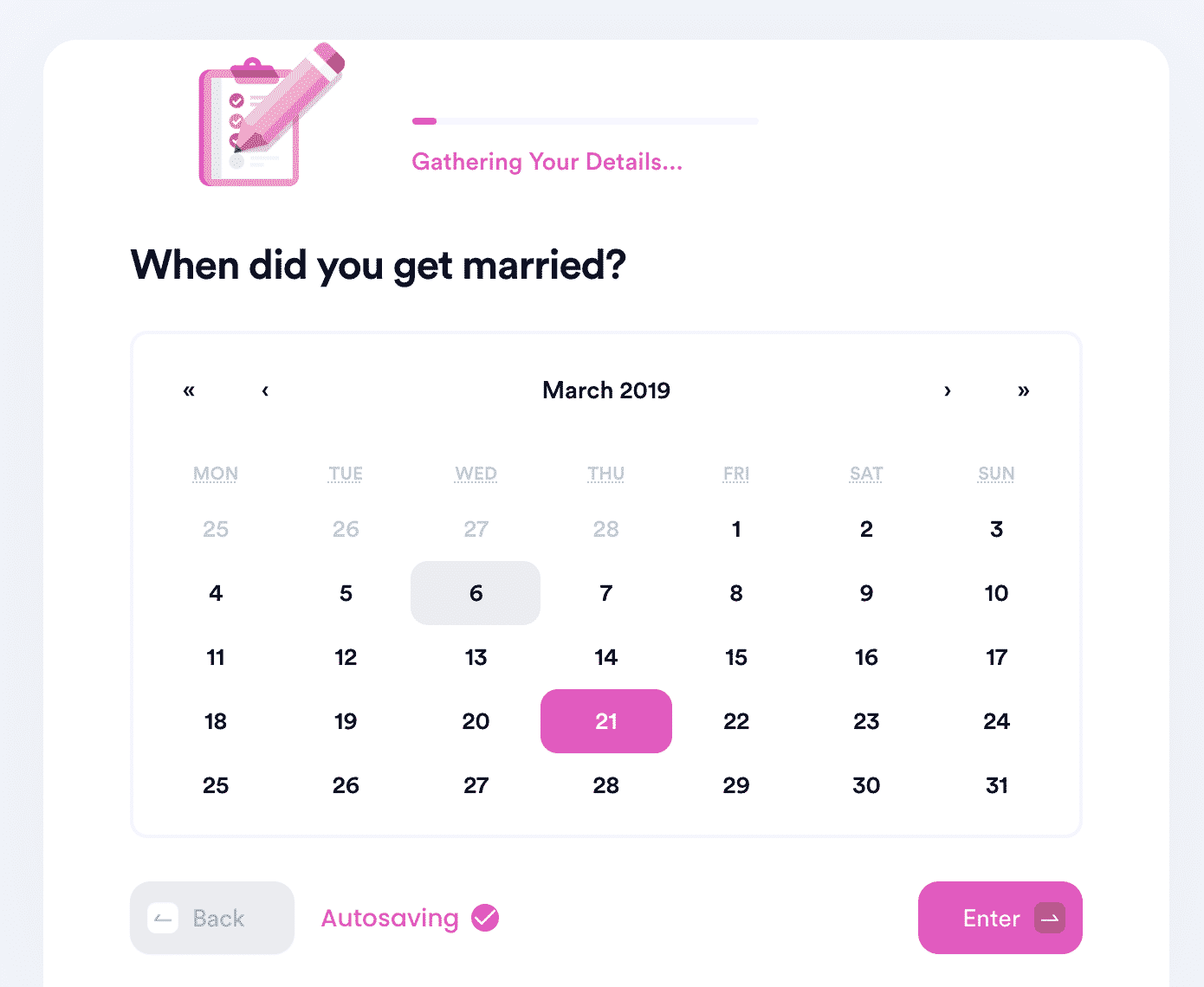 DoNotPay generates your divorce settlement agreement using the provided information. If you need to have it notarized, we facilitate around-the-clock notary service.
What's next? If you don't encounter any holdups, the court can process your South Dakota divorce papers in 60 days.
In case you've got more questions regarding the divorce process, browse through our learning center to find out how to:
Work Smarter, Not Harder!
Although there are certain tasks that are a pain but can't be avoided, such as paying your property taxes, you don't have to do them the hard way. There is always a way to make the overbearing bureaucratic procedures a bit easier. DoNotPay can find a loophole and help you cut through the red tape!
Reducing your property taxes is only one in the sea of tasks our app will make super easy to do! You can also use DoNotPay to:
Explore DoNotPay's Other Neat Features
DoNotPay offers a plethora of useful products to make your day-to-day life easier and enjoyable! Consult the list below to see what you can do using our app: