Learn How To Get a Divorce in SC Without Breaking a Sweat
If you want to get a divorce in South Carolina, you must first familiarize yourself with the state laws. Making a mistake while filling out forms means that you'll have to start all over again. The whole ordeal might seem confusing at first, but don't worry—DoNotPay is here to clear out any confusion!
Our article will show you everything you need to do to get a divorce in SC and list all the necessary forms. Sign up for DoNotPay, and we'll draft a divorce settlement agreement for you with ease and show you how to file your South Carolina divorce papers!
South Carolina Divorce Laws
Divorce in South Carolina is started when one spouse (the plaintiff), or their attorney, files a Summons and Complaint. The document needs to state:
Which grounds the plaintiff wishes to be divorced on
How the marital assets and debts will be divided
Whether there are minor children from the marriage
What the child custody, visitation, and support arrangements are
Residency Requirements for Getting a Divorce in South Carolina
Before filing for a divorce in South Carolina, you should familiarize yourself with the residency requirements.
Getting a divorce in SC requires you to be a resident of the state for at least three months. The divorce papers must also be filed in the county where the couple has lived as husband and wife.
Is South Carolina a No-Fault Divorce State?
South Carolina recognizes no-fault and fault-based grounds for divorce. To file for a no-fault divorce in South Carolina, the couple has to have intentionally lived separately for over one year without cohabitation.
Can You Have an Uncontested Divorce in South Carolina?
It's possible to file an uncontested divorce—also called friendly divorce—in SC, but you must:
File for a no-fault divorce
Live in South Carolina for over one year
Have no:

Marital property
Marital debt
Children

Agree on the terms of child custody, visitation, and support if you have children with your spouse
How To File for Uncontested Divorce in SC
Filing uncontested divorce papers in South Carolina will require you to:
Find the forms you need on the official South Carolina Judicial Department website
Fill the documents with the clerk of court or family court division
Include the following forms with your paperwork:

Family Court Cover Sheet
Certificate of Exemption
Summons for Device
Complaint for Divorce
Financial Declaration Form
Acceptance of Service
Request for Hearing
Final Order of Divorce
Once you complete all the forms, make at least two copies of everything. One will go to the court and your spouse, and the other one is for you to keep. You must also pay the filing fees to the clerk of the court. In case you don't have the resources to pay the fees, you can file a Motion and Affidavit to Proceed In Forma Pauperis.
Serving Divorce Papers in SC
In South Carolina, anyone who is neutral to the case and is over 18 years old can personally serve the divorce papers to your spouse. You can also hire a sheriff or a process server to do it for you for a fee.
If you're on good terms with your spouse, they can accept the service of the papers if they complete the Acceptance of Service form. This works as proof that your spouse has received the papers.
How Much Does a Divorce Cost in SC?
The cost of a divorce in South Carolina averages around $10,000, but it depends on multiple factors, such as:
Whether you've hired an attorney
What the fees of the court clerk are
Whether you and your spouse need a temporary hearing
How much the process gets drawn out
Getting an uncontested divorce lowers the costs of the process as you won't need a divorce lawyer if you agree on everything.
How Long Does It Take To Get Divorced in SC?
Divorces in South Carolina can take anywhere from 90 days to over a year to complete. The factors that impact the length of your divorce are:
The preparation and procedure
The family court's docket
The time needed for your lawyer (if any) to handle the divorce
If you're getting an uncontested divorce and agree on everything with your spouse, there's no need to go to court.
DoNotPay Provides an Easy and Efficient Solution for Getting a Divorce Settlement Agreement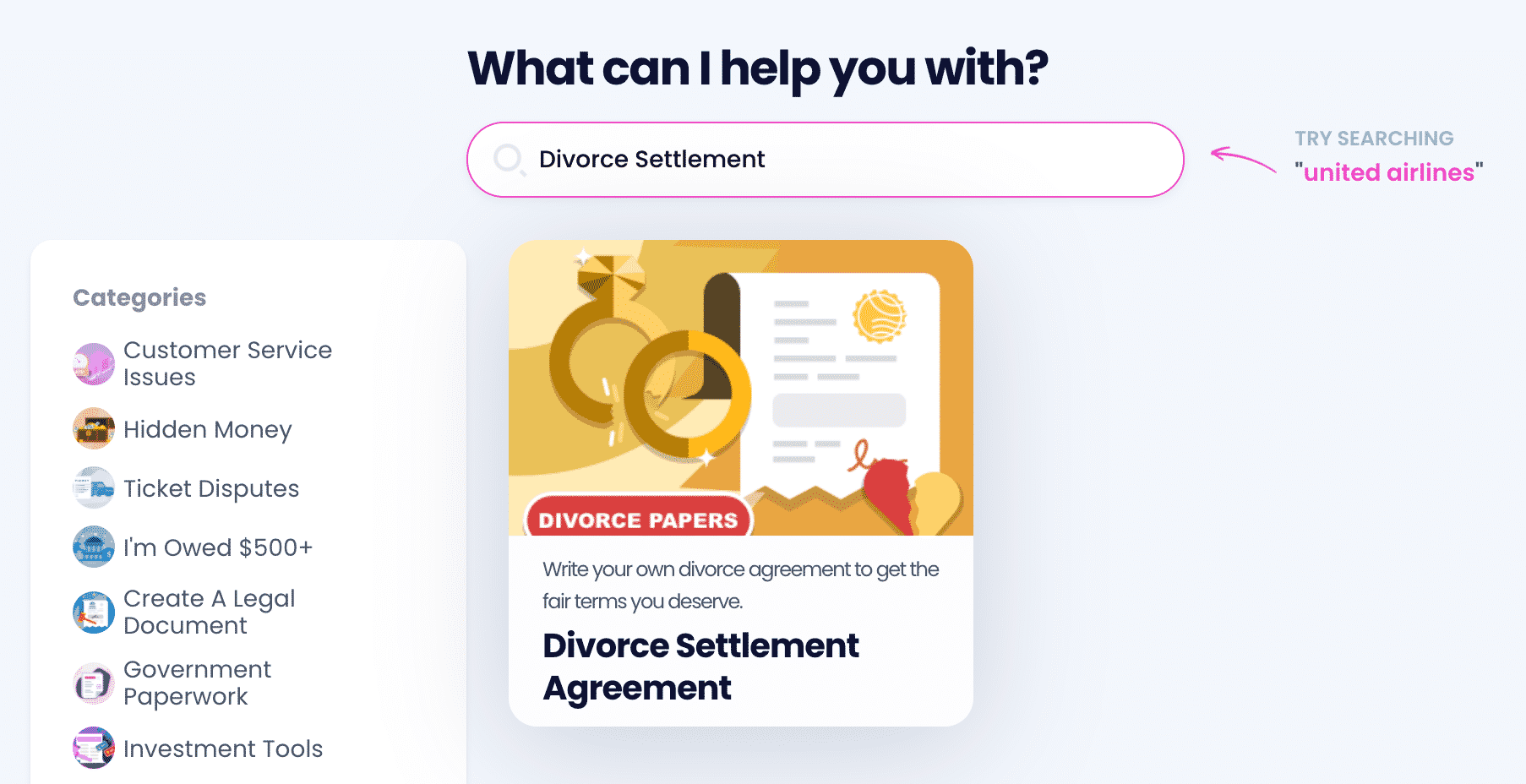 If you don't want to waste big bucks on expensive lawyer fees for a divorce settlement agreement, use DoNotPay! By using the info you give us, we can generate a tailor-made agreement for you in no time. You will only need to follow a few easy steps:
Select the Divorce Settlement Agreement product
Answer our chatbot's simple questions
Choose online notarization (optional)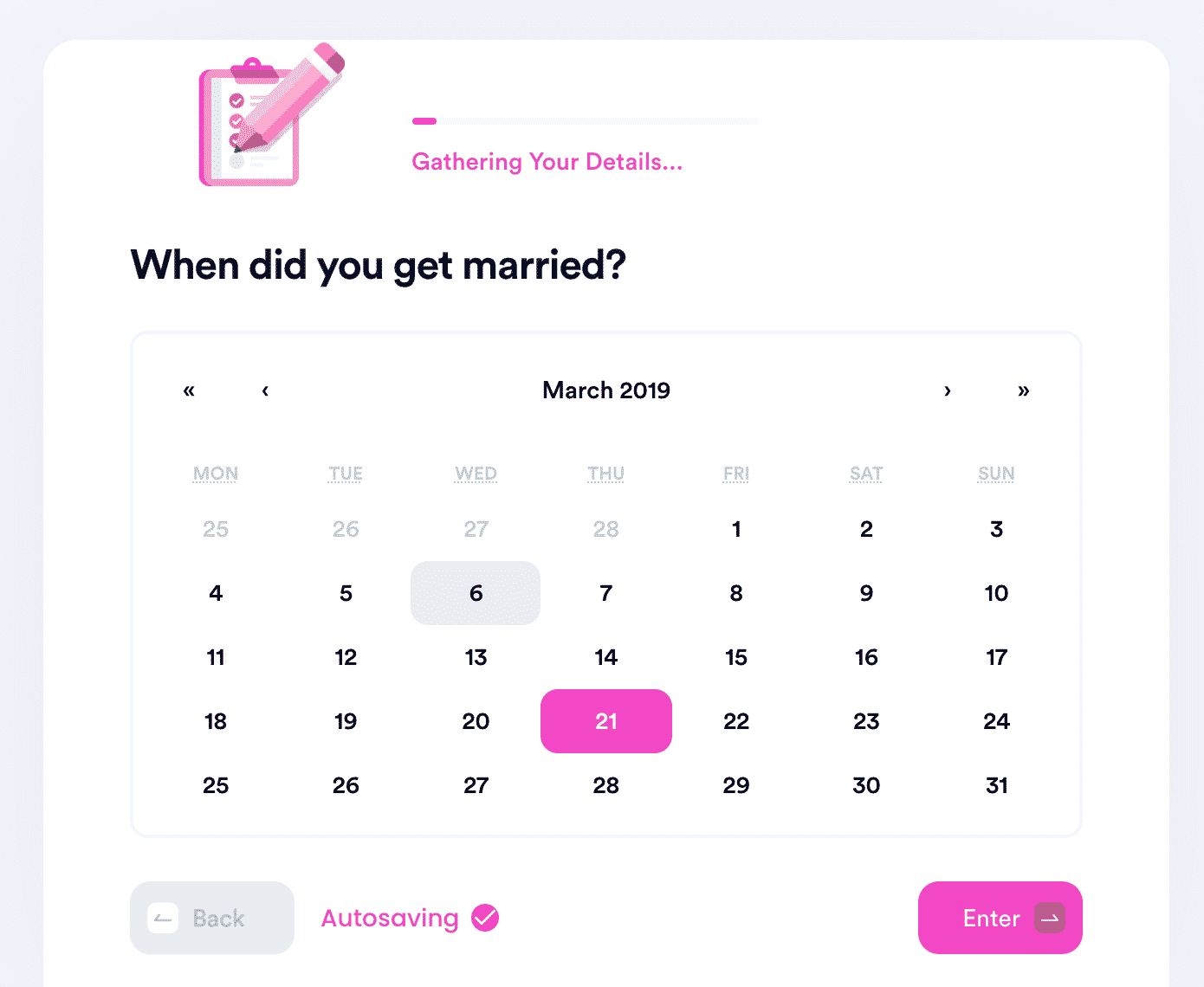 Once you submit the info, we'll generate a divorce settlement agreement for you in the blink of an eye! You can then have it notarized by an online notary via an audio-video call if you choose that option.
Check out DoNotPay's learning center! We can teach you all about:
Manage Your Tasks Easily With Our Help
DoNotPay is the perfect solution whenever you need to resolve legal or bureaucratic matters. Here's a fraction of what our AI-driven app can help you out with:
No Matter What You Need, DoNotPay Is by Your Side
Do you have a bunch of subscriptions that you waste money on but don't even use? We can help you cancel them effortlessly! After that, our app can initiate a refund request and make sure you get your money back.
Facing financial difficulties? DoNotPay can help you lower your bills, get free raffle tickets, get gift card cash back, find your missing assets, and so much more!
For a low monthly fee, you'll get access to our impressive range of products, so sign up now!