Not Even Brotherly Love—The Full Guide to Divorce in Philadelphia
If divorce is the route you and your spouse have chosen, the best outcome you can hope for is that the process is fast, cheap, and free from hassle. Philadelphia divorce laws make this possible as long as you can work together and avoid litigation.
DoNotPay has the info you need to get your divorce in Philadelphia finalized in the shortest possible time and at the lowest cost.
Philadelphia Divorce Requirements Explained
There are two types of possible divorce in Philadelphia:
A fault-based divorce means that you have to prove your spouse broke the marriage contract by committing:
Adultery
Abandonment for at least a year
Domestic violence or cruelty
Bigamy
A felony that results in imprisonment for more than two years
Fault-based divorces have to be tried in court, meaning that you will have to prove your allegations in front of a judge to be granted a divorce. This can be a long and expensive process.
Most couples looking for a divorce in Philadelphia opt for a no-fault divorce, in which you and your spouse accept that the marriage has irretrievably broken down. For this to be accepted by a judge, you and your spouse must either both consent to the divorce or live separately for two years.
As long as one or both of you have lived in Philadelphia for at least six months before filing for divorce, a no-fault divorce presents the easiest, cheapest, and fastest divorce route.
How Do You File for Divorce in Philadelphia?
Filing for divorce in Philadelphia is a relatively simple process and consists of the following steps:
Filing a complaint for divorce
Agreeing on a settlement
Filing a Complaint for Divorce
Your first action is to file a complaint for divorce with the clerk of the family court in Philadelphia. This entails filling out several forms, including an information sheet detailing:
Children or dependents in the marriage
Joint and individual assets and liabilities
Income and expenses of both spouses
Any shared business interests
You can file the divorce papers by mail, in person, or electronically, and the filing fee is $333.73, payable upon filing. Once the papers have been filed, your next action is to serve them on your spouse.
Serving the Divorce Papers
Your spouse needs to receive copies of your divorce filing and sign a form confirming their receipt. After the papers have been served, you and your spouse must wait 90 days before the divorce can progress.
After this time, your spouse can choose to respond to the complaint by:
Consenting to the divorce
Signaling their intent to contest it
If your spouse intends to contest the divorce, it will go to trial and could take up to two years to be resolved. If they consent, your divorce can be finalized with no court appearances and no need for lawyers to get involved.
Finalizing your divorce as quickly and easily as possible depends on your ability to reach a settlement with your spouse.
Agreeing on a Settlement
In granting your divorce, a judge will want to ensure that you and your spouse have agreed to a fair and equitable separation and that any children will be looked after adequately.
You and your spouse have 90 days after servitude of the divorce papers in which to draw up a divorce settlement agreement. The agreement should set out how your responsibilities and finances will be divided after the divorce, including:
If you can agree on a fair settlement, your divorce can be finalized without any court appearances or litigation. A friendly divorce such as this is the easiest and fastest way to dissolve your marriage in Philadelphia.
How Can You Draw Up a Divorce Settlement Agreement?
A divorce settlement agreement is a legal document that becomes binding on both parties after it has been accepted by a judge.
Your settlement agreement needs to be comprehensive and watertight, or it will be rejected by the judge, and your case may have to go to trial, resulting in added expense and time. Your options for drawing up a settlement agreement are as follows:
Settlement Agreement Resources
Explanation
Lawyer
The default choice for many couples is to hire attorneys to negotiate and draw up a settlement agreement. This can quickly become expensive as Philadelphia lawyers can charge between $200 and $400 per hour.

Even if you can't agree on all the details of your settlement, you may be able to avoid attorney costs by submitting to mediation, in which a trained mediator helps you negotiate an acceptable resolution

Online
The cheapest option is to use an online provider who can supply a settlement agreement template for you to fill out. You should be careful as these templates are often generic and not suitable for:

The specifics of your case
DoNotPay can come to the rescue! With our help, you can that ticks all the boxes without the expense of legal representation!
Get Your Philadelphia Divorce Sorted With DoNotPay!

DoNotPay is here to make your divorce in Philadelphia, PA, as quick and painless as possible! Our Divorce Settlement Agreement feature gives you the best of all worlds—a watertight and comprehensive legal document without the expense of a lawyer!
Here's how to set your agreement up:
Go to our Divorce Settlement Agreement product
Provide us with the required info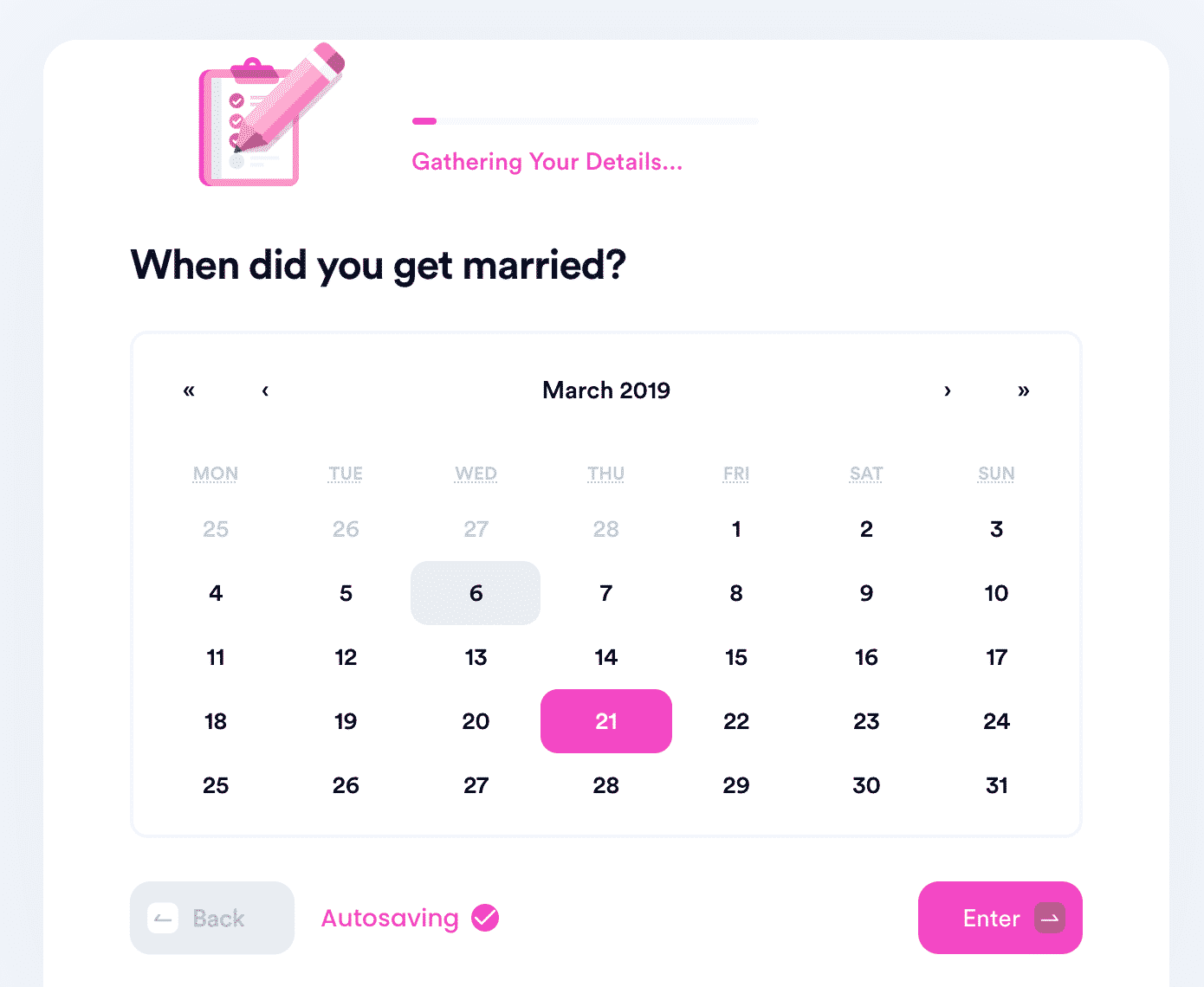 We will take it from there! As soon as we have all the relevant details, we will generate your tailor-made agreement. You and your spouse can sign it and have it notarized, and your divorce can move ahead. Don't worry if you can't find a notary in your area—DoNotPay has that covered with our online notarization service.
What About Other Counties in PA?
If you are looking to file your divorce papers in another county in Pennsylvania, DoNotPay has the info you need:
Why Waste Money on Lawyers When You Have DoNotPay?
Although certain tasks require you to get a lawyer's assistance, you don't have to spend hundreds of dollars for their service. With DoNotPay, you can avoid figuring out the legal jargon and have peace of mind dealing with bureaucratic tasks the easy way.
Need help preparing for a small claims court appearance or composing a neighbor's complaint letter? Looking for an easy but efficient way to draft a power of attorney or divorce settlement agreement? Use DoNotPay's features to draft legal documents, sue companies, request refunds, claim warranties, and file insurance claims while still saving a pretty penny!
Communication Is the Key
The best way to resolve issues is through clear communication, but companies don't always make it easy to do so. That's why DoNotPay came up with various features that help make communicating and solving problems a piece of cake. Sign up for our app and forget about waiting in lines for hours to speak to a customer service rep!
Here's what you can do with our app: