Divorce in PA—All You Need To Know
Going through a divorce is difficult for many reasons. Apart from being overwhelmed with emotions, stressing over the intricacies of the divorce proceedings can take a toll on former spouses. Since each state has specific regulations about divorces, having an insight into state requirements can make the process go faster and smoother.
If you want to know what constitutes a divorce in PA, we are at your disposal. DoNotPay will walk you through the legal requirements and show you how to file for divorce and end your marriage on a friendly note!
What Are Grounds for Divorce in PA?
According to Pennsylvania law, you can file for a no-fault and fault-based divorce as long as you provide specific grounds (reasons) for each. Take a look at the table below for more details:
Type of Divorce
Details
Fault-based
A fault-based divorce implies that one spouse is to blame for the dissolution of the marriage. The judge in Pennsylvania may grant a divorce if a spouse has done one of the following:

Committed adultery
Abandoned their partner without a reasonable cause for one year or longer
Subjected the other spouse to cruel treatment (e.g., domestic violence)
Committed bigamy
Been imprisoned for more than two years
Made the other spouse's life unbearable or extremely difficult

No-fault
Spouses claim that neither of them is to blame for the marriage ending by listing one of the following reasons:

Mutual consent—Both spouses agree the marriage cannot be fixed. Each must file an affidavit stating they consent to a divorce
Irretrievable breakdown—A person can claim the marriage is unfixable if they and their spouse have lived apart for at least one year
Institutionalization—If one spouse has been institutionalized for at least 18 months and is not likely to be released in the following 18 months, the divorce can be granted without a court hearing
Fault-based divorces in Pennsylvania are rare since spouses typically look for a fast and less expensive way to get out of a marriage. That can be achieved by filing for an uncontested divorce.
Basic Requirements for an Uncontested Divorce in Pennsylvania
To file for an uncontested divorce in Pennsylvania, you and your spouse have to:
Prove that the marriage is unfixable
Agree to a divorce jointly
Be willing to sign an affidavit consenting to the divorce
Bear in mind that at least one spouse needs to reside in Pennsylvania for a minimum of six months before submitting the divorce papers.
Other rules to keep in mind include:
Spouses may work out child support and custody issues before filing for a divorce or file separately and work them out later
All financial claims (e.g., about property distribution or alimony) have to be made before the divorce is finalized
Spouses have to resolve all financial issues before filing for divorce
The Process of Filing for an Uncontested Pennsylvania Divorce
You don't need a lawyer to get an uncontested divorce in Pennsylvania, which means you and your spouse can represent yourselves. If you have any questions or need someone to walk you through the process, you shouldn't hesitate to hire an attorney.
Take a look at the table below for more information on how to file for an uncontested divorce in PA:
Steps
Description
File the complaint

Fill out the required documents (ask at your county clerk's office or check out the court website)
File the documents at your county clerk's office
Pay the fee
Keep one copy (clerk's office keeps the other one, and the third is for your spouse)

Serve the spouse

Serve the divorce paperwork to your spouse within 30 days from the date of filing
Wait for your spouse to sign the Acceptance of Service form

File proof of service
File the copy of the Acceptance of Service and the Verification form with your county clerk
Sign and file consents and other documents
After 90 days, you should:

Sign one Affidavit of Consent copy
Mail the other copy to your spouse to sign
File both documents at your county clerk's office, along with:

Praecipe to Transmit Record
Final Decree of Divorce
Any additional documents your county requires
The clerk will send the documents to the judge. They will revise them and sign the Final Decree of Divorce, making your divorce official. You and your spouse will both get certified copies of the decree by mail.
Want To Make a Divorce in PA Even Simpler? DoNotPay Can Help!
If you and your spouse have decided on the uncontested divorce, our app can simplify the process even further. We will create a divorce settlement agreement outlining the issues you agreed on and ensuring both parties get fair treatment.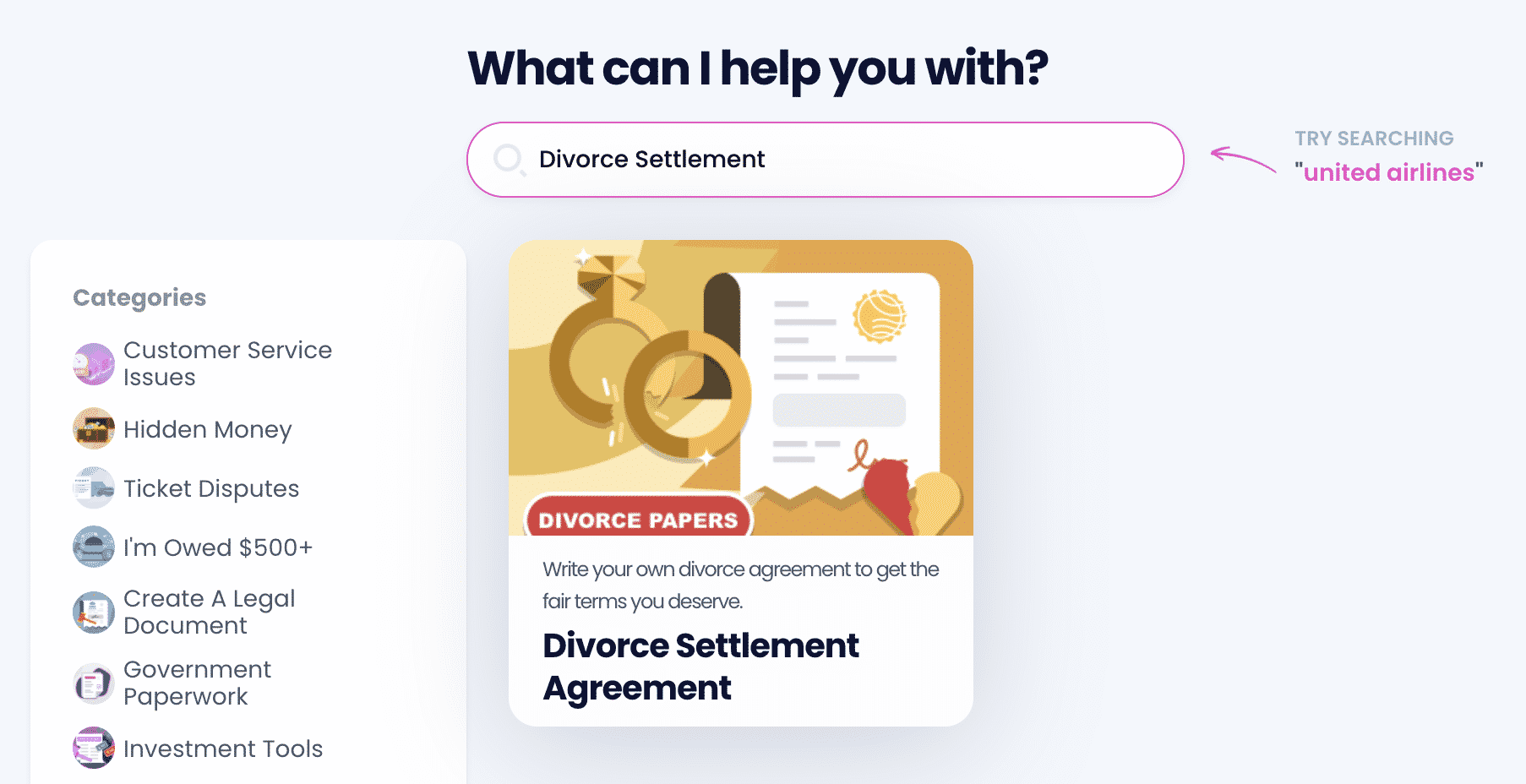 You can skip the overpriced lawyers and unreliable online divorce services. If you sign up for DoNotPay, we will draw up a divorce settlement agreement that:
Contains all crucial provisions
Complies with Pennsylvania state laws
Is tailored to fit your specific needs
Here's what you have to do after opening DoNotPay in a web browser:
Type in Divorce Settlement Agreement in the search box
Provide details about your spouse, assets, and children (if applicable)
Choose to have the document notarized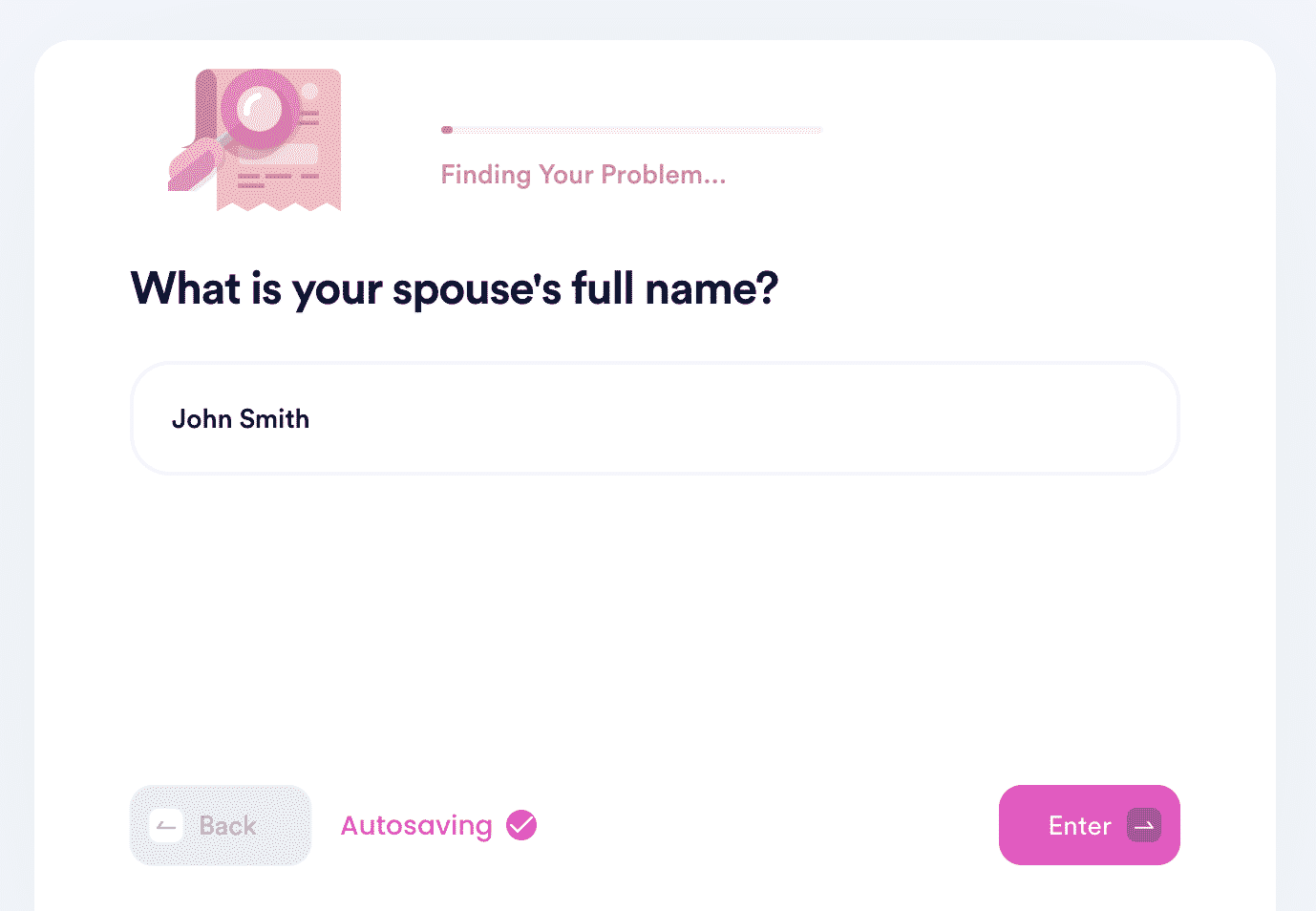 Once we create the document based on the information you provided, we'll connect you with an online notary. You and your spouse can sign the divorce settlement agreement online and have it notarized instantly!
Need More Help?
Our learning center can answer more divorce-related questions for you—general and state-specific. Check out the table below for more info:
Good Things Come in Small Packages
Siri and Google Assistant are great in their own right, but their skills leave a lot to be desired when it comes to the practicalities of our daily lives. DoNotPay is an app, a true pocket-sized assistant that has the power and the know-how to help you deal with navigating bureaucracy and fighting for your rights efficiently.
Our platform, accessible from your phone or computer, is brimming with products that will help you:
From Government Tests Preparation to Copyright Protection
Whether you are getting ready for your driving test or wish to protect your creative work, DoNotPay has something in store for you.
We can help you handle some serious tasks—like suing someone in small claims court or reporting workplace discrimination—or deal with more mundane activities, such as getting that leftover money from your used gift cards.
The best part is that your DoNotPay subscription gives you access to all our services, be it online fax or virtual credit cards!