Worried About Your Divorce in Oregon? Alimony Concerning You? DoNotPay Can Help!
Divorce in Oregon is never a pleasant process, but you can at least try everything possible to keep the ordeal short, the costs low, and the pain at a minimum.
Alimony can feature in any divorce settlement, and you may be worried that breaking up your marriage will result in a long-term financial strain.
DoNotPay is here to clarify the facts of divorce in Oregon, alimony rulings, and settlement options to make your divorce as fair and manageable as possible!
How Does Divorce in Oregon Work?
If either you or your spouse has lived in Oregon for the past six months, you are eligible to file for divorce there. Oregon is a no-fault state, so you do not need to prove wrongdoing as grounds for divorce.
You have two no-fault divorce options under Beaver State legislation, namely:
Summary dissolution
Complex dissolution
Summary Dissolution
A summary dissolution allows you to get your divorce without attending court and with no need for a lawyer.
You have to fulfill the following criteria to qualify for a summary dissolution or uncontested divorce:
Married less than ten years
No minor children, and neither spouse is pregnant
Joint assets of less than $30,000
No jointly-owned real property
Joint debts of below $15,000
No claim for spousal support
Complex Dissolution
If you fall outside the above criteria, you have to file the correct papers for a complex dissolution or contested divorce.
This will require you and your spouse to appear in court, but you still have various options to keep the process simple, cheap, and pain-free.
A contested divorce can be as easy or hard as the parties make it. The worst-case scenario is that the judge in your case will have to make a ruling on your settlement, covering such elements as:
The division of your assets and liabilities
Alimony arrangements
What Is Alimony, and How Is It Calculated in Oregon?
Alimony is the payment of money by one spouse to the other during and after a divorce.
The different kinds of alimony in Oregon are:
| Oregon Alimony Types | Explanation |
| --- | --- |
| Temporary spousal support | If one spouse needs help paying bills during the divorce process, a judge can order the other spouse to make interim payments. These will end automatically as soon as the divorce is granted |
| Transitional support | A spouse may need financial help to retrain for a new job or might need money to relocate to an area with better employment opportunities. This type of support is usually only used in longer-term marriages |
| Compensatory support | If a spouse has made significant financial contributions to the other spouse's earning potential, such as paying school or college fees, an Oregon judge can order some or all of that money to be repaid. This ends automatically when the ordered amount has been repaid |
| Spousal maintenance | In longer-term marriages or ones where a spouse cannot support themselves due to age or disability, a judge may order long-term maintenance to be paid by the other spouse. Maintenance can last as long as a judge deems necessary |
To calculate the amount and type of alimony to be granted, an Oregon judge may look at:
How long you were married
How much each of you is earning and could earn in the future
What skills gaps each spouse has
How your expenses were structured as a married couple
What your ages and employment prospects are
What Can You Do To Avoid Alimony Being Ordered?
If you want to avoid a court order that imposes alimony payments on you, your best course of action is to pursue a friendly divorce with your spouse before your case comes to trial.
If you can present the judge with a signed out-of-court settlement agreement at your first hearing, the judge will grant your Oregon divorce with no need for further litigation. The time to negotiate this agreement is between serving your spouse with the divorce papers and your initial court hearing.
Your settlement agreement should cover all the elements a judge would otherwise rule on and needs to be:
Where Can You Get a Settlement Agreement Prepared in Oregon?
Your options for preparing your settlement agreement are as follows:
Settlement Agreement Resources
Explanation
Lawyer
If you and your spouse engage attorneys to negotiate and draw up your settlement agreement, your costs could quickly explode. An uncontested divorce through lawyers in Oregon can cost over $4,000 per spouse.

A cheaper alternative could be to opt for mediation, in which a trained facilitator helps you negotiate face to face. Mediators in Oregon typically charge between $100 and $300 per session

Online divorce service
If you agree on the major points of your settlement, you can investigate the many online providers who offer settlement agreement templates for you to fill out.

You should exercise caution, though—many of these templates are too general to cover your exact needs, meaning that you risk your agreement being rejected by the judge
DoNotPay can solve the issues of cost and suitability by creating a comprehensive settlement agreement for you with no lawyers' fees to pay!
Your Oregon Alimony Worries Banished With DoNotPay!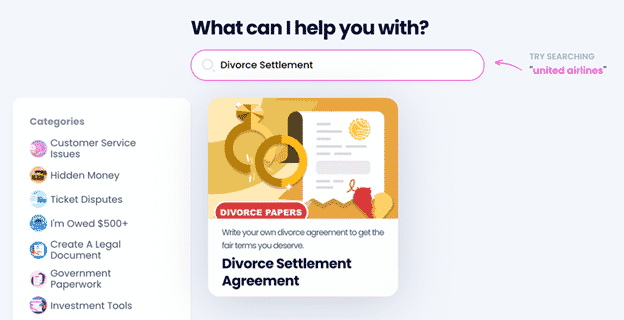 DoNotPay can help you avoid the alimony trap of a contested divorce in Oregon!
Our Divorce Settlement Agreement product gives you a legal document that ticks all the boxes, being:
Comprehensive
Tailor-made to your specifications
Legally airtight
Here's how to set your agreement up:
Click on our Divorce Settlement Agreement feature
Go through the questionnaire and give us the terms you have agreed on with your spouse
We'll take over from there—your document will be ready for you to sign and have notarized in a few seconds. We can even save you the bother of searching for a notary in Oregon with our online notarization service!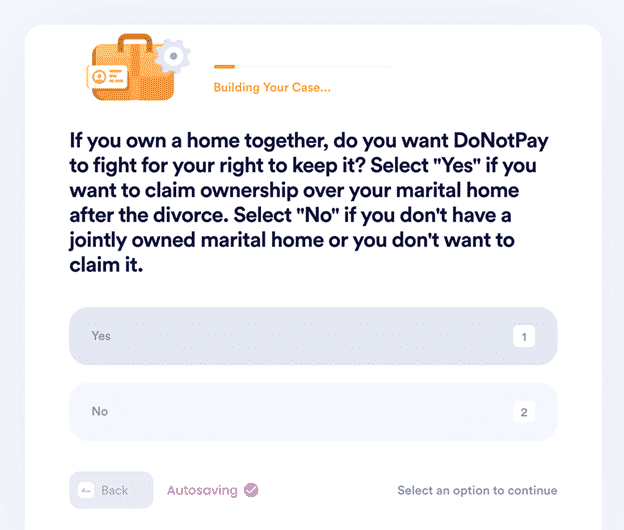 More Oregon Assistance From DoNotPay
DoNotPay is here to help if you need county-specific divorce info in Oregon.
Here are some examples of what we can offer:
Use DoNotPay To Complete a Variety of Tasks at Any Time
Why waste time and money completing mundane tasks on your own when you can let DoNotPay assist you? Take a look at the table below to find out what our AI-powered app can do for you:
| DoNotPay Can | Services |
| --- | --- |
| Protect your safety and privacy | |
| Draft legal documents | |
| Help you get your money back | |
DoNotPay Has More in Store for You!
Since communication is key, you'll appreciate our feature that helps you get in touch with customer service reps quickly! We'll also show you how to send faxes online and have your documents notarized by an online notary with ease!
Going on vacation? Use DoNotPay to take a valid passport photo at home or get a tourist visa!