DoNotPay Makes Getting a Divorce in Oklahoma a Piece of Cake
Besides being emotionally draining, the divorce process is technically complicated. Divorce requirements and laws differ in each state, which means that you need to do thorough research before taking action.
Don't know where to start? Don't worry—DoNotPay has prepared an article that'll explain everything you need to know about getting a divorce in Oklahoma! We'll show you how to get a low-cost divorce the easy way and end your marriage in a friendly manner.
Grounds for Divorce in Oklahoma
The first step you need to take is to choose the type of divorce that you'll file for. In Oklahoma, there are two types of divorces:
No-fault divorce
Fault-based divorce
Fault-Based Divorce
Getting a fault-based divorce means that you'll provide a reason for ending the marriage. There are 12 grounds for divorce in Oklahoma:
Adultery
Abandonment for at least one year
Impotence
Incompatibility
Habitual drunkenness
Wife's pregnancy with another man
Fraudulent contract
Extreme cruelty
Neglect of duty
Imprisonment of one spouse
Insanity for a period of at least five years
Procurement of a final divorce decree
No-Fault Divorce
A no-fault divorce is much easier and more affordable than a fault-based divorce. You only need to state that you and your spouse are incompatible and that the marriage is irretrievable.
To file a no-fault divorce, either you or your spouse must have been a resident of Oklahoma for at least six months. You also need to have lived in the county where you're getting divorced for at least 30 days.
How To File for Divorce in Oklahoma the Easy Way
The easiest way to end your marriage in Oklahoma is to file for an uncontested divorce. This type of divorce is much quicker and also cheaper because you won't have to hire a lawyer. To get an uncontested divorce in Oklahoma, you and your spouse have to agree on some important issues, such as:
If there are any issues that you can't solve on your own, you could opt for divorce mediation. A mediator can help you reach a middle ground so you can file for an uncontested divorce.
How To File for an Uncontested Divorce in Oklahoma
Once you agree on all issues regarding your divorce, you need to file the papers. The divorce forms you need to file in Oklahoma are:
Domestic Relations Cover Sheet
Petition for Dissolution of Marriage
Entry of Appearance and Waiver of Service
Final Dissolution of Marriage Decree
You should also file a marital settlement agreement and a parenting plan if you have any children with your spouse. To get the agreement, you can:
Create one yourself
Hire a lawyer to do it for you
Use DoNotPay and get a professional agreement in no time
Serving the Divorce Papers
To serve the divorce papers in Oklahoma, you will need to either:
Go to the sheriff's department
Hire a process server to deliver the papers in person
If you ask your spouse to accept the divorce papers and they agree, they can then complete a Waiver of Service form for you to file in court.
How Long Does a Divorce Take in Oklahoma?
If there are no children involved in the case, the judge can finalize your divorce ten days after you file the petition. In case you have any underage children, you will need to wait 90 days for your uncontested divorce to go through.
How Much Is a Divorce in Oklahoma?
If you're getting an uncontested divorce in Oklahoma, it won't cost you a lot—you'll only have to pay for serving costs and filing fees. For example, if you live in Oklahoma County, you'll have to pay $183.70 for the costs of filing for divorce. These fees in other counties vary between five and ten dollars.
Is Getting an Online Divorce in Oklahoma Worth It?
Various agencies in Oklahoma offer online divorce services. To go through with an online divorce, you will need to:
Complete online questionnaires
Receive the papers via mail
Print them and sign them
File them with the local court
Before opting for an online divorce, be careful when choosing an agency. Avoid amateur-looking ones as you don't want to get the wrong forms or a settlement agreement that won't be fair to you.
Need a Professionally Drafted Divorce Settlement Agreement That Won't Break the Bank? Use DoNotPay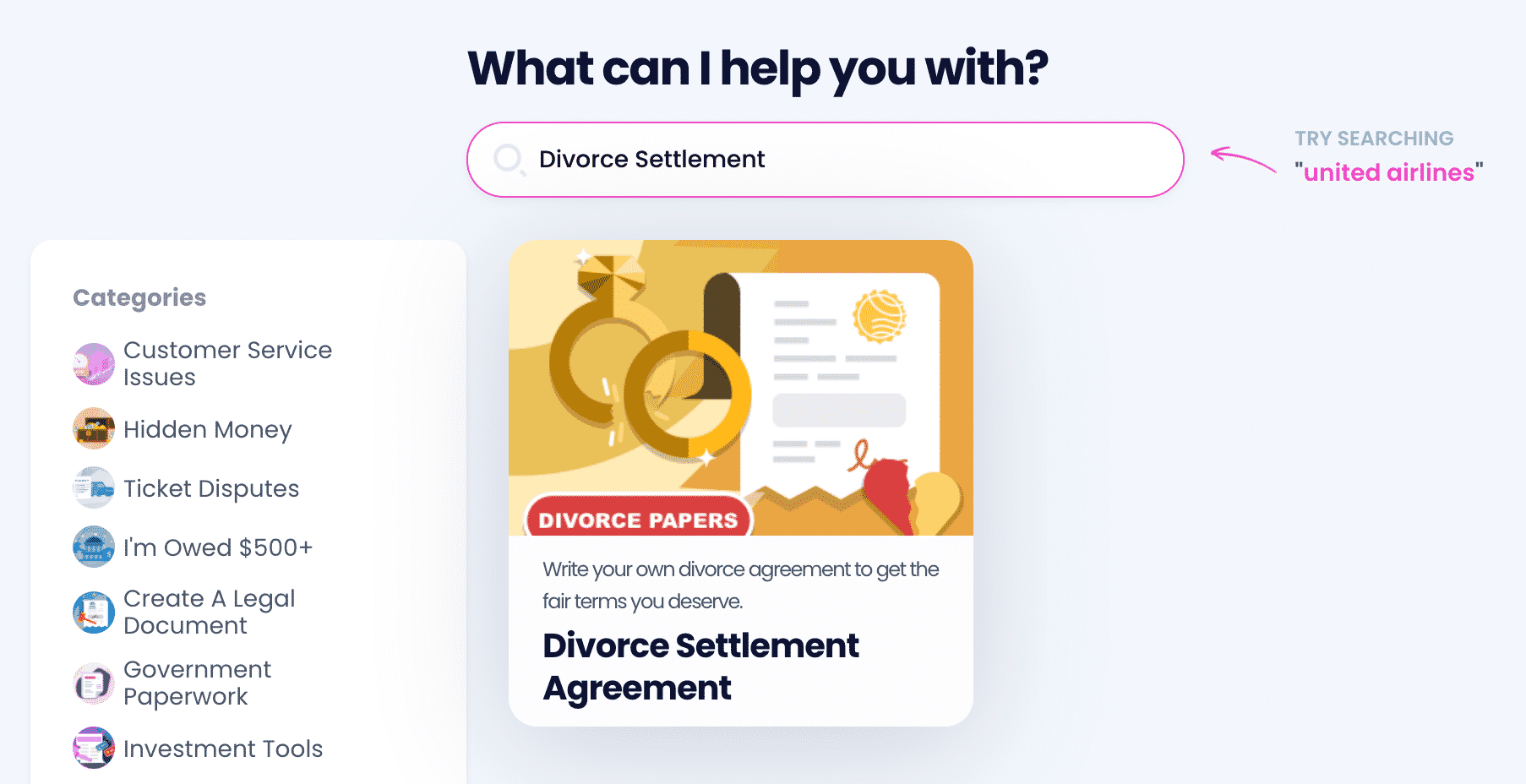 DoNotPay provides the most efficient and affordable solution for getting a divorce settlement agreement. We'll save you the money you'd otherwise spend on expensive lawyer services. To get the agreement, all you have to do is:
Find the Divorce Settlement Agreement product
Answer our chatbot's questions regarding your spouse, children, assets, and income
Opt for online notarization through our app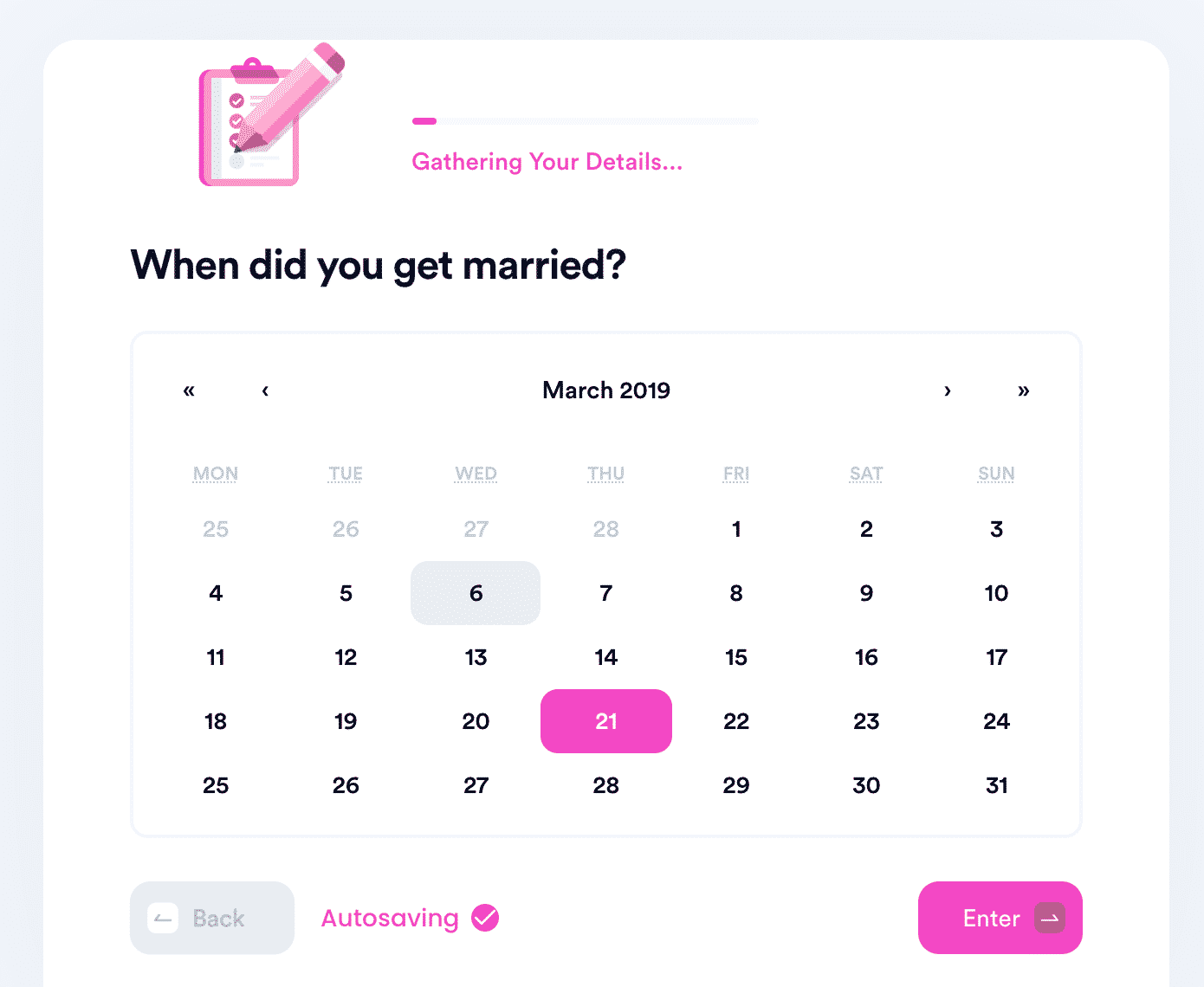 We will generate a divorce settlement agreement that will have all the information you provided us with. If you choose to get your document notarized through DoNotPay, we'll take you to an online notary's schedule. You can then have your settlement agreement notarized from the comfort of your home.
Need more help? DoNotPay has answers to frequently asked questions and handy how-to guides, including:
| | |
| --- | --- |
| Frequently Asked Questions | How-To Guides |
| | |
Use DoNotPay To Resolve Administrative Tasks in Minutes!
Tired of brainstorming the easiest way to deal with administrative issues? We know how you feel, and we're here to take the burden off your back!
Once you subscribe to our app, you'll be able to resolve an abundance of bureaucratic issues with ease.
Taking a valid passport photo, reporting workplace discrimination, reducing property taxes, preparing for a government test, applying for a college fee waiver, and appealing a parking ticket are some of the many tasks we assist you with.
In case you need a quick way to draft a legal document, such as a power of attorney, divorce settlement agreement, or a child travel consent form, DoNotPay will do it for you!
Learn How To File Claims the Easy Way
Are you dissatisfied with a certain company and/or its products? You don't have to stay quiet! Use DoNotPay to file your insurance, warranty, or missing/late parcel claim effortlessly! We'll also show you how to request an item return in a few steps.
If you want to cancel a subscription or request a refund or chargeback, you can do it with our assistance without breaking a sweat. Use one app to deal with countless issues!