How To Get an Uncontested Divorce in Ohio With DoNotPay's Help
Sometimes, things don't work out. Through no fault on either side, some marriages are destined to fail, in which case the best thing for you and your spouse is to get a divorce.
If you live in Ohio, there are ways to make the process quick and relatively painless.
DoNotPay shows you how to file for divorce in Ohio and gives you tips on avoiding lawyers' fees and lengthy court cases.
What Are the Divorce Laws in Ohio?
Ohio is a no-fault divorce state, meaning that you can file for dissolution of marriage if neither you nor your spouse has done anything wrong.
If the marriage isn't working and you decide that divorce is your best route, you can cite the following reasons for wanting the marriage dissolved:
Incompatibility
Absence of one spouse for more than a year
A dissolution of marriage is the same as a divorce in other states, but a divorce in Ohio must cite a reason, which can include the following:
Adultery
Abandonment
Imprisonment
Abuse
To qualify for a summary dissolution of your Ohio marriage, you or your spouse need to have been a resident of Ohio for six months before filing your case. If both of you live in Ohio, you can choose the county court where to file your case regardless of where your marriage took place.
A dissolution has the same effect as a divorce, but you and your spouse must agree on every aspect of the dissolution beforehand. It is similar to a friendly divorce or an uncontested divorce in other states.
What Is the Divorce Process in Ohio?
To kick start the process of dissolving your marriage, you and your spouse need to follow these steps:
Sign a separation agreement
File a petition for dissolution
Draw up a settlement agreement
Attend court to finalize the dissolution
Sign a Separation Agreement
A separation agreement is a document signed by you and your spouse that lists all the joint:
Assets
Liabilities
Income
Expenses
The separation agreement must include full disclosure on both sides and should be signed willingly by you and your spouse and notarized.
File a Petition for Dissolution
You and your spouse should file a petition for dissolution with your local county court. The separation agreement should be attached to the petition.
You can get the approved form for the petition from your local county court. A petition for dissolution has to be filed jointly, meaning that you don't have to serve your spouse with divorce papers.
Draw Up a Settlement Agreement
The settlement agreement should refer to your separation agreement and state exactly what should happen to your assets and liabilities after your dissolution has been granted.
You need to agree on every aspect listed in the settlement agreement, which often means that couples resort to using a lawyer for this process.
A low-cost alternative to hiring attorneys is to use a mediation service, in which the Ohio mediator helps you negotiate an acceptable solution without breaking the bank.
If you can agree on your settlement, you will avoid the need for drawn-out court procedures—one hearing will suffice.
Attend Court To Finalize the Dissolution
Once the court has received all your uncontested divorce papers, they will set a date for a hearing to finalize your case. This can happen relatively quickly, usually within between 30 and 90 days.
At the court hearing, you and your spouse will be asked to testify that:
The settlement agreement is voluntary
Both parties have disclosed their assets and liabilities fully
You both want the marriage dissolved
Once these testimonies have been recorded, the judge will declare your marriage dissolved and issue a court order that you must abide by the terms of the settlement agreement.
Where Can You Get a Settlement Agreement Drawn Up?
The settlement agreement is the most important element of your divorce papers and needs to be sourced carefully.
You can get your agreement drawn up using the following resources:
| | |
| --- | --- |
| How To Get a Divorce Settlement Agreement | Explanation |
| Lawyer | A lawyer will draft a divorce settlement agreement for you, but the process can quickly become complicated and expensive. You may also find that a lawyer will look for conflict where none exists |
| Online | Several websites offer divorce agreement templates for you to fill out, but you need to be careful, as many of them use language that is not appropriate for Ohio courts. Some may even leave out details you want to be included, meaning that a judge will not accept the agreement as representing full disclosure |
| County Court | Ohio county courts have forms you can use, but they are complicated and often require a lawyer to decipher them |
DoNotPay can help! We can put together a complete and valid divorce settlement agreement for you that will satisfy an Ohio judge in your dissolution case!
Ohio Divorce—DoNotPay's Divorce Settlement Agreement Solves Your Problems!

If you are looking for a solution that saves you time and money in your Ohio dissolution case, DoNotPay is the place to go!
We can draw up a tailor-made settlement agreement for your uncontested divorce in no time—here's how to proceed:
Sign up with DoNotPay in your web browser
Click on our Divorce Settlement Agreement product
Fill in the required details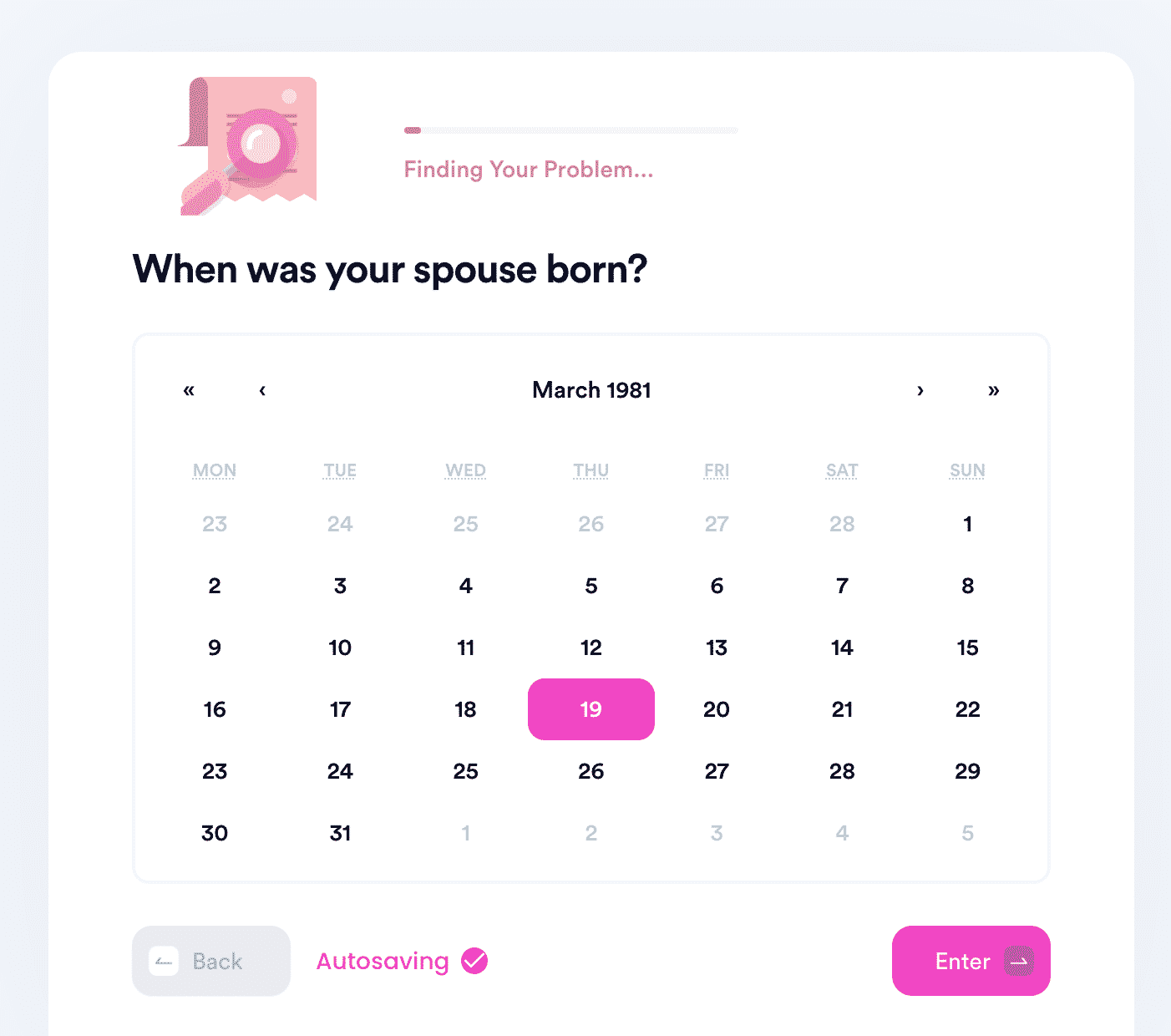 DoNotPay will do the rest—once your agreement is complete, all you need to is sign it together with your spouse and have it notarized. If you don't know where to find a notary in your area, we have a solution, too—you can use our Notarize Any Document feature to get it done online in a flash!
What Other Help Can DoNotPay Give Me With Divorce in Ohio?
DoNotPay is your best resource for all your Ohio divorce needs. We have detailed information on:
Discover DoNotPay's Product Range
DoNotPay has a vast range of products that help you earn and save money and fight bureaucracy. Check out how to get insurance or warranty, file a FOIA request, send anything through online fax, draw up a tailor-made legal document, get documents notarized, get a college fee waiver, sign up for any clinical trial, and so much more!
Your personal AI-powered assistant can also lend its helping hand if you need to fight email or text spam, get robocall compensation, request refunds from airlines, draw up a child travel consent form, prepare for government tests, and combat workplace discrimination successfully.
Save and Earn Money
The best part of using DoNotPay is that you can both save and earn money. As soon as you sign up, make sure you check out how you can find missing money, get free raffle tickets, get compensation for victims of crime, report a late or missing delivery and get a refund for it, and request gift card cash back.
If you want to sign up for a free trial risk-free, cancel any subscription-based service, request a refund from a company, sue anyone in small claims court, or jump the phone queue when getting in touch with customer service reps, you can always count on us.