Divorce in Ohio—Who Gets the House and Other Dilemmas Resolved
A divorce is a complicated and overwhelming process, regardless of the circumstances. You and your spouse could be ending the marriage amicably, but you still need to resolve issues, such as custody, alimony, child support, and property division.
DoNotPay will solve all of your dilemmas about a divorce in Ohio—who gets the house, how other assets are divided, and how uncontested divorce helps with these matters!
We'll help you formalize your out-of-court settlement with a rock-solid divorce settlement agreement! All you need to do is sign up for DoNotPay—we'll prepare the document for you!
Ohio Divorce Law on the Division of Property
Ohio is not one of the community property states. The division of debts and property in Ohio is based on the equitable distribution model, meaning that the division of your assets doesn't need to be equal, but it has to be fair.
During the divorce process, the court starts dividing your property by presuming that all marital property should be split 50/50 between you and your spouse. The judge will then start introducing various sets of factors to distribute the property in the best possible way.
The Ohio Revised Code (Section 3105.171) regulates the division of the property in Ohio divorces. The statute also determines whether the property is marital or separate—consult the following table for an explanation:
Marital Property
Separate Property

Real or personal property that either or both spouses own, acquired during the marriage
Interest in real or personal property that either or both of the spouses have acquired in the marriage
Active income on the separate property of either of the spouses—due to the labor and in-kind or financial distribution
Participant accounts in deferred compensation plans of the State and local governments

Inheritance
Property acquired before marriage
Property acquired after obtaining a decree of legal separation
Passive income on the separate property
Property excluded as marital by a prenuptial agreement
Gift of property given to only one of the spouses
How Does the Court Divide the Property in Ohio?
During the divorce, the court must divide three types of property:
Real property (land, family house, and another real estate)
Personal property (vehicles, furniture, jewelry, etc.)
Intangible property (debts, income, benefits, and dividends)
The judge must estimate both spouses' assets and liabilities first. They will base the decision on the following factors:
Duration of the marriage
Assets and liabilities
Property's liquidity
Property division tax consequences to each spouse
Sale price of the property
Retirement benefits of each spouse
Prenuptial agreement's terms about property division (if the couple has one)
Any other case-specific factors
When deciding who gets the family home in Ohio, the court must take into consideration:
Which spouse has custody of the children
Whether the custodial parent will benefit from remaining there
The custodial parent's ability to pay the mortgage
Whether the house will be sold
How To Keep the House in a Divorce in Ohio
The best way to ensure you keep the family home after a divorce is to make a deal with your spouse—you can do this by opting for an uncontested divorce.
If you and your spouse can agree on all the other matters too and draft a divorce settlement agreement, you'll have the upper hand and control the division of property in court. Otherwise, the judge will decide who gets the house.
Other advantages of an uncontested divorce include:
What Are the Requirements for an Uncontested Divorce in Ohio?
To be able to file for an uncontested divorce in Ohio, you must:
Agree on the reasons for divorce
Meet residency requirements (at least one of you)
Agree on the important matters, such as:

Custody and child support
Property and debts division
Once you make sure you're eligible for a quickie divorce, you can file for divorce. To do that, you'll need to prepare the necessary Ohio divorce forms—both general and uncontested. Pay the filing fees and submit the divorce papers to your local clerk's office. Serve the papers to your spouse and work together on a divorce settlement agreement.
DoNotPay Helps You Divide Property in Ohio Divorce With Ease!
A properly written divorce settlement agreement can ensure you get the family home after a divorce. It is a crucial document in an uncontested divorce, and you should prepare it with utmost care! To make sure everything's in check, you should rely on DoNotPay to write the agreement for you!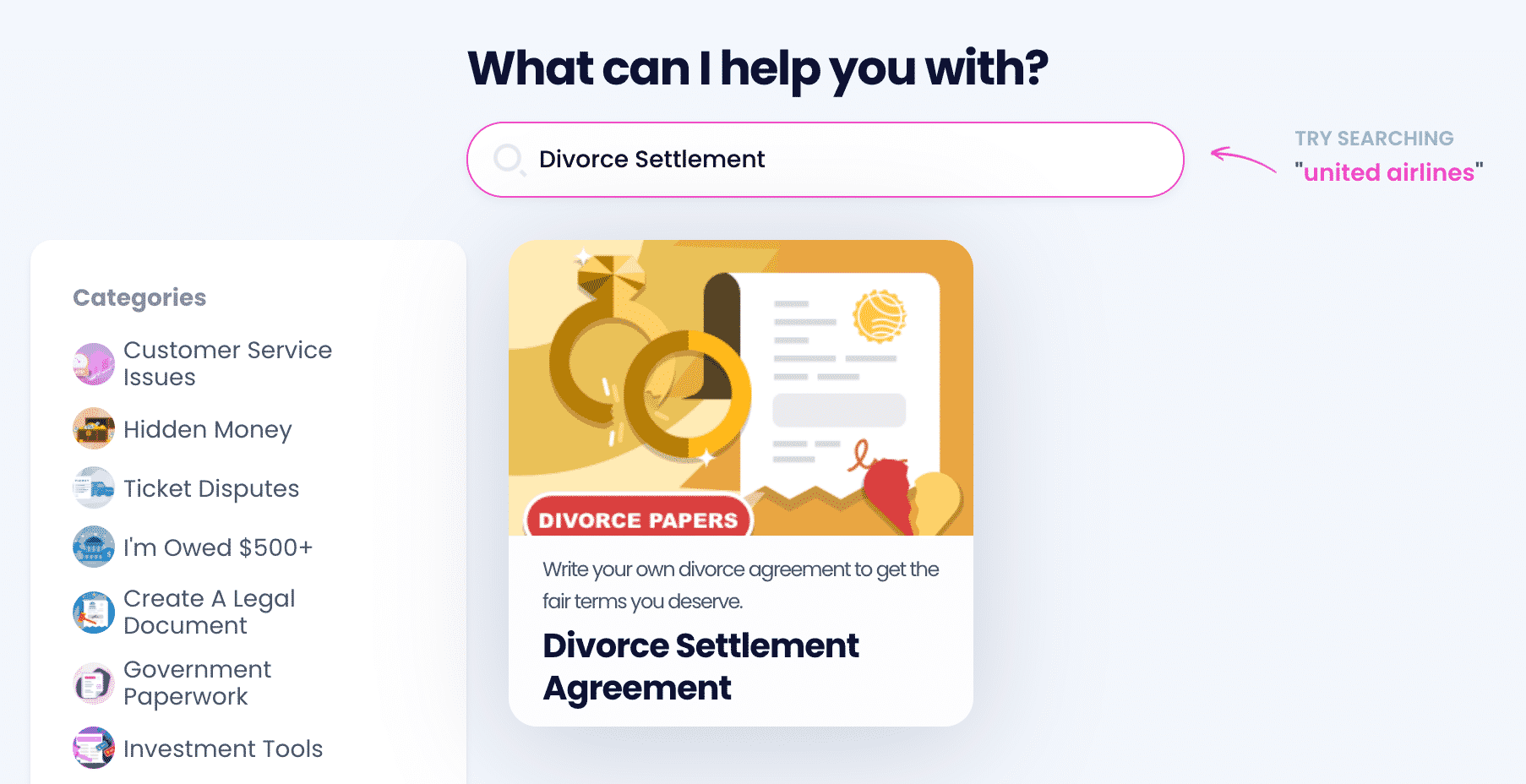 Everything you need to do is open DoNotPay and follow these steps:
Locate the Divorce Settlement Agreement feature
Provide information about your spouse, property, and children (if any)
Tell us how you'd like to allocate your assets
Specify if you want us to connect you with a notary
You'll receive a custom-made divorce settlement agreement that abides by Ohio laws and requirements and covers the specifics of your case!
Visit our comprehensive knowledge base to learn:
DoNotPay Is Righting Wrongs Left and Right
DoNotPay is a platform that puts its subscribers' safety in the first place. We can keep you safe from sex offenders, stalking, and harassment. In case you're a victim of a crime, we can help you get compensation.
Fight for discrimination at your workplace with the world's first robot lawyer or sue any company or person in small courts if you feel like you've been wronged.
Is There Anything DoNotPay Can't Do?
The short answer is no, and the list of our AI-based app's features keeps growing by the day. We offer professional assistance with issues that no other platform can help you with. Sign up now and: