How to Get a Divorce In NY Online In 3 Steps
Divorce is never nice, but if it's the path you've chosen to follow, you want it to be fast, cheap, and as painless as possible.
Filing for divorce in NYS can be as easy or difficult as you and your spouse make it.
DoNotPay brings you the definitive guide to divorce in NY, with all the info you need to get your divorce decree in the minimum time and at the lowest cost!
What Are the New York Divorce Laws?
New York is a no-fault divorce state, meaning that you only have to assert an irretrievable breakdown of the marriage to be eligible to file divorce papers.
If you want to opt for a fault-based divorce, the acceptable grounds are:
Adultery
Abandonment
Cruelty or inhuman treatment
Separation—whether enforced or voluntary
At-fault divorces tend to be more expensive and time-consuming than no-fault cases—a no-fault divorce can also be made even easier if it is uncontested.
In an uncontested divorce in New York, you can usually:
Every divorce case in the state is heard in the Supreme Court, but you can only file if you or your spouse has lived in the state for at least the last year. No-fault, uncontested divorces in NY can be finalized in as little as six weeks, with average uncontested divorce times sitting at around three months.
How Do You Launch a Divorce in New York State?
Filing for divorce in New York consists of five steps, as follows:
Filing divorce papers
Receiving a response
Calendaring
Obtaining a judgment
Filing Divorce Papers
You must first lodge a "summons with notice" or a "summons and complaint" with the Supreme Court.
As the plaintiff in the case, you will have to pay the filing fee of $210, after which you will receive stamped copies of the papers ready for service.
If you have already agreed on a settlement with your spouse, you can file the agreement with the rest of your papers, meaning that the divorce is automatically classified as uncontested.
If no agreement is in place yet, you can still file it before your case comes to trial.
Serving the Papers
Once your papers are filed, you need to serve them on your spouse within 120 days of filing.
Servitude involves having the divorce papers delivered by a deputy sheriff or professional process server and receiving written confirmation that service has been executed.
Receiving a Response
After receiving the divorce papers, your spouse has 30 days to respond, and the response can consist of:
An answer, meaning that the defendant—your spouse—intends to contest the case
An "affidavit of defendant" stating that your spouse agrees with the terms of the divorce as filed—your divorce is a friendly one
No answer, meaning that you receive no response from your spouse—in which case the divorce will be considered uncontested by default
Calendaring
If you receive no response or an affidavit of defendant, you can file the remaining papers with the clerk of the court and pay the final court fees of $125.
Obtaining a Judgment
The final step in the divorce process is the judgment.
The judge will grant your out-of-court divorce as long as:
Your paperwork is complete and in order
You can prove you served your spouse on time
You have waited the required period before asking for judgment
Your only other responsibility is to serve the judgment on your spouse and file the proof of servitude with your county court.
Where Can You Get a Settlement Agreement in New York?
The most crucial document in the process is your divorce settlement agreement.
A divorce settlement agreement is a legal contract between you and your spouse that sets out how your marital responsibilities and finances will be divided after your divorce. The agreement should cover:
Drawing up your settlement agreement is a matter of negotiation with your spouse. Your options for having your agreement drawn up are:
Settlement Agreement Resources
Explanation
Lawyer
Attorneys are the default choice for many couples to negotiate and draft a settlement agreement. They are also the most expensive option, with a New York lawyer charging up to $450 per hour and normally requiring a substantial upfront retainer.

If you and your spouse can agree on the major terms of your settlement, you can use a mediation service to iron out minor details. A trained mediator can help you reach a consensus at a fraction of the cost of a lawyer

Online service
Several online providers offer settlement agreement templates for you and your spouse to fill out. While these can be inexpensive, they are often highly generic and may not cover all the points you and your spouse have agreed on
DoNotPay can solve all your problems, though. With our help, you can create a tailor-made, comprehensive settlement agreement without having to pay exorbitant lawyers' fees!
DoNotPay Has Got Your Back in Your New York Divorce!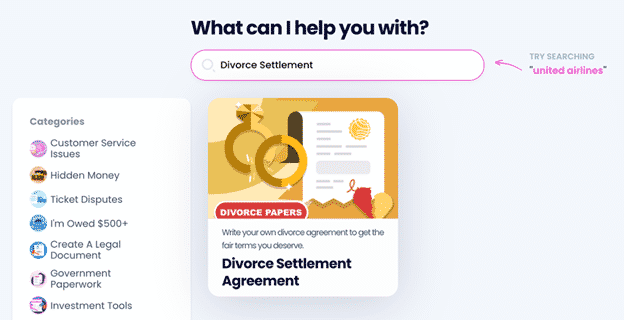 DoNotPay is here to help keep your divorce in New York as cheap, quick, and painless as possible!
Our Divorce Settlement Agreement product is designed to take all the terms you and your spouse have agreed on and turn them into a watertight legal document. You get the agreement you need without having to cut and paste or pay expensive attorneys!
Here's how to set your settlement agreement up:
Open your web browser and sign up with DoNotPay
Click on our Divorce Settlement Agreement feature
Give us the details you and your spouse have agreed on
Your settlement agreement will be ready in a flash—all you and your spouse have to do is sign and have it notarized.
If you don't know where to look for a notary in New York, we can even help you get your agreement notarized online!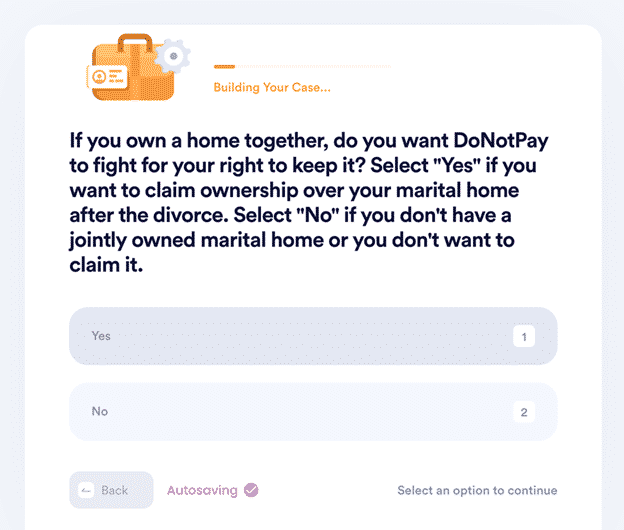 What Other Issues Can Our App Solve?
DoNotPay can support you through various burdensome procedures and turn them into a breeze! Here's a table showing a tiny part of our extensive offer:
| DoNotPay Can | Services |
| --- | --- |
| Create various documents | |
| Protect your safety and privacy | |
| Get your money back | |
DoNotPay Is Your Ticket to Simpler Life
Don't bother going through complicated tasks alone—we are here to take care of them! Seek our help if you want to get in touch with customer service instantly, fax anyone online, or get your documents notarized. Besides providing these amazing services, DoNotPay can make preparations for your travel adventures by assisting you in getting passport photos at home and obtaining tourist visas.
Divorce In NY — Frequently Asked Questions
Can I get a divorce in Family Court?
No, Family Court cannot grant a divorce. However, you can visit the Family Court for child support, child custody, child visitation, spousal maintenance, and paternity issues.
Do I need a lawyer to divorce in NY?
No, you do not need a lawyer. If you believe your divorce will be uncontested, you may represent yourself and complete your divorce without a lawyer. You may also use DoNotPay's Divorce Settlement Agreement product to automate the process!
What are the grounds to get a divorce in NY?
Legally acceptable reasons to file a divorce include cruel treatment, abandonment, confinement in prison, adultery, living separate and apart after a separation judgment, decree, or agreement, as well as an irretrievable breakdown in a relationship for at least 6 months.