Divorce in NJ—What You Didn't Know
A divorce is an emotional event, and going through exhausting and expensive court proceedings can make it even worse. If you and your spouse have decided to call it quits, your best bet is to get familiar with your state laws and finalize the process on a friendly note.
In this article, DoNotPay will cover getting a divorce in NJ—including the paperwork you must file and the procedure you need to follow. Learn how to end your marriage at a low cost and with as little stress as possible!
Key Elements of NJ Divorce Laws
To file for divorce in New Jersey, you or your spouse have to be residents of the state for at least twelve consecutive months before filing. Bear in mind that courts in NJ typically use the terms dissolution and divorce interchangeably.
Once you decide to start the divorce proceedings, you'll have to file the so-called Complaint for Divorce (Dissolution). New Jersey courts offer four different types of divorce complaint forms. You should pick the one that fits your situation by accessing the online self-help section on the NJ Courts official website.
The legal term for the person filing for divorce is the plaintiff, and the person being served is known as the defendant.
Grounds for Divorce in NJ—Must I Play the Blame Game?
A no-fault divorce implies that neither spouse bears responsibility for the marriage dissolving, while a fault-based divorce indicates one spouse is to blame. You can file for both in New Jersey if you provide corresponding evidence. Take a look at the table below for a more detailed explanation:
Divorce Type
Details
No-fault
A no-fault divorce in New Jersey can be based on:

Separation—the couple has been living apart for at least 18 months
Irreconcilable differences—the couple has to prove they've been experiencing them at least six months before the divorce has started

Fault-based
To file for a fault-based divorce against their spouse in NJ, a person has to provide one of the following reasons:

Drug or alcohol abuse
Extreme mental or physical cruelty (at least three months before the divorce)
Deviant behavior
Adultery
Abandonment (for at least 12 consecutive months)
Imprisonment
Institutionalization for mental illness
If you and your spouse plan to file for a no-fault-based divorce, you should try reconciling your differences without the judge's involvement. Agreeing on all issues, including the child and spousal support and division of assets, will put you on the fast track towards ending your marriage stress-free.
The Uncontested Divorce in New Jersey Dissected
While you don't need a lawyer to file for an uncontested divorce in NJ, you shouldn't hesitate to hire one if you have questions or need guidance through the divorce proceedings.
You can also acquire the services of a professional mediator, who will assist you with reaching an agreement and preparing the required documents.
Take a look at the detailed guide to the procedure presented in the table below:
Steps for Filing for an Uncontested Divorce
Details
Start the process

Find the necessary forms (besides the Divorce Complaint) on the NJ Courts website, including:

Summons
Certification of Insurance
Case Information Statement

Fill them out

File the paperwork
File the paperwork with the clerk of the court in your county of residence
Serve your spouse
If you and your spouse are on good terms, you can deliver the documents to them informally. They will have to sign a so-called Acknowledgment of Service, which you then have to file
Have the divorce finalized
During the court hearing, the judge will:

Revise your paperwork to make sure everything is in order
Make sure you understand the agreement
Sign the Judgment of Divorce
To ensure the terms of the agreement are clearly stated and fair to both sides, you and your spouse should outline them in a marital settlement agreement. Since the uncontested divorce is already allowing you to avoid many of the lengthy and expensive court procedures, there's no reason why you should overpay for a marital settlement agreement.
Register for DoNotPay and let us create this important legal document in no time and at minimal cost!
A Divorce in NJ Will Go Smoothly With Our Customized Divorce Settlement Agreement
Our app can generate a divorce settlement agreement you and your spouse can instantly sign, have notarized, and submit to court without a second thought!
We draw up state-specific, personalized documents in mere minutes, provided you subscribe to DoNotPay and take these steps:
Type Divorce Settlement Agreement in the search box
Answer questions about your family situation, assets, and other matters
Choose to have the document notarized
Once we collect the necessary info, we'll generate the divorce settlement agreement and send it to you. We'll help you get the document notarized by connecting you with an online notary at your earliest convenience!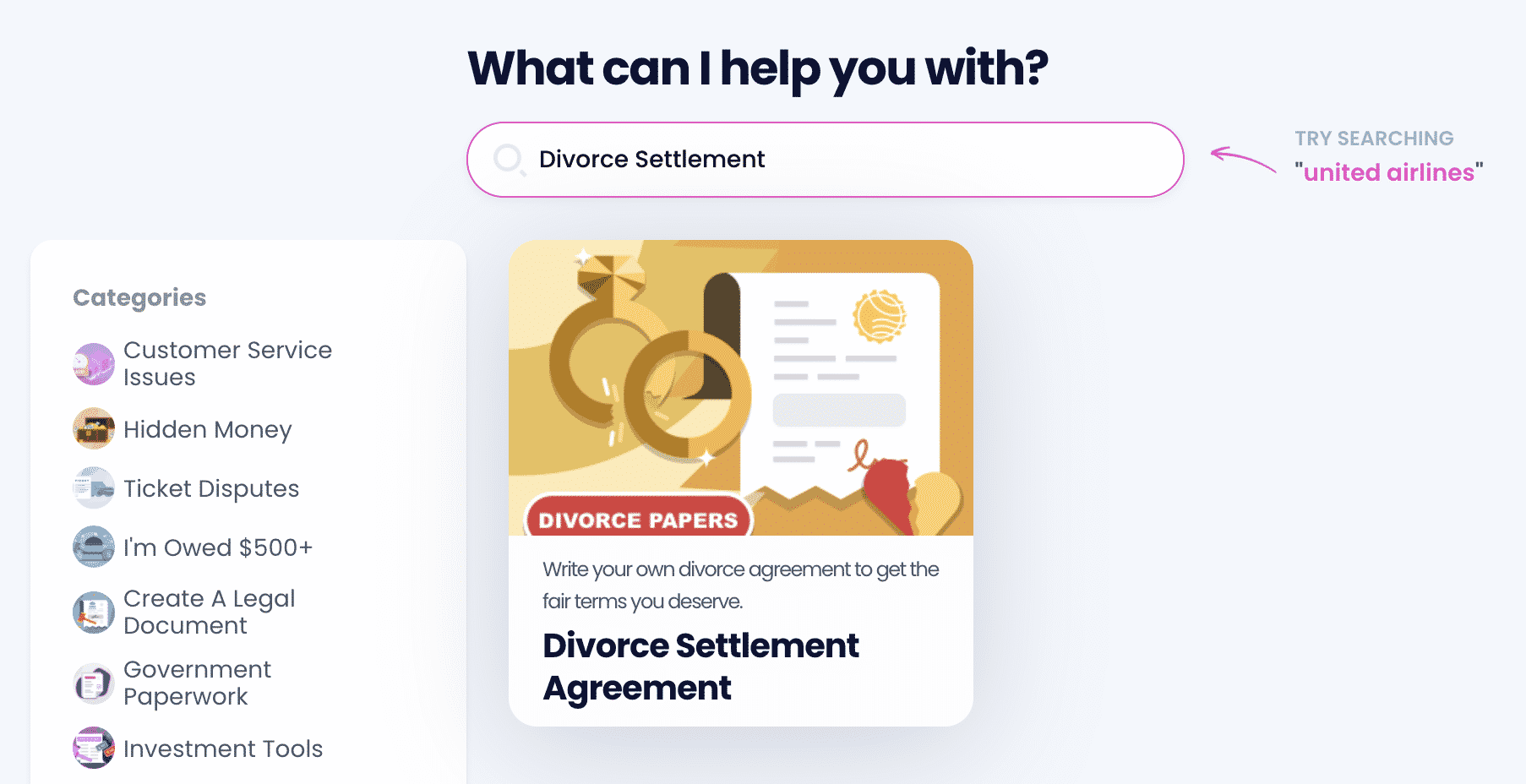 Our comprehensive knowledge base will tell you all you need to know about online divorces, out-of-court divorce settlements, and divorces without involving lawyers. If you need more NJ-specific divorce information, check out the following articles: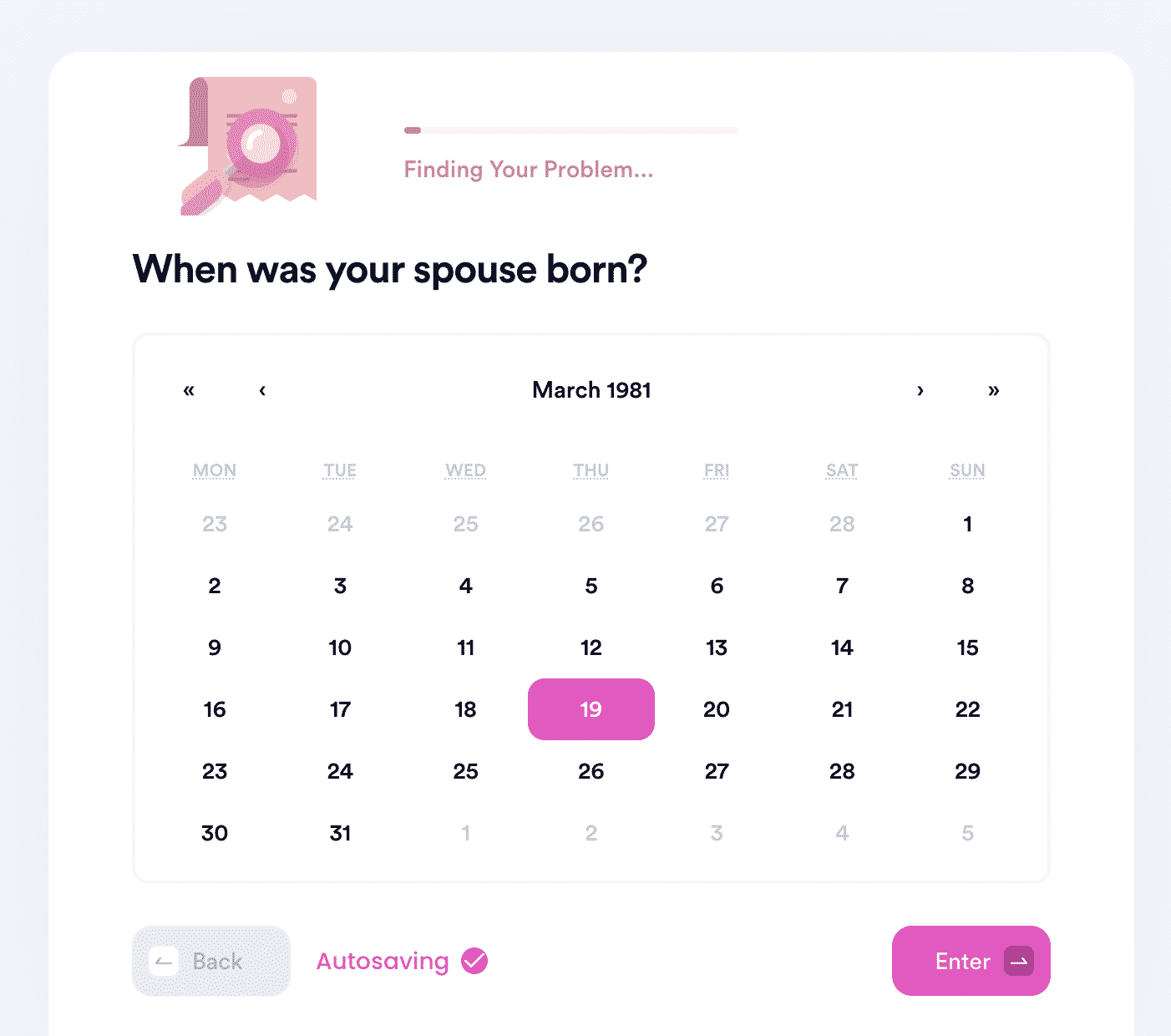 DoNotPay Covers All the Bases
From getting you ready for various government tests to helping you reduce your property taxes, DoNotPay offers valuable assistance with the tasks that make most people at least roll their eyes. Dealing with bureaucracy isn't fun, but it also doesn't have to be as difficult as it is.
Every product in DoNotPay's portfolio is designed to efficiently deal with a specific issue within a few minutes and without sacrificing your comfort. Take a look at the tasks our app can make much more simple:
A Little More Money Never Hurt Anybody
Hardly anyone would turn down a chance to earn some more cash. That's why DoNotPay not only protects your rights and interests but also offers great opportunities to improve your financial situation.
With our help, you can find paid clinical trials, locate your missing money in any state, get your cash back from used gift cards, or enter various raffles and win great prizes.