Divorce in NJ—Cost, Preparation, and Execution
Getting divorced in New Jersey can be stressful and expensive, but it doesn't have to be. Find out about the filing procedure, necessary divorce papers, divorce types, and potential duration to handle the process smoothly and affordably.
How much does a divorce in NJ cost? It depends on the choices you make. Stick around and let DoNotPay provide detailed explanations in this article!
How Much Does a Divorce Cost in NJ?
The cost of a divorce in NJ depends on the criteria presented in the table below:
Factors Affecting a Divorce in NJ Cost
Consider This
Type of divorce
File for an uncontested divorce with the court to lower the total cost of divorce. It means that you and your spouse should:

Use of services
While hiring a lawyer to handle your divorce case from the beginning might be the easiest option, it's likely the most expensive one. If you'd like to keep your legal expenses in check, you might consider:

Handling all the necessary steps and paperwork by yourself
Consulting with an attorney only if you can't agree on or work out specific aspects

Use of additional assistance
You might also need to hire the following experts to deal with certain problems:

Mediator—If you can't solve some divorce problems, you should think about going to mediation
Forensic accountant—This professional can help you:

Calculate the value of your business
Confirm your spouse's income for support reasons

Appraiser—If you need help calculating the value of your home and other property, you should look for this expert

Using these services will drive up the cost of divorce
How Much Do Divorce Lawyers in NJ Charge?
The average hourly rate of a divorce lawyer in New Jersey goes from $200 to $500. The price may vary depending on the lawyer's experience and the location of the legal office.
Keep in mind that most attorneys require you to pay a retainer between $2,500 to $15,000 upfront. This requested sum is based on:
The hourly rate—Some lawyers charge different hourly rates for different services they provide
The number of hours spent on your case—A lawyer estimates how many hours they'll have to put in for your divorce case and multiplies that number by their hourly rate
Additional necessary costs—While some attorneys include administrative expenses and court filing fees in their retainers, others might bill these costs separately
On average, you could expect to pay $12,000 for a divorce lawyer in NJ. The total cost of services depends on:
How complicated your case is—The cost will be higher if you and your spouse:

Have significant property, income, or debts
Argue about different divorce aspects

What matters you authorize your attorney to negotiate—Since a lawyer charges you per hour, make sure they represent you only regarding aspects you cannot deal with alone and that are of great value
The Average Cost of Divorce in NJ
If you hire an attorney, the average cost of divorce in NJ is:
$4,500–$5,000 when there are no contested—i.e., argued over—issues
$6,500–$7,500 for one contested issue or dispute
$11,000–$13,000 if you and your spouse argue about two and more issues
$15,000–$24,500 if the case goes to trial
Keep in mind that you don't need to appoint an attorney if you and your spouse agree on everything. You can complete and file the required paperwork alone and thus save lots of money.
How Much Are NJ Divorce Filing Fees?
Regardless of whether you apply for a low-cost divorce alone or consult a lawyer or some other expert, you'll need to settle the following required court fees:
$300 when filing for a divorce without children
$325 if the divorce involves minor children
If you cannot afford to pay the above-listed fees, you should apply for a fee waiver.
Keep in mind that you might also need to pay extra for the sheriff's office to serve the papers to your spouse.
You can reduce additional divorce costs by choosing pocket-friendly yet efficient ways to prepare part of the necessary documentation.
to get help with a divorce settlement agreement. The document needs to be presented to the judge for approval, so you need to make sure that it's created correctly!
DoNotPay Creates Reliable Divorce Settlement Agreements
We know state laws and local requirements and can help you generate a divorce settlement agreement tailored to your needs. You won't need to spend:
Lots of money on having a lawyer draw up the document
Precious hours looking for, adjusting, and correcting unreliable online templates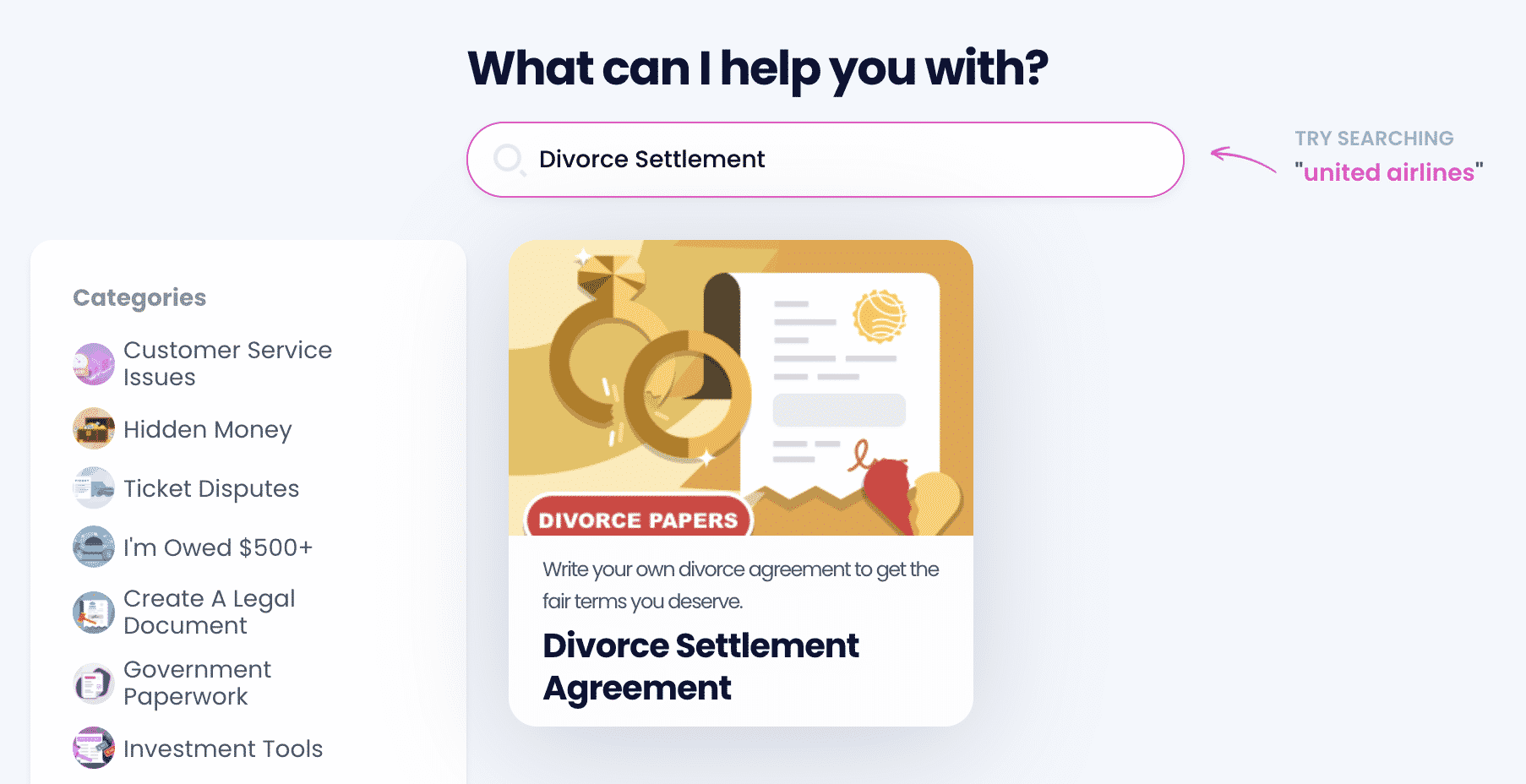 and:
Go for our Divorce Settlement Agreement product
Enter info about the terms you and your spouse settled upon
Choose whether you want to get the agreement notarized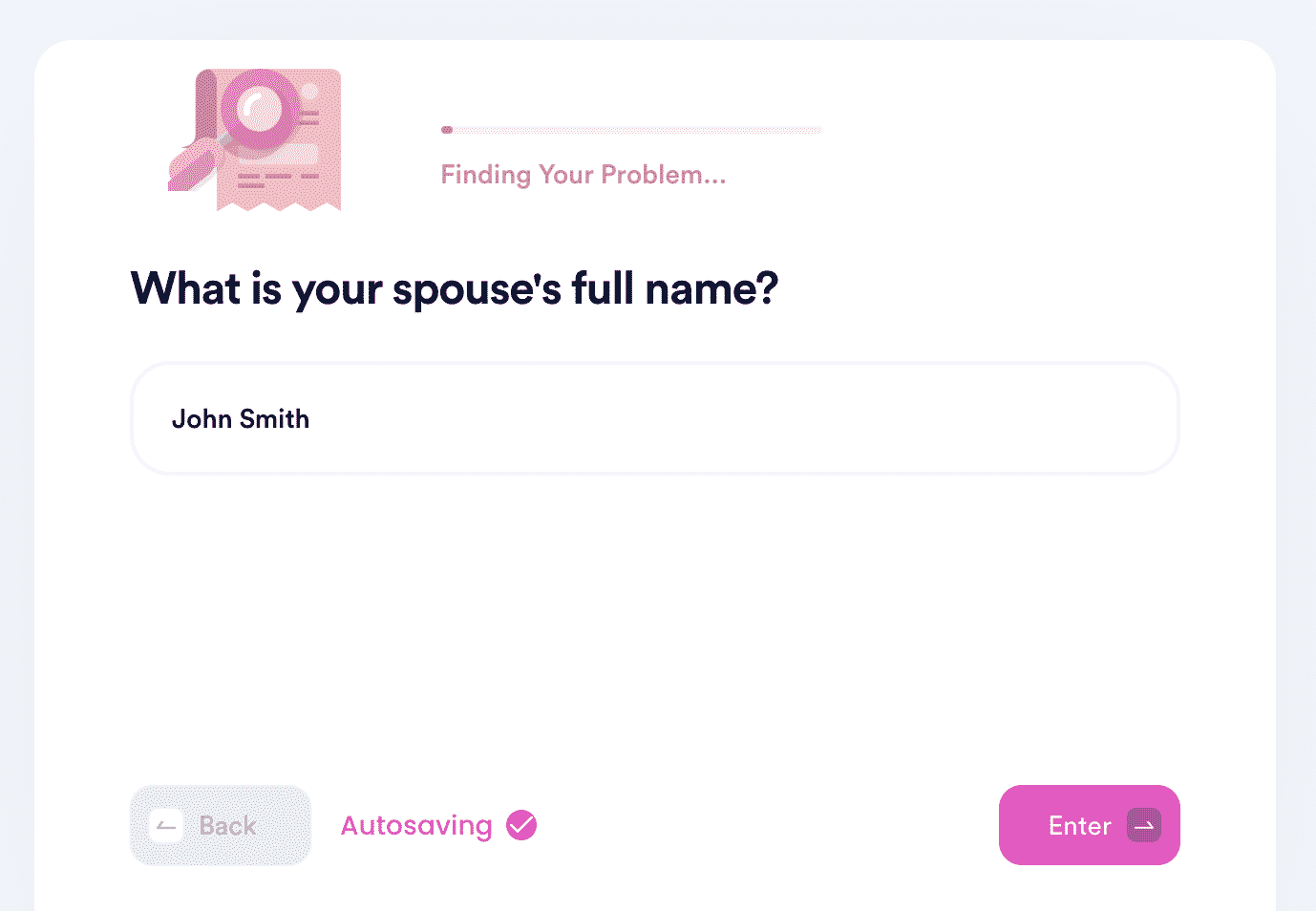 Get Familiar With Crucial Divorce Aspects To Know What To Expect
To protect yourself in a divorce, you should collect as much information in advance as possible.
DoNotPay can assist you as we keep publishing helpful articles and providing useful solutions. Take a look at some of the questions we offer answers to:
DoNotPay Goes the Extra Mile for You
We are dedicated to providing solutions to difficult and time-consuming tasks you may have on your to-do list. If you are struggling to reduce your monthly bills, contest parking tickets, or set DMV appointments, DoNotPay will help you do it in no time!
We have also created numerous easy-to-use features that can make the following procedures run smoothly:
Get Justice From Companies That Wronged You
Do you feel like you have been played by a company? Instead of wasting your time writing requests, demand a chargeback or refund or claim a warranty via DoNotPay! If the company doesn't seem too cooperative and keeps refusing to return your money, our app can assist you in suing it in small claims court.
To help you save some coins or regain what's yours, DoNotPay will also help you locate unclaimed funds, submit insurance claims, lower your property taxes, and cash out gift cards.