Find Out About a Divorce in NJ—Alimony Is an Important Matter!
What should you pay attention to when getting a divorce in NJ? Alimony—or spousal support—is one of the key issues. DoNotPay provides valuable information on this topic.
Before filing for divorce, you'll need to get familiar with New Jersey law. You should also decide whether to hire an attorney or go through the process alone. Keep in mind that preparing the mandatory papers and resolving issues with your spouse is a challenging endeavor.
NJ Divorce Laws on Alimony—What Types Are There?
If you're asking for alimony, you may get one of five types of spousal support. In some cases, it's even possible to combine them. Here's a list of available alimony types in New Jersey:
Types of Alimony
Information
Pendente lite (temporary)
A judge may grant pendente lite alimony only while a divorce is pending and one spouse:

Needs help to cover their living expenses
Is financially dependent on the other spouse

Limited duration
A spouse may get limited-duration alimony if they:

Need time to get back on their feet and start supporting themselves after the divorce
Meet the required conditions specified by the court

Rehabilitative
This type of alimony may be awarded if one spouse needs support until they:

Get a job
Finish education that will lead to employment

The court needs to approve the:

Necessary steps
Scope of rehabilitation
Time frame for the support

Reimbursement
The court may grant reimbursement alimony if:

One spouse financed the other's education during the marriage
The divorce happened before the latter spouse could get any financial benefits from the supported spouse's finished education

The spouse that was financially supported during the marriage may be ordered to pay the other spouse back

Permanent
This type of alimony is:

The least common
Granted for long-term marriages where one spouse cannot become financially independent

While it's called permanent, it usually continues as long as the recipients prove they cannot support themselves
Divorce in NJ—Alimony Automatically Prohibited
New Jersey law prohibits alimony to a spouse who has been convicted of an offense for causing death or serious harm, including:
Murder
Manslaughter
Criminal homicide
Aggravated assault
NJ Divorce Law on Alimony Requirements
While either spouse can apply for alimony, the court doesn't award it automatically. It first needs to assess various factors, including the following:
The actual need for alimony
A spouse's ability to pay support to the other spouse
The lifestyle during the marriage and how likely it is to maintain it after the divorce
How long the:

Marriage lasted
Supported spouse wasn't on the job market

Both spouses':

Age
Employability
Professional skills
Educational levels
Parental responsibilities
Physical and mental health
Income, assets, and earning capacities
Financial and non-financial contributions to the marriage

The time and money necessary for the supported spouse to acquire education or employment
The division of property during the divorce
NJ Divorce Alimony Calculator
Keep in mind that there's no precise formula for calculating and awarding spousal support.
To avoid leaving this decision to the court, you should try negotiating this matter with your spouse and reach an out-of-court settlement. Going through a friendly divorce will take less:
Time since uncontested divorces don't require complicated forms and lengthy court hearings
Money as you can resolve mist issues yourself or with the help of a mediator. If you and your spouse agree on all divorce matters, you don't have to hire a lawyer, which reduces the costs significantly
Once you and your spouse agree on all crucial points, you need to prepare a divorce settlement agreement and submit it to the court for review and approval.
Divorce in NJ—Settlement vs. Trial
Reaching an agreement with your spouse is always better than proceeding to trial, provided that open dialogue is possible.
If you need assistance, try mediation in NJ or consult a lawyer about certain issues. Not only can you finalize your quick divorce smoothly, but you can also make all the decisions yourselves.
In case you manage to arrange for an uncontested divorce, DoNotPay can help you in a few simple steps.
DoNotPay Is the Right Way To Create Divorce Settlement Agreements
Once you've agreed with your spouse on the important criteria of your post-divorce life—including alimony—you need to specify it in a document. DoNotPay helps in creating a divorce settlement agreement without spending a fortune on lawyer fees.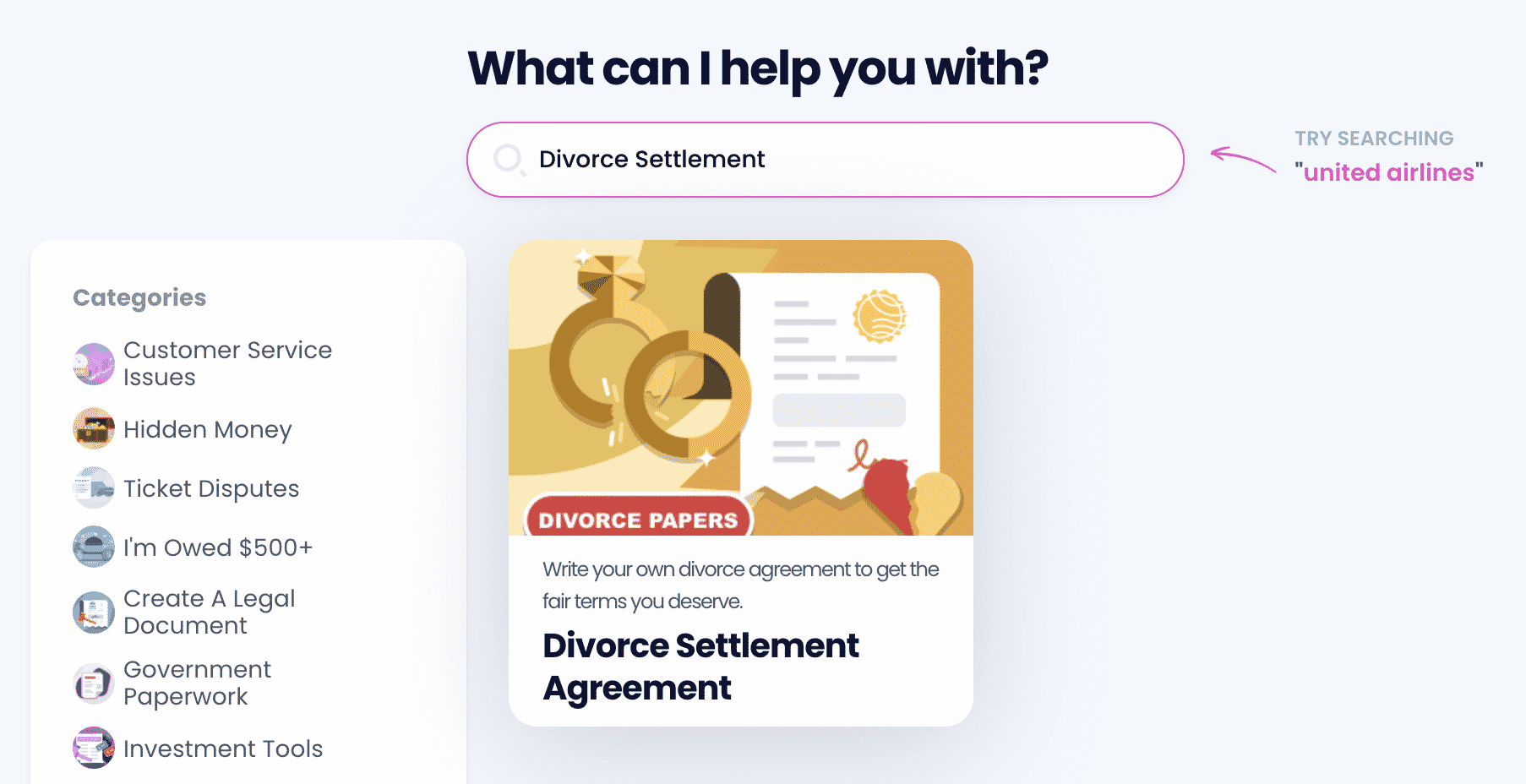 and take these steps:
Enter Divorce Settlement Agreement in the search box
Answer our chatbot's questions to explain your case
Provide information about your debts, income, and assets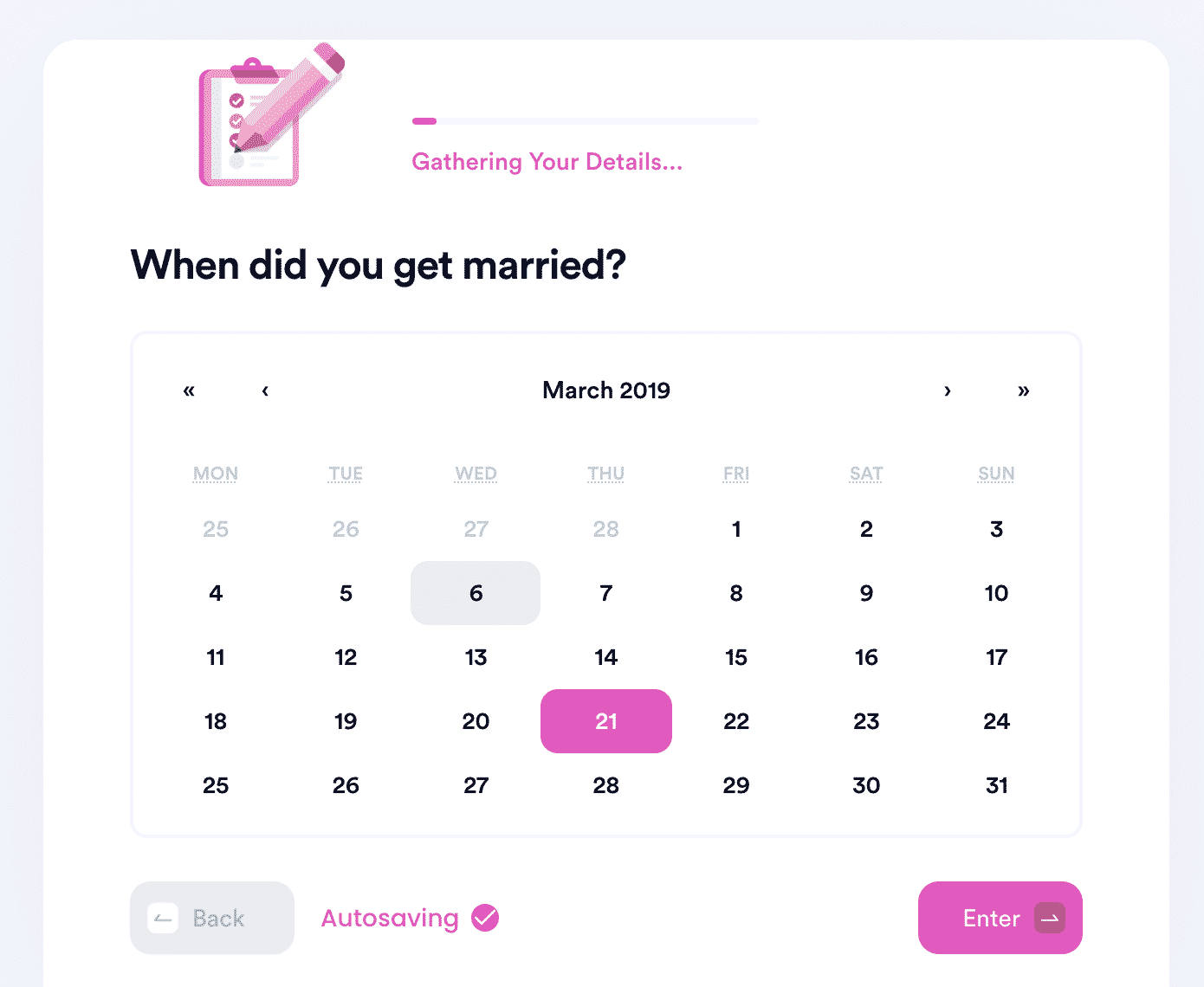 Our AI-powered app starts the process by scanning your state laws and requirements. We then use your data to generate a document tailored to your particular situation and wishes.
What's next? You can get your agreement notarized using our app. Our notary partners are available 24/7, so you don't have to worry about working hours or travel time.
DoNotPay Is a Reliable Source of Divorce-Related Info and Practical Solutions
Would you like to learn more about divorce-related issues? Read our informational articles and get the answers to the following questions:
Let DoNotPay Be Your Virtual Assistant!
Why bother with deciphering legal terminology or figuring out how to write a legal document when you can let us do it for you? You don't have to waste your time any longer. Once you sign up for DoNotPay, we'll do much more than draft your legal documents or help get them notarized!
DoNotPay will show you how to perform a number of tasks with ease, including suing any company in small claims court, filing insurance claims, claiming warranties, creating passport photos, and sending your neighbor a complaint letter!
Should you need assistance with requesting a refund for a delayed flight or fighting workplace discrimination, our virtual assistant shows you how it's done.
There's More We Can Do!
Tired of dealing with mundane tasks and spending hours running dull errands? We offer the perfect solution!
DoNotPay can assist you in completing tedious tasks with ease! The best part is that you will spend significantly less time on them, and you can get them done from the comfort of your home!
Paying bills, getting a free trial, canceling subscriptions, getting revenge on robocalls, requesting refunds, or making a DMV appointment is only a few clicks away!