Getting a Divorce in NH Doesn't Have To Cause a Migraine!
If you think that filing for divorce in NH requires you to spend days in the courtroom or waste money on lawyers, we're happy to tell you it doesn't! We can show you how to file for a friendly divorce and save you from unnecessary stress.
Sign up for DoNotPay, and use our app to file for an uncontested divorce in New Hampshire, and create your divorce settlement agreement in minutes.
NH Divorce Laws—Fault vs. No-Fault Divorce
New Hampshire allows you to file for divorce on either fault or no-fault grounds. Consult the table below to see how they differ:
Fault Divorce
No-Fault Divorce
Filing for a fault divorce means that one spouse blames the other for ruining the marriage. The spouse who wants to file for a fault divorce can do it on the following grounds:

Impotence
Adultery
Extreme cruelty
Felony conviction
Endangerment
Desertion
Chemical dependency
Religious beliefs that undermine the marriage
Abandonment

If neither spouse blames the other for the breakup of the marriage, they can file for a no-fault divorce. There are no specific grounds on which to file for this type of divorce. A judge normally grants it due to irreconcilable differences between the spouses
Uncontested Divorce in NH—Explained
If you and your spouse wish to file for a no-fault divorce and can reach a mutual agreement on the important matters, you should consider getting an uncontested divorce and filing a joint petition. Some important matters that you should agree on are:
Property division
Allocation of debts
Child custody
Parenting time
Alimony
Child support
The process of filing for an uncontested divorce in NH is different than the one in most states. While other states usually require you and your spouse to agree on each divorce-related issue, in New Hampshire, you won't have to cover every single one. Although it's best to agree on everything beforehand, it isn't mandatory.
The court will use the joint petition to see what issues you two will resolve on your own, and the judge will rule on the remaining ones.
In case you can't find common ground, you can hire a divorce mediator to help you out. Mediators in NH can assist you with finding an appropriate solution that works for both you and your spouse.
Filing for an uncontested divorce is cheaper and quicker than going through the contested divorce procedure. It saves you the unnecessary hassle in court, and you can usually handle the entire process without hiring a lawyer.
How To File for an Uncontested Divorce in NH
The instructions below show you how to file for a NH uncontested divorce step by step:
Check with your local courthouse what divorce papers you need to provide (you may need a personal data sheet, vital statistics form, or a financial affidavit)
Fill out the joint petition for divorce
File the petition and/or other divorce papers
In NH, you don't have to serve your spouse with a copy of uncontested divorce papers, which helps you save a pretty penny.
While the joint petition will already spell out all of the divorce-related aspects you and your spouse agreed upon, you should also consider drafting a divorce settlement agreement and repeating all of the info from the petition. A divorce settlement agreement can provide additional protection enabling you to avoid misunderstandings and disputes.
Divorce Papers in NH—Draft a Divorce Settlement Agreement Without a Lawyer
The divorce process can be quite expensive. If you want to save money, you don't have to pay a divorce lawyer to assist you in drawing up a divorce settlement agreement.
You can draft this document on your own:
By following online templates—Search the Internet for the available NH divorce settlement agreement templates. Follow one of the templates to write your document, but keep in mind the info found there isn't always reliable. Make sure to do thorough research to ensure your document is valid
With DoNotPay—Skip the hassle of figuring out what template to use and sign up for DoNotPay to create a perfectly valid divorce settlement agreement in a few minutes
DoNotPay Draws Up Your NH Divorce Settlement Agreement in a Jiffy!
There is no need to spend ages writing a divorce settlement agreement by yourself when you can have DoNotPay create one in minutes! Answer a few simple questions, and let us do the rest. Here's how to get started:
Find and select the Divorce Settlement Agreement tool
Answer a few questions
Once you finish, DoNotPay will draft your agreement, and all that's left is for you and your soon-to-be-ex to provide signatures!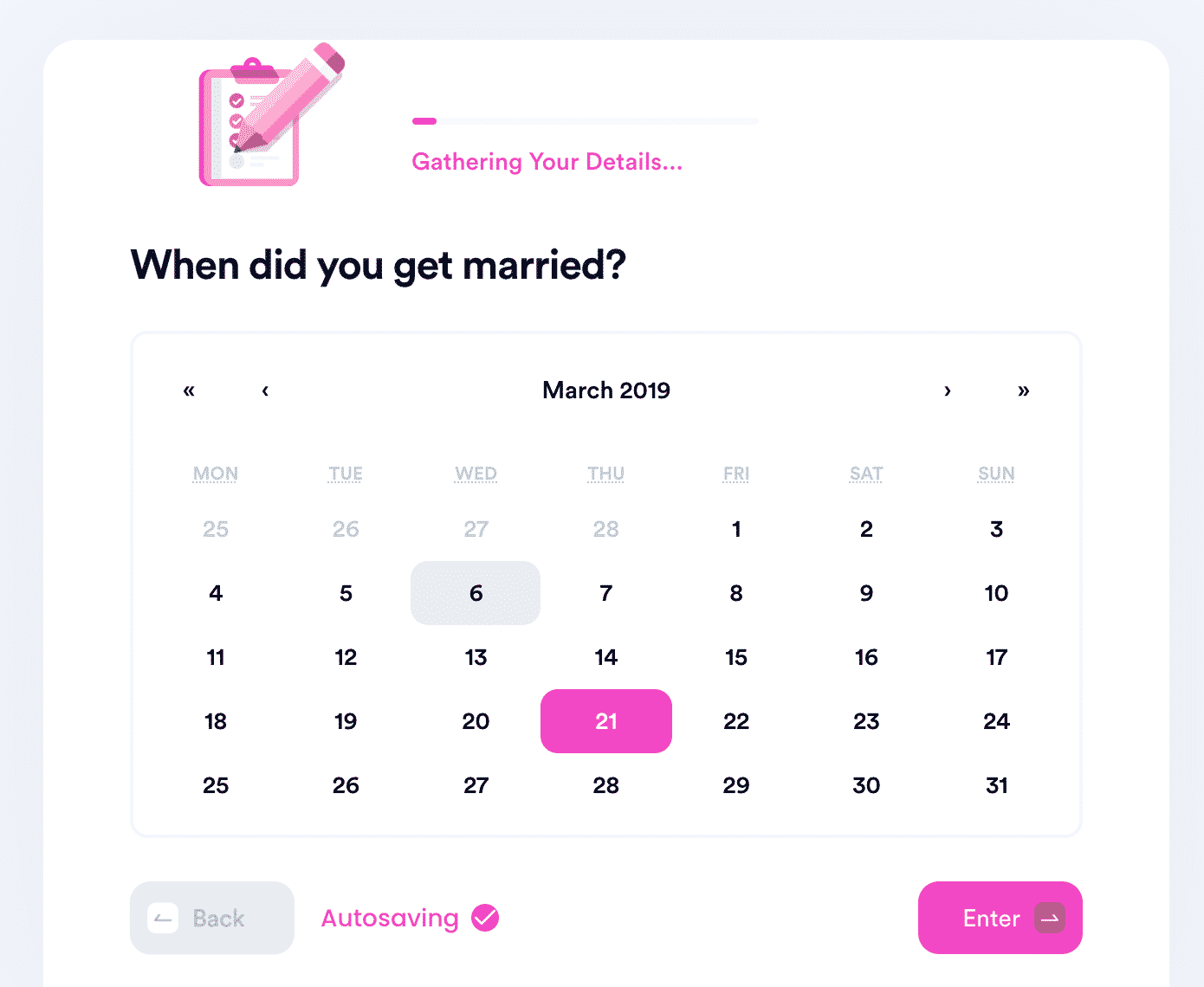 You should also make sure to sign the agreement before a notary public. To avoid traveling to see a notary, choose to get your agreement notarized with DoNotPay online and handle the process from your living room.
Find Answers to Other Divorce-Related Questions!
With DoNotPay, you can learn how to do more than just file for divorce in New Hampshire! Check out the list below, and learn how to:
Subscribe to Various Services Hassle-Free With DoNotPay
Did you ever get charged by a subscription service after using their free trial? DoNotPay can put a stop to that once and for all! We can get you a virtual credit card or a burner phone number, which you can then use to subscribe to any service stress-free! When you want to cancel a subscription, turn to your virtual assistant for help, and we'll do it for you in seconds!
If the company is giving you a headache, we'll hook you up with their customer support or even sue them in small claims court. Possibilities with DoNotPay are endless!
DoNotPay can also turn mailing into a piece of cake and save your inbox from email and text spam!
Solve All of Your Bureaucratic Issues With DoNotPay
Do you need to file an insurance or warranty claim? Need help with setting up DMV appointments or appealing parking tickets around the U.S.? Don't worry because your AI-based helper can step in!
We can help you get professional powers of attorney and divorce agreements, so you don't have to waste money on expensive lawyers! Once we draw up these documents for you, we'll set you up with an online notary, and you can get them notarized in no time!