Key Aspects of Filing for Divorce in New Mexico
Looking to file for divorce in New Mexico, but the process seems too complicated? Don't fret! We'll break down the entire divorce procedure and explain how to file for divorce in NM effortlessly! Sign up for DoNotPay to draw up a divorce settlement agreement and file for uncontested divorce stress-free!
New Mexico Divorce Laws—Can I File for No-Fault Divorce in New Mexico?
New Mexico allows you to file for both fault and no-fault divorce as long as you or your spouse have been an NM resident for at least six months before the divorce. Consult the table for more details on these two divorce types:
Divorce Type
Explanation
Fault divorce
One spouse blames the other for ruining the marriage. You can file for a fault divorce on the following grounds:

Cruel and inhuman treatment
Adultery
Abandonment

No-fault divorce
Spouses don't blame one another for getting a divorce. If you opt for a no-fault divorce, you can do it due to incompatibility. This means that you and your spouse can get divorced because of conflicts or disagreements, and when there's no expectation you two will reconcile
Uncontested Divorce in New Mexico Deciphered
Getting a divorce doesn't always have to be a burden.
Do you and your spouse wish to get a no-fault divorce without the procedure dragging on for years and without paying a pretty penny? You can file for a low-cost uncontested divorce and settle the divorce matters out of court in a much easier and faster way than you would with the contested one.
You will even be able to finalize the divorce without involving a lawyer, which will help you save a lot of money.
A prerequisite for the uncontested divorce is that you and your spouse agree on all aspects of separation, including alimony, child care, property division, child custody, etc.
Filing for an Uncontested Divorce in New Mexico From A to Z
To file for an uncontested divorce, you first need to prepare the necessary paperwork. Consult the list below to see what uncontested divorce papers you need to fill out:
Dissolution of marriage petition (with or without children)
Financial disclosure
If you have children, you will also need to get a child custody plan, a child support obligation and order, and a child support worksheet.
Once you gather the required forms, proceed with the following steps:
File a dissolution of marriage petition
Fill out other required forms
Draft a divorce settlement agreement
Finalize the procedure
A Divorce Settlement Agreement Explained
Under New Mexico law, all property acquired during the marriage has to be divided equally between the spouses. If you don't want the state to decide on your and your spouse's behalf—and if you two can agree on property division terms—you should state the details in a divorce settlement agreement.
Finding a divorce mediator to help you reach an agreement can be useful. A mediator won't make decisions in your stead but will help you and your spouse work out the differences and find a suitable solution. That way, you can avoid hiring a lawyer and still settle your divorce out of court.
A divorce settlement agreement should spell out everything that you and your spouse agree on verbally.
Do You Need a Lawyer To Draft Uncontested Divorce Documents in NM?
Hiring a lawyer to help you write a valid divorce settlement agreement or review it afterward can be useful, but it's not necessary! You can avoid spending a ton of money on divorce attorneys and use DoNotPay to draw up your document in a few minutes.
Draft Your New Mexico Divorce Settlement Agreement Easily With DoNotPay!
Looking for a quick way to draw up your divorce settlement agreement without a lawyer? We got you covered! All you need to do is answer a few simple questions, and our app will handle the rest! Here's how you can get started:
Tap the Divorce Settlement Agreement feature
Answer our questions
Our Al-powered app will create your agreement instantly. Get your spouse to sign the document, and don't forget to do the same!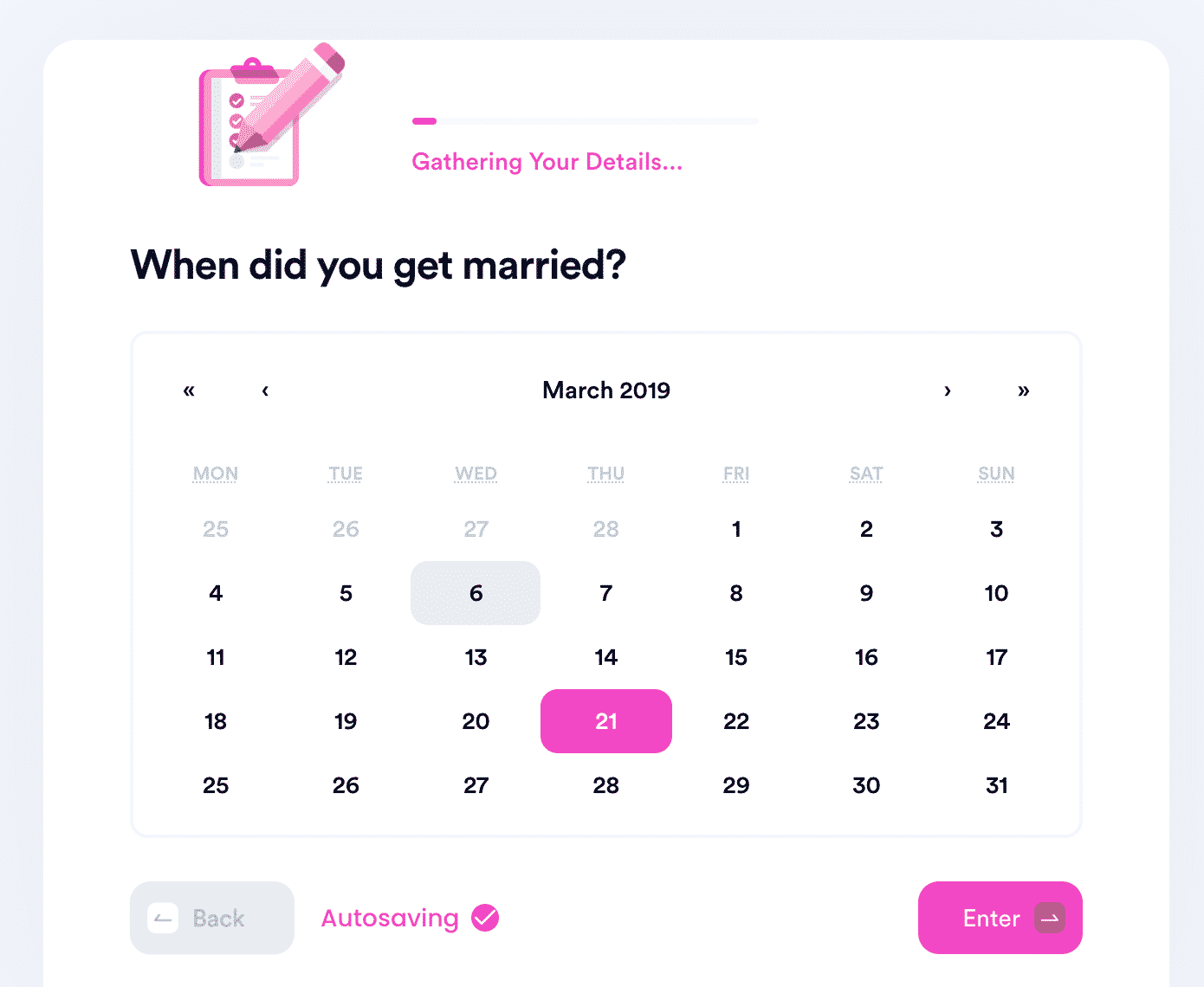 Since getting your agreement notarized is advisable, we can offer you the easiest way to do so! Forget about wasting time visiting a notary in your area. DoNotPay is here to simplify the process by giving you the option to get your agreement notarized online in a snap!
Explore DoNotPay's Database and Find Answers to Various Questions!
Filing for divorce in New Mexico is only one of the tasks DoNotPay can help you handle! With us, you can also learn how to:
Take Control of Your Finances
DoNotPay is a great way of taking care of your money, whether you're cost cutting or looking for some extra income. Your new virtual assistant will help you:
Explore All the Facets of Our Multi-Purpose Platform
Our app is great for helping you with your money, but the benefits of your DoNotPay subscription don't stop there. The portfolio of DoNotPay's products and services is so diverse that anyone can find something useful to make their daily tasks easier.
We can help you deal with annoying DMV appointments, protect your privacy by offering a burner phone number, or avoid trips to a post office with our mailing service!
Find a more comprehensive yet cheaper subscription—we'll wait!