Get the Right Information About a Divorce in Nebraska
If you'd like to end your marriage, you should learn about state and county divorce regulations, required papers, and your rights and responsibilities.
Where to start when you decide to file for divorce in Nebraska? DoNotPay discloses the essential info and helps with a divorce settlement agreement.
Nebraska Divorce Laws—Requirements and Grounds
To file for divorce in Nebraska, at least one spouse must:
Be a resident of Nebraska for a year before filing
Formally state that the marriage is irretrievably broken
Since Nebraska is a no-fault divorce state, you don't have to prove that your spouse did something wrong during the marriage to get it terminated.
How To File for Divorce in Nebraska
Here are the steps to take to file for divorce in NE:
Meet the residency requirements
State grounds to end the marriage
File the required divorce papers with the district court
Have copies of divorce papers served to your spouse
You should initiate the divorce procedure by filing the following:
Complaint for Dissolution of Marriage
Vital Statistics Certificate
Fee or fee waiver papers
Confidential Employment and Health Insurance Information and Social Security Information forms
All the above-listed should be filed with your county court clerk's office. As district courts can have specific local rules, you should inquire about them with the clerk of Douglas, Sarpy, Lancaster, and any other county's district court.
How Long Does a Nebraska Divorce Take?
You can get a divorce in 60 days after you file the papers in court, but it's more likely to happen in three to four months.
Keep in mind that the easiest and fastest option is an uncontested divorce. It implies that you and your spouse agreed on all aspects, including:
Property division
Child custody and support
Besides these important divorce matters, your spouse needs to sign a Voluntary Appearance, i.e., a form saying that they:
Have received a copy of the Petition for Divorce
Don't want to be served by the sheriff
In case your spouse doesn't sign this paper, the procedure will last longer. Check out the details in the table below:
| | |
| --- | --- |
| What Happens if Your Spouse Doesn't Sign a Voluntary Appearance? | How Long Does the Process Take? |
| The sheriff needs to serve the Petition to your spouse | Up to 20 days |
| Your spouse should file an answer | Up to 30 days from the date the spouse was served |
| Final hearing in front of the judge | 60 days after the date of service (the judge can grant a divorce without a hearing) |
| The judge signs the Decree of Divorce | It becomes final six months after signing |
Keep in mind that you cannot remarry as soon as the judge signs the Decree, i.e., you'll need to wait for six months before you are legally single again.
If you and your spouse have minor children or don't agree on the details and arrangements of the post-divorce period, the process will take longer.
Do You Have To Go to Court To Finalize a Divorce in NE?
You don't have to go to court to get a divorce in Nebraska if you settle all divorce issues with your spouse directly. This friendly procedure is the simplest, shortest, and least expensive. In this case, most courts will require only one party to attend the final hearing.
If there are problems you cannot resolve with your spouse, you should try mediation or hire a lawyer. You will have to attend a trial in case of unresolved issues.
To get more information and online divorce forms, access the following Nebraska Supreme Court website pages:
How To Get a Divorce in Nebraska
Depending on whether your spouse standpoint, you can have these two types of divorces:
Divorce Type
Steps To Follow
Contested—Your spouse doesn't agree on all divorce issues

Go to a mediator to try and resolve the issues
Hire a lawyer to negotiate with your spouse's lawyer and represent you in court
Attend a series of court appearances

Uncontested—You and your spouse agree on all matters

Register for DoNotPay to prepare a divorce settlement agreement
Sign the divorce papers together
Use DoNotPay's Efficient Divorce Settlement Agreement Product To Simplify Your Divorce Procedure
You don't have to spend a lot of money on professional legal services during your divorce. Instead, you could talk to your spouse, resolve the issues, and complete the necessary forms alone.
A divorce settlement agreement should include every detail of the arrangement, so you must ensure the document is enforceable and comprehensive.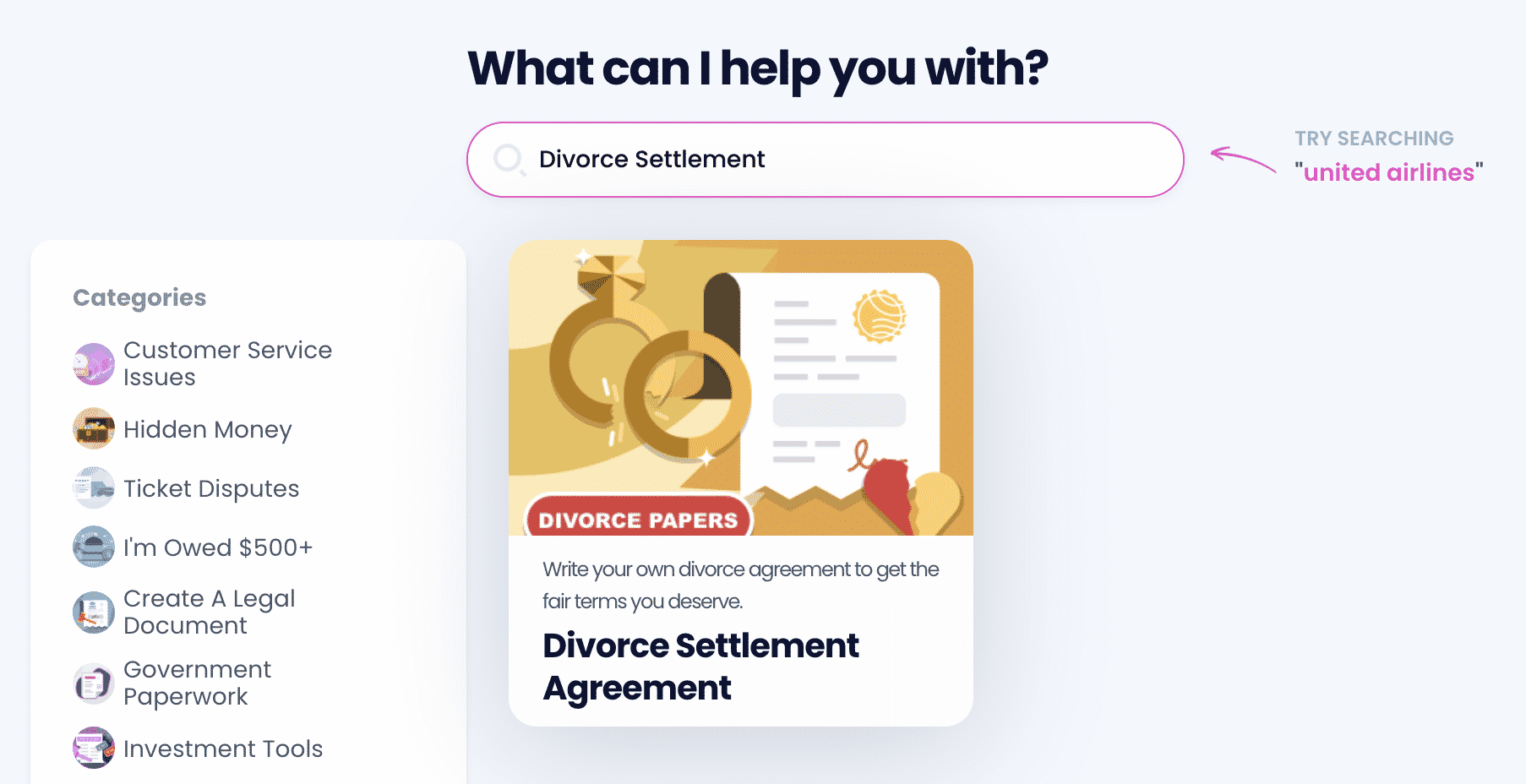 Our AI-powered app can help you draft a rock-solid divorce settlement agreement easily! Subscribe to DoNotPay and take these steps:
Enter Divorce Settlement Agreement in the search box
Provide answers to our chatbot's questions
Enter information about your property and income
We will scan your state law and local regulations to generate a legally binding document tailored to your needs.
If you'd like to have your agreement or any other divorce paper notarized, DoNotPay can assist by connecting you with a remote notary. Our partners are available 24/7.
Paying for Lawyers? We Don't Think So!
For an average Joe, any mention of legal terminology and complicated administrative processes is likely to cause a headache, and understandably so! Still, you don't have to jump the gun and hire expensive lawyers for the smallest matters.
It's the 21st century, and everything is automated. Why would it be different with bureaucracy? DoNotPay can help you draft efficient neighbor complaint letters, prepare you for a small claims court appearance, or create standardized legal documents and have them notarized online.
Our app is a great resource for fighting workplace discrimination, stopping stalking and harassment, protecting copyrights, securing compensation for victims of crime, and even reducing property taxes—all at a fraction of the price of traditional legal help.
Need To Do Some Penny-Pinching?
Whether you're saving for rainy days or a new gadget, DoNotPay can provide numerous options to save and earn more cash.
Do you need help with utility bills? Are you wondering how to get those few dollars left on your gift cards? Are you unsure about how to find your unclaimed money? If the answer is yes, our app can help.
With our assistance, you'll be able to enter raffles, start free trials with no risks, participate in lucrative clinical trials, or claim refunds for late deliveries!