Divorce in Nebraska—Alimony Laws That You Need To Know
Are you getting divorced, but you're not sure who gets the alimony? The laws are simple, but the tricky part is that they are different in every state. That's why DoNotPay has prepared a guide for you to clear up any confusion!
We'll show you the ins and outs of a divorce in Nebraska and alimony laws that you need to know.
Types of Alimony in Nebraska
Alimony—or spousal support—is a type of payment that one spouse pays the other as a form of financial support during or after their divorce. In Nebraska, there are two types of spousal support:
Short-term alimony—This type of alimony is also known as rehabilitative alimony. It's granted to the lower-earning spouse to help them get by during the divorce process and adjust to a new-income household. The purpose of this alimony is to help the spouse become self-supporting
Long-term alimony—This type of spousal support is rare and is granted to a spouse who can't become self-supported after a long-term marriage. For example, the court can award this type of alimony to a spouse who sacrificed their career for the benefit of the marriage and the upbringing of the children
How Is Alimony Paid in Nebraska?
In the State of Nebraska, there are two types of alimony payments:
| | |
| --- | --- |
| Type of Payment | Explanation |
| Lump-sum | This type of payment is rare because, in most cases, the supporting spouse can't afford to satisfy an alimony award at once. If the lump sum is required by the court, a one-time payment will end the paying obligation |
| Periodic payments | These payments are more common and usually occur on a monthly basis |
Not receiving your alimony payments? Ask the local court to help enforce the order by initiating contempt proceedings against your spouse. This can result in penalties, such as tax intercepts, attorney fees, bank account seizures, etc.
The courts have specific rules that differ by county, so be sure to check with Lancaster, Douglas, Sarpy, or some other court.
A way to solve this issue beforehand is to agree on the payment plan with your spouse in a divorce settlement agreement. This way, you won't have to go to court if you come up with a plan.
Which Factors Determine the Alimony Height in Nebraska?
Alimony payment varies from case to case. Judges use discretion and take multiple factors into account:
Ability of each spouse to maintain the same standard of living that they had during the marriage
Marketable skills each of the spouses has and the current job market for those skills
Education or training needed to acquire or maintain any marketable skills
Time, energy, and potential earning ability of the spouse who supported the other's earning ability
Duration of the marriage and the monetary contribution of both parties to the marital well-being
Ability of the supporting party to afford the alimony payments
Assets and property of both parties but not the possessions acquired before or separate from the marriage
Custodial status, meaning that the party who has custody over children and is unable to support themselves due to the children's age or condition is likely to get alimony
Couples in Nebraska also have the option to determine alimony by themselves if they go for an uncontested divorce.
Why Uncontested Divorce Is the Best Option if You Want a Fair Alimony
With an uncontested (friendly) divorce, you agree on the terms of alimony and other important divorce aspects with your spouse. This means that you can get an out-of-court settlement and even get divorced without a lawyer. The terms of your divorce and alimony are stated in the marital settlement agreement, and to get this document, you can either:
Couples who can't agree on alimony matters can try divorce mediation. A mediator can help them find a compromise regarding spousal support and other issues, such as parenting time and property division.
Get a Proper Divorce Settlement Agreement Without Any Hassle—Use DoNotPay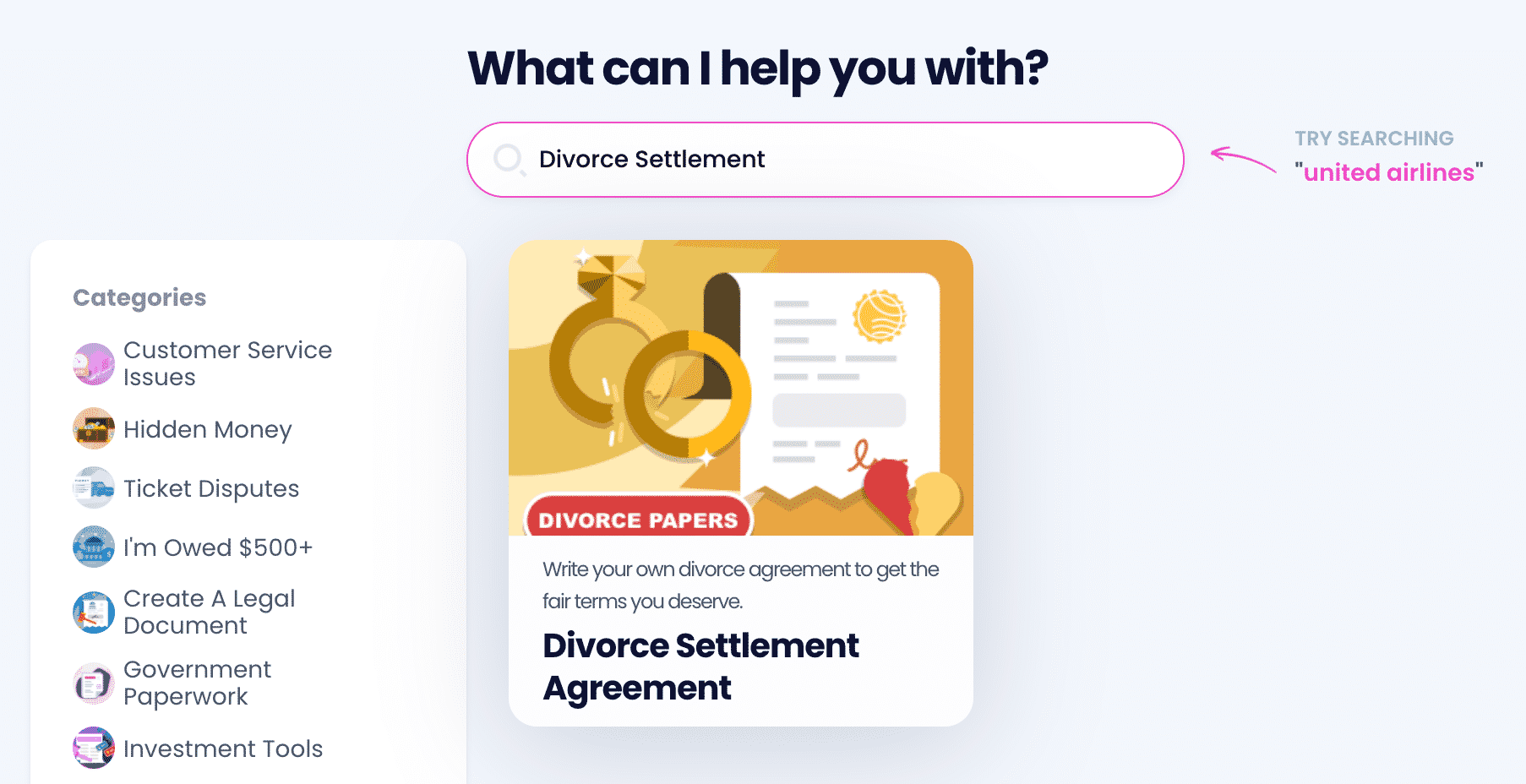 Sign up for DoNotPay if you want a divorce settlement agreement that is:
Compliant with Nevada state laws
Tailor-made
Professionally drafted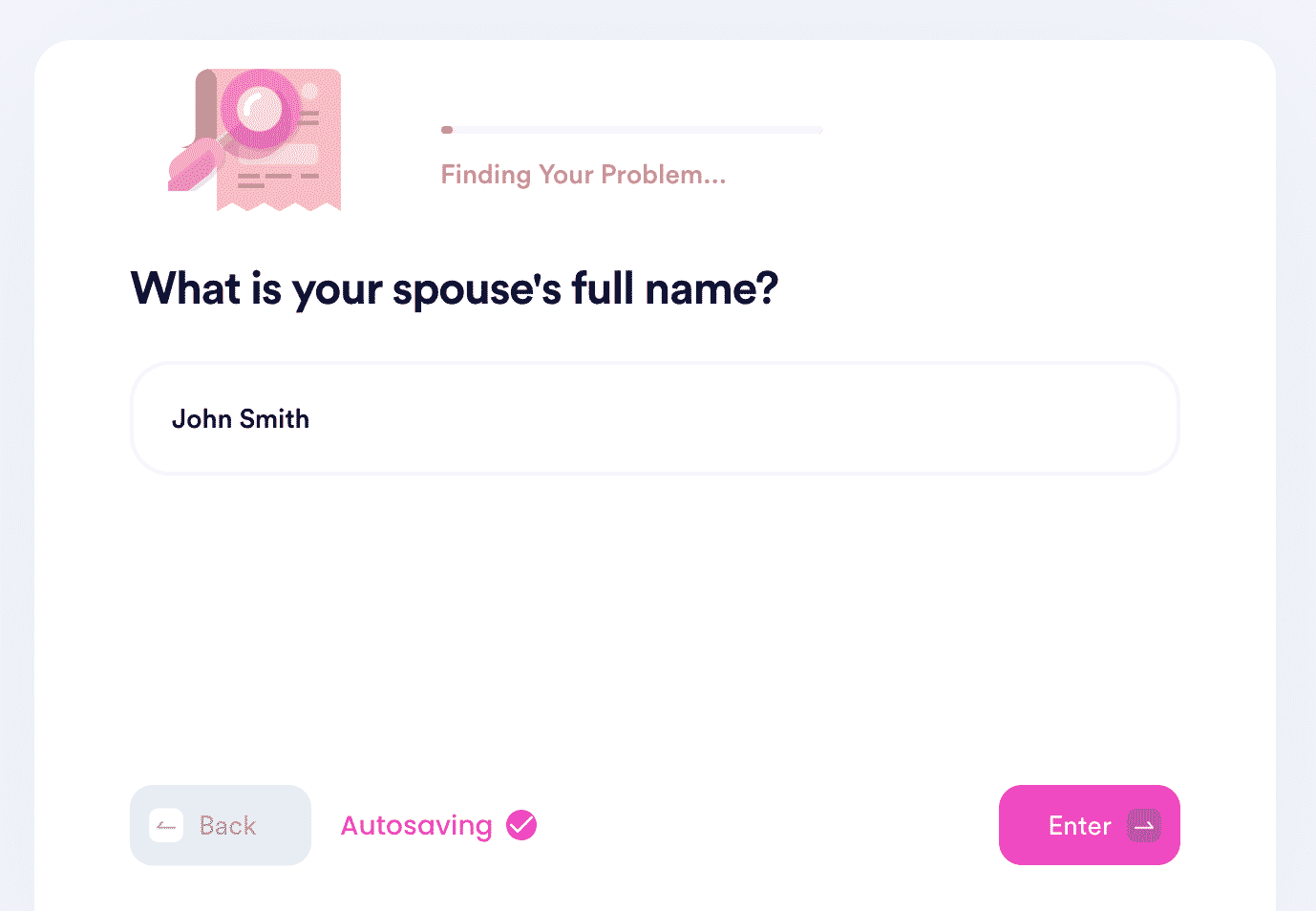 To get the document, you will only have to follow these steps:
Select our Divorce Settlement Agreement feature
Answer our chatbot's simple questions
Choose whether you want to get your document notarized remotely
Once you submit your request, we'll generate a divorce settlement agreement. If you opt for our notarization feature, we'll connect you with an online notary so you can add legal weight to your document from the comfort of your home.
Check out DoNotPay's learning center and get answers to commonly asked questions, such as:
Use DoNotPay To Resolve Administrative Tasks in Minutes!
Tired of brainstorming the easiest way to deal with administrative issues? We know how you feel, and we're here to take the burden off your back!
Once you subscribe to our app, you'll be able to resolve an abundance of bureaucratic issues with ease.
Taking a valid passport photo, reporting workplace discrimination, reducing property taxes, preparing for a government test, applying for a college fee waiver, and appealing a parking ticket are some of the many tasks we assist you with.
In case you need a quick way to draft a legal document, such as a power of attorney, divorce settlement agreement, or a child travel consent form, DoNotPay will do it for you!
Learn How To File Claims the Easy Way
Are you dissatisfied with a certain company and/or its products? You don't have to stay quiet! Use DoNotPay to file your insurance, warranty, or missing/late parcel claim effortlessly! We'll also show you how to request an item return in a few steps.
If you want to cancel a subscription or request a refund or chargeback, you can do it with our assistance without breaking a sweat. Use one app to deal with countless issues!