All Your Questions About a Divorce in NC Answered
A divorce in North Carolina doesn't have to be any more stressful than it already is. If you get familiar with state-specific divorce laws, you and your spouse can get out of the whole process fast and without empty pockets.
You don't have to rummage through various legal websites to get the details you need. DoNotPay is here to educate you on executing a low-cost divorce in NC and show you how to end your marriage as painlessly as possible!
What Do I Have To Know About North Carolina Divorce Laws?
Divorce laws in North Carolina are fairly straightforward. Take a look at the table below for more details:
Questions
Explanations
What are NC divorce requirements?
Any legally married couple can file for divorce in North Carolina as long as they fulfill the following requirements:

One spouse has to be a legal resident of NC at least six months before filing
Spouses have to live separately for a minimum of one continuous year before filing for divorce

What are the grounds for divorce in NC?
Basic grounds for a divorce in North Carolina are:

One-year separation
Incurable insanity of one spouse and living separately for three years

If one spouse decides to file for a fault-based divorce, they have to prove that their partner has:

Abandoned them
Kicked them out of the house without a valid reason
Subjected them to cruel treatment
Made their life unbearable
Abused drugs and alcohol to an extreme point
Committed adultery

Is North Carolina a no-fault divorce state?
A spouse doesn't have to prove that their partner is to blame for their marriage dissolving to get an absolute divorce in NC (a complete termination of the marriage). If they decide to do it anyway, they have to file for a so-called bed and board divorce (type of legal separation in NC)
What is the cost of a divorce in NC?
The cost of filing for an absolute divorce in NC is currently $225, without additional expenses (resuming the maiden name or serving the spouse)
How Does Uncontested Divorce in NC Work?
Do you and your spouse agree on all major issues, and neither is blaming the other for the marriage ending? If so, you are eligible to file for an uncontested divorce. A friendly divorce will help you avoid unnecessary costs, additional stress, and potential embarrassment.
Here's what you have to do for a quickie divorce in NC:
File the appropriate paperwork—If you're filing for an uncontested divorce in NC, you have to fill out and submit the corresponding documents with the court, including:

Complaint for Absolute Divorce
Domestic Civil Action Cover Sheet
Civil Summons
Servicemembers Civil Relief Act Affidavit

Serve your spouse—Once you file the required paperwork, you have to provide a copy to your spouse by:

Asking the sheriff's department to deliver the documents for you
Assigning the task to any objective third party above the age of 18

Complete and submit a proof of service—A clerk at the sheriff's office can complete and file it for you
Go through a mandatory waiting period—According to North Carolina law, you will have to wait at least 30 days for a hearing after serving the uncontested divorce papers
Request a hearing—Once the waiting period passes, the judge will schedule a hearing. The couple has a chance to finalize their marriage right then and there by submitting the following documents:

Parenting Plan
Judgment for Absolute Divorce
Certificate for Absolute Divorce
Separation Agreement and Property Settlement Contract
DoNotPay Can Create Your Divorce Settlement Agreement
A divorce settlement agreement is a significant part of the divorce procedures in NC. It serves to outline all items you and your spouse agreed on. The document must contain all crucial provisions, be created according to state laws, and present the information in a clear and concise manner.
Luckily, hiring a lawyer to write it is not the only viable option anymore. Our app can create a top-notch divorce settlement agreement in record time and at an affordable price!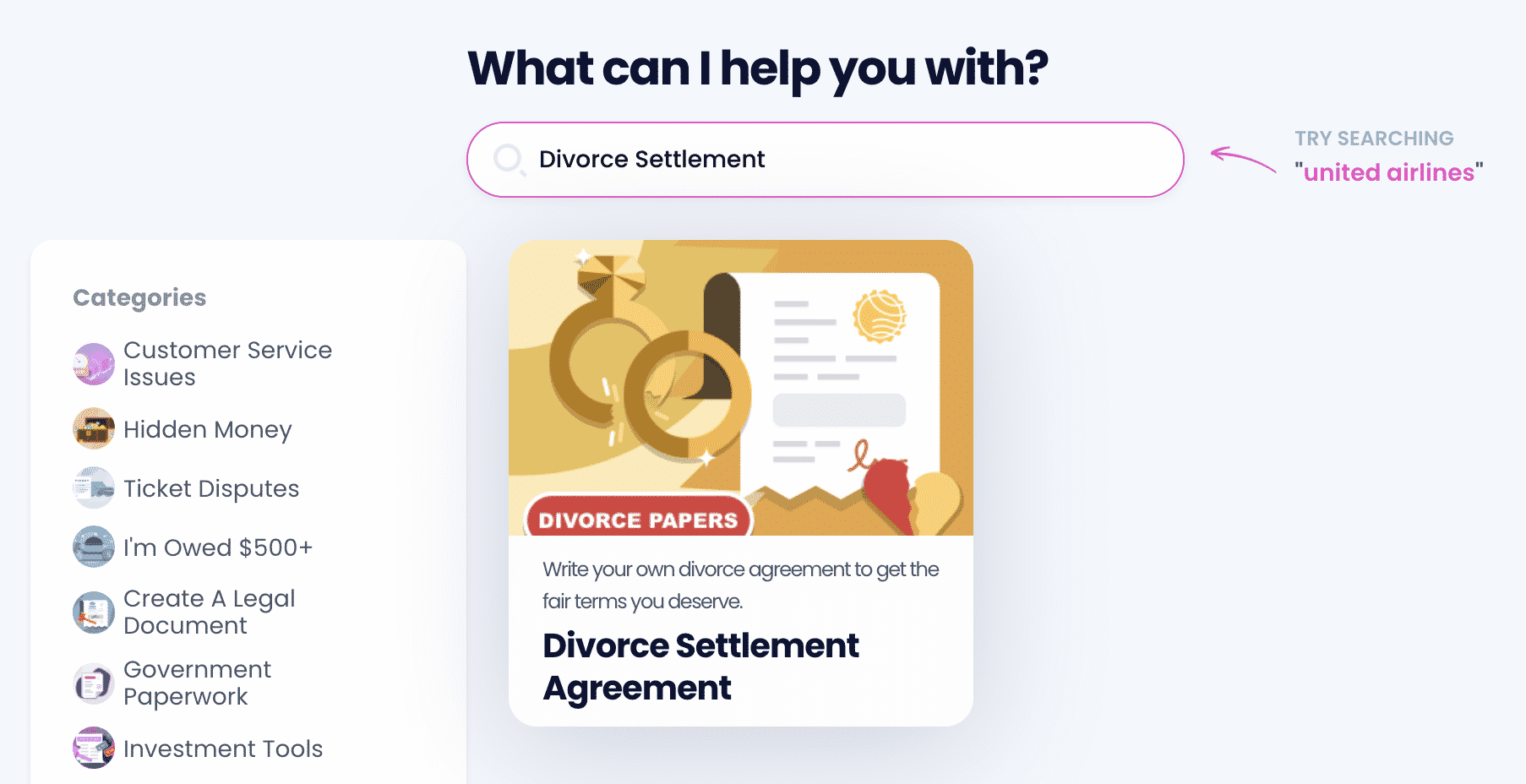 The steps you have to take are straightforward. You need to:
Open DoNotPay in any web browser
Enter Divorce Settlement Agreement in the search box
Answer our chatbot's questions regarding your spouse, assets, and other family matters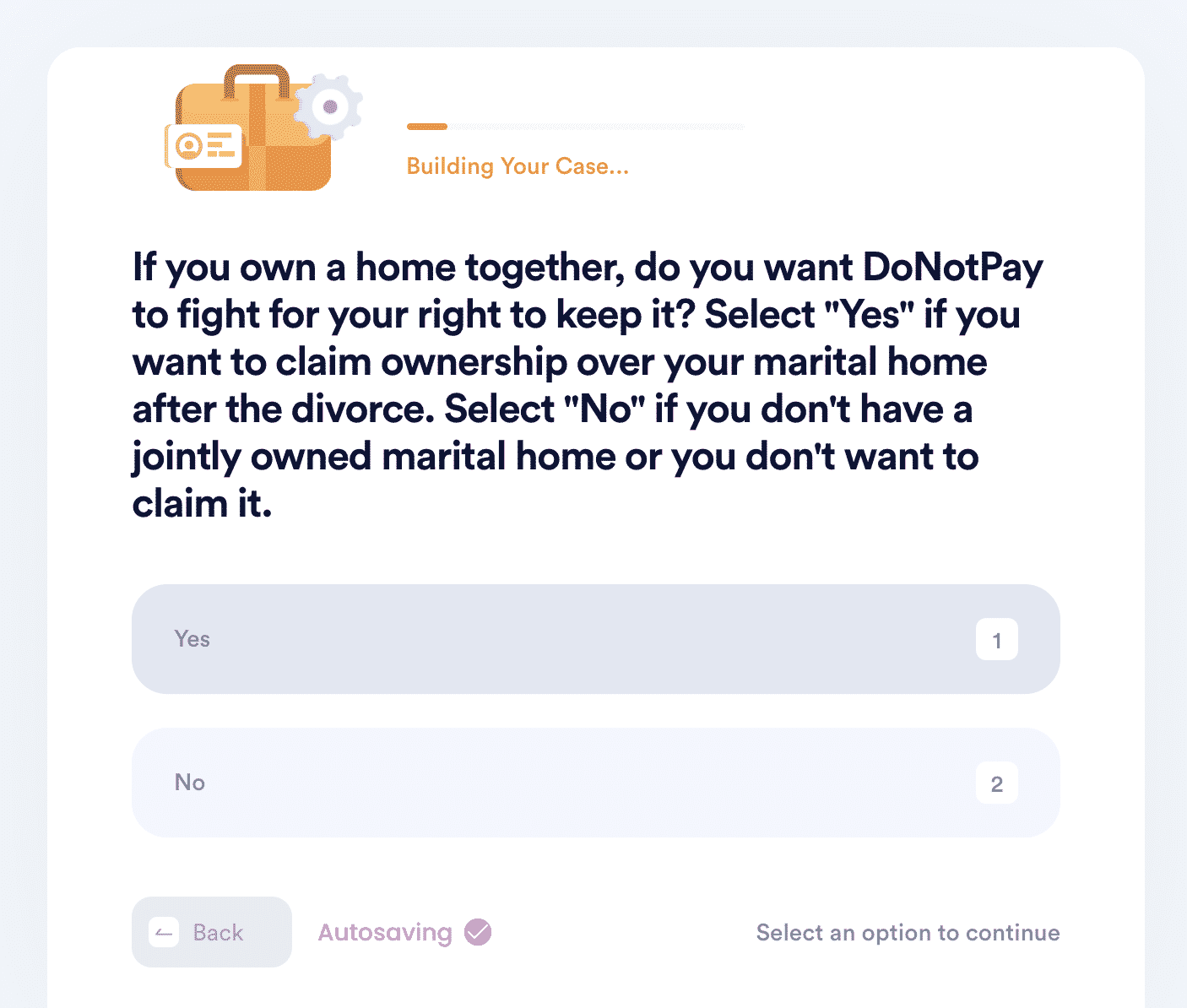 DoNotPay will use the provided information to generate a comprehensive, personalized divorce settlement agreement compliant with NC laws.
We can also help you have the document notarized using the same platform. Choose the corresponding option in our questionnaire, and DoNotPay will connect you with an online notary.
Our app has much more in store! Get the answers to some of the common questions regarding divorces, such as:
Do you need more NC-specific information about divorces? Check out the articles on the following topics:
DoNotPay Covers All the Bases
From getting you ready for various government tests to helping you reduce your property taxes, DoNotPay offers valuable assistance with the tasks that make most people at least roll their eyes. Dealing with bureaucracy isn't fun, but it also doesn't have to be as difficult as it is.
Every product in DoNotPay's portfolio is designed to efficiently deal with a specific issue within a few minutes and without sacrificing your comfort. Take a look at the tasks our app can make much more simple:
A Little More Money Never Hurt Anybody
Hardly anyone would turn down a chance to earn some more cash. That's why DoNotPay not only protects your rights and interests but also offers great opportunities to improve your financial situation.
With our help, you can find paid clinical trials, locate your missing money in any state, get your cash back from used gift cards, or enter various raffles and win great prizes.