Get Your Divorce in NC, Alimony Amounts, and Property Settlement Sorted With DoNotPay
Divorce is never a pleasant experience, and the best you can hope for is that the process is over quickly and cheaply so you can move on with your life.
The last thing you want in your North Carolina divorce is a settlement imposed on you by a judge, forcing you into unexpected alimony payments for years to come.
DoNotPay is here to help you understand divorce in NC, alimony guidelines, and settlement rulings so you can avoid unpleasant surprises!
North Carolina Divorce From A to Z
North Carolina is a no-fault state for divorce purposes, meaning that your spouse doesn't have to have broken the marriage contract for you to file a complaint for absolute divorce.
If either of you has been living in the state for the last six months, you can file for divorce there. The types of divorce available are:
| NC Divorce Types | Explanation |
| --- | --- |
| Absolute divorce | Absolute divorce is an option if you have lived separately from your spouse for the last year or if your spouse has been declared insane |
| Collaborative divorce | A collaborative divorce is known as an uncontested case in many other states and requires you and your spouse to have agreed on a settlement before your case comes to trial |
| Contested divorce | Contested divorces are the default option if you cannot reach a settlement with your spouse before your case is heard in court |
Absolute and collaborative divorces can usually be finalized without you having to attend court and should not need a lawyer to be involved.
Contested divorces must be tried before a judge, who will examine the facts in multiple hearings and make a ruling on your settlement. The ruling is legally binding and cannot be challenged easily.
The type of divorce you end up pursuing depends on you and your spouse—the more you can aim for a friendly divorce and reach an out-of-court settlement, the faster, cheaper, and more pain-free your divorce will be.
What Kind of Alimony Can Be Awarded in a Contested NC Divorce?
Alimony or spousal support is a payment from one spouse to make sure that the other can meet their financial obligations.
The payments can be temporary or long-term, depending on what the court orders, and are categorized as follows:
Spousal support after separation
Temporary alimony
Permanent alimony
Spousal Support After Separation
If you and your spouse have separated and your case is due to come to court, the judge may order temporary spousal support to allow your spouse to pay bills and living expenses.
Spousal support ends automatically as soon as your divorce is finalized.
Temporary Alimony
Temporary alimony allows a spouse to cover the costs of retraining or relocation to get a job.
The goal of such temporary alimony is to help the spouse become financially independent as soon as possible, and it usually terminates once the training or move has been completed or when the spouse gets a job.
Permanent Alimony
Permanent alimony is increasingly rare, but you might be ordered to pay it if your spouse is unable to earn a living due to old age or incapacity.
Judges can make their own decisions on the amount and duration of permanent alimony, but they are required to list their reasons in their ruling.
How Is Alimony Calculated?
When deciding alimony amounts and durations, a judge will take the following factors into account:
What each spouse's ongoing expenses are
How long you have been married
How much each spouse currently earns and could earn in the future
What contributions either spouse has made to the earning power of the other
What kind of lifestyle the spouses had during the marriage
Permanent alimony ends automatically if the receiving spouse passes away or remarries, and temporary alimony can be rescinded if the spouse completes the training course or relocation ahead of schedule.
If you receive a court order to pay alimony of any type and fail to do so, you can be fined or even given jail time.
What Can You Do To Avoid an Alimony Order?
The easiest way to avoid being ordered to pay alimony is to get a collaborative or uncontested divorce.
After you have filed the divorce papers, paid the filing fee, and served the papers on your spouse, you have a mandatory 30-day waiting period before your divorce can be finalized. This is the perfect time to work on drawing up a settlement agreement that covers:
If you can file your settlement agreement together with your divorce papers before your initial hearing, the judge will check the document to make sure it is:
Legally acceptable
Fair and equitable to both spouses
Comprehensive, covering all aspects of your marriage
Your collaborative divorce can then be granted with no further ado.
Where Can You Get a North Carolina Settlement Agreement?
Depending on how well you and your spouse can collaborate, you can choose between the following resources to have your settlement agreement drawn up:
| Settlement Agreement Resources | Explanation |
| --- | --- |
| Lawyers | The most expensive option is to engage attorneys to fight your battles on your behalf. This can have a huge impact on the total cost of your divorce—you can expect costs of more than $5,000 per spouse if negotiations are left to lawyers |
| Mediation | NC mediation services can help you reach a settlement with your spouse at a lower cost than attorneys, but you will have to pay to have the legal document drawn up once the negotiations have been completed |
| Online divorce service | If the two of you agree on the terms of your settlement, you can investigate the various online providers who offer downloadable templates for you to fill out. You need to be careful, though—while they are cheap, many of these templates are too general to cover your exact needs. A judge might reject your agreement as inadequate, and your case may end up in court |
DoNotPay offers the best of both worlds—a fully customized and comprehensive agreement with no lawyers' fees to pay!
NC Divorce Made Easy With DoNotPay!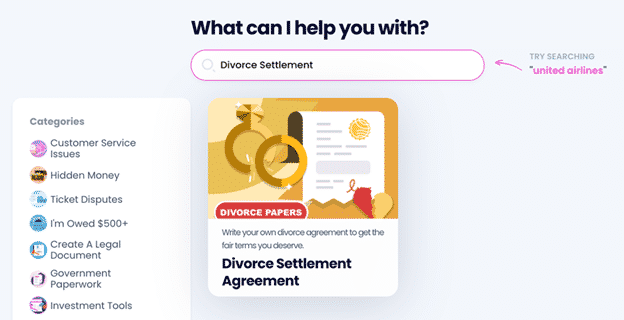 DoNotPay is your partner for avoiding punishing alimony orders in North Carolina!
Our Divorce Settlement Agreement product is your route to a collaborative divorce in NC, giving you a watertight and fully customized legal document that ticks all the boxes with no lawyers' bills attached!
Here's how to set your agreement up:
Become a DoNotPay subscriber by going to our site in your web browser
Search for our Divorce Settlement Agreement feature
Work your way through a short questionnaire to capture the terms of your settlement
Your work is done—your agreement will be ready in seconds. You and your spouse can print it out, sign it, and have it notarized.
You don't even need to search for a notary in your area—our online notarization service has that base covered, too!
Check out our detailed info on divorce in Mecklenburg County if you intend to file for divorce there!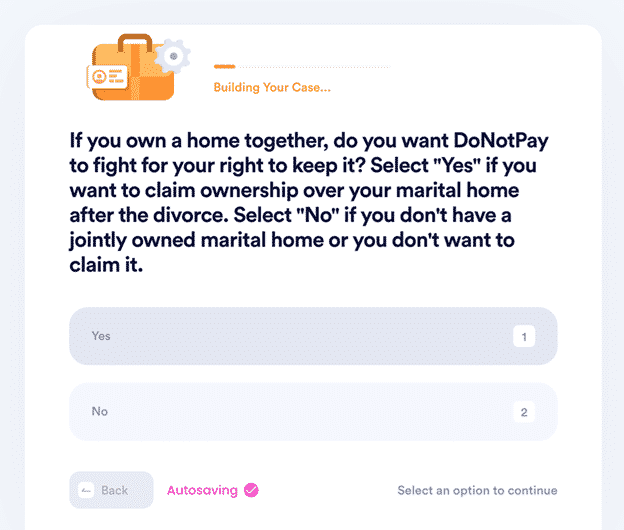 Don't Let Admin or Legal Issues Wear You Down—Hand Them Over to DoNotPay
Do you believe you may have some missing assets? Use DoNotPay's nifty product before the government claims them! Have you ever wanted to enter sweepstakes without purchasing anything? Our app will sign you up for them instantly! Trying to figure out how to reduce your property taxes or utility bills? DoNotPay can show you the way. Want to avoid getting charged for free trials that never fail to auto-renew into paid subscriptions? We'll help you cancel them before they expire.
Anything else you may need? Check out how our app can:
Check Out Our Other Robust Products
It doesn't stop there—DoNotPay can help you send a defamation demand letter, create passport photos, get gift card cash back, get any document notarized, request access to public records, claim insurance and warranty, request a college application fee waiver, appeal parking tickets, and much more.
Sign up now to get access to any of our products for one low monthly fee!