End the Drama in Montana! A Guide to Getting a Hassle-Free Divorce in Montana
The process of terminating a marriage can be quite complicated. You have to be familiar with the state laws, prepare the right divorce papers, and negotiate all the important issues with your spouse. A lawyer can assist you during the proceeding, but the service can end up costing you an arm and a leg.
Want to find a low-cost option? We'll explain the ins and outs of an uncontested divorce in Montana.
Divorce Laws in Montana
Montana is a no-fault divorce state, which means that neither spouse has to be accounted for the breakdown of the marriage. The no-fault divorce law makes the process of filing for marriage dissolution easier since you don't have to provide evidence of the other spouse's misconduct.
Instead of blaming your spouse, you have to prove one of the following occurred:
You have lived apart and separately for at least 180 consecutive days prior to petitioning for divorce
There is an irretrievable marital discord without the possibility of reconciliation
Can I Get an Uncontested Divorce in Montana?
The easiest way to terminate your marriage in Montana is through a summary or joint dissolution. Many people choose this divorce method because it's:
Quick
Straightforward
Inexpensive
To get a friendly divorce in Montana, all of the following has to be true:
Either you or your spouse meets the residency requirements:

Living in the state for at least 90 days before filing the petition
Being either a resident of the state or a member of the army stationed in Montana

You and your spouse don't have any children together, or you have agreed on and signed a parenting plan
The wife is not pregnant
Neither you nor your spouse owns an interest in real estate
Your other assets' total fair value doesn't exceed $50,000
Both or either of you doesn't have over $20,000 in unpaid debts incurred during the marriage
Both you and your spouse have given up the rights to:

Receive maintenance
Appeal the divorce judgment
Go for a trial

Both of you have signed a divorce settlement agreement
How To File for Divorce in Montana
If you and your spouse agree on important matters, such as custody, child support, and division of assets, you can get divorced without a lawyer. Consult the following table to see what the process of filing for uncontested divorce looks like:
| | |
| --- | --- |
| Steps | Explanation |
| Prepare the paperwork | Finding and filling out uncontested divorce papers is not as complicated as it seems. The Montana Judicial Branch website provides all the necessary information. You can find all the forms regardless of the type of dissolution and whether you do or don't have children. Besides the paperwork, you can find the instructions on how to fill out the forms |
| Negotiate with your spouse | When filing for joint dissolution, you and your spouse have to work together and exchange documents with each other. Once you negotiate all the terms, you can start filling out the joint petition |
| Draft a divorce settlement agreement | Another important document you need to submit to the court is a divorce settlement agreement. This document outlines the terms of your divorce and makes them legally binding. It confirms that you and your spouse have agreed on issues, such as children, finances, and property and helps you avoid potential disputes in the future. To make sure your divorce settlement agreement is thorough and represents your case properly, register for DoNotPay and let us draft it for you |
| File documents with the court | Make copies of all of your documents and head down to the Clerk of District Court office in the county where you or your spouse live. The court must keep the original documents, and you and your spouse get to keep the copies |
Make Sure Your Divorce Settlement Agreement Is Mistake-Free—Use DoNotPay To Draft It
There's no need to spend hundreds of dollars on lawyers when you can have the world's best virtual assistant create a much more affordable settlement agreement for you within minutes.
DoNotPay uses a comprehensive database of divorce laws and rules across the U.S., allowing us to draw up documents that are valid and personalized.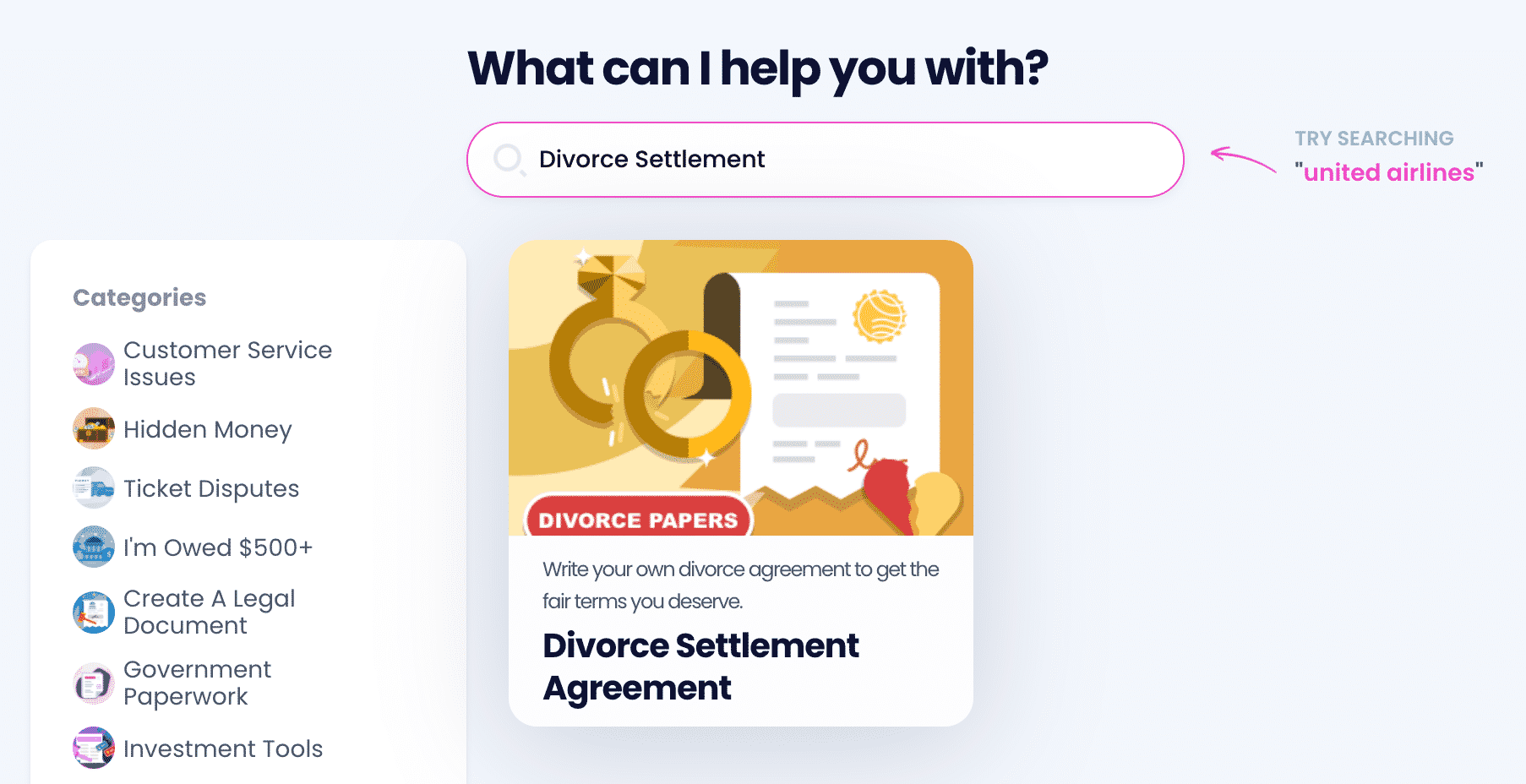 All you need to do is open DoNotPay and do the following:
Choose the Divorce Settlement Agreement tool
Complete our brief questionnaire
Tell us how you want to allocate your assets
Specify whether you need a notary
We'll customize the document and generate it for you promptly!
DoNotPay Can Solve All Your Divorce-Related Dilemmas!
Ending a marriage is a serious and stressful procedure. To prepare as much as you can, you should visit our learning center. DoNotPay can provide instructions and answers to numerous questions about this topic:
DoNotPay Can Help You With Almost Anything
DoNotPay's goal is to have a multitude of features that can be useful to you with handling various issues. Whether you want to apply for clinical trials, prepare for government tests, or even get in touch with your locked-up friends or family—DoNotPay has got you covered!
For a small yearly fee, our AI-based app will help you:
Want To Save and Earn Money at Once? Subscribe to DoNotPay
DoNotPay can help you earn and save a buck or two. We'll assist you in reducing your property taxes, canceling any unused subscriptions, and signing up for free trials with our virtual credit card.
As if that wasn't enough, we'll save you money and spare you from a headache if you receive any faulty deliveries by filing a refund or an item return request in your stead! This is just the tip of the iceberg of features that DoNotPay has in store for you.