A Detailed Guide on Getting a Divorce in MN
Each state has different rules and regulations regarding the divorce process. DoNotPay can provide you with valuable information about getting a divorce in MN. We can also tell you how to create a divorce settlement agreement fast!
Is Minnesota a No-Fault Divorce State?
In Minnesota, divorce is referred to as a dissolution of marriage. This is also one of the states that have a no-fault divorce law. Here are some of the most important points of a no-fault divorce:
A spouse can file for divorce by stating that there is an "irretrievable breakdown of the marriage"
A spouse can get a divorce even in situations when the other spouse does not want to get divorced
The court won't base its decisions on whose fault it was that the marriage ended
No-fault divorce law allows for a simple uncontested divorce between the spouses that see eye to eye and wish to end the marriage peacefully.
What Divorce Papers Do You Need To File for Divorce in Minnesota?
When filing for divorce in the North Star State, you will need to gather the required divorce papers. Here is what MN divorce forms you will need:
Restricted Identifiers and Cover Sheet for Non-Public
Joint Petition for Dissolution of Marriage With Children
Information Form (Form 11.1)
Affidavit of Service to Public Authority
Cover Sheet for Non-Public Documents (Form 11.2)
Completing Certificate of Dissolution Form
Summary Real Estate Disposition Judgment (SREDJ)
Certificate of Dissolution (for co-petitioners)
Joint Petition for Marriage Dissolution With Children
Notice to Public Authority
You will also need to make a divorce settlement agreement for an uncontested divorce in Minnesota.
How To File for Divorce in MN
You can see steps that you need to take to file for divorce in the table below:
| | |
| --- | --- |
| Steps To Take | Explanation |
| Gather and complete the necessary forms | You can find the forms you need online, at your local courthouse, or go to a law library to request a packet of divorce papers |
| Make copies of the forms | You will need two copies of the forms—one for you, one for the spouse, and the originals will go to the court |
| File the forms | You need to go to your local courthouse to file the divorce papers. It is necessary that you file for divorce in the county where you or your spouse lives |
| Serve the divorce papers to the spouse | You can either serve your spouse at the most recent home address (if they don't have a lawyer) or serve the lawyer at the lawyer's office. You can also ask a sheriff or a professional process server to serve your spouse |
What Are the Residency Requirements, and How Long Does a Divorce Take in MN?
One of the spouses needs to have lived in MN for 180 days before the divorce can take place.
In the best-case scenario, when both parties agree on everything, an uncontested divorce in Minnesota can take between four weeks and 60 days.
What Should You Know About an Uncontested Divorce in Minnesota?
The best option for ending a marriage is an uncontested divorce. This type of divorce is the best choice for spouses who are willing to work together to part their ways in a friendly manner. Both parties need to be on the same page when it comes to crucial matters, such as:
Legal custody
Income tax exemptions
Attorney's fees
Physical custody
Parenting time
Child support
Medical support
Asset and debt allocation
How Much Does a Divorce Cost in MN?
The amount of money you need to spend on a divorce in Minnesota will depend on the county where you are filing for divorce. The filing fees are usually between $350 and $400 dollars, which is not cheap. For example, in Anoka County, you will need to cash out $378 for this expense.
You can count on additional fees for custody if you have children and if you hire a lawyer. The low-cost option would be an uncontested divorce.
Divorce in MN Without a Lawyer—Is It Possible?
It is possible to get divorced without the representation of a divorce attorney in Minnesota. If you have enough legal knowledge, you should not be afraid to embark on this journey. You can start by creating a divorce settlement agreement, and DoNotPay is here to help you!
DoNotPay Can Help You Draw Up a Divorce Settlement Agreement in MN
If you want to create a rock-solid divorce settlement agreement, look no further than DoNotPay. Our app will provide you with a legal document tailored to your needs that ensures the protection of your interests. You only need to follow these instructions:
Sign up for DoNotPay in a web browser
Type in Divorce Settlement Agreement in the search bar
Provide required information about your spouse
Give us a bit of insight into your income and financial assets
You only need to sign the document and get it notarized. DoNotPay can also help you with the notarization part—just pick the right option when completing the questionnaire.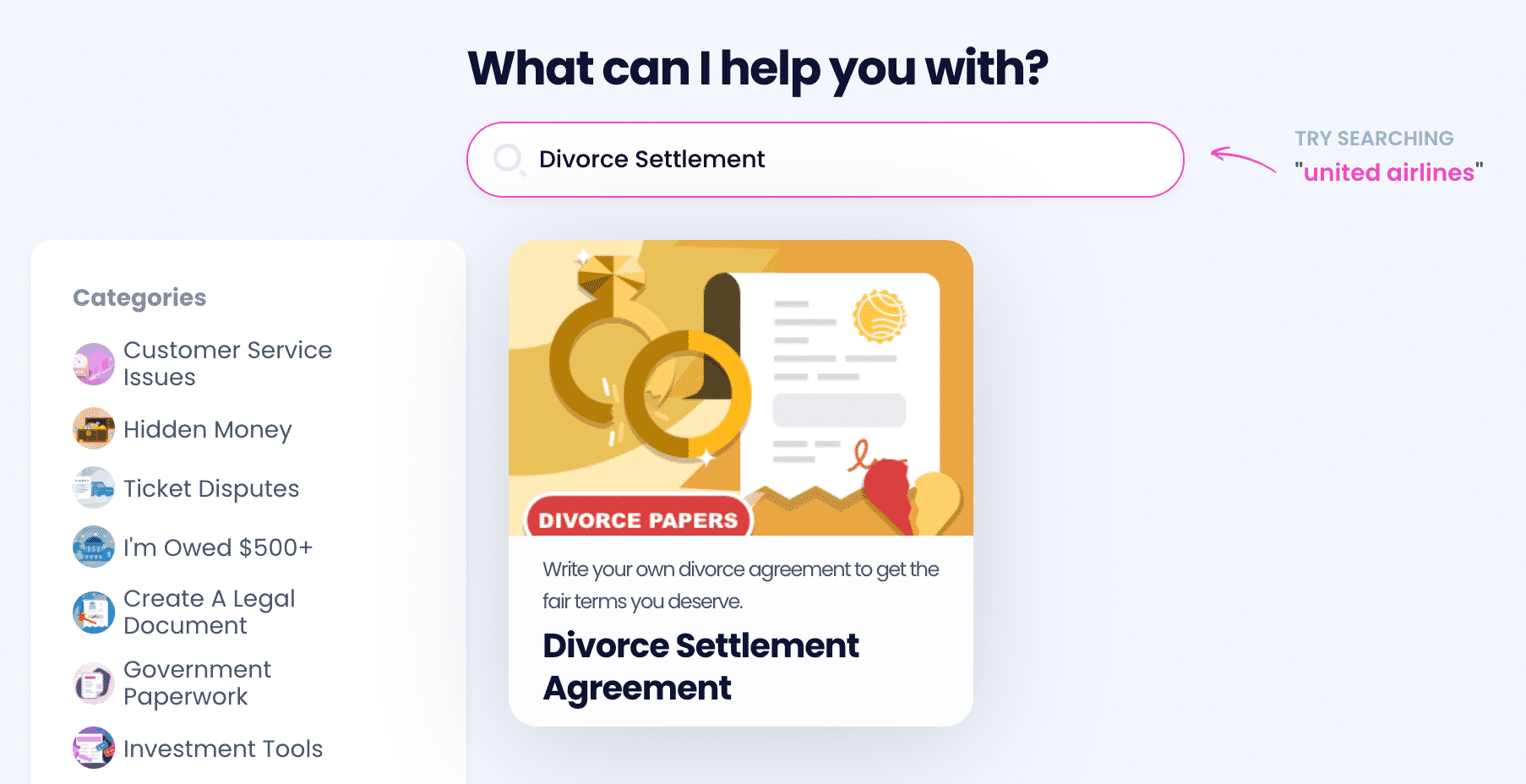 DoNotPay can provide answers to other divorce-related questions:
DoNotPay—Easy Fixes for Your Daily Struggles
Calling customer support takes hours. Dealing with refunds and chargebacks takes weeks or sometimes months. And don't even get us started on DMV appointments. The good news is that, with DoNotPay, you don't have to stress out about these tasks any longer.
Our platform can help you turn exhausting administrative troubles into two-minute tasks. Thanks to AI technology, you can easily create legal documents, request compensation for canceled flights, send a complaint letter to your neighbor, or book appointments with online notaries.
Diversity of services is one of the biggest advantages DoNotPay offers, and the best part is that our subscription won't cost you an arm and a leg.
Do You Need Help With Anything Else?
All you need to do is ask, or in this case, sign up for DoNotPay, and the world of practical, user-friendly products awaits. Finishing boring or annoying tasks with the help of our AI bots is fun, easy, and super intuitive—you won't need any special knowledge of legalities or administrative terminology.
With our help, you will be able to: