Divorce in MN—Child Support Guidelines and Options Clarified by DoNotPay
Filing for divorce is fraught with anxiety—you want the process to be quick, cheap, and painless, but you also want to make sure your kids are not going to be disadvantaged after everything is over.
Divorce laws in Minnesota pay special attention to the welfare of children, and MN courts enforce strict guidelines on how child support should be allocated.
DoNotPay has the full rundown on divorce in MN—child support rules, shared parenting agreements, and ways to secure your children's future are our specialties!
How Does a Divorce in Minnesota Proceed?
As a resident of Minnesota for at least the last six months, you are eligible to file for divorce in the Gopher State.
The process you must follow consists of these steps:
Filing divorce papers
Reaching a settlement agreement
Filing Divorce Papers
Minnesota is a no-fault state, so the only reason you need for a divorce is that the marriage has broken down beyond repair.
You can download the forms you need from the Minnesota Judicial Branch and file them with the clerk of your county court.
The forms include a:
Petition for dissolution of marriage
Details of any children from the marriage
The financial statement and the child details will be used to calculate child support orders if the court has to adjudicate them.
You must pay the Minnesota filing fee of around $365 when you lodge your papers.
Serving the Papers
Once your papers have been filed, you need to have them delivered to your spouse, and they must sign for them to confirm receipt.
Reaching a Settlement Agreement
If you and your spouse are in conflict, your divorce will go to court, and you should prepare yourself for a lengthy—and potentially expensive—legal procedure. This will also involve the court making a ruling on child support and all the other elements in your settlement.
If the two of you can work together towards a friendly divorce, you may be able to reach an out-of-court settlement that means you:
Can agree on the level of child support needed without court intervention
May be able to avoid court hearings altogether
How Is Minnesota Child Support Calculated?
The Minnesota guidelines provide for three types of child financial support:
Child Support Types
Explanation
Basic support

Basic support is used to pay for fundamental necessities such as:

Schooling
Food
Clothes
Transport

General care needs

Medical support

This support caters for medical bills, dental care, and medical insurance premiums

Child care support

This money can be used for daycare, nannies, or childminders as needed while the custodial parent is at work
The state uses an income share system to calculate child support payments and factors in:
Both parents' gross incomes
The needs of children at various stages, based on sliding scales
The share of child custody and parenting time each parent is allocated in the divorce decree
Regular adjustments to cater for inflation and other price increases
The law is based on both parents being able to work, but exceptions can be calculated into the equation if you or your spouse are incapable of taking up employment.
If you can work but choose not to, Minnesota law will still impose child support obligations on you.
How Can You Avoid a Court Child Support Order?
The best way to avoid a Minnesota court imposing a child support order on you is to reach a settlement agreement with your spouse before your case comes to trial.
A settlement agreement is a legal document that regulates everything you have declared in your original divorce papers, including:
If you and your spouse can file a signed settlement agreement before your court proceedings begin, the judge will check it to make sure it is fair and comprehensive. If it ticks all the required boxes, your uncontested divorce will be granted.
Where Can You Get a Settlement Agreement?
Negotiating and drafting a settlement agreement doesn't need to be complicated if you and your spouse can cooperate in the best interests of your children.
To help you draw up your agreement, you can use:
Settlement Agreement Resources
Explanation
Lawyers

Hiring attorneys is the default way for many couples to reach a settlement agreement, but it may be an unnecessary expense if you and your spouse agree on most points. Lawyers in Minnesota are expensive, and you can bank on a settlement agreement negotiated by your respective attorneys costing you at least $5,000 per spouse.

A cheaper alternative may be to submit to mediation, in which a trained mediator facilitates your negotiations. This can be considerably more cost-effective but will still cost a four-figure amount

Online services

Numerous online providers offer settlement agreement templates for you to download and fill out. While these are usually cheap, you should be careful as many of them are too generic to cover your exact needs. A judge could find such an agreement inadequate and may reject it
The answer is DoNotPay! We can create a complete, customized settlement agreement for you in a few clicks, with no need to spend a cent on lawyers' fees!
DoNotPay Helps You Get the Best for Your Kids!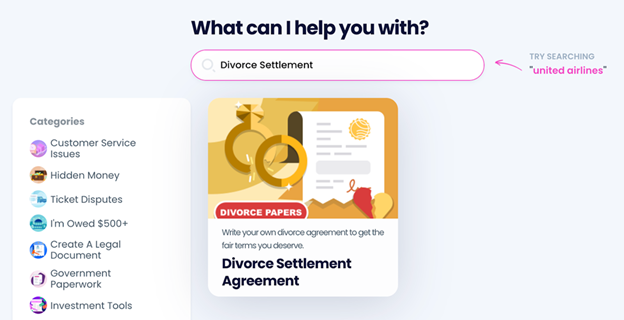 DoNotPay is committed to keeping your divorce fair, equitable, and in the best interests of your loved ones.
Our Divorce Settlement Agreement product is designed to keep you shielded from court rulings, imposed settlements, and unnecessary conflict.
To help you do this, we can generate a comprehensive and watertight settlement agreement that covers the terms you and your spouse have agreed on.
To set your agreement up, here's what you need to do:
Sign up with DoNotPay in your web browser
Click on our Divorce Settlement Agreement feature
Follow the prompts and give us the details you have agreed on with your spouse
Once everything is filled in, you will have your document in an instant. You can sign it together with your spouse and have it notarized.
Even if you don't know where to find a notary in Minnesota, there's no need to panic—our online notarization service can get your documents signed and sealed online!
Need specialized info on divorce in Anoka County? Look no further than DoNotPay!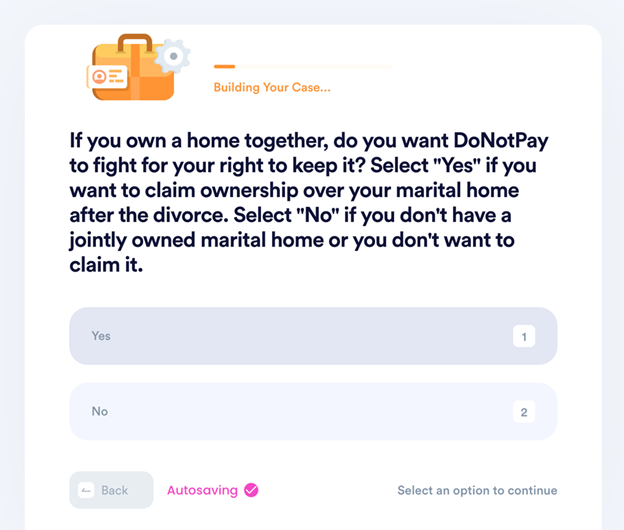 Learn How To Solve Legal Issues in Minutes!
Do you need to draft a legal document? Spending hundreds of dollars on lawyers is not the answer. We came up with a faster and more affordable solution. Not only can our app draft child consent forms, divorce settlement agreements, and powers of attorney for you, it can also provide legal assistance by helping you take anyone to small claims court!
Drafting numerous documents is not all DoNotPay does for you! Aside from drawing up contracts and agreements, we can also assist you in getting them notarized online from the comfort of your home or office!
Explore DoNotPay's Other Nifty Features
There is more assistance on the way! You can use DoNotPay's features to handle various tasks with ease, including:
We can also help you protect your safety. If you don't know how to deal with copyright infringement, stalking and harassment, work discrimination, sex offenses, and disputes with annoying neighbors, DoNotPay has got you covered.