All You Need To Know About a Divorce in MN, Alimony, and Settlement
Filing for divorce is fraught with worry—not just about keeping the process quick and cheap but about the long-term financial impact of your split.
Ideally, your Minnesota divorce should be achievable without court appearances or lawyers being involved, and with a fair settlement, that means you and your spouse can move on.
DoNotPay is here to help you achieve this—check out our complete guide to divorce in MN, alimony, and settlements!
How Does Divorce in Minnesota Work?
The three types of divorce available in Minnesota are:
Summary
Uncontested
Contested
Summary
A summary divorce is available to couples who:
Have been married less than eight years
Have no minor children
Possess no joint real estate and have assets worth less than $25,000
Don't have joint debt amounting to more than $8,000
Alimony is not usually available in summary divorces.
Uncontested
Uncontested divorce requires you and your spouse to agree on the terms of your settlement before your case comes to trial.
Your settlement agreement will cover all aspects of your family and financial life, and a judge will check that it is fair and comprehensive. Alimony may be an element of your settlement agreement.
Contested
A contested divorce is the worst-case scenario in that your case will have to go to trial and your settlement will be imposed by the judge.
If the judge adjudicates that it is necessary, alimony may be awarded to either you or your spouse in your contested divorce.
How Is Alimony Worked Out in Minnesota?
Alimony in Minnesota is known as spousal maintenance and can be temporary or permanent. There are few guidelines in Minnesota, so judges have a fair degree of leeway in determining how much maintenance should be paid and for how long. Spousal maintenance is separate from child support in Minnesota, so you may be hit with both financial burdens.
Minnesota divorce law states that a judge should take the following aspects into account when deciding on spousal maintenance:
Amount each spouse will possess in assets after the divorce
Current and potential earnings of each spouse
Amount of time you were married
Standard of living you enjoyed as a couple
Employment history of each spouse
Factors that may inhibit a spouse's ability to earn a living
Contributions made by one spouse to the other that increased the other's earning potential or the value of their joint assets
Once these factors have been weighed up, a judge can order spousal maintenance to preserve the lifestyle enjoyed by both spouses during the marriage.
Alimony Types
The alimony awarded can take the form of:
| Spousal Maintenance Types | Explanation |
| --- | --- |
| Temporary alimony | This can be awarded to a spouse to cover interim expenses during the divorce process. It ends automatically once the divorce is finalized |
| Short-term alimony | Short-term alimony is used to cover the costs of relocation, retraining, or job searches to enable a spouse to gain employment. It normally ends when the specified task has been completed or the spouse finds a job |
| Permanent maintenance | Permanent maintenance is awarded to help a lower-earning spouse maintain the standard of living they have enjoyed during married life. It is not awarded often but is useful if a spouse is unable to work due to age, ill-health, or time spent out of the job market |
An award of spousal maintenance can be punishing to the higher-earning spouse. Judges in Minnesota are not allowed to take any bad behavior during the marriage into account but can factor in any considerations they feel are important.
As a rule, any spousal maintenance award will increase according to:
The length of your marriage
The difference between your spouse's earnings and yours
How Can You Steer Clear of a Maintenance Order?
Judges will only rule on contested divorce cases, so your best course of action is to aim for a friendly divorce with an out-of-court settlement.
Once your divorce papers have been filed and your spouse served, your most important task to secure an uncontested divorce is to negotiate a settlement agreement with your spouse.
A settlement agreement sets out how:
The agreement is a legal document that will be scrutinized by the judge to make sure that it:
Is fair to both parties
Covers all the elements you declared in your original divorce forms
Is legally acceptable under MN law
Where Can You Get Your Settlement Agreement Drafted in MN?
Depending on how well you and your spouse can work together, getting your settlement agreement can be cheap and fast or expensive and drawn-out.
Your most expensive option is to hire attorneys to negotiate your settlement. This can cost up to $5,000 per spouse, much of which will be payable as an upfront retainer.
A lower-cost possibility is to use a mediation service, in which a trained mediator helps you and your spouse negotiate face to face towards a mutually acceptable resolution.
If you and your spouse agree on most of your settlement, the cheapest resource is to use an online divorce service. You may only get what you pay for as many of these services are highly generic and cannot cover all the specifics of your case.
This could result in the judge rejecting your settlement as being inadequate—at which point you are back to square one with a contested divorce.
DoNotPay has the solution! We can create a settlement agreement for you that covers all your bases and is sure to pass muster with a judge—all without you spending a cent on lawyers' fees!
Your Minnesota Settlement Agreement Done and Dusted With DoNotPay!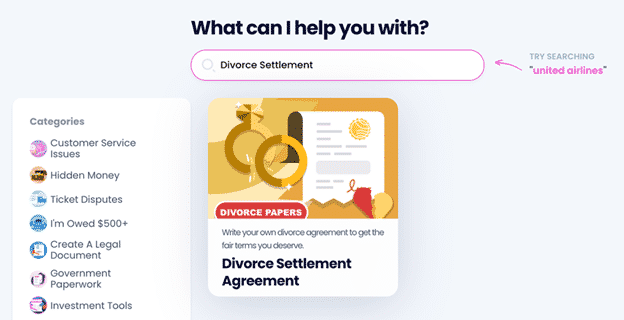 DoNotPay is your partner for making your Minnesota divorce cheaper, easier, and faster!
Our Divorce Settlement Agreement product is designed to deliver a watertight and comprehensive document tailored to your exact needs.
You don't have to engage lawyers or cut and paste your own agreement—our solution is ready to sign and have notarized in a flash!
Here's how to set your custom agreement up:
Click on our Divorce Settlement Agreement feature
Fill out the questionnaire with the terms you and your spouse have agreed on
That's all she wrote! All you need to do is print and sign the document, and your uncontested divorce can move forward.
No idea where the nearest notary is? No problem—we can get your agreement notarized online, with no need for you to leave home!
Need specialized info on divorce in Anoka County? DoNotPay is here to help!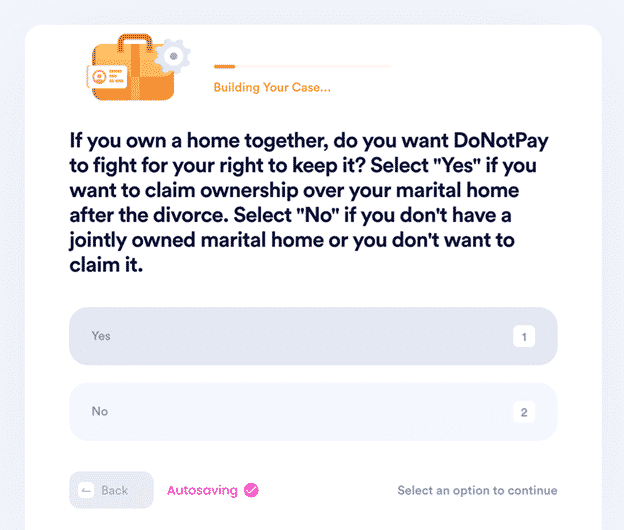 Don't Let Admin or Legal Issues Wear You Down—Hand Them Over to DoNotPay
Do you believe you may have some missing assets? Use DoNotPay's nifty product before the government claims them! Have you ever wanted to enter sweepstakes without purchasing anything? Our app will sign you up for them instantly! Trying to figure out how to reduce your property taxes or utility bills? DoNotPay can show you the way. Want to avoid getting charged for free trials that never fail to auto-renew into paid subscriptions? We'll help you cancel them before they expire.
Anything else you may need? Check out how our app can:
Check Out Our Other Robust Products
It doesn't stop there—DoNotPay can help you send a defamation demand letter, create passport photos, get gift card cash back, get any document notarized, request access to public records, claim insurance and warranty, request a college application fee waiver, appeal parking tickets, and much more.
Sign up now to get access to any of our products for one low monthly fee!