Divorce in Missouri—Get Divorced Without a Hassle
Going through a divorce can be exhausting and costly, but having all relevant info can help the situation go smoothly. Your best bet for having a stress-free divorce is being familiar with the procedure, state laws, and necessary paperwork.
In this article, DoNotPay will present the relevant information about getting a divorce in Missouri and help you prepare for the process. We offer to create a marital settlement agreement and show you the way to a low-cost divorce!
Missouri Divorce Laws—Key Points
Missouri courts typically refer to divorce as a dissolution of marriage. Before you file for divorce (dissolution), you need to get familiar with the key elements of the Missouri divorce law, which states the following:
Spouses must meet the Missouri residential requirements—You and your spouse need to live in Missouri for at least 90 days before filing a petition to end the marriage
Missouri is a no-fault divorce state—Current Missouri laws permit spouses to get divorced only by claiming the marriage is irretrievably broken. Fault-based divorces are not allowed
You have to file for divorce in the right location—Family courts in Missouri are in charge of handling divorce proceedings and resolving matters regarding children. You have to file for divorce at a family court located in your county of residence
Divorce courts in Missouri follow the equitable distribution of property approach—A judge will divide your property equitably unless there are compelling reasons not to do so
You don't have to go to court to get a dissolution of marriage—In almost all cases except the ones where a spouse's safety is in danger, a judge will order the couple to attend mediation before setting a trial. Spouses who manage to resolve their issues in mediation can avoid trial altogether
Divorce in Missouri doesn't have to be expensive—Couples who own little property and are able to reach an agreement on their own can have a relatively inexpensive divorce
What Is an Uncontested Divorce in Missouri?
Do you want to finalize your marriage fast and without any unnecessary expenses? If so, you and your spouse can file for an uncontested divorce. It implies that you have reached an understanding about issues, such as:
Dividing property and debts
Making alimony payments (if any)
Creating a comprehensive parenting plan that outlines:

Visitation schedule
Collaboration between parents regarding children's education, health, and extracurricular activities
Health insurance coverage details
Payments for other child-related costs (e.g., education expenses)
While you and your spouse can represent yourselves in an uncontested divorce, you shouldn't hesitate to reach out to a lawyer if:
Situation is complicated
You have unresolved concerns
Your spouse has decided to hire an attorney
How To File for Divorce in Missouri Without a Lawyer
To get a friendly divorce in Missouri, you have to follow an established procedure. Provided you and your spouse have met the residential requirements and agreed on all terms, you have to complete the steps from the table below:
Steps
Details
Gather and file the uncontested divorce paperwork

You can find the necessary divorce forms on the Missouri court website. All packages named Dissolution of Marriage Forms-Petitioner contain a respondent's answer as well, which:

Will be filed along with the petition
Imply agreement with everything in the petition

Pay the fee
File the forms at the circuit courthouse in the county where either you or your spouse lives
Provide copies of all the forms for your spouse (there's no need to formally serve them since they agree on all terms and you've already filed their answer)

Have the divorce finalized
The state of Missouri orders a mandatory 30-day waiting period before a judge signs your final divorce judgment. While you typically have to appear for a final hearing, in some counties, the divorce can be finalized based on your agreement and paperwork
Bear in mind that your marital settlement agreement has to be filled out with utmost care. Any mistake can result in significant delays and additional expenses.
If you want to avoid completing the document without supervision, we offer a solution! Sign up for DoNotPay and let us create a bullet-proof marital settlement agreement at an affordable price!
A Cheap Divorce in Missouri Is Achievable With DoNotPay
You can skip the overpriced lawyers and iffy online divorce services. The key to a successful quickie divorce in Missouri is a professional marital settlement agreement that we can draw up in no time!
Here's what to do after you open DoNotPay in a web browser:
Find our Divorce Settlement Agreement tool
Provide the necessary information regarding your:

Spouse
Children (if applicable)
Income
Property

Choose to have the agreement notarized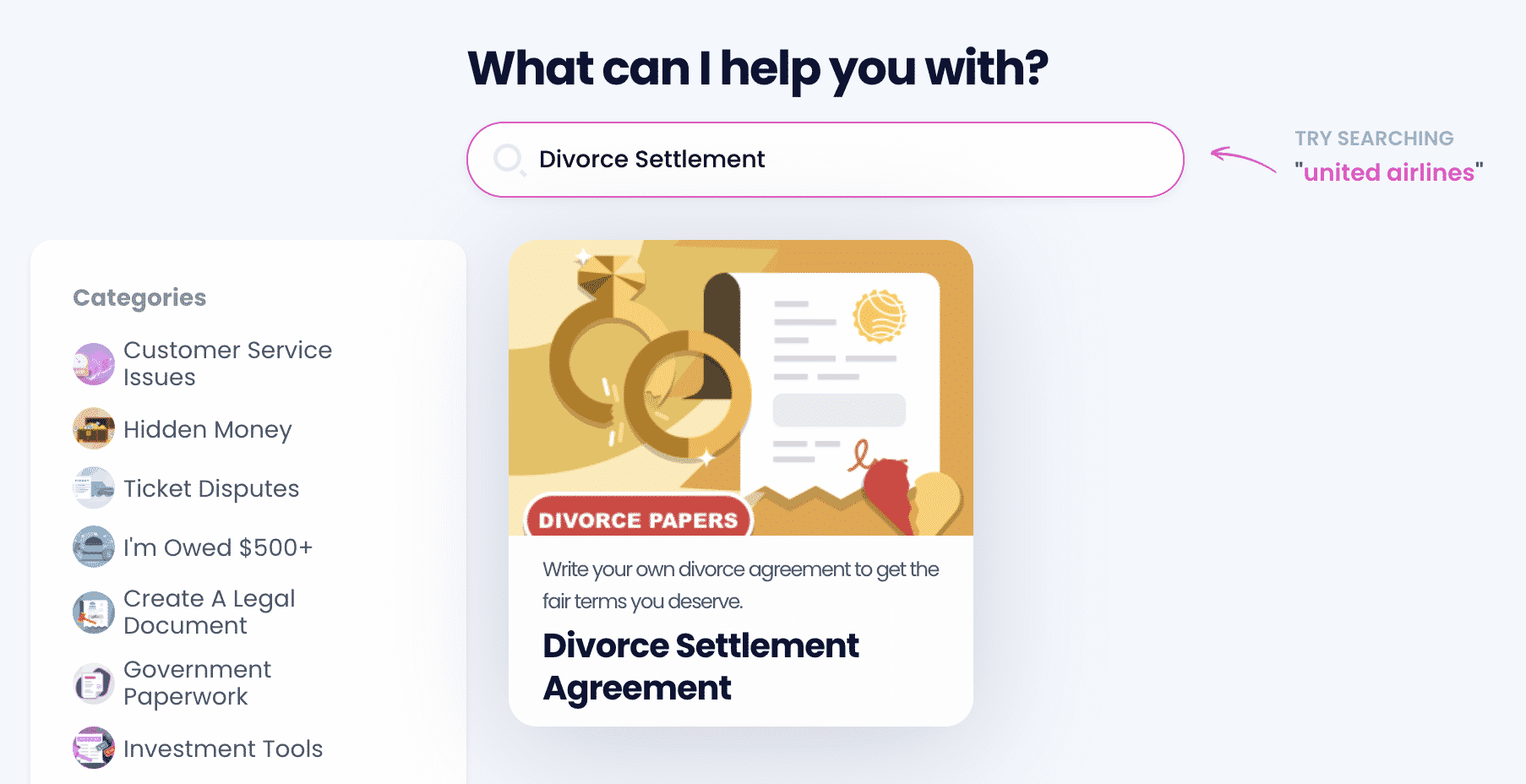 Once you've completed these quick steps, we will generate an agreement that:
Complies with Missouri state laws
Corresponds with your circumstances
Contains all necessary sections
Delivers the items you agreed upon in an unambiguous manner
Getting the divorce settlement agreement notarized with our help is equally simple. We'll connect you to an online notary and enable you to complete the procedure from anywhere and on any digital device!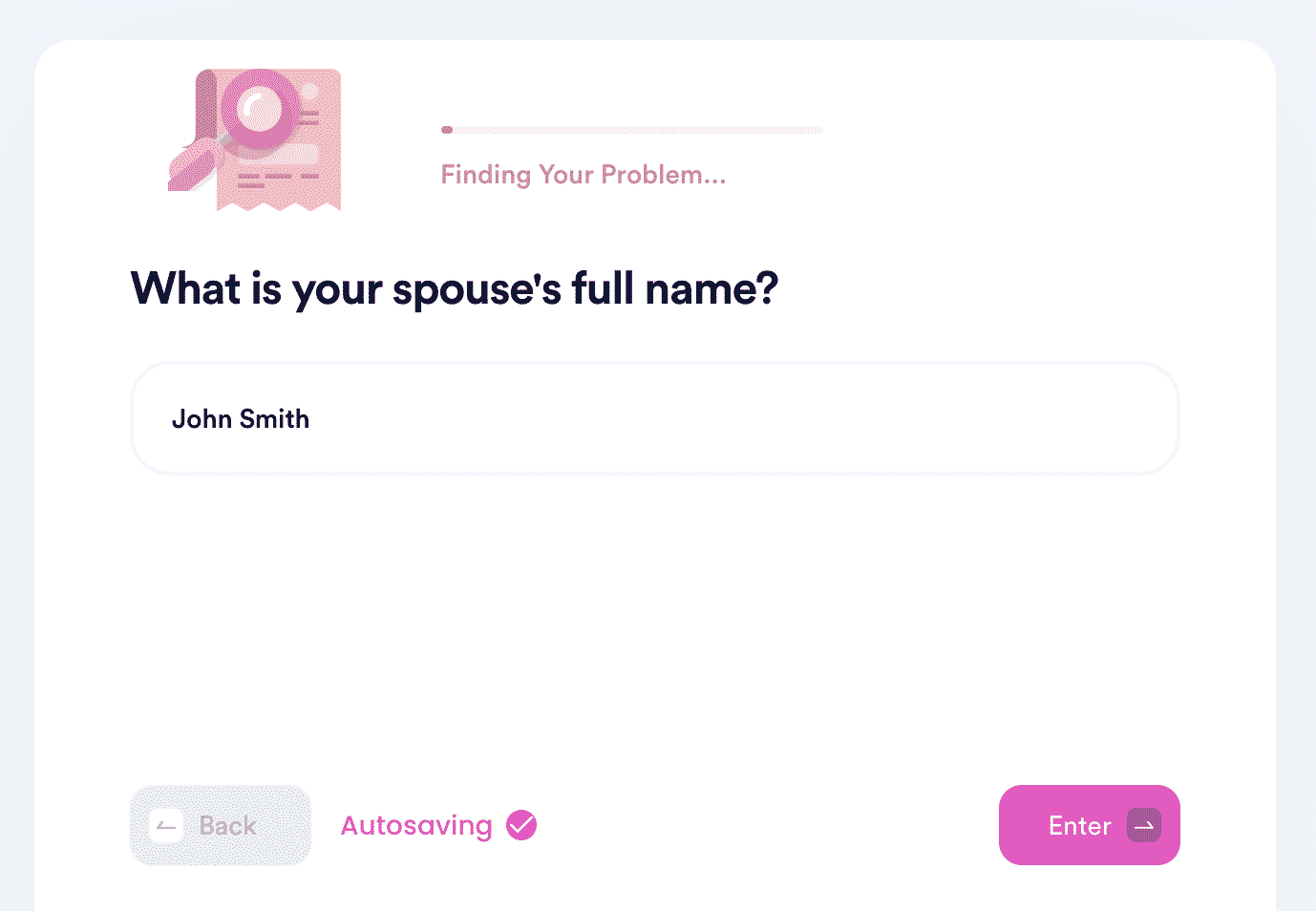 Want to know more about getting divorced in Missouri? Check out our articles on the following topics:
Outsmart Big Corporations by Using DoNotPay
Our platform is always on the side of regular people, and the number one item on our agenda is fighting for your rights.
If you need help requesting refunds for faulty products, late parcels, or canceled flights, you can turn to DoNotPay for help. Protect your privacy and stay one step ahead with our spam email collector, burner phone numbers, and virtual credit cards.
We will provide you with everything else you need in your fight—online fax, mailing service, and products for drafting legal documents and having them notarized online.
Improve Your Leisure Time Too!
You can win some serious battles with the help of DoNotPay—after all, our app can even get you ready for small claims court—but we offer numerous useful features that will improve the quality of your entertainment.
Signing up for free trials doesn't come with the risk of losing money anymore, and if you get bored with that new streaming service, you can easily cancel it using our app.
If entering raffles is your idea of fun, you'll be glad to know we can help you participate in all kinds of these games of chance. You can also review your knowledge using our government test prep quizzes or retrieve any unclaimed money under your name and spend it on something fun!