Getting an Uncontested Divorce in Mississippi Doesn't Have To Be Difficult
Filing for divorce is never a pleasant experience, especially when you're unfamiliar with legal protocols and don't know where to begin. Let us take some burden off your back by providing you with a step-by-step guide on filing for an uncontested divorce in Mississippi without a lawyer.
Rely on DoNotPay to write a divorce settlement agreement in a few clicks and learn all you need to know about getting a friendly divorce!
Mississippi Divorce Laws—Can You File a No-Fault Divorce in Mississippi?
Mississippi is a no-fault divorce state. That means that you can file for divorce without trying to prove whose fault the breakup of the marriage was. Irreconcilable differences are a good enough reason to decide to get a divorce as long as both you and your spouse agree to it.
Uncontested Divorce in Mississippi—Explained
A no-fault uncontested divorce takes a lot less time and is less expensive than a contested divorce. Filing for an uncontested divorce means that you won't have to hire a lawyer since you and your spouse agree on divorce matters, which allows you to save money you would otherwise spend on legal assistance. If you can't agree on how to handle all divorce-related concerns, consider engaging in divorce mediation.
Settling the divorce out of court is another benefit uncontested divorce provides—save yourself from unnecessary stress and make the divorce process a smooth sailing experience.
Uncontested Divorce Requirements
To file for an uncontested divorce in the state of Mississippi and get a divorce without spending too many hours in court, you have to meet the following requirements:
You (or your spouse) have to have been a Mississippi resident for at least six months prior to filing for divorce
You need to file for divorce in the county where either you or your spouse live
While you might be able to avoid long trials, you still have to complete certain paperwork when filing for your uncontested divorce.
Consult the table below to see what uncontested divorce papers you need in Mississippi:
Document
Explanation
Bill of complaint for divorce
Identifies the spouses and requests a divorce
Verification of the bill of complaint for divorce
Verifies the truth of the information stated in the complaint for divorce
Divorce settlement agreement
Spells out all important terms regarding the divorce matters that both spouses need to honor, including property division, child support, alimony, and visitation rights
Financial disclosure statements
Includes both spouses':

Financial history
Debts
Income

Child support guidelines and child support computation worksheet
Discloses how child support will be calculated
Once you fill out the required paperwork and file a bill of complaint, you'll need to serve your spouse with copies of divorce papers. The spouse needs to accept them before you move on to drafting a divorce settlement agreement.
You will have to pay a $148 fee for filing for an uncontested divorce in Mississippi.
How To Draft a Divorce Settlement Agreement by Yourself
A divorce settlement agreement (also known as a marital settlement agreement) is the most important document you need to have when filing for an uncontested divorce—the entire divorce process hinges upon it.
You can handle your divorce settlement agreement by:
Finding online templates—You can search the internet for divorce settlement agreement templates and follow one to write this document. Keep in mind that these templates aren't always the most reliable option since they are too vague and don't fit everyone's needs perfectly
Hiring a lawyer—Hiring a lawyer is probably the first solution that comes to mind, especially if you don't have any legal knowledge. Although a lawyer can help you draft the agreement, the fees they charge for the service can be extremely high
Using DoNotPay—DoNotPay is the most convenient and affordable way of drafting your divorce settlement agreement. All you need to do is provide some info, and the app will generate the agreement for you in no time
DoNotPay Creates Your Mississippi Divorce Settlement Agreement in a Snap!
Why bother with unreliable online templates or waste money on lawyers when you can have our app draft your divorce settlement agreement in a few minutes? The best part is that it takes almost no effort on your part since our app does most of the work! All you need to do is complete the following steps:
Choose the Divorce Settlement Agreement feature
Answer our questions
Once you click on Submit, we'll generate your agreement! All that's left is for both you and your spouse to provide your signatures, and you're done.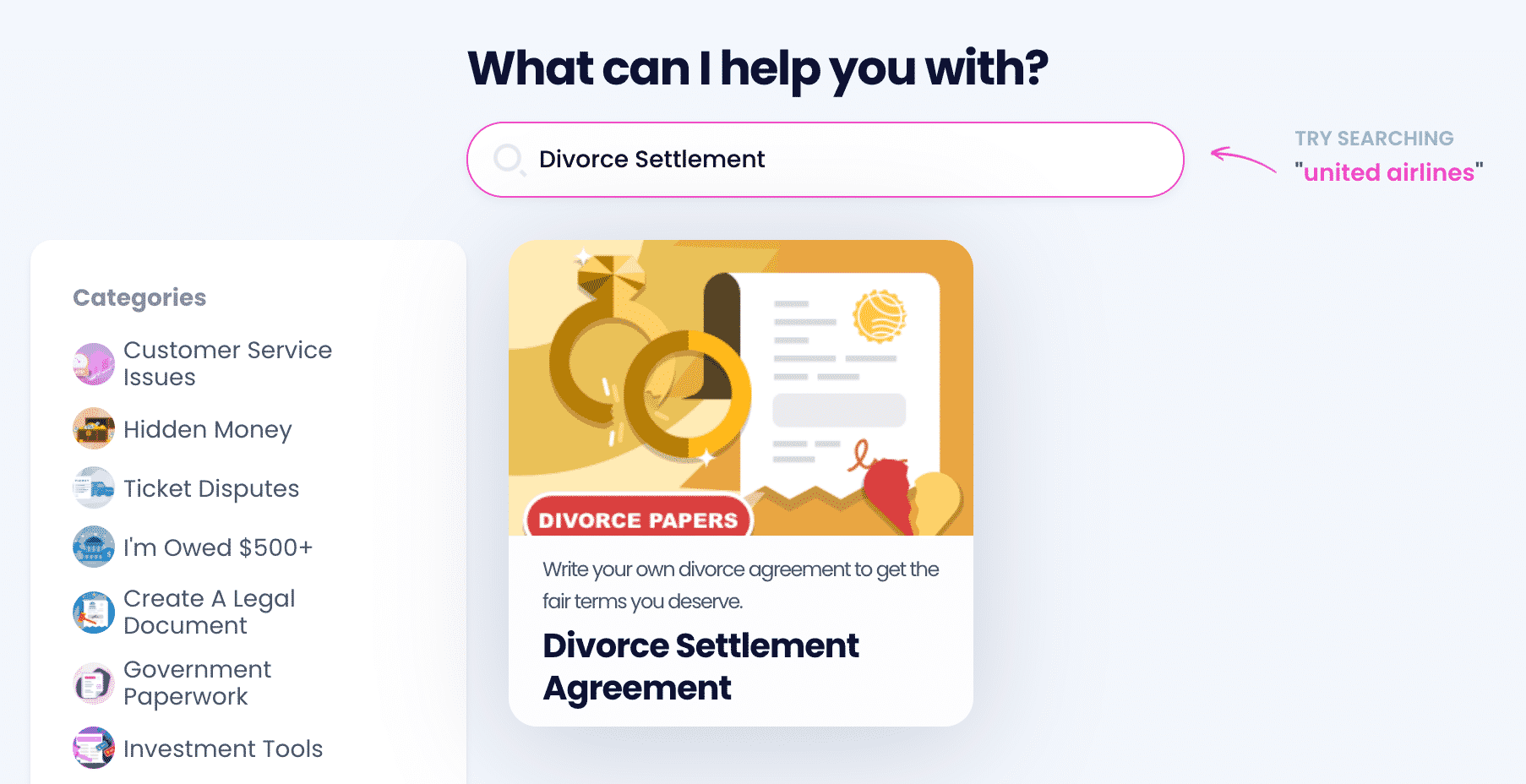 The divorce settlement agreement should also be notarized. To avoid the hassle of visiting a notary in person, we present you with a more convenient solution. Once we create your agreement, choose to get it notarized through our app, and we'll connect you with a remote notary!
Paying for Lawyers? We Don't Think So!
For an average Joe, any mention of legal terminology and complicated administrative processes is likely to cause a headache, and understandably so! Still, you don't have to jump the gun and hire expensive lawyers for the smallest matters.
It's the 21st century, and everything is automated. Why would it be different with bureaucracy? DoNotPay can help you draft efficient neighbor complaint letters, prepare you for a small claims court appearance, or create standardized legal documents and have them notarized online.
Our app is a great resource for fighting workplace discrimination, stopping stalking and harassment, protecting copyrights, securing compensation for victims of crime, and even reducing property taxes—all at a fraction of the price of traditional legal help.
Need To Do Some Penny-Pinching?
Whether you're saving for rainy days or a new gadget, DoNotPay can provide numerous options to save and earn more cash.
Do you need help with utility bills? Are you wondering how to get those few dollars left on your gift cards? Are you unsure about how to find your unclaimed money? If the answer is yes, our app can help.
With our assistance, you'll be able to enter raffles, start free trials with no risks, participate in lucrative clinical trials, or claim refunds for late deliveries!