Getting a Divorce in Michigan? The Cost Doesn't Have To Scare You
One of the biggest worries most people have when terminating their marriage is the potential cost of the process. The final amount you have to pay to get divorced depends on multiple factors, such as your state laws, the type of divorce you opt for, and how friendly you are with your spouse.
DoNotPay will tell you all about filing for divorce in Michigan, the cost of the process, and show you how to settle out of court!
How Much Does It Cost To Get a Divorce in Michigan?
If you or your spouse decide to file for divorce in Michigan, you will have to prepare at least $5,000 and might have to pay up to $50,000. If you opt for an uncontested divorce (known as a low-cost divorce), you'll pay significantly less—typically between $1,200 and $1.500. Deciding on this type of divorce means you won't have to pay for expensive lawyers to represent you in court. If you opt for a contested divorce (that involves letting a judge decide on specific aspects of your divorce), the lawyer fees will pile up as you attend multiple lengthy court proceedings.
Uncontested Divorce in Michigan Explained
Getting an uncontested divorce in Michigan implies you and your spouse agree on key divorce issues, such as:
If you're having trouble reaching common grounds with your spouse, you should try divorce mediation. Opting for divorce mediation in Michigan will help you and your partner reach a mutually acceptable agreement while remaining on good terms and avoid spending money on a lawyer.
Once you and your spouse settle the terms of your divorce, you should outline your understanding in a marital settlement agreement.
Requirements for an Uncontested Divorce in Michigan
Before filing for an uncontested divorce in Michigan, you and your spouse must meet the following residency requirements:
At least one of you must have lived in the state for a minimum of 180 days before starting the procedure
You or your partner must have resided in the county where the papers were filed for at least 10 days
How To Get an Uncontested Divorce in Michigan
To get an uncontested (friendly) divorce in Michigan, you'll have to follow several steps, including:
Filing the necessary paperwork

You can find the necessary divorce papers at the official government website or your local courthouse
Once you complete them, file them with the clerk of the court
You'll have to pay a filing fee. In case you can't afford it, fill out a fee waiver form and give the court your financial information. The judges will review your request, and if they deem it justifiable, eliminate the filing fees

Serving your spouse

To serve the divorce papers in Michigan, you'll either have to hire a sheriff's deputy or a process server
If your spouse files a written waiver, they can accept the service without the involvement of third parties

Attending the final hearing

Couples with kids need to wait six months for the final court hearing, and those without kids have to wait two months
At the hearing, the judge will review your marital settlement agreement. Once they deem everything is valid and fair to both you and your spouse, your divorce will be finalized
If you want a reliable, affordable way of getting this key document, register to DoNotPay
Want a Tailor-Made Divorce Settlement Agreement? Use DoNotPay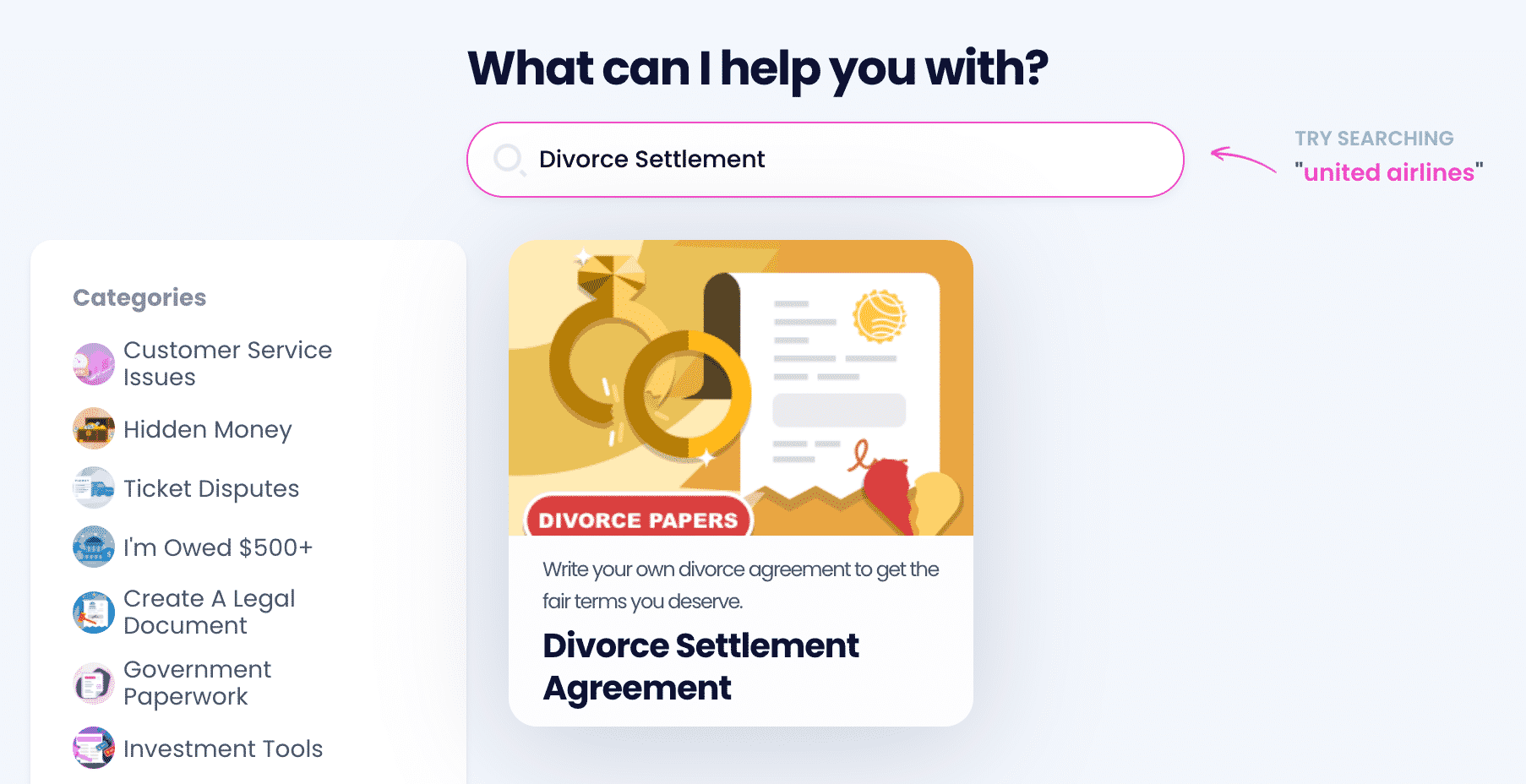 A divorce settlement agreement is crucial in any divorce proceedings. Hiring a pricey lawyer to write one for you or using an unreliable online divorce service are not your only options. Nowadays, you can lean on DoNotPay and get a divorce settlement agreement in a few easy steps without breaking the bank! To get the desired document, subscribe to DoNotPay and:
Select the Divorce Settlement Agreement tool
Provide us with details about your:

Spouse
Children (if any)
Assets
Debts

Opt for online notarization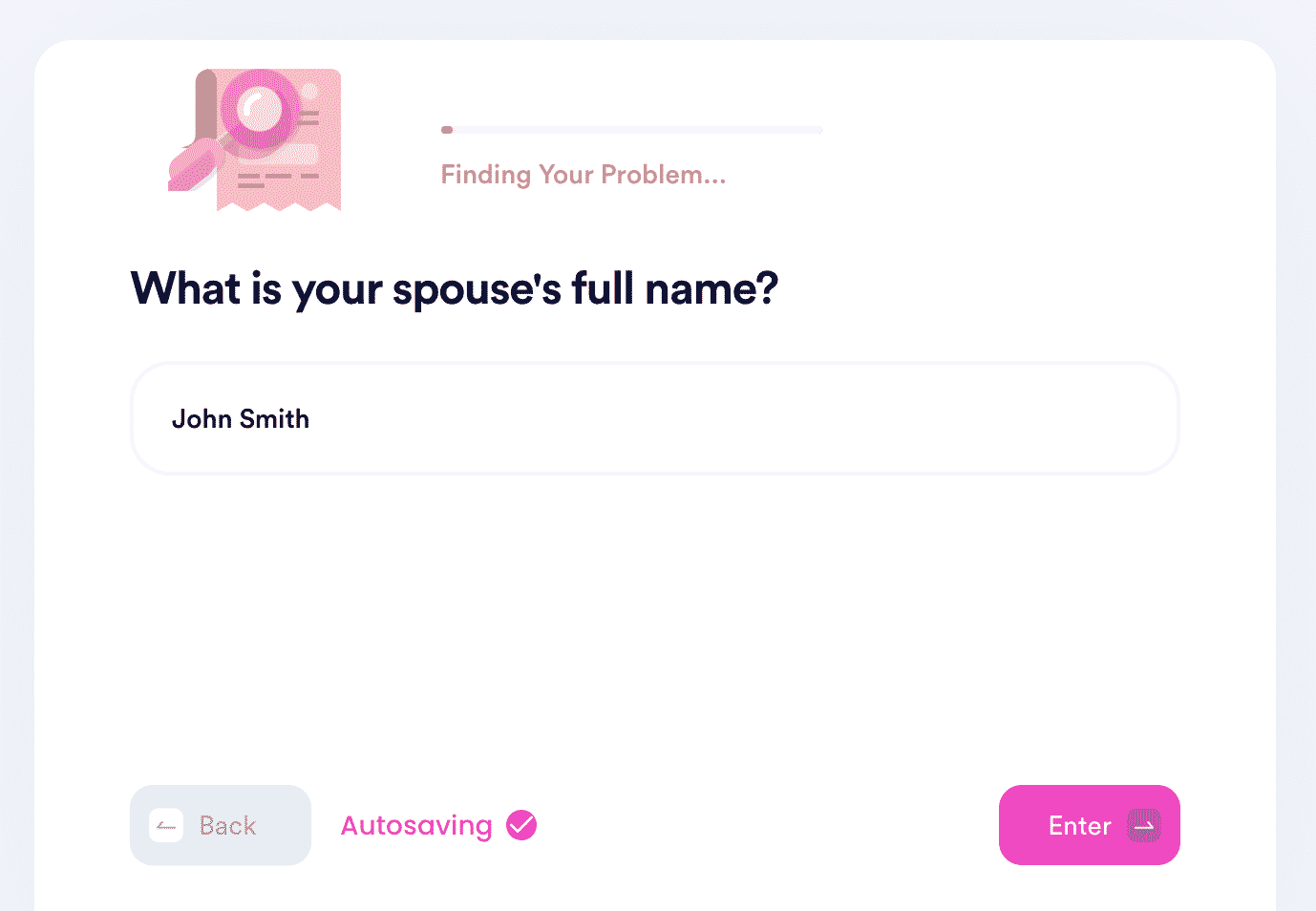 Once you submit your request, you will receive a personalized divorce settlement agreement in no time. If you want to have it notarized, schedule an appointment with an online notary by following the link we'll send you via email.
Need more help with divorces? Check out the articles DoNotPay has prepared for you:
Discover the Entire Spectrum of Our Features
A click or two will be enough to discover the amazing universe of DoNotPay's tools and products. Our app is here to show you the best way to get:
Financial Issues? Let DoNotPay Take Care of Them!
DoNotPay can track down your unclaimed money, submit insurance claims, or request compensation for delayed flights on your behalf. This way, you can save some money and get what you're owed. Our app can also make it easier for you to lower your utility bills, cancel active subscriptions and stop further charges, or appeal parking tickets.