Divorce in Michigan Checklist—Terminate Your Marriage Hassle-Free
Parting ways with your spouse can be financially and emotionally challenging. The steps you need to take differ in every state, so knowing the law goes a long way.
DoNotPay has prepared a divorce in Michigan checklist to help you go through the process as smoothly as possible. We'll show you how to file for a friendly divorce that won't break the bank and help you out with gathering the correct papers!
Michigan Divorces—The Basics
Before taking any action, you should familiarize yourself with the basic divorce laws in Michigan. To do so, check out the table below:
Commonly Asked Questions
Answers
Is Michigan a no-fault state?
Yes, it is. The only ground for divorce in Michigan is stating that the marriage is beyond irretrievable
What are the residency requirements in Michigan?
Before filing for divorce, you or your spouse must be a resident of the state for at least 180 days. One spouse must also reside in the county in which you plan on starting the procedure for ten days minimum
How long does a Michigan divorce take?
If you don't have children, you may complete the process in 60 days. With children, the divorce may be granted in six months. These are the minimum waiting periods, meaning that it can take longer depending on whether you get a contested or uncontested divorce
Do you need to go to court to get divorced in Michigan?
In Michigan, most couples opt for an uncontested divorce, which allows them to settle out of court and:

Have greater control over the case, as they are the ones deciding on the terms of their divorce instead of the judge
Save time they'd otherwise spend at multiple court hearings
Lower the cost because they don't have to hire a lawyer
Stay in a friendly relationship after the procedure, which is crucial if there are any marital children involved

Is divorce mediation in Michigan worth it?
If you can't reach an agreement on certain issues with your spouse, opting for divorce mediation can help. The mediator will guide you through the process and help you meet in the middle. This can lower the cost of your divorce and speed the process up
Divorce in Michigan Checklist
To get divorced in Michigan, you will have to:
Gather the correct paperwork
File the divorce papers
Attend the final hearing
Gather the Correct Paperwork
You can find the Michigan divorce forms online on your county's official government website or your local courthouse. The papers you need to gather are different in every county, but you will usually need:
Petition for Divorce
Summons
Case Inventory Addendum
Verified Statement
Record of Divorce
The most crucial form you will need to complete is the divorce settlement agreement. It outlines the terms of your divorce, and it has to be written carefully. To get one, you can hire a lawyer to draw it up for you, but this is a costly solution as their fees are sky-high. An affordable and efficient option of getting a divorce settlement agreement is using DoNotPay. We'll generate this key document according to your needs and send it your way in a jiffy.
File the Divorce Papers
After you complete all the necessary forms, you will need to file them with the court clerk in your county. Keep in mind that you will have to pay a filing fee that is usually around $250. If you can't afford it, you can request a fee waiver, which the judge may approve, depending on your income.
Serve the Papers
If you're getting an uncontested divorce in Michigan and have agreed on everything with your spouse, serving papers is only a formality. You can deliver the papers yourself so that your spouse can sign them.
Attend the Final Hearing
After your spouse responds to the Summons, the judge will schedule the final hearing after the mandatory waiting period. At the court, they will make sure that:
You and your spouse are getting divorced willingly
The forms are valid and properly completed
The divorce settlement agreement is fair to both parties
Once they deem everything is in order, the judge will issue the final divorce decree and terminate your marriage.
Get a Divorce Settlement Agreement Fast and Easy—Use DoNotPay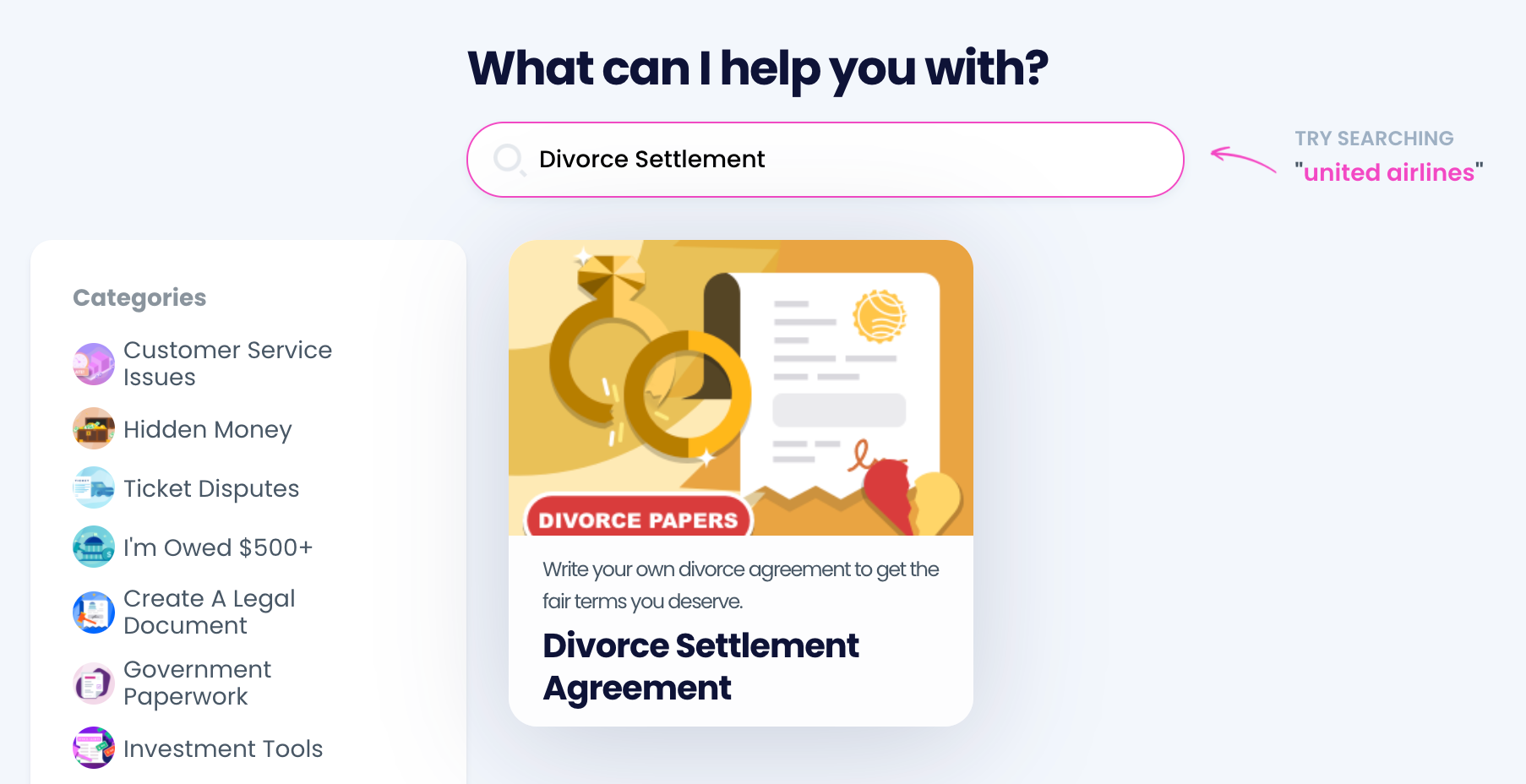 Getting a divorce settlement agreement that's professionally written is crucial because it needs to state that you and your spouse have reached a compromise on: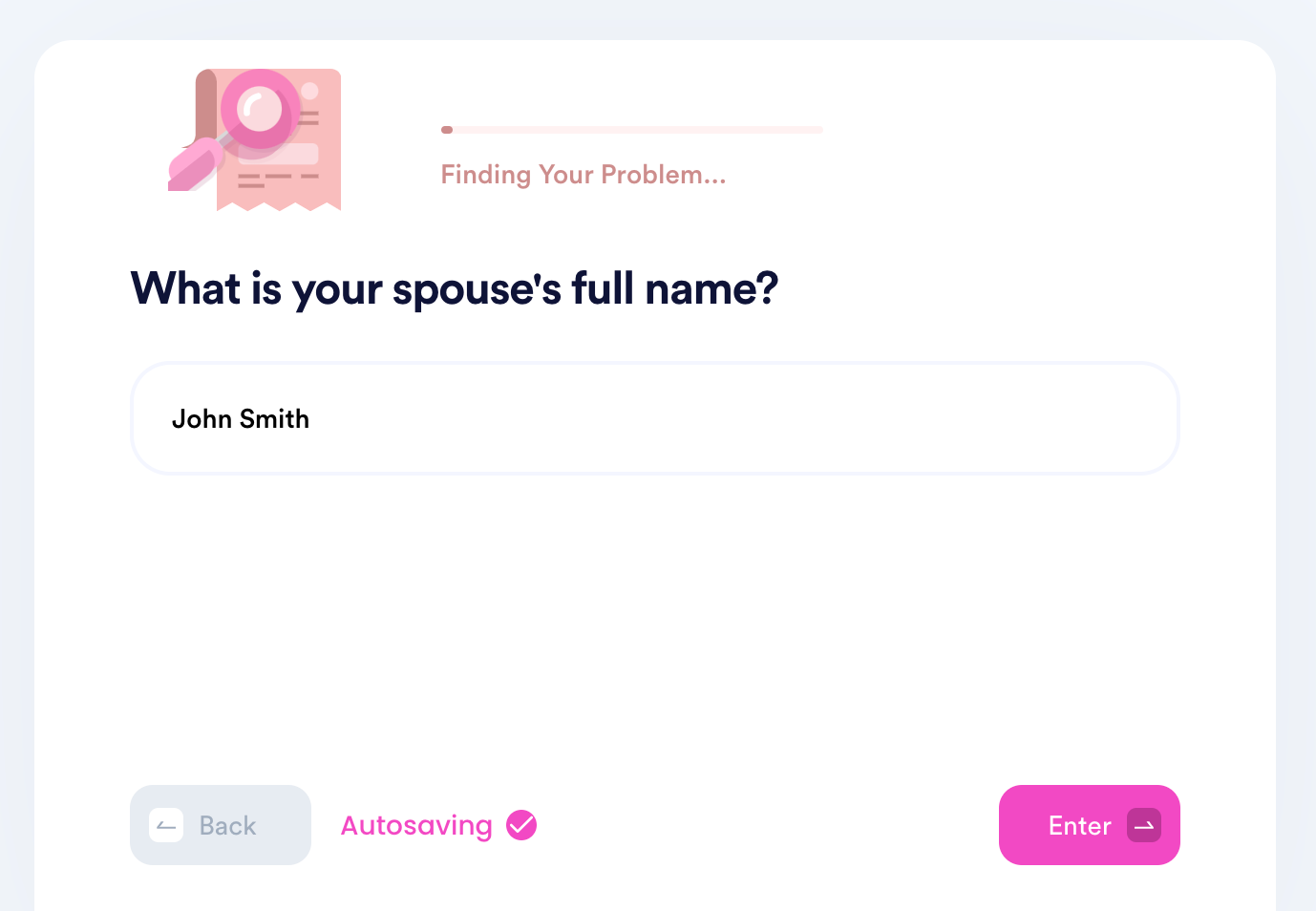 To make sure you end your marriage on the terms you deserve, subscribe to DoNotPay! We'll generate this document for you in a snap and make sure it's perfectly fitted to your desires. All you have to do is:
Select the Divorce Settlement Agreement tool
Answer our chatbot's questions
Opt for online notarization through the same app
We'll process the details you give us to form a tailor-made divorce settlement agreement. Want to have it notarized without wasting time finding a notary? We'll help you schedule an appointment with an online notary.
DoNotPay can also tell you all about online divorces and show you how to:
Use DoNotPay To Complete a Variety of Tasks at Any Time
Why waste time and money completing mundane tasks on your own when you can let DoNotPay assist you? Take a look at the table below to find out what our AI-powered app can do for you:
| DoNotPay Can | Services |
| --- | --- |
| Protect your safety and privacy | |
| Draft legal documents | |
| Help you get your money back | |
DoNotPay Has More in Store for You!
Since communication is key, you'll appreciate our feature that helps you get in touch with customer service reps quickly! We'll also show you how to send faxes online and have your documents notarized by an online notary with ease!
Going on vacation? Use DoNotPay to take a valid passport photo at home or get a tourist visa!