Divorce in Michigan—Alimony Explained
Getting a divorce in Michigan and alimony is giving you a headache? The laws can be tricky as they differ from state to state, but don't worry—DoNotPay has your back!
We've prepared a guide to help you understand how alimony is awarded in the Great Lake State and learn all about divorces in various Michigan counties, such as:
Michigan Divorce Laws—Alimony Types
Alimony is a type of payment that one spouse pays to the other during or after the divorce to help them out financially. There are several types of spousal support in Michigan:
Temporary
Periodic
Permanent
Lump-sum
Temporary Alimony
Temporary alimony is awarded to lower-earning spouses who are unable to support themselves during the divorce process. It's called temporary because it can only last until the marriage is terminated. This type of alimony is also referred to as 'status quo' payment. If one spouse has always paid mortgage or utility bills, the court will order them to continue making those payments.
Periodic Alimony
Period alimony is the most common spousal support type in Michigan. It's awarded when one spouse can support themselves, but not immediately after the divorce. For example, if one spouse gave up their career to raise kids, the judges may award them periodic alimony to give them time to develop job skills or finish a degree.
Permanent Alimony
Permanent spousal support is awarded when one spouse is unable to become financially independent after a long-term marriage.
Lump-Sum Alimony
Lump-sum spousal support is awarded when one spouse can afford to pay the entire alimony sum instead of bi-weekly, monthly, or annually. The payment is usually real property instead of money.
Who Is Eligible for Alimony in Michigan?
When getting divorced in Michigan, either spouse can ask for alimony. If the couple is filing for an uncontested divorce, they might reach a compromise on the payment in the divorce settlement agreement. For contested divorces, the court awards alimony depending on several factors.
How Does the Court Determine Alimony in Michigan?
When awarding spousal support and determining the amount of payment, the judges in Michigan will take the following factors into consideration:
Factor
Explanation
Parties' past relations and conduct
Even though Michigan is a no-fault state, the court may consider the conduct of each party during the marriage
Marriage duration
The judges will consider if one spouse has career or marketable skills after a long-term marriage (ten years or more)
Ability to work
If the spouse who has been awarded temporary alimony can't become self-reliant after the support has expired, the judge may grant a longer-term support arrangement
Parties' age
The older spouse might have a more difficult time becoming self-supporting after a long term marriage, so they have a higher chance of being awarded alimony
Ability to pay
The judges will consider whether the paying spouse has the earning capacity to fulfill the payment
Parties' health
Health is crucial to the ability to work and the needs of the spouse seeking support
The marital standard of living
The support may be given to the party who isn't available to financially sustain their lifestyle
General principles of equity
The judges may use any other factor they deem necessary to determine the alimony:

Payment duration
Amount
Type
How To Get the Alimony That's Fair to Both Parties
The best way to ensure fair spousal support is to opt for an uncontested divorce and meet your spouse halfway in a divorce settlement agreement—a crucial divorce paper. This document contains the divorce terms you and your spouse have agreed to, such as:
If you get an uncontested or friendly divorce, you won't have to hire a lawyer as there won't be any disputes to resolve in court. Instead, the divorce procedure will be smooth, and you won't spend a fortune on it. By using DoNotPay, you'll get a divorce settlement agreement that will ensure you and your spouse get divorced on the terms you deserve.
Can't come to a resolution with your spouse out of court? Try divorce mediation. By choosing divorce mediation in Michigan, you will lower the cost of the divorce and might stay in an amicable relationship with your spouse.
Use DoNotPay and Get a Top-Notch Divorce Settlement Agreement Hassle-Free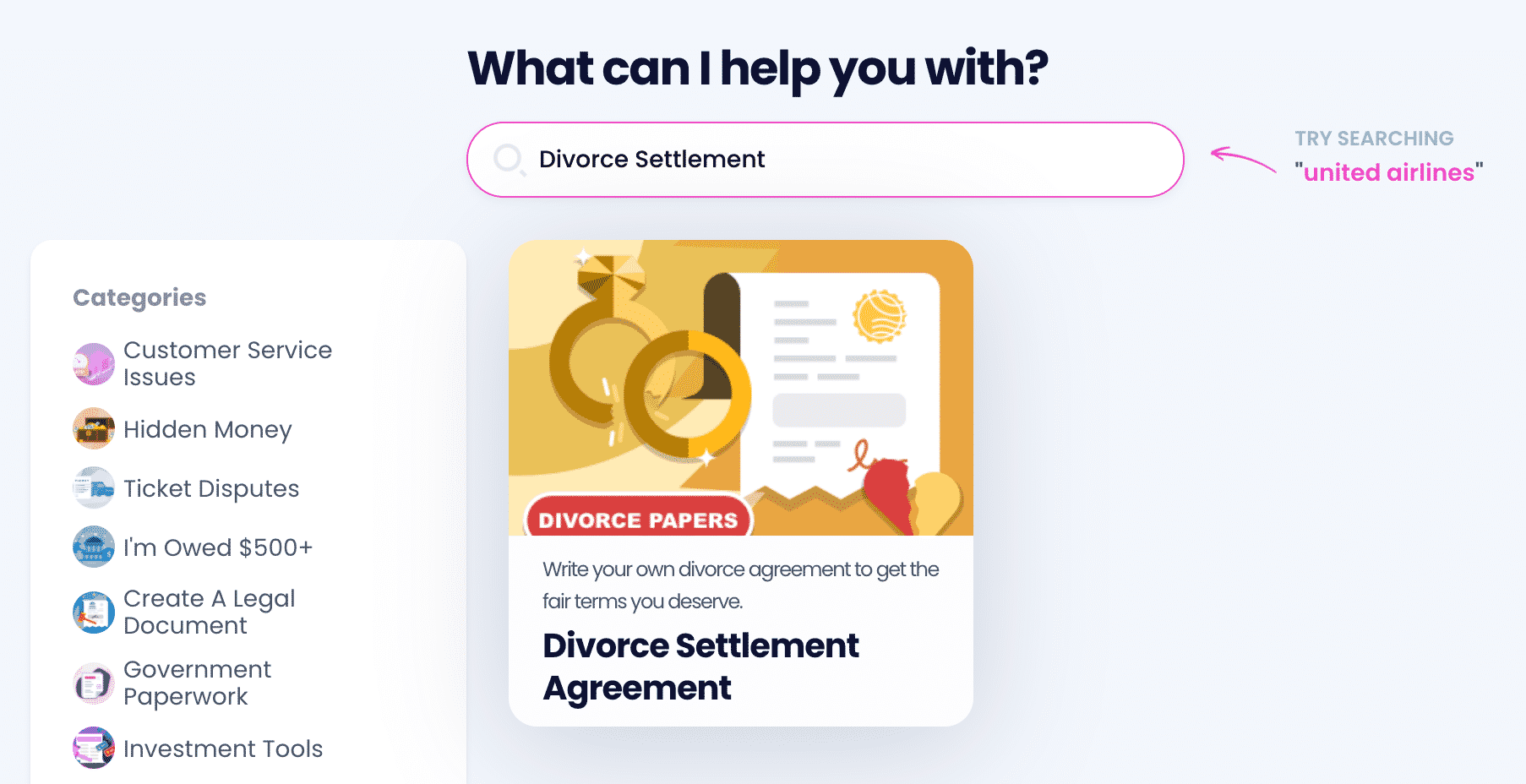 Getting a divorce settlement agreement requires you to either hire a lawyer and spend big bucks or write one yourself and risk making a crucial mistake. This is where DoNotPay comes in! We offer a solution that will save your money and time by generating a personalized settlement agreement for you.
To get the desired document, you will only have to follow a few steps:
Locate our Divorce Settlement Agreement tool
Answer the necessary questions regarding your assets, income, spouse, and children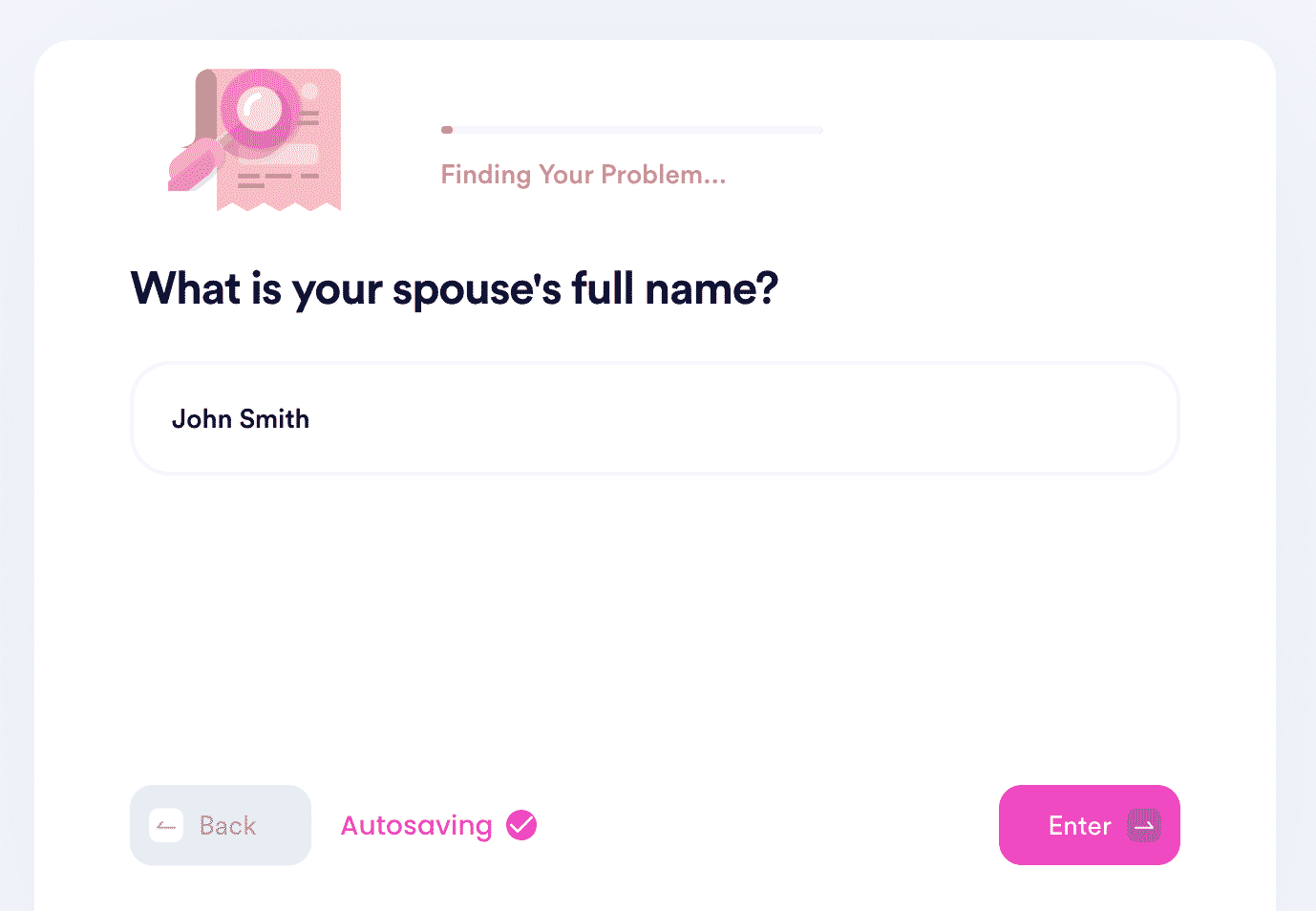 We will use the details you give us and create a tailor-made settlement agreement. As you and your spouse should sign it in front of a notary, we offer an easy solution for that as well! Don't waste time finding a notary and visiting them in person to make your divorce forms legally binding. Opt for our online notarization service and get it done via a video call.
Have more questions regarding divorces? DoNotPay has got the answers! Check out our invaluable articles, such as:
Use DoNotPay To Complete a Variety of Tasks at Any Time
Why waste time and money completing mundane tasks on your own when you can let DoNotPay assist you? Take a look at the table below to find out what our AI-powered app can do for you:
| DoNotPay Can | Services |
| --- | --- |
| Protect your safety and privacy | |
| Draft legal documents | |
| Help you get your money back | |
DoNotPay Has More in Store for You!
Since communication is key, you'll appreciate our feature that helps you get in touch with customer service reps quickly! We'll also show you how to send faxes online and have your documents notarized by an online notary with ease!
Going on vacation? Use DoNotPay to take a valid passport photo at home or get a tourist visa!