Divorce in Maryland Simplified
Are you dreading the divorce proceedings in Maryland? Know that, by meeting specific criteria, you can skip the lengthy and expensive court process and get a simple, low-cost divorce.
Do you want to know how divorce in Maryland works? DoNotPay will answer all your questions—including what papers to prepare and how to file them—and show you a certified way to a friendly divorce!
Key Facts You Should Know About a Divorce in MD
Maryland handles divorces a bit differently than other states. In Maryland, you can get two types of divorces—an absolute and a limited divorce. While both procedures deal with the same issues—child custody, spousal support, and division of assets and debts—there are crucial differences between them.
Take a look at the table below to get the complete picture:
Limited Divorce
Absolute Divorce
Limited divorce is a type of legal separation in Maryland. After the proceedings, you and your spouse will still be considered legally married until you obtain the absolute divorce. It's usually filed by spouses who:

Don't have grounds for an absolute divorce yet
Need financial relief
Can't resolve their issues privately

An absolute divorce in Maryland is typically referred to as "divorce" in other states. At the end of the proceedings, all divorce-related issues will be resolved, and the couple will be considered unmarried again
Grounds for Divorce in Maryland Explained
To file for divorce in Maryland, you must provide grounds (legally acceptable reasons) for ending a marriage. Two types of grounds are:
No-fault, meaning neither spouse is to blame for the marriage dissolving
Grounds based on the fault of one spouse
If you choose to file for a no-fault divorce, you and your spouse have to prove one of the following grounds:
Twelve consecutive months of separation
Mutual consent to end the marriage (it doesn't require a waiting period)
A fault-based divorce is typically a more lengthy and expensive procedure. If you choose to file for this type of divorce, you must provide proof of:
Adultery
Extreme cruelty
Desertion
Conviction of a crime
Insanity
If you can't prove the fault-based grounds for a divorce, you may still be eligible to file for a no-fault one after a 12-month separation or as a result of mutual consent.
Uncontested Divorce in MD—End Your Marriage Stress-Free
Most divorces don't have to be complicated or exhausting, especially if both spouses are eager to get out of the marriage as quickly as possible. If you and your partner agree on all divorce terms, you are perfect candidates for an uncontested divorce.
Maryland offers an even quicker and less expensive type of uncontested divorce for spouses who have resolved their differences from the get-go—a mutual consent divorce.
What You Need To Do
The process requires you to:
Meet the residential criteria—At least one party must live in Maryland to file for divorce there. The required duration of your residency depends on whether:

The actions that caused the divorce happened in Maryland (if so, you only need to live there currently to file for divorce)
The issue occurred outside of Maryland (you must reside in the state for at least six months before filing)

Fill out and file the necessary paperwork—Find the corresponding forms on the Maryland Courts divorce page. The documents you have to fill out are:

Complaint for Absolute Divorce
Financial statements
Civil Domestic Information Report
Child-support worksheets (if applicable)

Outline the terms of the divorce in a marital settlement agreement—Determine how you're going to handle issues such as:

Division of marital property and debts
Alimony (whether there will be any and, if so, how much)
Child support and custody

File the forms—File the necessary paperwork with the Maryland circuit court in the county where you or your spouse reside. Serve the copies to your spouse by hiring:

County sheriff
Private process server

Attend the mutual consent divorce hearing—At least one spouse has to appear at the hearing (with a copy of a marriage certificate and proof of residency), after which the judge will:

Review and approve the divorce settlement agreement
Sign the final Divorce Decree
Simplify the Divorce Process in Maryland Even More With DoNotPay
A divorce settlement agreement is one of the crucial documents in Maryland divorce proceedings. While it has to correspond with state laws and contain all crucial sections, hiring a lawyer is not the only way to create it. You can save time and money and still get a comprehensive agreement by subscribing to DoNotPay!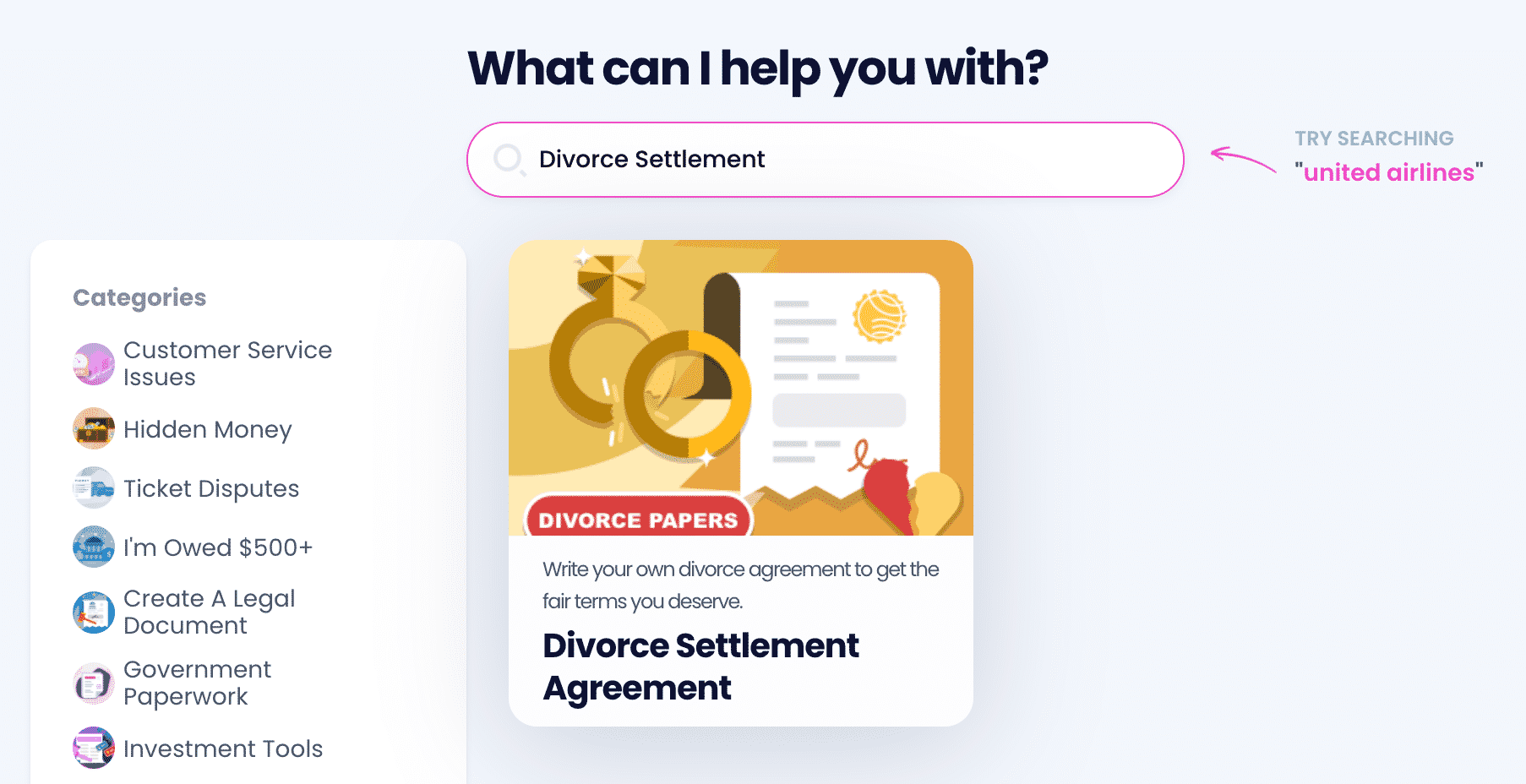 Here's what you should do first—register for DoNotPay and:
Type in Divorce Settlement Agreement in the search box
Answer our chatbot's questions about your spouse and children
Provide additional information regarding your assets and the plans to divide them
We will immediately create an agreement that corresponds with your situation and Maryland state laws.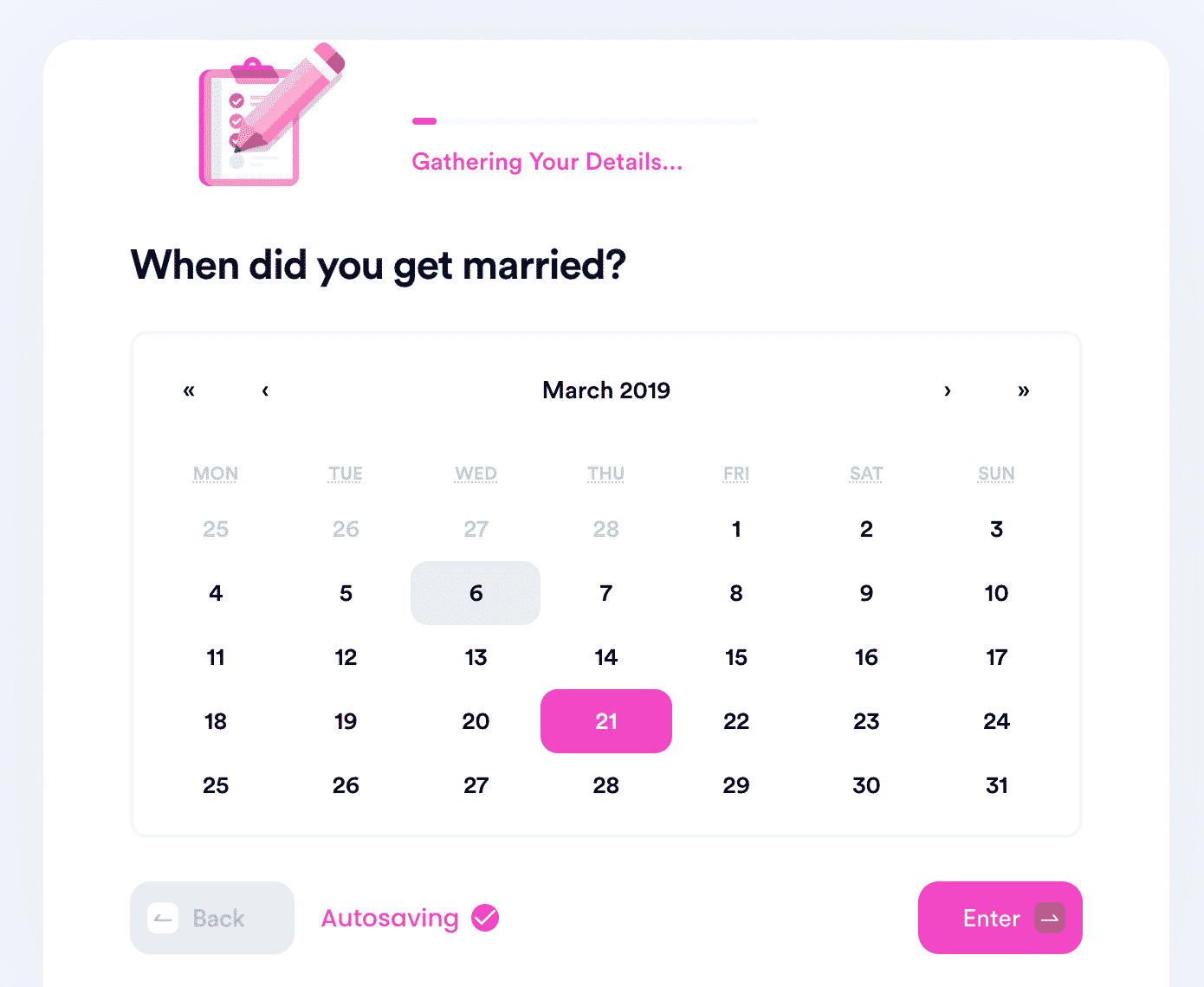 Getting the agreement notarized adds legal weight to the document, and we can help with that as well. Our questionnaire offers you the possibility of having the document notarized by an online notary. If you accept it, you can schedule a meeting at any time since online notaries are available 24/7!
What Else Can We Help You With?
DoNotPay provides answers to all frequently asked questions about divorces. Check out our knowledge base and learn all about:
DoNotPay Covers All the Bases
From getting you ready for various government tests to helping you reduce your property taxes, DoNotPay offers valuable assistance with the tasks that make most people at least roll their eyes. Dealing with bureaucracy isn't fun, but it also doesn't have to be as difficult as it is.
Every product in DoNotPay's portfolio is designed to efficiently deal with a specific issue within a few minutes and without sacrificing your comfort. Take a look at the tasks our app can make much more simple:
A Little More Money Never Hurt Anybody
Hardly anyone would turn down a chance to earn some more cash. That's why DoNotPay not only protects your rights and interests but also offers great opportunities to improve your financial situation.
With our help, you can find paid clinical trials, locate your missing money in any state, get your cash back from used gift cards, or enter various raffles and win great prizes.