A Guide to a Stress-Free Divorce in Maine
Are you thinking about ending your marriage? Getting a divorce is no easy task, but having the right information can make the process run more smoothly.
In this article, you'll learn all about filing for divorce in Maine—from collecting the necessary divorce papers to attending the hearing. If you need a divorce settlement agreement, we'll provide one for you. All you have to do is sign up for DoNotPay—we will do the grunt work!
Divorce Laws in Maine
Every state has its laws regarding the dissolution of marriage. In Maine, you can get a divorce if one of the following is true:
You are married and have been living in Maine for at least six months
Your spouse is a Maine resident
You got married in Maine, and you are a Maine resident
You were a Maine resident when the grounds for divorce occurred
Maine is one of the states that has a mandatory waiting period for getting a divorce—you have to wait at least 60 days from filing the paperwork to attending the final hearing.
What Are the Grounds for Divorce in Maine?
In Maine, you can get divorced based on either no-fault or fault-based grounds. Filing for marriage dissolution based on no-fault grounds is an easier and quicker option. All you have to do is claim that your marriage failed because of irreconcilable differences.
If one of you is responsible for the marriage breakdown, you should choose the fault-based option. In case of fault-based divorce, the judge will consider the fault when deciding on matters such as children and property.
Maine recognizes eight fault-based legal reasons for divorce:
Adultery
Impotence during the marriage
Alcohol and substance abuse
Desertion for at least three years before filing the petition
Cruelty
Nonsupport (failure to support the spouse financially)
Domestic violence
Incapacitation
Can You Get a Divorce in Maine Without a Lawyer?
Yes, you can get a divorce in Maine without a lawyer. If you and your spouse agree on every important matter and can reach an out-of-court settlement, you don't need attorneys or other help, such as mediation (unless the state specifies otherwise).
Ending a marriage on amicable terms enables you to file for an uncontested divorce. This marriage dissolution method has many perks, such as:
Who Can Get an Uncontested Divorce in Maine?
Uncontested divorces are not available to everyone. To get an uncontested divorce in Maine, you have to agree with your spouse on all of the following matters:
You and your spouse also need to agree on the no-fault grounds of divorce.
How To File for Divorce in Maine
Getting a divorce without a lawyer may seem like a demanding task, but it doesn't have to be. With DoNotPay's simplified guide, the marriage dissolution process can run swimmingly. Consult the following table to learn how to file for an uncontested divorce in Maine:
Steps
Explanation
Getting divorce forms
The State of Maine Judicial Branch website offers packets of divorce forms—while you can download many required documents for free, you have to pay a $5 fee for some Maine divorce forms
Serving divorce papers
There are several ways to serve your spouse:

In person
Via certified mail or restricted delivery
By a sheriff

Filing the paperwork with the court
Fill out, sign, and get your uncontested divorce papers notarized. Visit your local county clerk's office and submit the original documents after paying the mandatory $120 filing fee
Attending the final uncontested hearing
If you and your soon-to-be-ex agree on everything and have a divorce settlement agreement, you won't have to attend numerous trials. The only time you'll have to appear at court is for the final hearing, where the judge will examine your case and issue a divorce decree
Simplify Your Maine Divorce With DoNotPay's Help!
In Maine, there are two ways to get an uncontested divorce—by default and with an agreement. A default divorce happens if the spouse doesn't respond after being served with papers.
Having a divorce settlement agreement is a quick and straightforward option. This legal document should contain all the terms you and your spouse have agreed on during the negotiations.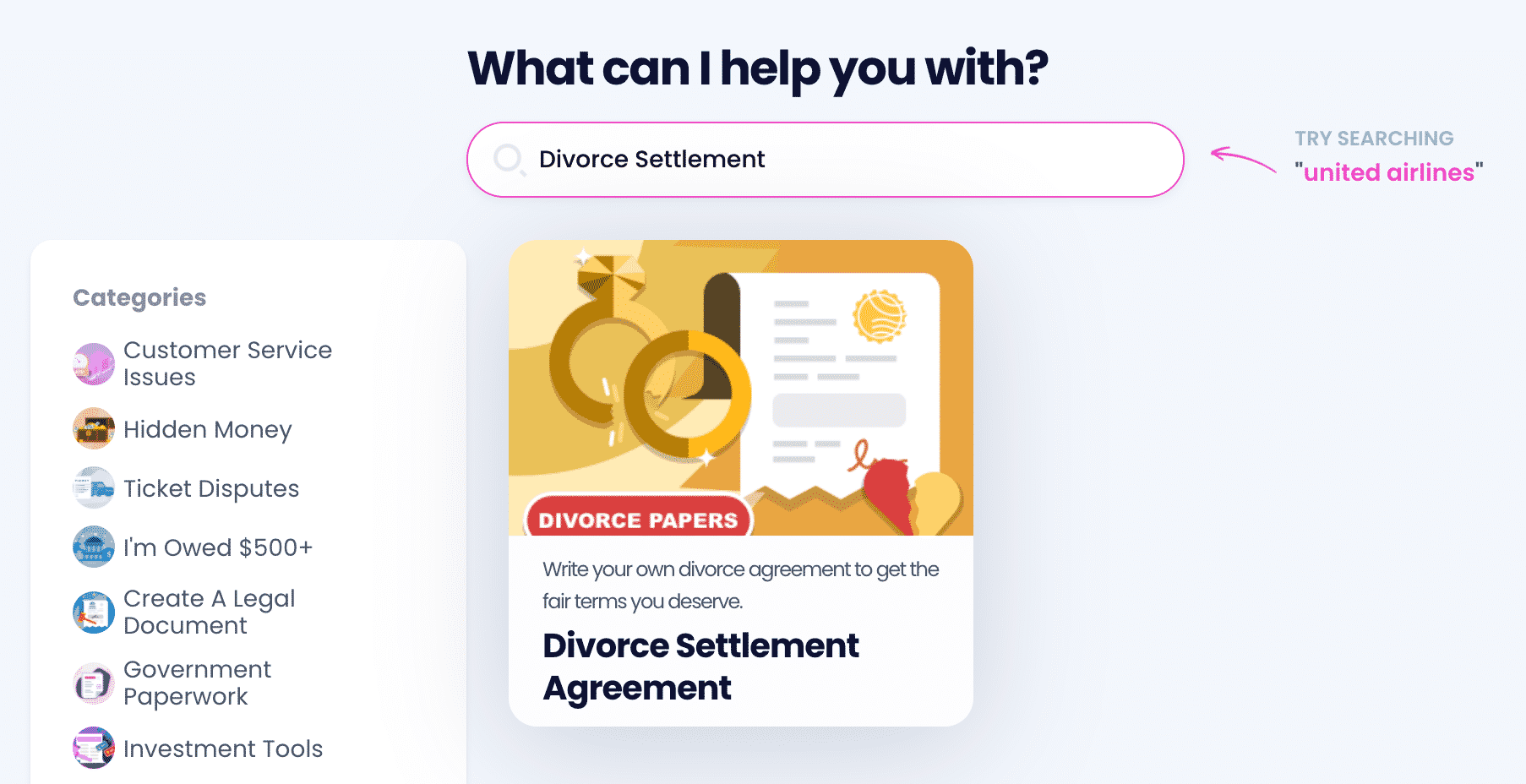 If you don't know how to write this document on your own, DoNotPay has the perfect feature for you! Here's how to use our inexpensive and easy-to-use service to get a personalized settlement agreement:
Choose the Divorce Settlement Agreement feature
Provide details about your assets, spouse, and children
Specify if you'd like us to connect you with a notary public
DoNotPay will draw up a rock-solid divorce settlement agreement for you in no time! Thanks to our comprehensive database and your information, the document will abide by your state's laws and cover the specifics of your case!
If there's anything else you'd like to know about divorces, you should visit our learning center. We can help you find out:
Our App Solves Your Legal Issues!
Do you really have to set aside astronomical amounts to pay lawyers for drafting legal documents or taking a person or business to small claims court?
The answer is no—all the cash remains in your pocket, thanks to DoNotPay! From now on, you can perform many legal tasks from home with the help of our app. It enables you to create flawless powers of attorney, divorce settlement agreements, and child travel consent forms in a snap.
That's not all—once we generate these documents for you, we also help you have them notarized via a video meeting. No need to waste your time and fuel visiting notary offices.
Check Out Other Perks DoNotPay Offers!
DoNotPay provides a wide selection of services, from creating virtual credit cards and burner phone numbers to getting refunds from companies and canceling subscriptions. Have you received an unfair parking ticket? Appeal it with our app before you know it! Are email spam and robocalls making your life a living hell? No scammer stands a chance against our efficient AI-powered tools and features!
We also work in your favor when it comes to safety. Our app offers perfect ways to prevent copyright infringement, stalking and harassment, work discrimination, sex offenses, and disputes with annoying neighbors.