A Step-by-Step Guide to Getting an Uncontested Divorce in MA
Going through a divorce can be a tiring and time-consuming task. DoNotPay explains how filing for divorce in MA works and how to make the experience as painless as possible. We streamline the process further by creating a divorce settlement agreement—a vital document for any uncontested divorce.
A No-Fault Divorce in MA—Basic Facts
A no-fault divorce is a divorce when no spouse blames the other for the termination of their marriage. The grounds for such divorce is called an "irretrievable breakdown of marriage" in the Bay State. There are two kinds of no-fault divorces in MA:
A contested no-fault divorce (called 1B)—Spouses don't blame each other for the termination of their marriage but are not on the same page regarding important matters of dividing property and responsibilities
An uncontested no-fault divorce (1A)—Neither of the spouses blames the other, and they have created a divorce settlement agreement. The agreement encompasses their joint decisions about alimony, child custody, child support, parenting time, and dividing marital assets
You don't need a lawyer to get an uncontested divorce in Massachusetts—you can represent yourself during the process. Couples can take care of everything themselves or use an online service that eases the process.
How Much Is a Divorce in MA?
For an uncontested no-fault divorce in Massachusetts, you will need to set aside $200 for divorce filing fees and $15 for divorce filing surcharge.
You can pay for these divorce expenses with cash, check, money order, or credit card. An uncontested divorce is considered to be a low-cost option.
How To File for Uncontested Divorce in Massachusetts
To end your marriage in a friendly way, take the following steps and file for divorce successfully:
Find out if you meet the requirements to get divorced in Massachusetts
Create a divorce settlement agreement
Complete the necessary paperwork
File the forms and pay the necessary fees
What Are the Requirements for Getting a Divorce in Massachusetts?
Massachusetts has one residency requirement. You can file for uncontested divorce if you have lived in the state as a couple for one year.
How Can You Create a Divorce Settlement Agreement in MA?
A divorce settlement agreement should cover all the relevant information about the division of property and other responsibilities. While this can be a DIY project, your safest bet is to use DoNotPay to generate this document!
Divorce Forms in MA—What Papers Do You Need To Complete?
Depending on your situation, you will need to file specific forms for an uncontested divorce in Massachusetts. Check out what divorce papers are necessary for:
Everyone
Couples With Minor Children
Parties Under Special Circumstances

A certified copy of your marriage certificate
Joint petition for divorce form (CJD-101A)
Affidavit of irretrievable breakdown
Record of absolute divorce (R-408)
A financial statement from each spouse

Affidavit disclosing care or custody proceeding (OCAJ-1 TRC IV)
Child support guidelines worksheet (CJD-304)

You will also need to attend a parent education program unless the court waives it

Affidavit of indigency (if you can't afford the fees)
Findings and determinations for child support and post-secondary education (if you don't believe the child support guidelines should apply to your case)
Motion to waive participation at parent education program (if you can't attend a parent education program)
Where Can You File the Divorce Forms in Massachusetts?
You can file the forms in person or by mail with the Probate and Family Court in the county you live in.
Divorce in Massachusetts—How Long Does It Take?
A judgment of divorce will be issued 30 days after you've filed the papers. Even for uncontested divorces, the process won't be finalized until 90 days after the judge signs the judgment of divorce.
Let DoNotPay Generate a Divorce Settlement Agreement for You
You can find templates for legal documents online, but it would be best to avoid them since they are generic. Instead, go with DoNotPay! Our app will make sure you get a divorce settlement agreement made for your specific needs. You only need to follow these steps:
Find our Divorce Settlement Agreement product
Give us the relevant info about your spouse
Provide some information about your income
While going through the steps, you will also get the chance to get your document notarized. If you choose to do so, DoNotPay will find an online notary in no time.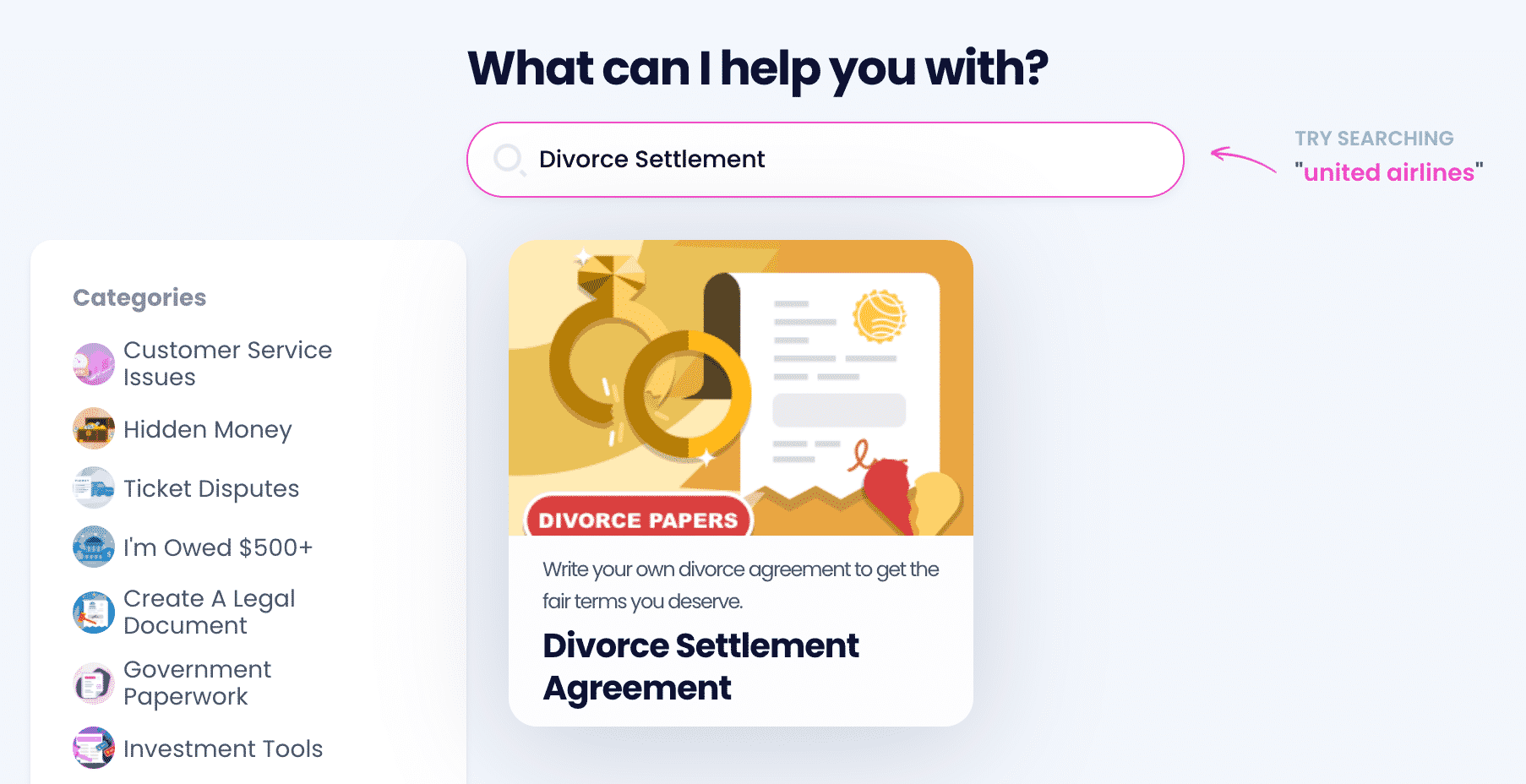 Visit our Learning Center if you want to find the answers to other divorce-related questions, such as:
Shop Online on Your Terms
Have you ever had to deal with complaints about lost, late, or damaged parcels? Is reaching customer service over the phone always a pain? Don't you wish there was an easier way to request refunds and chargebacks for bad purchases?
Shopping can easily turn into a nightmare, but DoNotPay will take away some of that stress. We can help you with all of these issues and more!
If you need to file warranty claims for any kind of product, our AI bots will make the process painless. Those who like to try out new services will fall in love with our virtual credit cards and foolproof methods of signing up for free trials without risking charges.
When you get sick of your subscriptions, cancel them with DoNotPay. Also, don't throw away your used gift cards with a few bucks left—we can help you get your cash-back.
DoNotPay Protects Your Interests
There are already so many ways you can use DoNotPay to improve your daily life, but we keep developing more and more features that will make our subscribers even happier.
On our platform, you can find useful resources to: