Heading Towards a Divorce in MA? Alimony Calculations Made Simple by DoNotPay
Filing for divorce isn't only worrying due to the upfront costs of the process—as the plaintiff, you may be worried that you are going to get hit with a punishing settlement.
Alimony can be a long-term commitment, but the law in Massachusetts is clear, and you can calculate your likely outcome in advance.
DoNotPay shows you how to work out the long-term implications of divorce in MA. Alimony, child support, and the division of your assets are all under the rule of law!
What Is Alimony, and How Does Massachusetts Law Work?
Alimony is the money paid by one spouse to another during and after a divorce. It is intended to ensure that spouses who earn less can meet their financial commitments and maintain an adequate standard of living.
Under Massachusetts law, four types of alimony can be awarded in a divorce case:
General term
Rehabilitative
Reimbursement
Transitional
General Term
This alimony type is awarded to the lower-earning spouse according to their financial need. It is not applied automatically to balance out income between you and your spouse—the lower-earning or unemployed spouse has to prove that they need the money.
Rehabilitative
Rehabilitative alimony is awarded for a limited period to enable a spouse to retrain or attend further education to become financially independent.
Reimbursement
In cases where one spouse contributed to educational or training costs for the other during the marriage, the spouse who received the training may be ordered to pay back all or part of the fees.
Transitional
If your spouse needs to relocate as a result of the divorce, you may be ordered to pay a one-off sum or short-term regular amounts to help pay for the move.
When Does a Judge Award Alimony in Massachusetts?
Either spouse can qualify for alimony, and in each case, the judge will consider the following factors:
| Deciding Factors for Alimony | Explanation |
| --- | --- |
| Duration of marriage | If you and your spouse were married for more than five years, neither of you can qualify for reimbursement or transitional alimony, but the period of general term alimony ordered could be longer |
| Spouses' ages | Your and your spouse's age affects your employability and earning power—younger spouses may be expected to become financially independent sooner after a divorce |
| Income and earning potential | Your and your spouse's employment history and prospects are taken into account when determining alimony amounts |
| Health factors | If either of you suffers from chronic illness or a disability that affects your earning potential, the judge will take this into account |
| Spouses' financial contribution to the marriage | A judge may order alimony based on whether either spouse was financially dependent on the other or was responsible for the majority of the living expenses during the marriage |
| Current married lifestyle | The judge will award alimony to reduce the impact on each spouse's lifestyle as much as possible |
| Other factors | Massachusetts law allows judges to exercise their own discretion when taking marital behavior or other factors into account |
How Long Will You Have To Pay Alimony?
The guidelines for the length of general term alimony payments in MA are as follows:
| Duration of Marriage | Duration of Alimony Payments |
| --- | --- |
| Less than five years | Maximum half the length of the marriage |
| Between five and ten years | No more than 60% of the marriage term |
| Between ten and 15 years | Up to 70% of the period of marriage |
| Over 15 but less than 20 years | Maximum 80% of the length of the marriage |
| More than 20 years | The court can award lifetime alimony |
How Can You Avoid Alimony Judgments Against You?
Alimony is only decided by a Massachusetts judge if your divorce is contested and lands in court.
If you and your spouse can reach a friendly divorce with an out-of-court settlement in place, you may be able to avoid court hearings altogether.
This is dependent on your mutual willingness to work together to draw up a settlement agreement that you file:
Your divorce settlement agreement is a legal document that regulates how every aspect of your married existence should be handled after your divorce, including:
If you file your settlement agreement before your case comes to court, the judge will be able to check that it is in order and grant your uncontested divorce without having to make a ruling.
This saves you time in court, money for legal proceedings, and the trauma of having to contest your case.
How Can You Set Up a Divorce Settlement Agreement?
Negotiating and drafting your settlement agreement depends on how well you and your spouse are willing to cooperate. The resources you can use are as follows:
Settlement Agreement Resources
Explanation
Lawyer
You and your spouse can use attorneys to negotiate and draft your agreement, but this is by far the most expensive option.

Most lawyers will demand an upfront retainer of several thousand dollars to handle your case, and negotiations could drag on interminably.

Uncontested divorces with lawyer involvement cost an average of $4,500 per spouse, and this sum can end up significantly higher.

An alternative to lawyer-led negotiations is to use a mediation service, in which a trained mediator helps you and your spouse reach a mutually acceptable settlement at a vastly lower cost. This is an option if you and your spouse agree on the broad terms of your settlement but need help ironing out details

Online divorce service
Several companies in MA and elsewhere offer online settlement agreement templates for you to fill out yourself. Caution is advised, though—while these are a cheap option, many of the templates on offer are too generic to cover your exact needs and may even be invalid in MA
Your best solution is DoNotPay—we can without you paying a cent in lawyers' fees!
DoNotPay Gets You Around Alimony Judgments in MA!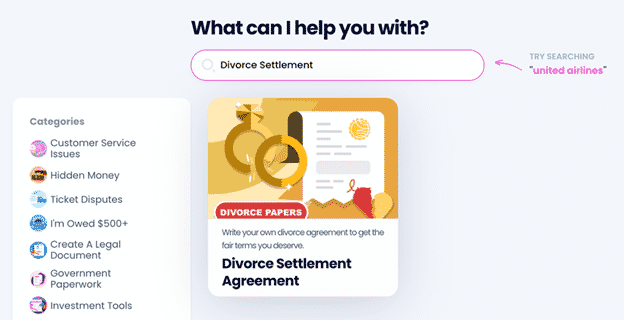 If you want to avoid expensive court proceedings and lengthy hearings about alimony in your divorce in MA, DoNotPay is here to help!
Our Divorce Settlement Agreement product gives you a watertight, all-encompassing document tailored to your needs in a few clicks—no need for expensive lawyers or inadequate online providers!
To set up your custom settlement agreement, here's what you need to do:
Go to your web browser and
Click on our Divorce Settlement Agreement feature
Fill in the terms you and your spouse have agreed on
Once you are done, you will get your document in a flash—you and your spouse can sign it in the presence of a notary, and you can both avoid an MA judge ruling on your alimony.
No idea where to find a notary in Massachusetts? No worries—DoNotPay's online notarization service has that covered!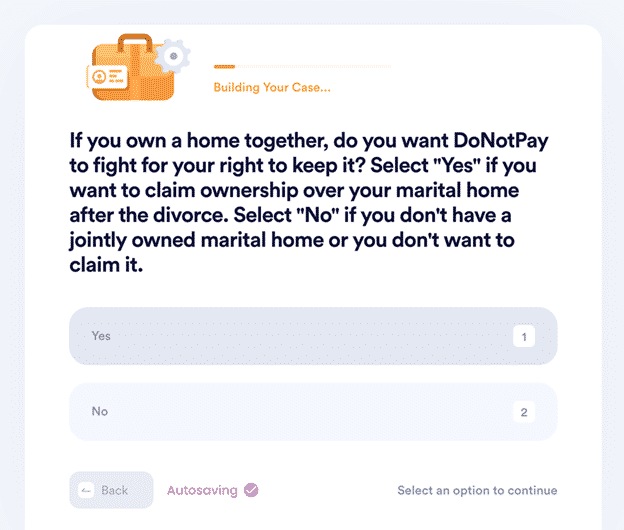 Learn How To Solve Legal Issues in Minutes!
Do you need to draft a legal document? Spending hundreds of dollars on lawyers is not the answer. We came up with a faster and more affordable solution. Not only can our app draft child consent forms, divorce settlement agreements, and powers of attorney for you, it can also provide legal assistance by helping you take anyone to small claims court!
Drafting numerous documents is not all DoNotPay does for you! Aside from drawing up contracts and agreements, we can also assist you in getting them notarized online from the comfort of your home or office!
Explore DoNotPay's Other Nifty Features
There is more assistance on the way! You can use DoNotPay's features to handle various tasks with ease, including:
We can also help you protect your safety. If you don't know how to deal with copyright infringement, stalking and harassment, work discrimination, sex offenses, and disputes with annoying neighbors, DoNotPay has got you covered.