Getting a Divorce in Louisiana Doesn't Have To Be Long or Costly
Going through a divorce is a real hassle, but with the right help, it can go smoothly, provided you research and collect all relevant information and papers.
Divorce in Louisiana needs to comply with state law, so make sure to complete all the necessary forms and meet the deadlines.
DoNotPay presents the low-down on the divorce procedures in the Bayou State and helps you draft your divorce settlement agreement in a matter of minutes.
Divorce Law in Louisiana—Do You Meet the Residency Requirements?
Louisiana law imposes strict residency rules regarding marriage termination. You can file for divorce if either you or your spouse had had a residence in Louisiana for at least six months before the time of filing.
Keep in mind that you can initiate the process only in the parish where:
You or your spouse are domiciled, i.e., have established and maintained a residence
You were both domiciled in your marital home
Grounds for Divorce in Louisiana
A court will grant a fault-based divorce in case one spouse has committed:
Adultery
A felony for which they've been sentenced to:

Death
Imprisonment with hard labor
Aside from the above-listed, you'll get a fault-based divorce in Louisiana if your spouse:
Has sexually or physically abused you or your child (even if they haven't been charged with the abuse)
Has a criminal or civil protective order or injunction issued against them to protect you or your child from abuse
A Louisiana No-Fault Divorce—How Long Should You Be Separated To Get Divorced?
The separation period depends on whether you've got children or not. For a no-fault divorce, you need to live apart from your spouse for at least:
Six months if you don't have underage children together
A year if you've got a child under 18
The above-listed periods refer to continuous time spent apart before a court can grant you a divorce.
Can You Date While Getting a Divorce in Louisiana?
You can date during your divorce proceedings, but you should be careful if you're in a covenant marriage. The state of Louisiana has stricter requirements when it comes to this particular matrimony.
You'll need to take extensive counseling before you're able to officially end your marriage and move on. It's better to check with an experienced divorce lawyer before going public with a new relationship as you don't want to prolong your divorce or make it more complicated.
A Divorce in Louisiana—Waiting Period
Once you've filed the papers in court, it'll take between 30 and 90 days for the divorce to be final. This time may vary depending on:
The complexity of your specific case
The court, i.e., their current caseload
Availability of judges since a judge needs to sign the Judgment of divorce (the final document)
Is There a Fast Way To Get a Louisiana Divorce?
If you'd like to get divorced as quickly as possible, you should opt for an uncontested divorce. It speeds up the process and saves a lot of money and nerves.
To benefit from a friendly divorce, you and your spouse must agree on all the terms, including child custody, assets division, and spousal support.
Spousal Support According to Louisiana Divorce Laws
You can get two types of spousal support in the state of Louisiana—the interim and final periodic. To learn more, take a look at the following details:
Interim Spousal Support
Final Periodic Spousal Support

May be awarded to a still-current spouse who doesn't have sufficient income to maintain the same living conditions during the divorce
Cannot last more than six months after the divorce date

Can be awarded to an ex-spouse who:

Has been freed from fault in the marriage breakup
Needs and requests the support
If you agree with your spouse on alimony and other important aspects, you can end your marriage quickly and affordably.
Register for DoNotPay to get a rock-solid divorce settlement agreement.
Turn to DoNotPay To Save Money, Time, and Energy
Our AI-powered app gathers information on the state-specific divorce procedures to help you generate a divorce settlement agreement in no time!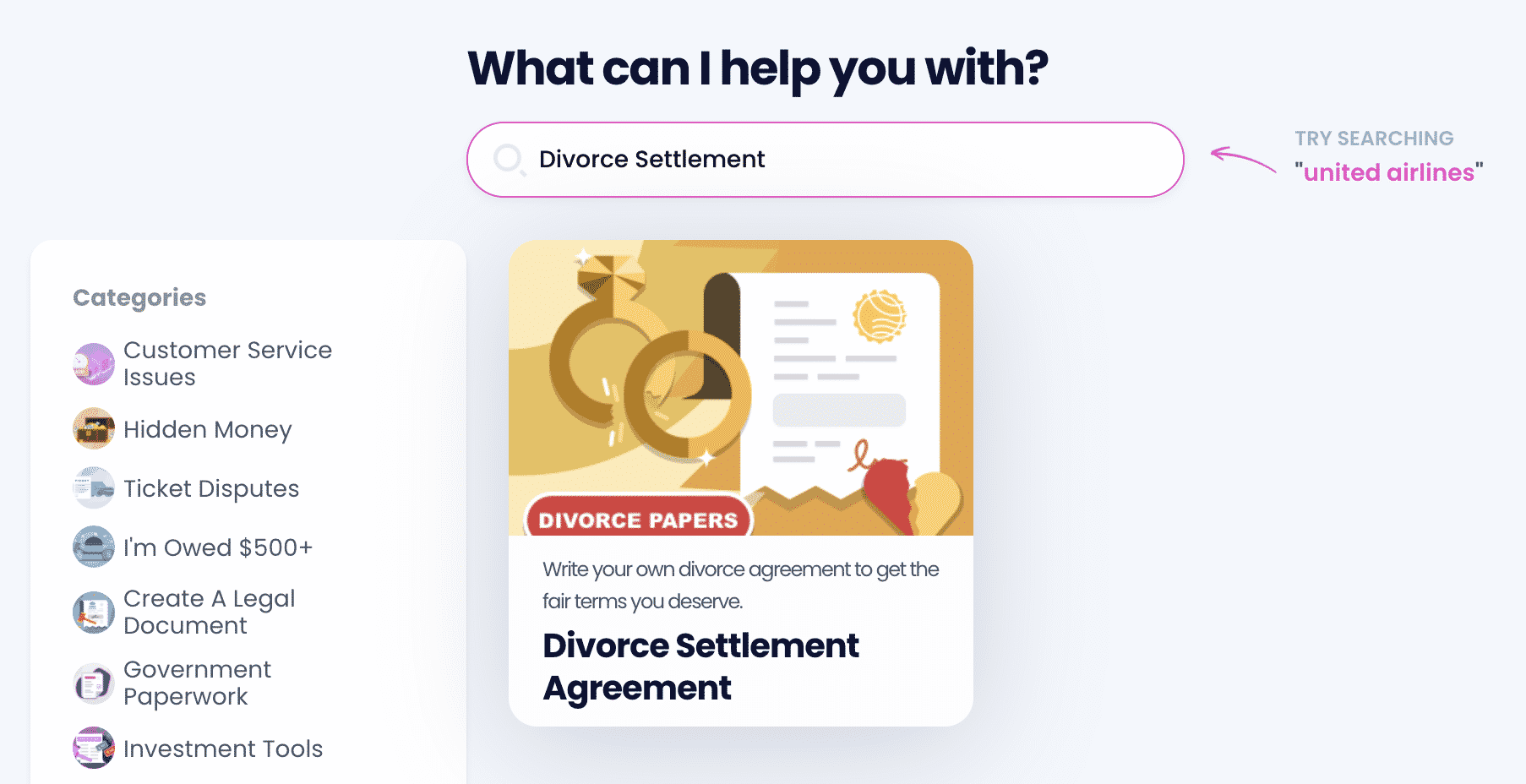 If you've discussed key factors with your spouse and agreed to an uncontested marriage termination, you don't have to hire an expensive lawyer to draft the agreement for you. Instead, sign up for DoNotPay and take these steps:
Type in Divorce Settlement Agreement in the search box
Provide answers to the questions our chatbot asks you
Enter information regarding your property and income and how you'd like to divide them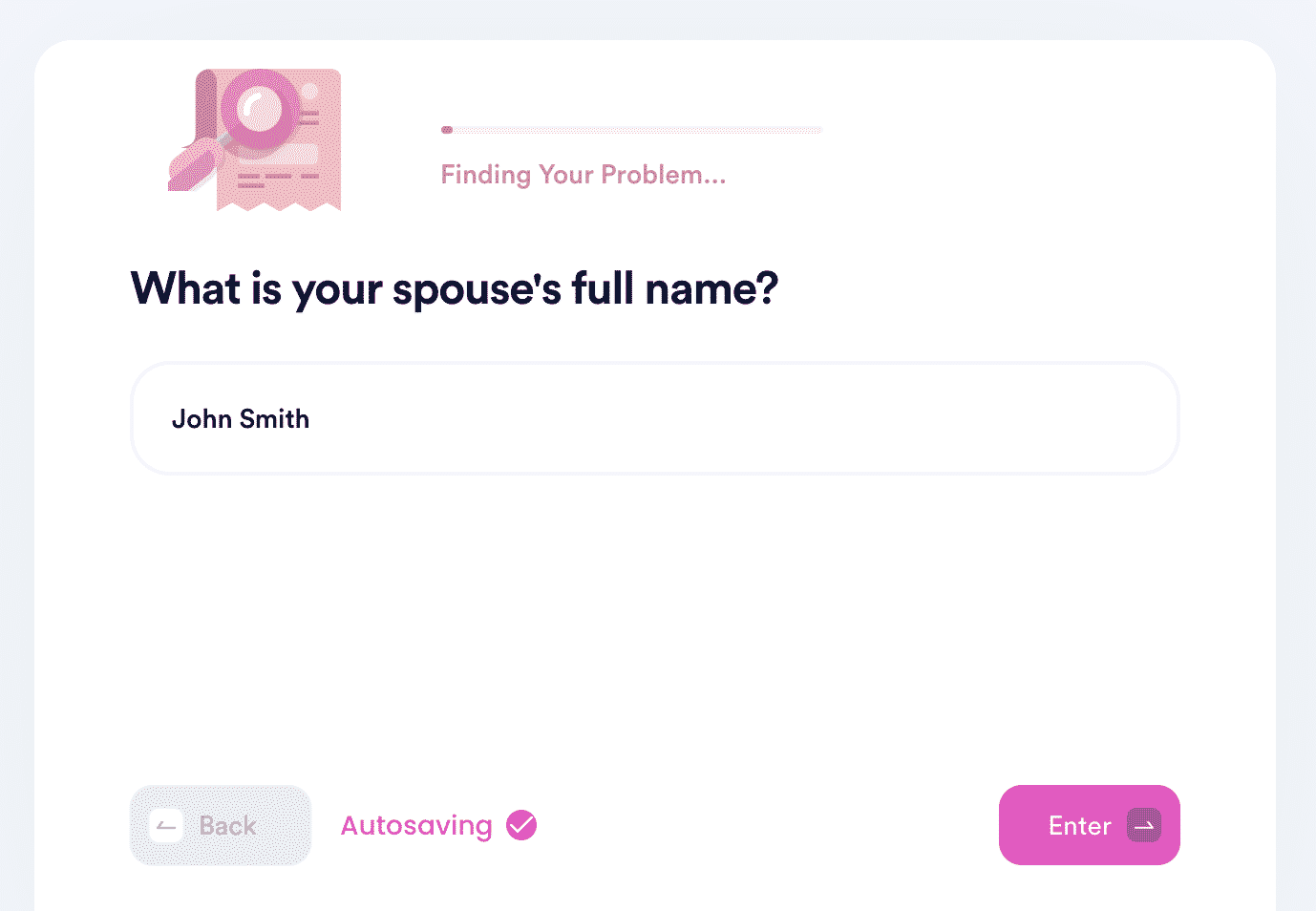 Once you've completed these quick steps, DoNotPay generates the divorce settlement agreement that meets all your state legal criteria and your specific needs.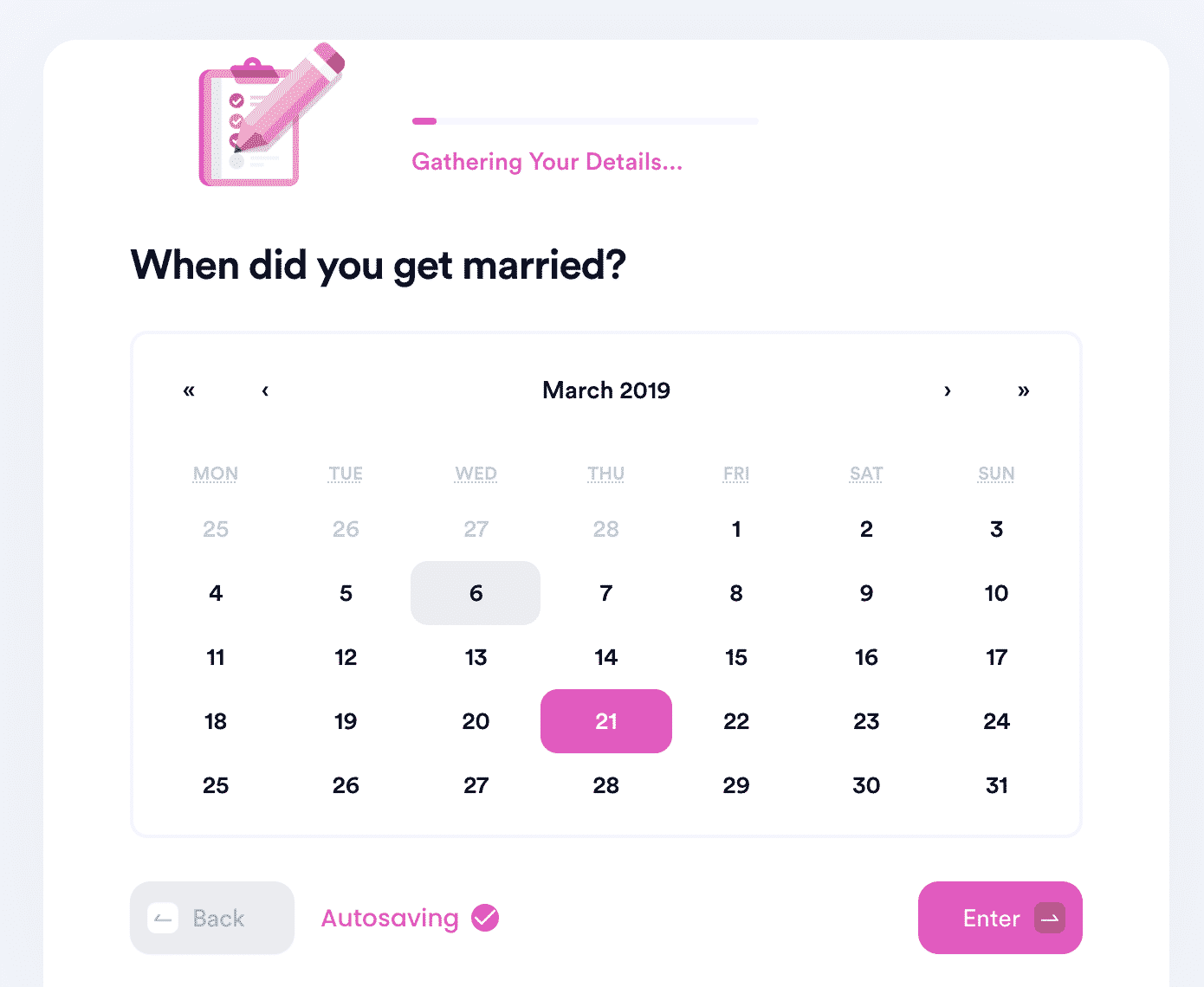 Not only can you generate an enforceable document in no time, but we can also connect you with a notary public to get your divorce papers notarized.
DoNotPay's partners work 24/7 and perform the service remotely via a live video call, so you'll be able to complete the whole process from your home.
Find Out More About the Divorce Procedure
Our learning center offers an abundance of helpful articles about divorce matters. Dive in to find out:
Paying for Lawyers? We Don't Think So!
For an average Joe, any mention of legal terminology and complicated administrative processes is likely to cause a headache, and understandably so! Still, you don't have to jump the gun and hire expensive lawyers for the smallest matters.
It's the 21st century, and everything is automated. Why would it be different with bureaucracy? DoNotPay can help you draft efficient neighbor complaint letters, prepare you for a small claims court appearance, or create standardized legal documents and have them notarized online.
Our app is a great resource for fighting workplace discrimination, stopping stalking and harassment, protecting copyrights, securing compensation for victims of crime, and even reducing property taxes—all at a fraction of the price of traditional legal help.
Need To Do Some Penny-Pinching?
Whether you're saving for rainy days or a new gadget, DoNotPay can provide numerous options to save and earn more cash.
Do you need help with utility bills? Are you wondering how to get those few dollars left on your gift cards? Are you unsure about how to find your unclaimed money? If the answer is yes, our app can help.
With our assistance, you'll be able to enter raffles, start free trials with no risks, participate in lucrative clinical trials, or claim refunds for late deliveries!