Discover How To File for Divorce in Lake County, IL, With DoNotPay
Thinking about filing for divorce in Lake County, IL, but you're not sure how the whole process goes? You're in the right place! We will provide all the valuable info about the divorce process in Lake County and help you draft a divorce settlement agreement in minutes.
If you register for DoNotPay, you'll be one step closer to getting a friendly and low-cost divorce without going to court!
What Types of Divorce Are There in Lake County, Illinois?
Divorce in Illinois is also called a dissolution of marriage. There are three types of divorce processes in Lake County. Check out the table below for details:
Type of Divorce
Explanation
Contested dissolution of marriage
A contested divorce happens when the two parties cannot reach a compromise on crucial divorce matters. It's usually the most expensive option since it involves courts, lawyers, and sometimes mediation
Uncontested dissolution of marriage
An uncontested dissolution is possible when both spouses agree on all points of the divorce, including:

Getting an uncontested divorce in Illinois is a cheaper and quicker option since it doesn't require lawyers and numerous court hearings

Joint simplified dissolution of marriage
A joint simplified dissolution of marriage requires both spouses to file for divorce together. This is the fastest way to get divorced in Illinois, but not everyone qualifies for it.

To qualify for this type of dissolution, you need to meet the following criteria:

You and your spouse must have been married for less than eight years
You must have no children, and neither of you should be pregnant
The joint annual gross income from all sources must be less than $35,000
Neither party can have a gross annual income that exceeds $20,000
The joint value of the marital property must be less than $10,000
Neither party can own real estate
Both parties need to agree on all divorce terms and conditions
How To File for an Uncontested Divorce in Lake County, IL
Do you wish your divorce to go as smoothly as possible without involving lawyers, but you don't qualify for a joint simplified dissolution? You should consider filing for a no-fault, uncontested divorce in Lake County, IL. To do so, follow these steps:
Engage a mediator (if you and your spouse can't reach an agreement on your own)
Obtain and fill out the necessary forms
Get the documents notarized
File the paperwork with the circuit court
Pay the filing fee
Draw up a divorce settlement agreement
Which Documents Do You Need for an Uncontested Lake County Divorce?
If you want to file for an uncontested divorce in Lake County, you'll need the following forms:
Certificate of Attorney-Family Division #171-365
Petition for Dissolution #171-470
Appearance (which the respondent fills out) #171-8
Stipulation for Uncontested Hearing #171-345
Judgment—Dissolution of Marriage #171-411
In case you have underage children, you will need these forms as well:
Declaration Under Uniform Child Custody Jurisdiction Enforcement Act #171-145
Parenting Plan #171-480
Use a Divorce Settlement Agreement To Spell Out the Terms of Your Divorce
One of the main requirements for an uncontested divorce is that you and your spouse need to agree on divorce-related matters beforehand. That's why you need to create a divorce settlement agreement to outline the previously agreed-upon terms—such as spousal support, parenting plan, division of assets and liabilities, and similar—and avoid misunderstandings.
For a divorce settlement agreement to be valid, the document must be written according to the laws of the county you're filing for divorce in.
One of the options is to search for divorce settlement agreements online. While affordable, this method is rather risky. If you decide to use an online template, you risk creating a document that might not comply with your county laws, which could cause problems for you in the future.
Another solution is to engage a lawyer to write a divorce settlement agreement, but they typically charge a hefty fee.
DoNotPay offers you a far more affordable option—we can draw up a well-written, customized divorce settlement agreement for you in the blink of an eye.
Create Your Divorce Settlement Agreement Worry-Free With DoNotPay!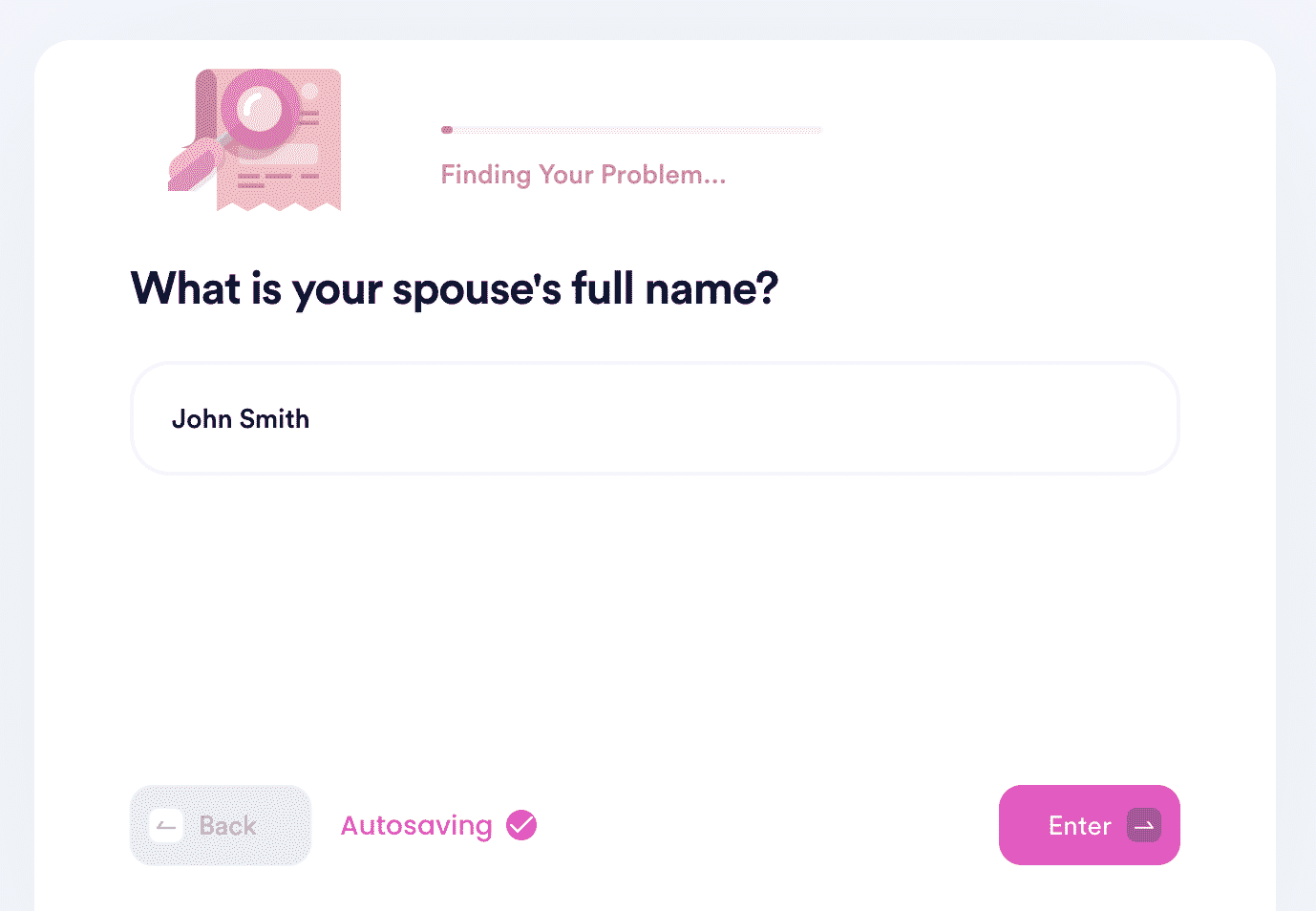 DoNotPay can save you a ton of time and money by creating a legally binding divorce settlement agreement in a few clicks. We can help you avoid engaging expensive lawyers and provide you with the perfect document for your out-of-court settlement.
All you need to do is sign up for our platform and follow the instructions below:
Find our Divorce Settlement Agreement product
Add all the necessary information about your spouse, kids, your wedding date, etc.
Inform us how you want to split your assets
DoNotPay will generate the divorce settlement agreement automatically, and all you and your spouse need to do is sign it. If you need help getting the agreement notarized, DoNotPay is here to assist you. We will help you set up an appointment with an online notary, and they will witness your signing.

Deal With Your Problems Like a Pro With DoNotPay
Looking for an app that's got enough features to solve any issue you're facing? Look no further—DoNotPay has got your back! Whether you can't sleep from your noisy neighbors or you want to connect with your locked-up relatives, we'll be able to help. We'll bring justice to any person or company that has wronged you and take them to small claims court for you.
The robot-lawyer app can generate numerous legal documents in your name, including:
Once you receive the documents, we can set you up with an online notary so you can get your agreements notarized from the comfort of your home.
Possibilities With DoNotPay Are Endless
DoNotPay stands out not only by the quality of products it offers but by the sheer amount of features it boasts. Check the table below out to see only some issues we can help you resolve: