Get the Scoop on Uncontested Divorce in Kentucky
To file for an uncontested divorce in Kentucky, you need to get familiar with the state laws and fill out various divorce papers. Don't fret—DoNotPay will guide you through the whole process!
In this article, we'll provide all the information you need for getting a divorce in Kentucky!
Is Kentucky a No-Fault Divorce State?
Yes, Kentucky is a no-fault divorce state. This means that, in Kentucky, neither spouse can be blamed for the ending of the marriage. There is one requirement, though—at least one of the spouses must believe that the breakdown is irretrievable and that there's no chance for reconciliation.
Divorce Laws in KY
To file for an uncontested divorce in Kentucky, you have to meet certain statutory requirements:
If you and your spouse share minor children, the court must wait at least two months after separation to grant you a divorce.
How To File for Divorce in Kentucky
You can file for a friendly divorce once you and your spouse agree on all the important issues, such as:
If you meet all the criteria, you can get a divorce even without a lawyer. Check the following table for detailed instructions on how to file for divorce in Kentucky:
Steps
Description
Prepare the necessary forms
The first step to getting a divorce is filing a Petition for Dissolution of Marriage and other required documents. You can find some of these forms on the official Kentucky Court of Justice website. When filling out the Petition, you have to state the ground and legal reasons for the divorce. Other mandatory uncontested divorce papers include:

Case data information sheet
Certificate of divorce

File the forms with the court
Once you fill out all the necessary forms, you have to make two copies of each document—one set of copies for you and the other one for your spouse. The original documents must be filed at your county clerk's office
Serve the forms to your spouse
Once you fill out and make copies of the divorce papers, you should immediately serve your spouse. According to Kentucky law, you have a maximum of 45 days to serve your spouse with the papers after filing them in court. If you fail to do that, the court will dismiss your case, and you'll have to petition again
The most important element of every divorce is having a marital settlement agreement. You can download a template and make the document on your own, but you shouldn't risk making a mistake. Instead, you should sign up for DoNotPay and let us draft this legal document for you risk-free!
Let DoNotPay Draw Up a Rock-Solid Divorce Settlement Agreement in a Breeze!
Even if you and your spouse agree on everything, divorce can still be a difficult and emotional undertaking. We created the Divorce Settlement Agreement product to make the process as fast, simple, and painless as possible.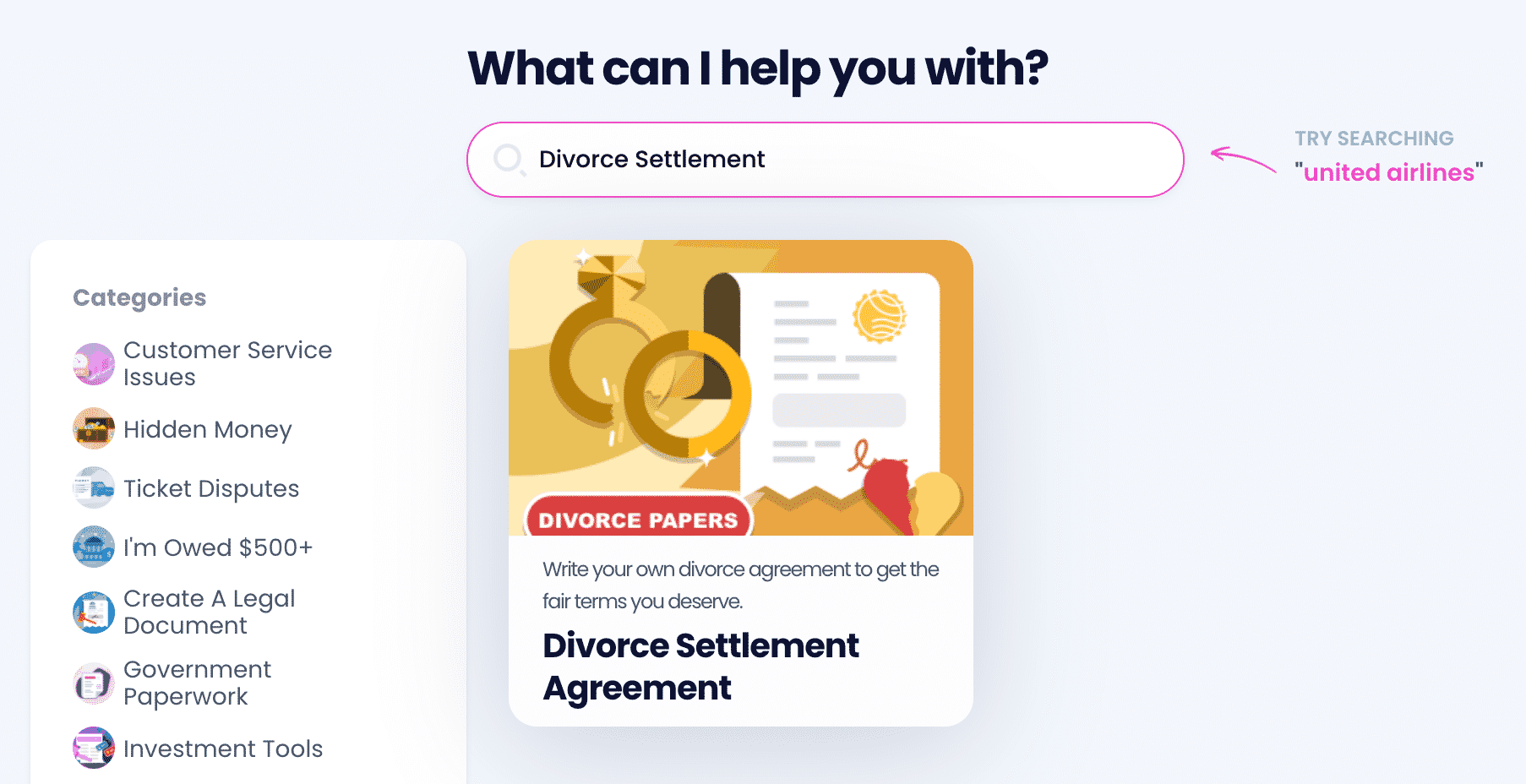 All we expect you to do is access DoNotPay and follow these steps:
Search for the Divorce Settlement Agreement product
Answer some questions about your spouse and children if you have any
Give us details about your income and financial assets
DoNotPay will take care of the rest—we'll draw up a personalized divorce settlement agreement according to the state specifications and requirements within minutes. What's left for you to do is sign the document and have your spouse sign it as well.
You can also choose to get the agreement notarized with DoNotPay's help. If you opt for our service, we'll connect you with an online notary in a flash!
How Much Does a Divorce Cost in KY?
Even if you don't hire an attorney, the divorce will cost you some money. Uncontested divorce is cheaper in KY, but you'll still have to pay some filing fees. The court will charge you a fee for filing divorce papers, which is $113 in Kentucky, but you should check with your local clerk's office for the exact amount in your county. You can pay it in three ways:
Cash
Money order
Certified check
In case you cannot afford it, you can request the court to waive the fee. The judge decides whether you qualify for a waiver.
Need More Information About Uncontested Divorces? DoNotPay Is Your Go-To Source!
Divorce is a confusing and complicated process even when it's amicable, so it's not unusual to have questions about it. Luckily, DoNotPay has a comprehensive learning center you can check out to find answers to various divorce-related questions, such as:
DoNotPay Covers All the Bases
From getting you ready for various government tests to helping you reduce your property taxes, DoNotPay offers valuable assistance with the tasks that make most people at least roll their eyes. Dealing with bureaucracy isn't fun, but it also doesn't have to be as difficult as it is.
Every product in DoNotPay's portfolio is designed to efficiently deal with a specific issue within a few minutes and without sacrificing your comfort. Take a look at the tasks our app can make much more simple:
A Little More Money Never Hurt Anybody
Hardly anyone would turn down a chance to earn some more cash. That's why DoNotPay not only protects your rights and interests but also offers great opportunities to improve your financial situation.
With our help, you can find paid clinical trials, locate your missing money in any state, get your cash back from used gift cards, or enter various raffles and win great prizes.