Getting a Divorce in Kansas Doesn't Have To Be a Burden!
We all know that the divorce process isn't a cakewalk—from gathering the necessary paperwork to serving your spouse the divorce papers, it's not a fun experience. We're here to make the procedure quicker and tell you how to file for an uncontested divorce in Kansas and draft a divorce settlement agreement without engaging a lawyer!
Sign up for DoNotPay, and learn how to get a friendly divorce easily!
Can I File for a No-Fault Divorce in Kansas?
When filing for divorce in Kansas, you can choose to do it on either fault or no-fault grounds. The fault grounds for divorce in KS include:
A spouse failing to perform a marital duty or obligation
A spouse being mentally ill or confined to a mental hospital for two years or more
Since the fault divorces usually reveal a lot of personal information, the spouses in Kansas tend to file for no-fault divorce more often. With no-fault divorces, couples get to keep their privacy and get through the divorce more easily.
Uncontested Divorce in Kansas—Explained
If you and your husband or wife can agree on all divorce-related issues, you can file for an uncontested divorce. Unlike the contested divorce, the uncontested one helps you avoid unnecessary stress and settle the divorce matters out of court.
To qualify for an uncontested divorce in Kansas, you must meet residency requirements. This means that either you or your spouse must have been a Kansas resident for at least two months prior to filing for divorce.
Before filing for an uncontested divorce, you and your spouse have to reach an agreement on the following aspects:
Custody, parenting time, and parenting responsibilities
Amount and duration of spousal support (alimony)
Property and debt division
Amount and duration of child support
In case you and your spouse can't reach an agreement on how to handle the above-listed matters, you can always hire a divorce mediator and avoid going to court or involving a lawyer. The mediator will help you work through the issues and reach a mutual understanding on all divorce matters.
After you agree on how to handle everything, you'll need to fill out the required uncontested divorce papers.
What Are the Required Uncontested Divorce Papers in Kansas?
The required documentation for an uncontested divorce in Kansas depends on whether you have children.
If you don't, all you'll need is a petition for dissolution of marriage and a divorce settlement agreement.
In case you and your spouse have kids, you will need to obtain an additional document (such as a parenting plan) explaining how you will raise them after the divorce.
How To File for Uncontested Divorce in Kansas
To file for an uncontested divorce in Kansas, you need to complete the following instructions:
| | |
| --- | --- |
| Steps To Take | Explanation |
| File the dissolution of marriage petition | Fill out and file the dissolution of marriage petition with your or your spouse's county court to initiate the divorce process |
| Serve the divorce papers on your spouse | You should give your spouse a copy of the divorce papers, although in uncontested divorces that's merely a formality |
| Get a divorce settlement agreement | Use a divorce settlement agreement to set out all the rights, duties, and obligations you and your spouse should honor |
Can I File for Divorce in Kansas Without a Lawyer?
By Kansas law, you're not required to get a lawyer to file for an uncontested divorce. Hiring one to help you draft your divorce settlement agreement and decipher legal terminology can be useful, but it's not necessary.
Divorce lawyers tend to charge high fees for their service. Spending hundreds of dollars on them seems like a waste, especially when you have a more affordable solution at your fingertips—DoNotPay.
Divorce Papers in Kansas—Get Your Divorce Settlement Agreement With DoNotPay Instantly!
With DoNotPay, you can avoid spending hours writing a divorce settlement agreement or wasting money on lawyer fees! We use the info you provide to draft the perfect agreement in a matter of minutes. Complete the following instructions, and get your divorce settlement agreement in the blink of an eye:
Find and select the Divorce Settlement Agreement feature
Answer a few simple questions
Once you're done, DoNotPay will generate your agreement! Both you and your spouse should sign it to make it valid.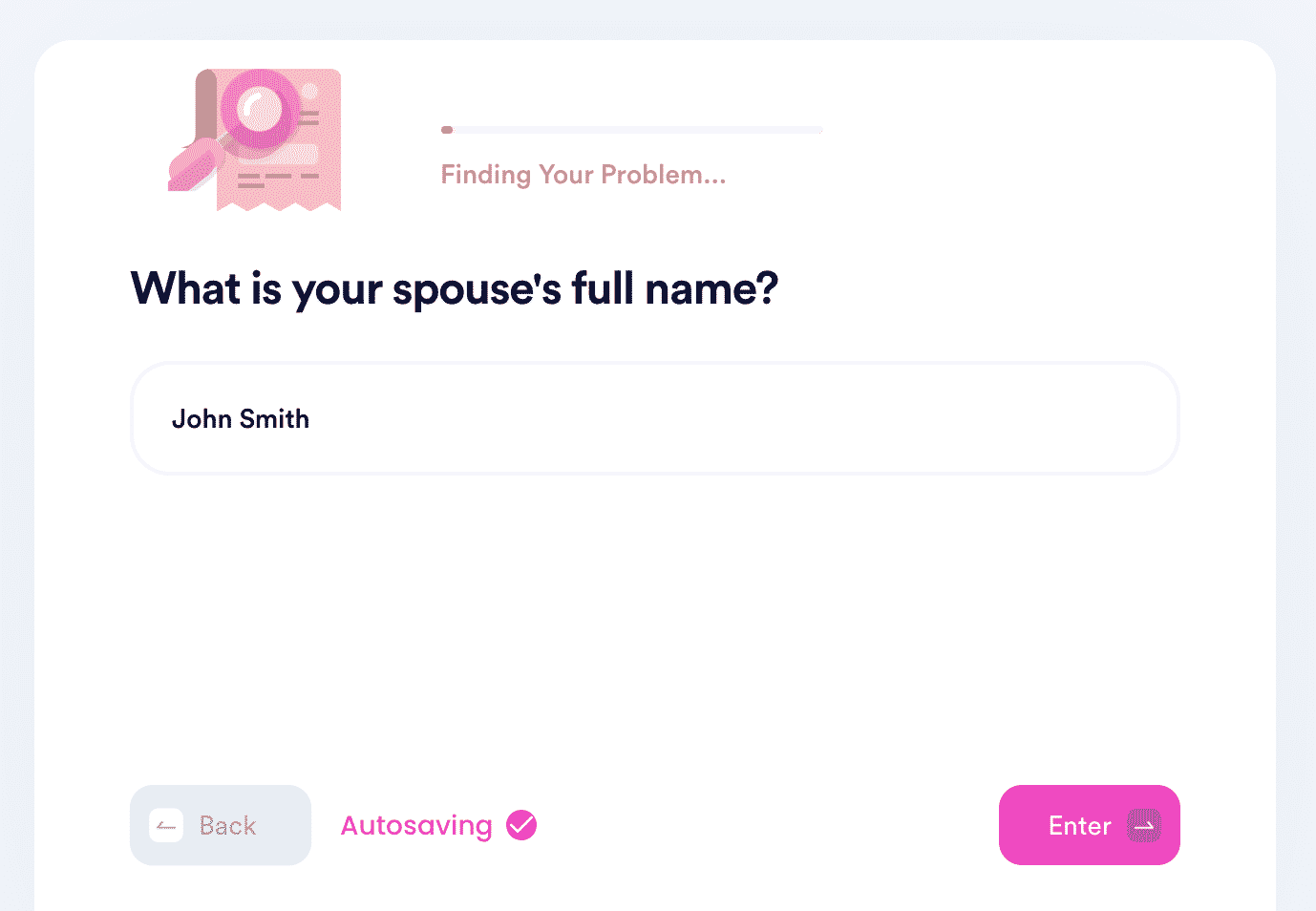 Other than drafting your divorce settlement agreement for you, we can also help you get it notarized! Why bother seeing a notary in person when you can get both tasks done online using the same app? All you need to do is choose to get your document notarized once we draw it up, and you're golden!
DoNotPay Answers All Your Divorce-Related Questions!
Have additional questions regarding the divorce process? DoNotPay is here to provide answers! The list below contains a fragment of the questions we can answer:
Communication Troubles? Say No More!
Yes, communication is the key, and DoNotPay vows to provide you with the best, most convenient methods to relay or protect your message—whether it's correspondence with your business partner or a loved one who's serving time.
Check out what you get by using our platform:
Use DoNotPay for a Better Shopping Experience
If you have a tendency to shop till you drop, some issues with purchases are bound to happen. Customer rights and satisfaction is what DoNotPay is passionate about.
With your subscription, you will be able to: