It's Easier To Go Through a Divorce in Iowa When You've Got the Deets
What should you know about divorce in Iowa? We present the essential information and offer help with your settlement agreement.
Getting divorced is always stressful, but DoNotPay makes the administrative part easier by breaking down county requirements, mandatory papers, as well as your rights and obligations.
Iowa Divorce Laws—Requirements and Grounds
To file for divorce, one spouse must be an Iowa resident for at least one year.
The petitioner, i.e., the party filing for divorce, can only state irreconcilable differences as the grounds for divorce in Iowa since the Hawkeye State is a no-fault divorce state. It means you don't have to prove that your spouse did something wrong during your marriage.
You should also keep in mind that marital misconduct has no effect on the division of property unless the spouse's misconduct has affected their earning ability.
How To Start a Divorce in Iowa
To start a divorce in Iowa, you should take the following steps:
Fill out the appropriate Petition for Dissolution of Marriage. Keep in mind there are two different forms, depending on whether you have underage children or not
Provide the court with the information about:

You
Your spouse
Your marriage

File a copy of the petition in your county court
Have your spouse served with the petition. Make sure to follow the specific rules, i.e., you need to arrange for the sheriff to deliver the papers to your spouse
What Should You Do if You Do Not Know Where Your Spouse Is?
In case the sheriff cannot locate your spouse, you should mail the divorce papers to your spouse's most recent address. Keep in mind that they have to sign and return the form to you.
If you still can't find them and get the signed form, you should consult the court. They will probably permit you to publish a notice in the newspaper.
How To File for Divorce in Iowa—Do You Need a Lawyer?
You can go through the Iowa divorce process alone without spending money on a lawyer.
Go through the table below to check if and when to hire a divorce attorney:
To Handle the Process Alone
Consider Hiring a Lawyer if You

Access the Iowa Courts Forms page
Download all available forms
Read the guides carefully
Complete and file the papers

While these forms are mandatory throughout the Hawkeye State, you should check with your local court if you need to file some additional papers. Keep in mind that going through this process without a lawyer is only advisable if:

The divorce is uncontested
All crucial aspects are agreed on

Don't know how to complete the available Iowa divorce papers and forms
Have unresolved issues with your spouse, especially the ones regarding children, property, and spousal support
Haven't resolved the problems via mediation (some Iowa courts might require you to go to a mediator)
Go to trial
How Much Does a Divorce Cost in Iowa?
If you're interested in how much money you'll need to set aside for a divorce in Iowa, here's a rundown on some necessary fees:
| | |
| --- | --- |
| Required Fees For | Amount |
| Filing for divorce | $265 (in most cases) |
| Having the sheriff serve your spouse with the papers | $40–50 |
| Filing the final decree | $50 |
| Hiring a lawyer to start a divorce | $500+ (depending on the law firm and city) |
While the above-listed are only basic and initial fees, you might end up paying ten times more since the average cost of divorce in Iowa is:
How Fast Can You Get Divorced?
It might take more than a year to get divorced if you cannot reach an out-of-court settlement with your spouse. In case there are issues to be resolved, you might want to:
If you and your spouse agree on all divorce matters, including child custody and support, alimony, and the division of property, you can get an uncontested divorce in Iowa. This friendly marriage termination is the fastest and least expensive option that usually doesn't require a lawyer.
You should gather the necessary forms and complete and file them with your county court.
Once your spouse has been served with the divorce papers, you need to wait for 90 days for the court to terminate the marriage.
A divorce settlement agreement is a crucial document as it regulates all divorce aspects. It's complicated and expensive to draft it, so sign up for DoNotPay to prepare this document smoothly.
Get DoNotPay's Rock-Solid Divorce Settlement Agreement in No Time
DoNotPay can help you create a divorce settlement agreement saving you money, time, and nerves, which are bound to be scarce during this sensitive process.
Keep in mind that our app can assist you only during an uncontested divorce, which you should strive for because it's the least expensive, time-consuming, and complicated process.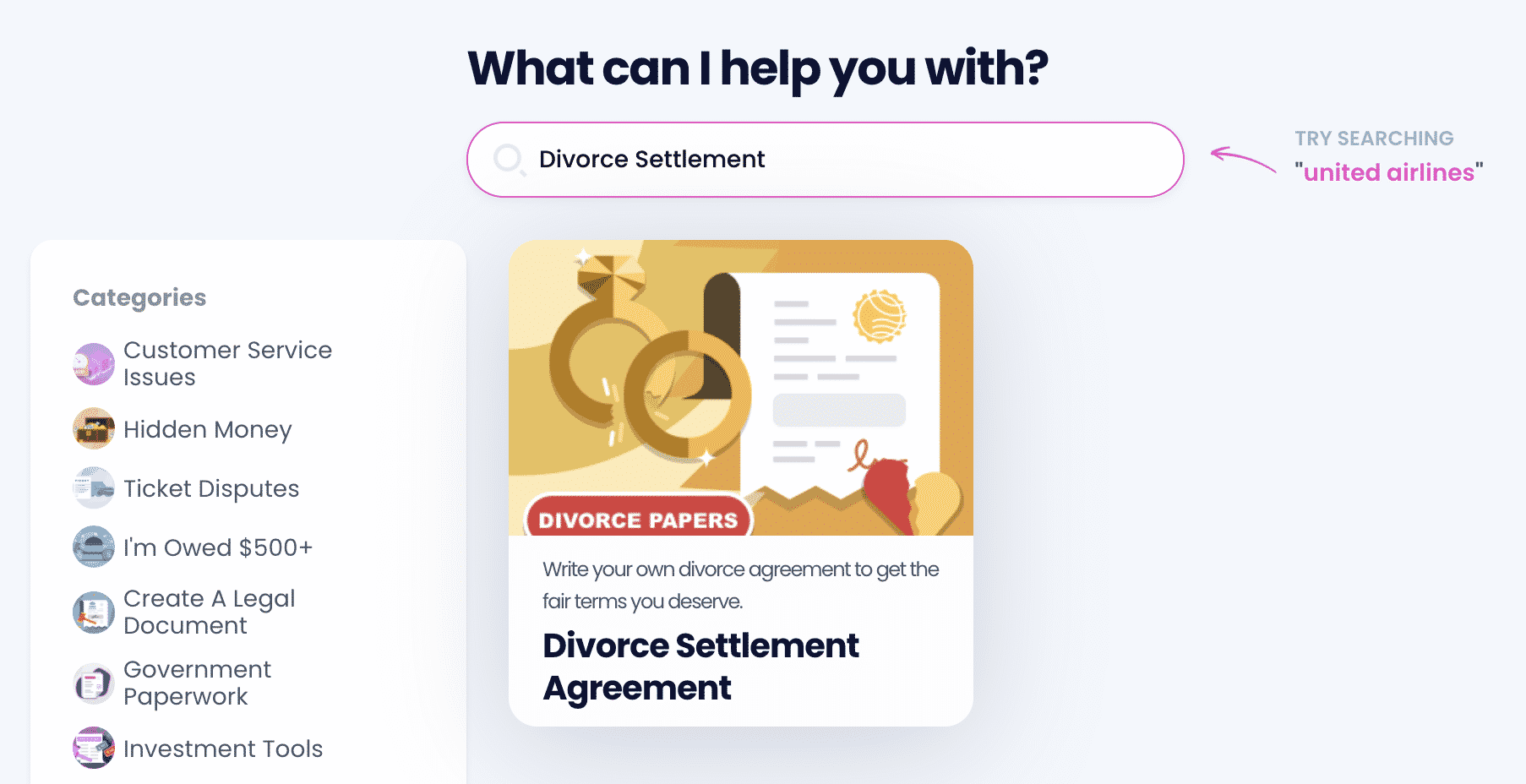 Subscribe to DoNotPay and take these easy steps:
Type in Divorce Settlement Agreement in the search box
Provide answers to our chatbot's question
Enter information about your assets and income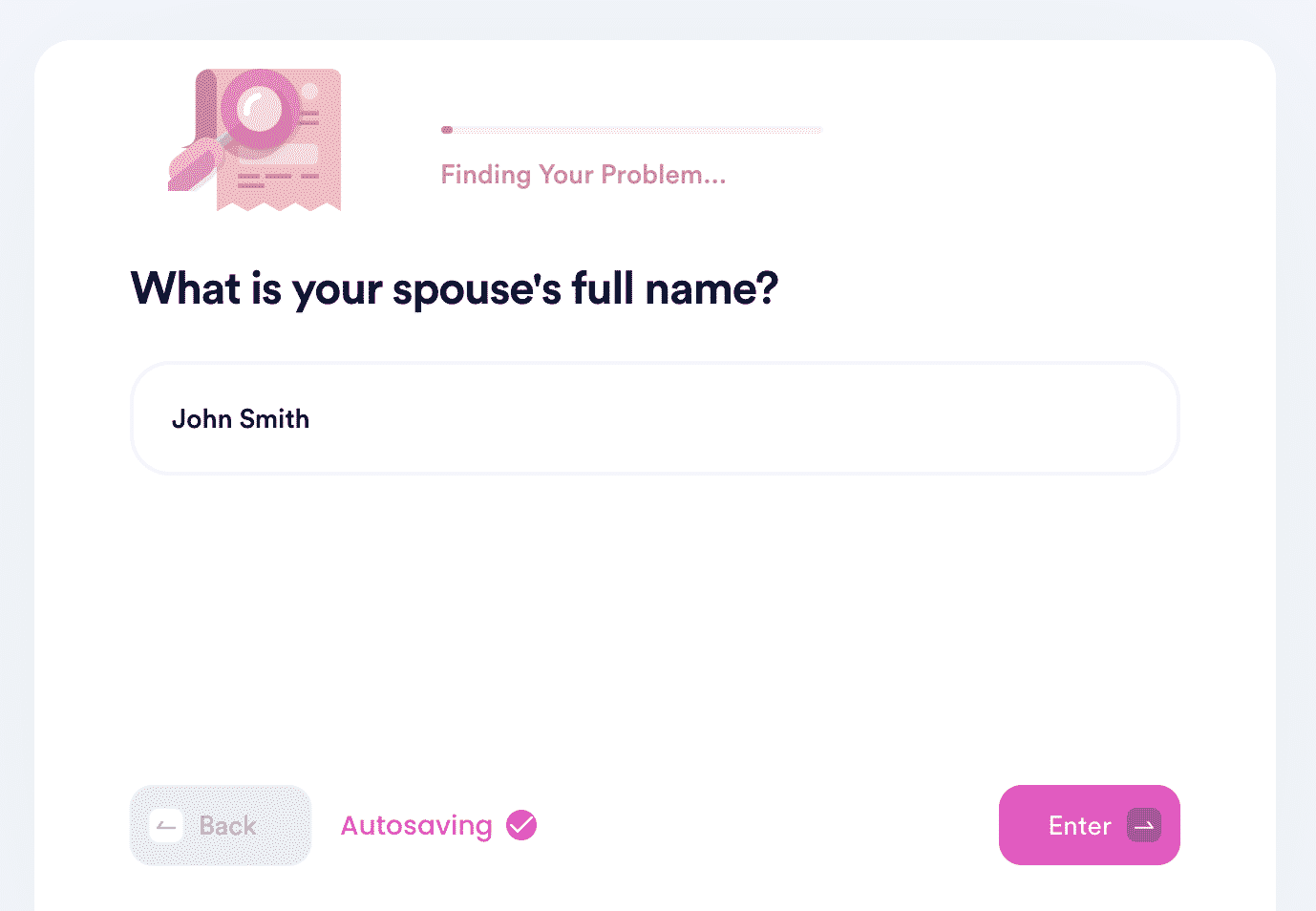 DoNotPay uses the provided information to generate a divorce settlement agreement tailored to your requirements. We also facilitate notarization services 24/7, so you can have your document ready for filing without leaving the app.
If you'd like to be informed about divorce matters, browse through our helpful articles about related hot topics, such as getting a divorce online or without going to court.
Communication Troubles? Say No More!
Yes, communication is the key, and DoNotPay vows to provide you with the best, most convenient methods to relay or protect your message—whether it's correspondence with your business partner or a loved one who's serving time.
Check out what you get by using our platform:
Use DoNotPay for a Better Shopping Experience
If you have a tendency to shop till you drop, some issues with purchases are bound to happen. Customer rights and satisfaction is what DoNotPay is passionate about.
With your subscription, you will be able to: