Divorce in Indiana—All You Need To Know From DoNotPay
While divorce is never a pleasant process, the state of Indiana realizes that some couples are not meant to be.
To help solve the problem, the Hoosier state makes filing for divorce relatively simple—if you do your homework, you can avoid drawn-out court proceedings and expensive lawyers' fees.
DoNotPay knows that you want to make your divorce as simple, quick, and inexpensive as possible. We are here to help with all the facts you need on uncontested divorce in Indiana!
What Are the Divorce Laws in Indiana?
Indiana is one of the states that don't require a reason for you to get divorced from your spouse.
If you have decided that divorce is your best course of action, you only need to prove that your marriage is irretrievably broken.
In case your spouse disagrees, your case will go to court and may become a long process. If both of you agree on the necessity for divorce, your divorce is seen as uncontested and can be finalized quickly.
To be allowed to file divorce papers in Indiana, either you or your spouse must have lived in the state for the last six months.
How Do You File for Divorce in Indiana?
Filing for divorce in Indiana depends on whether you and your spouse agree on the:
Need for a divorce
Terms of the settlement
If you agree on everything, the process is relatively straightforward, as follows:
File a petition for dissolution
Prepare a settlement agreement
Attend a single court hearing
File a Petition for Dissolution
You, your spouse, or both of you should file a petition for dissolution with your local county court. If you live in different counties, the choice of which court to use is yours.
The petition should ask the court to grant a dissolution of your marriage due to its irretrievable breakdown and should list your and your spouse's:
Assets
Liabilities
Income
Expenses
Children or dependents should also be cited in the petition.
Serve the Documents on Your Spouse
If your spouse did not file a joint petition with you, you need to serve them with a copy of all the uncontested divorce papers.
Your spouse's signature confirming they have received the paperwork should be forwarded to the court to be attached to your case documentation.
Prepare a Settlement Agreement
The settlement agreement refers to your petition for dissolution and states how your financial and family responsibilities should be divided up after the divorce.
In uncontested or friendly divorce scenarios, the court will usually accept the agreement as is. If there is a contest, Indiana courts will normally:
Divide financial affairs on a 50:50 basis
Award custody according to the behavior and domestic situation of each spouse
Award alimony based on the financial information you and your spouse have provided in your petition
Attend a Single Court Hearing
You and your spouse will be required to attend a court hearing in which the judge will:
Confirm that your papers are complete and in order
Affirm that you both want the divorce
Ensure that neither you nor your spouse is acting under pressure
Once these affirmations have been heard, the judge will grant your uncontested summary dissolution.
How Long Does It Take To Get a Divorce in Indiana?
An uncontested divorce in Indiana can progress relatively quickly.
Indiana divorce law requires that the judge wait 60 days before your marriage can be dissolved.
The actual date of your hearing will depend on the court's schedule and workload. You can make sure the process is as short as possible by having your paperwork in order and filing it during a slow period in court proceedings—the clerk of your county court should be able to advise you on this.
How Much Does It Cost To File for Divorce in Indiana?
Costs in uncontested divorces in Indiana can usually be kept relatively low.
The filing fee will be between $132 and $152, after which you should factor in costs for:
Preparation of divorce papers
Notarization
Phone calls, copying, and admin
If you are looking for a low-cost divorce, your best course of action is to avoid lawyers' fees as much as possible. If you and your spouse agree on the terms of the settlement agreement, you can avoid using a lawyer to draw it up.
Even if there are aspects of the settlement agreement over which you can't immediately agree, you can avoid a lawyer's involvement by submitting to mediation. A state or county mediator can help you negotiate a resolution that both you and your spouse find acceptable, meaning that your settlement can stay out of court.
Where Can You Get a Divorce Settlement Agreement in Indiana?
You have several options to get a divorce settlement agreement that is acceptable in Indiana, as follows:
Settlement Agreement Sources
Explanation
Lawyer
An attorney can draw up your settlement agreement, but in many uncontested divorce cases, the expense is unnecessary
County court
Your county court may be able to provide a template for your settlement agreement. While these templates are state-approved, they are often so complicated that you will end up hiring an attorney to fill them out
Online
Generic online forms are available on many websites, but you will run the risk that they:

Don't cover all your requirements
Are not tailored to the requirements of Indiana law and are hence invalid
DoNotPay can help you out—we can spare you the expense of a lawyer while making sure your settlement agreement fits the bill. Use DoNotPay to generate the perfect divorce settlement agreement in a few clicks!
Get Your Indiana Divorce Settlement Agreement From DoNotPay!

DoNotPay is your partner for making complex legal documents simple and affordable!
We can make a personalized divorce settlement agreement for you in a flash—here's how:
Sign up with DoNotPay in your web browser
Go to our Divorce Settlement Agreement product
Follow the on-screen prompts to fill in the details of your agreement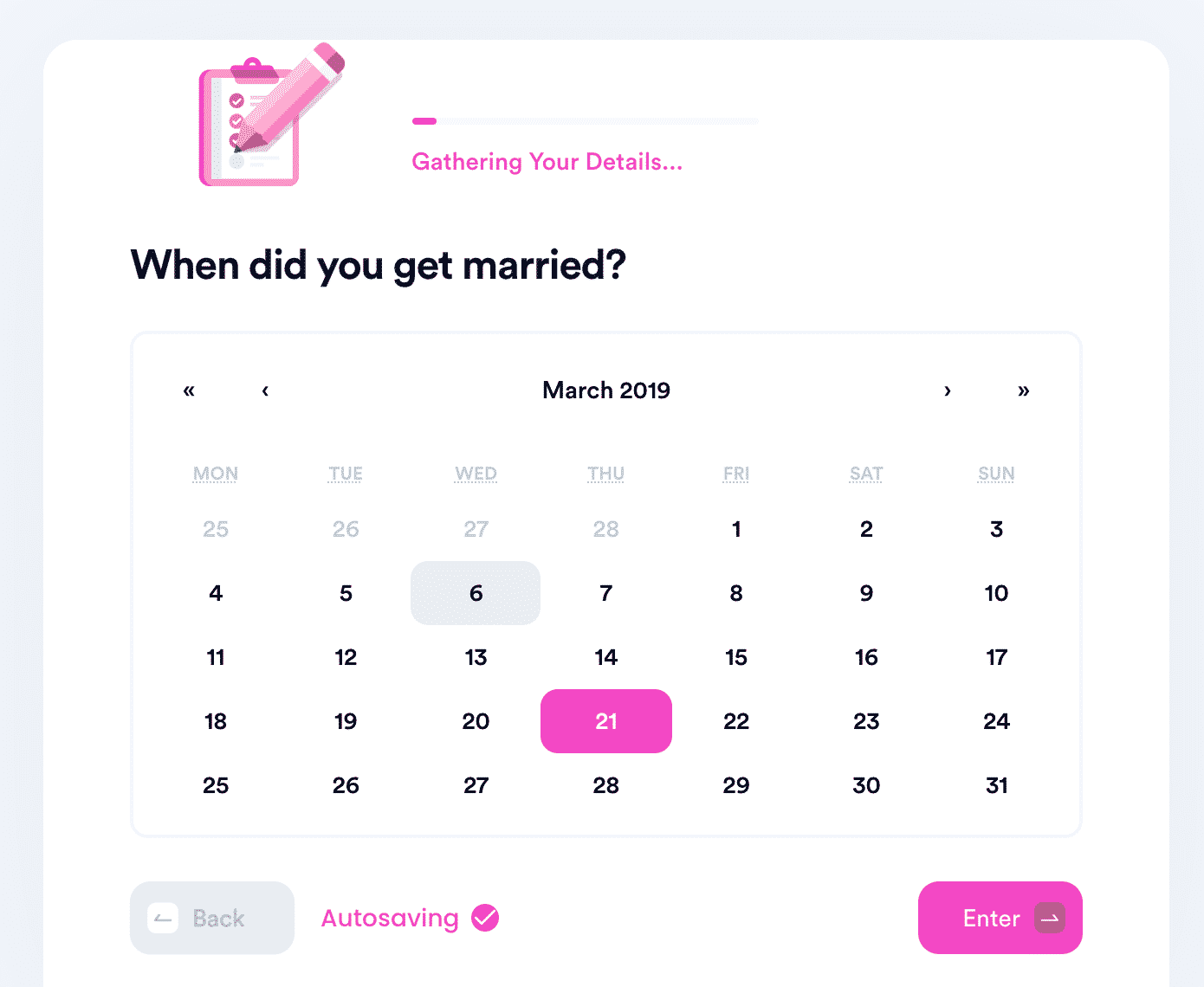 DoNotPay will take it from there. In a few moments, you will be able to print out your custom agreement. You and your spouse should sign it and have it notarized, at which point your divorce can proceed.
If you are unsure where to find a notary in your area, we have a solution for that, too—our Notarize Any Document product can help you connect with an online notary in no time!
You Can Count on DoNotPay To Resolve Any Issue
Are you stuck in the never-ending subscription cancellation procedures? Do you want to demand a refund once you finally reach a customer support rep? Is the company refusing to cooperate? No need for stress—your personal assistant can lend a helping hand.
Is there anything else we can help you with? You bet! Once you sign up, we can resolve a number of issues in your stead. Count on our app if you're struggling with:
You Don't Have To Suffer in Silence
Have you been experiencing workplace discrimination lately? Do you have a real-life stalker or harasser that you're too scared to confront? Do you want to get rid of robocalls and text and email spammers once and for all? You're not alone—DoNotPay is by your side and will help you deal with all of these issues.
As soon as you subscribe to our app, you'll be able to use our products to your advantage and fight for your right worry-free!