A Complete Guide on Getting a Divorce in Illinois
When ending an important chapter of your life like a marriage, it is normal to be under a lot of stress. DoNotPay is here to help you get through a divorce in Illinois with as little trouble as possible. We can even create a divorce settlement agreement for you!
What Are the Grounds for Divorce in Illinois?
Before 2016, the fault grounds for divorce in Illinois included:
Adultery
Alcohol abuse
Drug addiction
Physical or mental cruelty
Felony conviction
Bigamy
Impotence
Infecting the spouse with a sexually transmitted disease
Nowadays, Illinois is a no-fault state, which means neither spouse can be blamed for the failed marriage. It is enough to state irreconcilable differences or prove unsuccessful reconciliation attempts and get a divorce.
What Is an Uncontested Divorce, and How Long Does It Last?
For a divorce to be considered uncontested, the spouses need to agree on all the important topics regarding the termination of their marriage, such as:
Marital property division
Responsibility for marital debts
Alimony
The judge needs to approve of these agreements. An uncontested divorce is a faster, low-cost version of a divorce, but it can still take around six months to be finalized in Illinois.
What Are the Requirements for an Uncontested Divorce in Illinois?
The Prairie State has a special form of an uncontested divorce that makes the process much faster. This option is called a joint simplified dissolution. You and your spouse can qualify if you:
Meet the residency requirements (live in Illinois for at least 90 days before filing for divorce)
Have lived separately for the last six months
Don't own a house
Have less than $10,000 in joint marital property
Fill out all the forms together
Have been married for less than eight years
Don't have any children
Agree to permanently waive alimony
Earn less than $20,000 individually and have a combined annual income of less than $35,000
Agree to an uncontested divorce based on irreconcilable differences (no-fault divorce)
How Much Does an Uncontested Divorce in Illinois Cost?
The cost of a divorce in Illinois varies from county to county, but the filing fees are at least $250. You can also count on service or attorney fees. The good news is that many counties offer waivers of filing fees for low-income individuals and thus lower the divorce expense significantly.
Divorce Papers in Illinois—What Forms Do You Need?
The forms you will need to file in Illinois to get a divorce depend on the county you live in. For the most part, the divorce papers are the same in the entire state, but there might be some exceptions. Take a look at the required forms for Cook County as an example of what you can expect:
Petition for dissolution of marriage (four copies)
Domestic relations cover sheet
Summons (four copies)
Affidavit of service
Certificate of dissolution
You can check out our guides for divorce laws in other counties in Illinois, such as DuPage County, Will County, or Lake County.
How To File for Divorce in Illinois
Here are the steps that you will need to take to file for divorce in Illinois:
Collect and fill out the necessary forms—Check with your county clerk what forms you need
Get enough copies of the forms—Make sure you have a copy for yourself, your spouse, and the court
File the forms—Take the papers to the courthouse and file them with the clerk
Serve the papers to your spouse—Ask the sheriff, private process server, or an individual who is not involved in your case and is older than 18
Create a divorce settlement agreement—Make this legal document to ensure everything you and your spouse agree on is written down. A divorce settlement agreement will protect you both, and DoNotPay can help you with this task!
DoNotPay Helps You Make a Divorce Settlement Agreement in Minutes
Using DoNotPay is the fastest way to create a divorce settlement agreement and get a friendly divorce. We will also make sure that the legal document you create is rock-solid and that it protects your interests. Our app will take care of the entire process, and you only have to follow these simple instructions:
Find the Divorce Settlement Agreement product
Answer some questions about your spouse
Give us the info about your income and financial assets
Once you're done, you can let us know if you need to get your divorce settlement agreement notarized. If yes, we will find an online notary to notarize your document in a jiffy.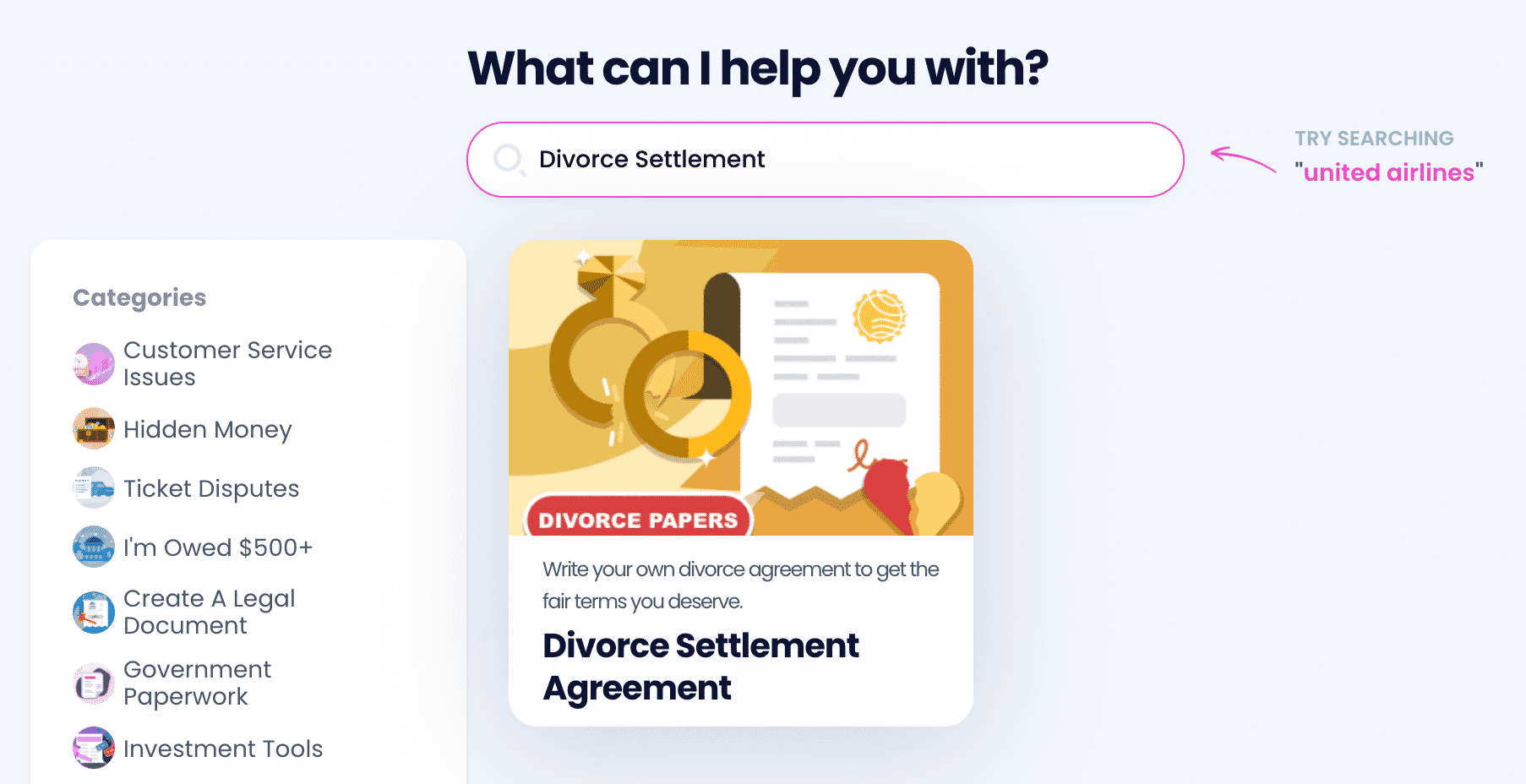 DoNotPay can also help you find the answers to the following questions:
Shop Online on Your Terms
Have you ever had to deal with complaints about lost, late, or damaged parcels? Is reaching customer service over the phone always a pain? Don't you wish there was an easier way to request refunds and chargebacks for bad purchases?
Shopping can easily turn into a nightmare, but DoNotPay will take away some of that stress. We can help you with all of these issues and more!
If you need to file warranty claims for any kind of product, our AI bots will make the process painless. Those who like to try out new services will fall in love with our virtual credit cards and foolproof methods of signing up for free trials without risking charges.
When you get sick of your subscriptions, cancel them with DoNotPay. Also, don't throw away your used gift cards with a few bucks left—we can help you get your cash back.
DoNotPay Protects Your Interests
There are already so many ways you can use DoNotPay to improve your daily life, but we keep developing more and more features that will make our subscribers even happier.
On our platform, you can find useful resources to: