Filing for Divorce in Idaho Without Much Trouble
If your marriage comes to an end, there is no other option than to file for divorce and move on. It is up to the couple how the entire process will go and how long it will last. DoNotPay can provide you with handy tips and tricks on handling a divorce in Idaho as painlessly as possible.
What Is a Legit Divorce Cause in Idaho?
Idaho is a state that has both a no-fault and fault-based divorce. A no-fault marriage termination allows the person filing for divorce to name "irreconcilable differences" as the reason. Other grounds for divorce in the case of a fault-based variant include:
Adultery
Cruelty
Drunkenness
Felony conviction
Permanent insanity
What Idaho Divorce Forms Will You Need?
You will need to gather and complete different forms to get a divorce in Idaho, depending on your situation. Take a look at the following table for more information on mandatory papers:
If You Have Underage Children
If You Don't Have Underage Children
If You Don't Know Your Spouse's Whereabouts

Petition for divorce, CAO D 1-5
Summons, CAO FL 1-3
Parenting plan, CAO FL-3
Order to attend divorce orientation/parenting workshop
Child support worksheet, CAO FL 1-12 or 1-13
Affidavit verifying income (child support), CAO FL 1-11

Petition for divorce CAO D 1-6 (no minor children)
Certificate of divorce or annulment, HWH-611
Family law case information sheet, CAO FL 1-1

Motion and affidavit for service by publication, CAO FLPi 1-5
Order for service, CAO FLPi 1-6
Summons by publication, CAO FLPi 1-4
Affidavit of mailing per order for publication, CAO FLPi 2-3
How To File for Divorce in Idaho
To end your marriage in Idaho, you must follow the Gem State law regulating the process. Here are the steps to take to file for divorce:
Talk to an attorney—If you need legal advice, it is always best to consult a lawyer about the issue. You can call 208-334-4500—Idaho State Bar Lawyer Referral Service—for the name of an attorney in your vicinity
Collect and complete the necessary forms—You will need to gather the required forms and fill them out accordingly
Make copies of the forms—You should have the forms reviewed at the Court Assistance Office (CAO). You will need two copies of each completed set of CAO forms
File the forms with the clerk—You must take the original documents and the copies to the clerk. Make sure to keep the ones you get back
Serve your spouse—You can mail or take the documents to your spouse in person
How Long Is the Idaho Divorce Waiting Period?
In Idaho, you will need to wait at least 21 days after the petition service date before a divorce can be granted. When an agreement cannot be reached, it usually takes six months before the judge signs the decree of divorce and your case is resolved.
What Are the Residency Requirements for a Divorce in Idaho?
You must be an Idaho resident for at least six weeks before filing for divorce in the Gem State.
How Much Does a Divorce Cost in Idaho?
The cost of a divorce in Idaho will be at least $207, which covers the basic fees. This amount does not include service or attorney fees. If you want a low-cost marriage termination, try to negotiate with your spouse and get an uncontested divorce.
Uncontested Divorce in Idaho—Why Is It a Good Choice?
An uncontested divorce is possible when the spouses are on the same page and want to part ways amicably. The couple needs to agree on important decisions regarding their split, including:
Custody
Visitation
Support
Property settlement
Debt payment
You should specify all the terms in a divorce settlement agreement, and if you managed to agree on the uncontested marriage termination, DoNotPay can draft the document for you.
Use DoNotPay To Create a Divorce Settlement Agreement in Idaho
If you want an airtight divorce settlement agreement protecting your interests, turn to DoNotPay for help. Our process is straightforward:
Select our Divorce Settlement Agreement product
Answer essential questions about your spouse and children
Tell us more about your income and financial assets
In case you want to get the document notarized, let us know, and we'll connect you with an online notary immediately.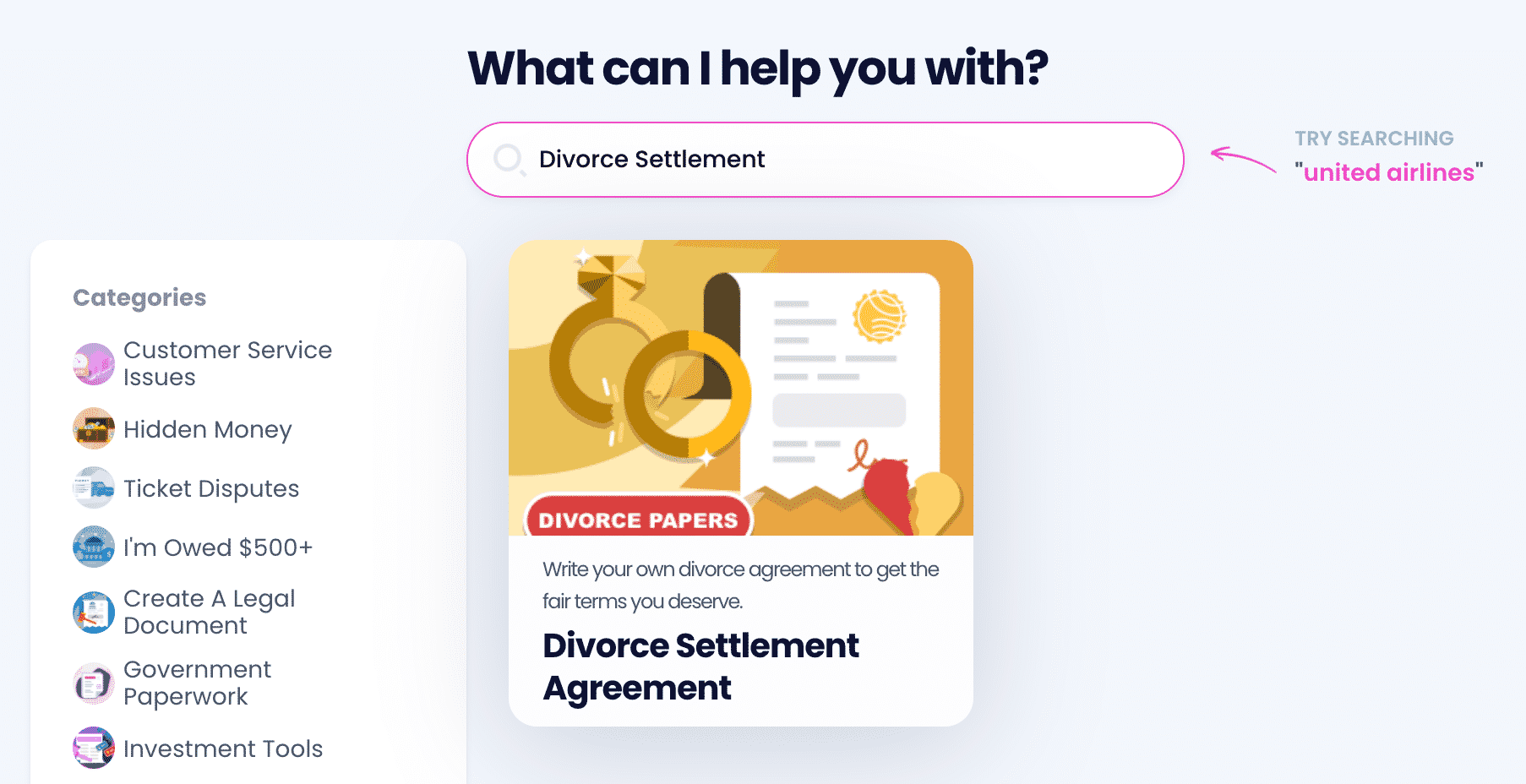 DoNotPay excels at divorce-related paperwork, so rely on us to explain how:
You can use our knowledge base as your go-to resource for any information that you may need during the process.
DoNotPay Protects Your Interests
There are already so many ways you can use DoNotPay to improve your daily life, but we keep developing more and more features that will make our subscribers even happier.
On our platform, you can find useful resources to:
Shop Online on Your Terms
Have you ever had to deal with complaints about lost, late, or damaged parcels? Is reaching customer service over the phone always a pain? Don't you wish there was an easier way to request refunds and chargebacks for bad purchases?
Shopping can easily turn into a nightmare, but DoNotPay will take away some of that stress. We can help you with all of these issues and more!
If you need to file warranty claims for any kind of product, our AI bots will make the process painless. Those who like to try out new services will fall in love with our virtual credit cards and foolproof methods of signing up for free trials without risking charges.
When you get sick of your subscriptions, cancel them with DoNotPay. Also, don't throw away your used gift cards with a few bucks left—we can help you get your cash back.