Houston, We Don't Have a Problem! Get a Divorce in Houston Hassle-Free
Have you decided to terminate your marriage, but you don't want to pay steep attorney's fees? The good news is that you don't need a lawyer if you agree on everything and opt for a friendly divorce. To complete the process without an attorney, you should get familiar with the state rules and requirements, and we're here to help you with that!
DoNotPay has all the info you need to file for and finalize an uncontested divorce in Houston, Texas. We can even draw up a settlement agreement for you—all you need to do is subscribe to DoNotPay!
Who Can File for Divorce in Houston, Texas?
To file for divorce in Texas, you or your spouse must meet the following residency requirements:
Living in the state for a minimum of six months before petitioning for divorce
Residing in the county where you're filing for divorce for at least 90 days—Harris County in this case
How To Get a Divorce in Houston
There are several ways to get divorced in Houston, Texas. Consult the table below for a detailed explanation of each:
| | |
| --- | --- |
| Type of Marriage Dissolution in Texas | Details |
| Contested or litigated divorce | A contested divorce is a traditional divorce. It's a common marriage dissolution method used when spouses can't reach an out-of-court settlement regarding important issues, such as custody, alimony, division of the property. A litigated divorce requires going through stressful hearings, having expensive lawyers, presenting evidence, and being on trials. It costs a lot of money and takes the most time to finalize |
| Collaborative divorce | During a collaborative divorce, each of your attorneys and other experts help you and your spouse negotiate essential matters. Depending on the case, these experts can be psychologists, financial experts, or conflict resolution professionals. Each of the experts has their hourly fee, but this type of divorce is still less expensive than litigation |
| Mediated divorce | Divorce mediation is a process where a neutral party—a lawyer or trained professional—guides you and your spouse through negotiations in an attempt to reach an agreement. Mediation is held in a safe and neutral environment with only three parties present |
| Uncontested divorce | An uncontested divorce is achieved when the spouses discuss and work everything out between themselves without going to court. If you're eligible for an uncontested divorce, you don't even need a lawyer. It is quick, cheap, and hassle-free. Some states even allow eligible couples to file for uncontested divorces online |
Grounds for Divorce in Houston, Texas
In Texas, you can file for divorce based on both no-fault and at-fault grounds. Having no-fault reasons for divorce makes the process faster and more straightforward because you don't need to prove your spouse is responsible for the breakdown of the marriage. Incompatibility and irreconcilable differences are the usual no-fault grounds for divorce in Houston.
If you're blaming your spouse for the divorce, you need to have evidence of their wrongdoings. Common fault-based legal reasons for divorce in Houston are:
Adultery
Physical or mental abuse
Abandonment or desertion
Alcohol or substance abuse
Imprisonment or felony conviction
Infertility or impotence
How To File for an Uncontested Divorce in Houston
If you and your spouse negotiate and agree on certain issues on your own, you can choose a simplified method—an uncontested divorce.
You're eligible for a low-cost dissolution if you and your spouse:
Meet residency requirements
Agree on grounds for divorce
Agree on all the crucial matters, including:
Here's how to file for an uncontested divorce in Houston:
Download the required Texas divorce forms for an uncontested divorce
Fill out the divorce papers and file them with the Harris County District clerk's office
Pay the filing fee of $267 plus additional services' fees
Serve your spouse with divorce papers
Draw up a divorce settlement agreement
Attend a hearing at the court after the 60-day mandatory waiting period is over
DoNotPay Can Speed Up Your Uncontested Divorce
There are several ways to make a divorce settlement agreement:
Paying an attorney to draft it
Downloading a template from the internet
Using DoNotPay
Having an attorney write this legal document for you might be the most reliable option, but it's also the most expensive. Many people choose to draw up divorce settlement agreements on their own—a cheap but highly risky option.
If you want to obtain a top-rate divorce settlement agreement without paying the earth for it, DoNotPay is the way to go!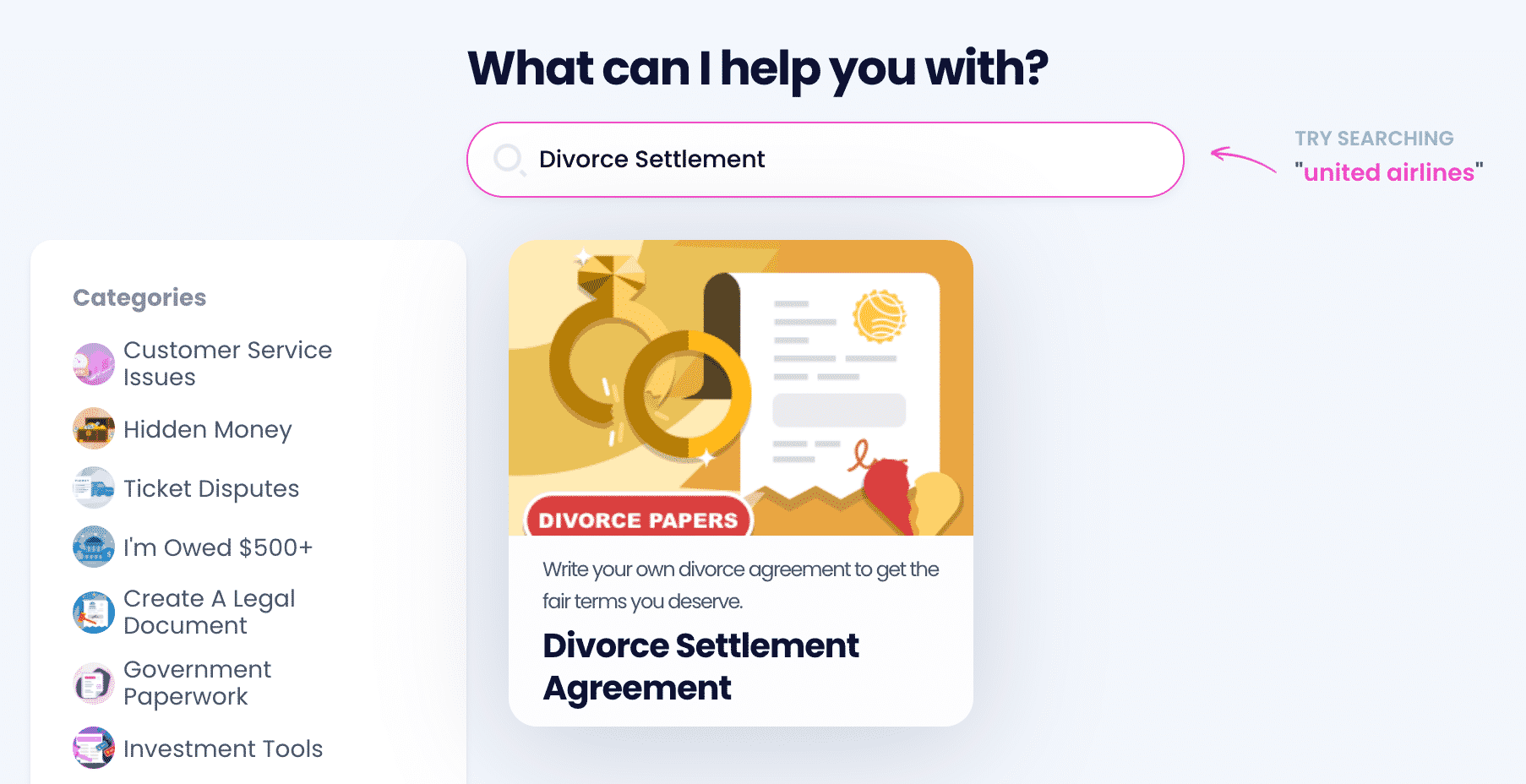 Here's how to use our risk-free and budget-friendly service:
Choose the Divorce Settlement Agreement tool
Provide information about your spouse, children, and property
Inform us if you need a service of a notary public
We'll draft a customized agreement according to your state's standards and the details you provided!
The state of Texas has various laws and requirements when it comes to divorces. You should visit DoNotPay's learning center if you have other questions, such as:
DoNotPay Can Help You With Almost Anything
DoNotPay's goal is to have a multitude of features that can be useful to you with handling various issues. Whether you want to apply for clinical trials, prepare for government tests, or even get in touch with your locked-up friends or family—DoNotPay has got you covered!
For a small yearly fee, our AI-based app will help you:
Want To Save and Earn Money at Once? Subscribe to DoNotPay
DoNotPay can help you earn and save a buck or two. We'll assist you in reducing your property taxes, canceling any unused subscriptions, and signing up for free trials with our virtual credit card.
As if that wasn't enough, we'll save you money and spare you from a headache if you receive any faulty deliveries by filing a refund or an item return request in your stead! This is just the tip of the iceberg of features that DoNotPay has in store for you.