File for an Uncontested Divorce in Hawaii Like a Pro!
Do you wish to avoid spending days in the courtroom and wasting money on divorce lawyers? Consider filing for an uncontested divorce in Hawaii, and make the divorce procedure a smooth sailing experience! We'll show you how to get a friendly divorce without breaking the bank.
Subscribe to DoNotPay, let us handle your divorce settlement agreement, and get divorced as effortlessly as possible.
Hawaii Divorce Law—Can I File for a No-Fault Divorce?
Hawaii is a no-fault divorce state. As opposed to a fault one, where spouses file for divorce on certain grounds—such as bigamy, cruelty, or abandonment—a no-fault divorce is much simpler. Spouses file for a no-fault divorce when their marriage is broken irretrievably, and neither spouse blames the other for ruining the marriage.
You can file for a no-fault divorce in Hawaii if:
You and your spouse have lived separately for at least two years or more prior to filing for divorce
Resuming to live together as husband and wife isn't likely to happen
The court concludes that granting a divorce wouldn't be harsh and oppressive to the non-filing spouse or contrary to the public interest
A divorce can be either contested or uncontested. Filing for an uncontested divorce is quicker and cheaper than filing for a contested one.
Understanding the Process of Filing for an Uncontested Divorce in Hawaii
The Hawaiian court system is a bit different from the court systems in other states. The Hawaii Family Courts are in charge of divorce proceedings, and they are separated into judicial circuits based on geographic location. Check out the list below for details:
First Circuit—Oahu
Second Circuit—Maui, Lanai, and Molokai
Third Circuit—Island of Hawaii (and subdivided Hilo, Kona, and Rural Divisions)
Fifth Circuit—Kauai
There is no Fourth Circuit since it was merged into the Third Circuit in 1943.
If you want to file for an uncontested divorce without a lawyer, you have to make sure you file the required divorce papers with the correct circuit.
The exact paperwork you should prepare depends on the circuit where you're filing for divorce. To avoid any issues, you should ask your local court clerk what forms to get.
How To File for an Uncontested Divorce in Hawaii
To file for your uncontested divorce in Hawaii, follow these steps:
Steps
What To Do
Complete the required forms
Find out what uncontested divorce papers you need to fill out to file for divorce in your circuit and complete them
Serve your spouse
Get a copy of the divorce papers and give them to your spouse. If you don't want to do it on your own, you can hire a sheriff or a process server to do it for you
Draft a divorce settlement agreement
Discuss the divorce matters with your spouse and include them in a document known as a divorce settlement agreement. If you can't agree on all divorce concerns, consider hiring a divorce mediator to assist you.

The agreement should cover the following aspects:

Division of debts and assets
Child custody and visitation
Child support
Tax deductions and exemptions
Alimony
Other relevant issues

You don't have to worry about drafting a divorce settlement agreement and deciphering the legal jargon by yourself—DoNotPay will do everything for you

Bring the uncontested divorce papers to the court
Take all of the forms you completed and your divorce settlement agreement to the court for filing. A judge can grant you an uncontested divorce without a court hearing if your divorce settlement agreement is valid and includes all the required sections
Draft a Valid Hawaii Divorce Settlement Agreement With DoNotPay Easily!
Avoid spending hundreds of dollars on lawyers and use DoNotPay to create your agreement in a more affordable and less confusing way! The best part about it is that we do almost all the work! All you need to do is provide us with some info, and we'll create your agreement instantly.
Complete the following instructions to get started:
Select the Divorce Settlement Agreement feature
Provide us with your information
We'll get to drafting your divorce settlement agreement right away! Make sure to sign it afterward, and don't forget to get your spouse to do the same.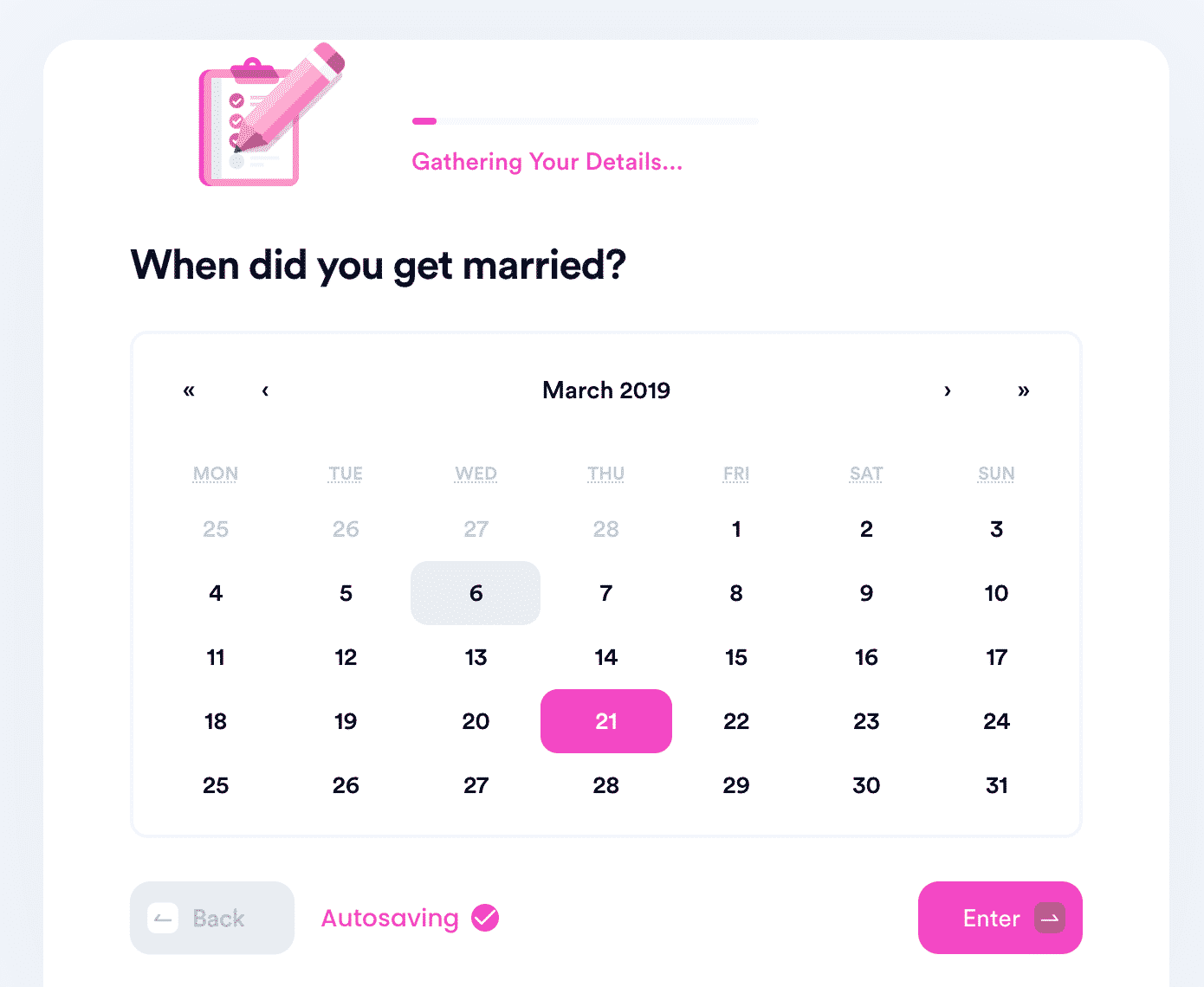 Divorce settlement agreements should be signed in front of a notary public, but you don't have to waste time visiting one! You can use DoNotPay to get your agreement notarized after we draw it up. We'll connect you with a remote notary in a jiffy and help you handle notarization in minutes.
Have Additional Divorce-Related Dilemmas? We Can Solve Them!
If you'd like to prepare as much as possible, we can provide additional divorce-related info! Wondering whether you can file for divorce online? We have the answer! Apart from that, you can also use our app to learn how to:
DoNotPay Helps You Deal With Any Administrative Issues Effortlessly
Tedious administrative tasks are always headache-inducing, but they don't have to be if you use DoNotPay. With our AI-powered app, you will be able to:
Solve Any Issues Like a Pro With DoNotPay
DoNotPay is an AI assistant that is able to solve almost all issues you're facing. Whether that be your noisy neighbors, the annoying text and email spam you're receiving, or the frustrating robocalls that won't leave you alone. We'll even cancel your unneeded subscriptions and get you a few extra bucks you've been cheated out of.
The world's first robot lawyer app can help you get: