Divorce in Georgia and Alimony Don't Have To Go Hand in Hand
Getting through a divorce is challenging and complex when you're not sure what to expect and how to act. You should get to know the procedure, paperwork, and steps to prepare well and file for divorce correctly.
When getting a divorce in Georgia, alimony is one of the issues you need to negotiate with your spouse. DoNotPay offers the intel for you to know your rights and obligations. We will also help you finalize the divorce as painlessly as possible by generating a marital settlement agreement on your behalf!
Georgia Divorce Laws on Alimony
Alimony—or spousal support—is not a guaranteed aspect of divorce in GA, and you will not get one in case of adultery, abandonment, or other similar circumstances.
The court in Georgia commonly awards alimony to a spouse who has:
Minimal or no income capabilities and potential
Been in a long-term marriage for more than ten years
What You Should Know About the Alimony Eligibility Criteria
Here's a list of factors the court will take into account when deciding on your request for spousal support:
Duration of marriage
Contributions to the marriage
Living standard during the marriage
Besides the above-listed, each spouse's situation will be assessed in the following way:
For the receiving spouse—The age, earning capacity, physical and mental condition
For the paying spouse—Debts, earning potential, income, and financial situation
Alimony Types
The court can award two types of alimony—temporary or permanent. This table presents the specifics:
Temporary Alimony
Permanent Alimony
A spouse can receive it:

Only during the divorce process
If the spouse doesn't have any income and lives alone
On a weekly or monthly basis

While referred to as permanent alimony, a spouse will receive it for a limited period, i.e., until they become self-sufficient and, e.g.:

Find a job
Complete necessary medical treatment
Graduate or complete training to secure employment
Keep in mind that the alimony amount can be modified if a spouse's income or other financial circumstances change.
Alimony Amounts in Georgia
The amount of alimony in Georgia is not fixed, and there are no calculation formulas the court uses.
If you and your spouse don't reach an out-of-court settlement regarding alimony and other divorce issues—including child custody and support and the division of property—a judge will make a decision on your behalf.
To get the best possible terms, you should sit down with your spouse and negotiate all matters. In this case, you can file for an uncontested divorce (with children) and finalize the process fast without:
Alimony Payment in Georgia Explained
The court can order:
Periodic payments on a weekly or monthly basis—In most cases, the court issues an income deduction order
One lump-sum payment—This rarely happens as not a lot of paying spouses have enough financial means to hand over a hefty amount to the receiving spouse
What Happens if an Ex-Spouse Doesn't Pay Alimony
As spousal support is mandated by the court, failure to settle it may lead to the court issuing fines, penalties, liens on property, or even jail time if:
The payment is habitually late
The paying spouse refuses to pay the required amount
To avoid potential complications and lengthy divorce procedures, you and your spouse should negotiate and agree on all issues before filing the papers with the court. This type of friendly and uncontested divorce is the least complicated, expensive, and lengthy process.
You can prepare a divorce settlement agreement and other necessary forms and finalize everything without a lawyer. If you need assistance, you could:
Hire a mediator to help you and your spouse resolve some issues
Register for DoNotPay to create a solid divorce settlement agreement without trouble
Use DoNotPay To Prepare a Reliable Divorce Settlement Agreement
Once you've agreed with your spouse on all important aspects of your post-divorce life, you need to list everything in a divorce settlement agreement. You will need to present the document to the court for review and approval.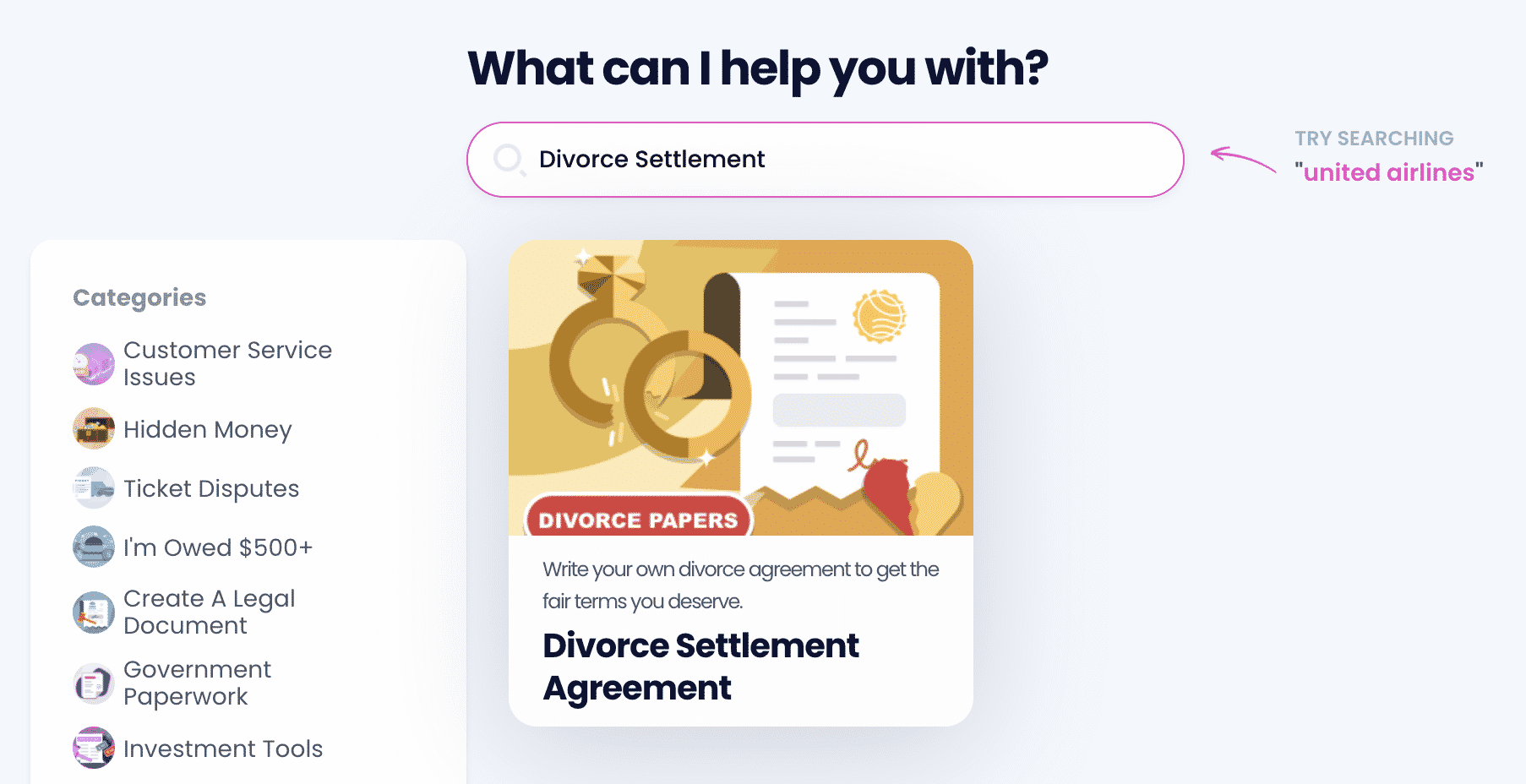 Subscribe to DoNotPay and take the following steps to create your document:
Navigate to the Divorce Settlement Agreement product
Provide answers to the chatbot's questions to help us evaluate your situation
Enter information on debts, income, and assets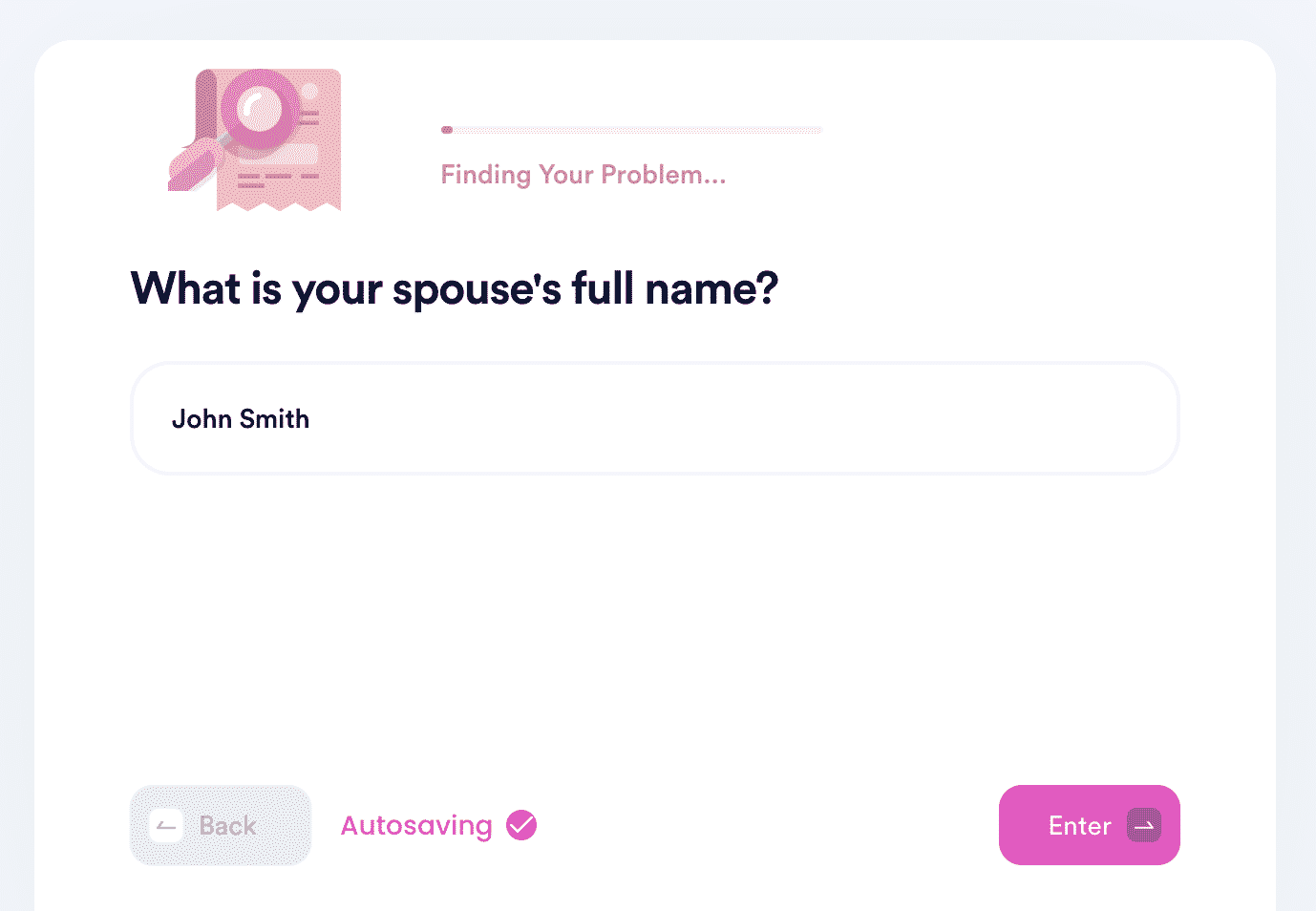 Our AI-powered app uses state laws and provides information to generate a divorce settlement agreement tailored to your needs and wishes.
Need to have it notarized before filing the document with the court? You can do that using our remote notaries public that are available 24/7.
Get Answers to Your Divorce-Related Questions Super Fast
Browse through our learning center to find lots of practical solutions to your problems.
Would you like to learn more about the divorce process? Explore our vast knowledge base and find answers to various questions, such as:
Let DoNotPay Be Your Virtual Assistant!
Why bother with deciphering legal terminology or figuring out how to write a legal document when you can let us do it for you? You don't have to waste your time any longer. Once you sign up for DoNotPay, we'll do much more than draft your legal documents or help get them notarized!
DoNotPay will show you how to perform a number of tasks with ease, including suing any company in small claims court, filing insurance claims, claiming warranties, creating passport photos, and sending your neighbor a complaint letter!
Should you need assistance with requesting a refund for a delayed flight or fighting workplace discrimination, our virtual assistant shows you how it's done.
There's More We Can Do!
Tired of dealing with mundane tasks and spending hours running dull errands? We offer the perfect solution!
DoNotPay can assist you in completing tedious tasks with ease! The best part is that you will spend significantly less time on them, and you can get them done from the comfort of your home!
Paying bills, getting a free trial, canceling subscriptions, getting revenge on robocalls, requesting refunds, or making a DMV appointment is only a few clicks away!